Published January 11, 2021 by Bowdoin News
"60 Minutes" Asks: Who is Angus King?
In the aftermath of the assault on the US Capitol, the venerated TV newsmagazine 60 Minutes interviewed Angus King, former governor of Maine, former distinguished lecturer at Bowdoin, and current US senator, about his experience amid the riot and his role as an independent in a time of extreme partisan polarization.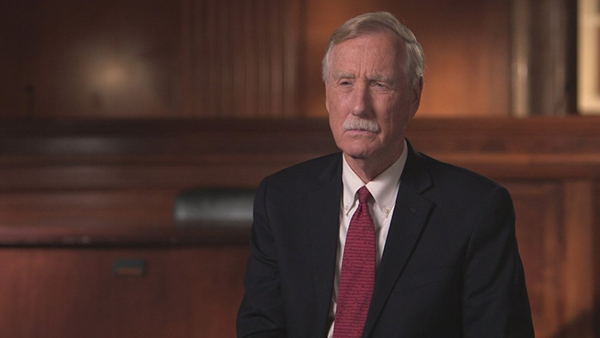 For the first of two interviews for the segment, 60 Minutes correspondent Jon Wertheim and crew traveled to Brunswick just before Christmas for a look around the town Sen. King calls home.
A sit-down interview at The Frontier Café was followed by a walk up Maine Street and a quick visit to campus, culminating in a chat in front of the statue of Joshua Chamberlain.
A second interview was conducted in King's office in Washington the day after the riot.
The segment featured King's reaction to recent events, his observations on being an independent voice in Washington, and the importance of what he calls "eloquent listening."