Published August 18, 2020 by Tom Porter
Summer Intern Helps Budding Soccer Players in Africa—from a Distance
If all had gone according to plan, Alice Hawkins '22 would be spending the summer at a soccer academy in Zimbabwe, helping many young soccer players develop their skills and follow their dreams of studying and playing overseas.
The pandemic intervened, of course, and Hawkins was forced to stay in the US. Working remotely, however, she has still been able to pursue her summer internship. She's working with Ajay's Academy, a soccer camp in Zimbabwe that helps African children go after scholarships and playing opportunities in the US and Europe.
"My original plan was to get an up-close view of an NGO in action, to help in its running, and to work personally with these young athletes. Now the camp is having to take place virtually and everything is being done remotely," said Hawkins.
She is not a specialist soccer coach—her sport at Bowdoin is rugby—so Hawkins's role is to provide fitness and nutrition advice to the students, and she's still able to do that, albeit from a distance. She draws up dietary and physical training programs for the older students as they prepare to head overseas and compete at a high level. For the younger children, she said, it's more a question of instilling good nutrition and exercise habits. This is something Hawkins is well qualified for: Apart from being a varsity athlete, she completed an internship on nutrition last summer under Bowdoin's head of nutrition Susanne D'Angelo-Cooley from Dining Services.
Hawkins, a neuroscience and theater studies double major, also runs live fitness sessions for Academy students via the group's Facebook page.
"I sometimes have 200 students join these YouTube workouts from places like from Zimbabwe, South Africa, and Malawi, where they're training in isolation."
Despite not being able to travel, Hawkins said she's delighted with how her internship has turned out.
"It's amazing, and I feel to privileged to have this opportunity to work remotely, as so many of my fellow students have had their internships canceled due to the pandemic.
Furthermore, I really believe in what Ajay's Academy is doing by giving individuals a chance to use sports as a way to pursue higher education options that wouldn't typically be open to them. I think that's really important."
online workouts and a nutrition talk from Alice Hawkins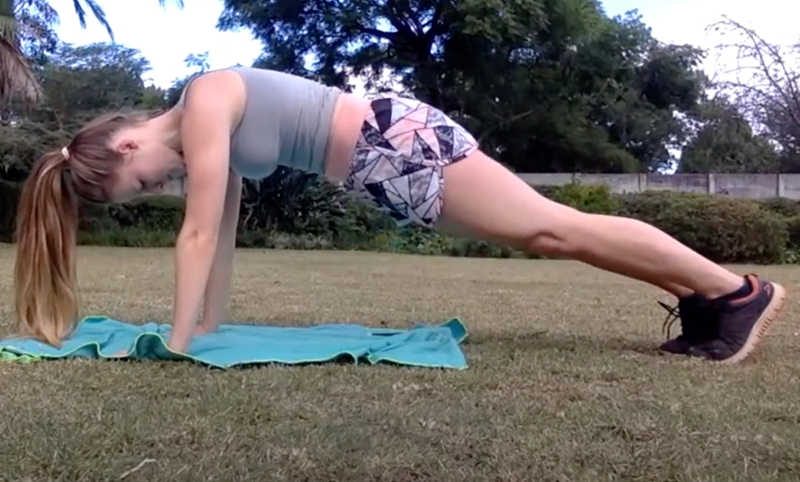 https://www.youtube.com/watch?v=xV4HMGc938Y
https://www.youtube.com/watch?v=v98G83u0OZs&t=4s
Hawkins is the recipient of a grant from the Bowdoin College Alumni Council Internship Fund in memory of Maurice Littlefield '41. This is one of 102 awards distributed to students by Bowdoin Career Exploration and Development this year, enabling them to pursue unpaid summer internships.