Connection: Faculty Meet Two Crises Head-On
Published by Rebecca Goldfine
Last spring, Bowdoin faculty had to shift quickly from not only what was tried and true over the College's history, but what was legitimately Bowdoin's hallmark: intensely personal teaching face-to-face with students.
Faculty leaned into that shift online and learned from it, but it was not a shift that anyone expected or wanted. As the days ticked by in June, it became clear that, although everyone had hoped that all students would be back in the fall, that simply couldn't happen. The Continuity in Teaching and Learning Group had been convened months prior and had worked hard all spring and into the first part of the summer to research how best to tackle another remote semester. Just as they concluded their work, it was announced that teaching for the semester would be almost completely remote, but now faculty had data and recommendations and advice to follow.
Nearly simultaneously came attention to a second pandemic, one that many knew had been there all along: pervasive, systemic, and profoundly destructive racism in America. Faculty are responding to the challenges of this historic confluence with creativity and energy, rooted in pedagogy and propelled by the deep sense of duty they feel to their students and to this moment.
"Our faculty really rose to the occasion and understood that this was an opportunity for all of them to collaborate, to share ideas, to draw on our expert staff, and to build long-term best practices in teaching to deliver courses that achieve our goals of equity and accessibility."
—Elizabeth Pritchard, associate dean for academic affairs and associate professor of religion
Faculty stretched themselves this summer to adopt new technologies and new strategies for teaching online. At the same time, many also reconfigured their courses to include a more pronounced anti-racism focus. While some introduced new books, new writers, or new sessions into their syllabi, others responded by designing new courses to specifically address anti-racism in their field.
"One of the things I'm going to be doing on my sabbatical this year is creating a new course that is centered on this material," said Eric Chown, Sarah and James Bowdoin Professor of Digital and Computational Studies. "If you're going to talk about things of a digital online nature, then you have to talk about the hate online, you have to talk about the racism online, and you have to talk about why it's happening and what sorts of things we can do about it."
Lecturer in English Meredith McCarroll chose a new book to use in her first-year writing seminar on whiteness—How to Be an Anti-Racist, by Ibram X. Kendi—because she thought it would give students an intellectual and practical grounding in the subject. "The book gives us really concrete language on what anti-racism means in practice, and how to think about structures of racism in concrete ways," she said.
As faculty adapt to unique and challenging circumstances and to pressing social issues, they are being supported at every turn by Bowdoin staff. In particular, they're receiving technological and pedagogical guidance from a group called BOLT, or Bowdoin Online Learning and Teaching. Led by Pritchard and made up of faculty and staff from academic affairs, the library, information technology, and communications, BOLT was "born from the desire to make sure faculty had everything they needed to be successful in the fall," as BOLT Operational Lead Themba Flowers put it. He likened the College right now to a nimble start-up requiring its team to learn something new every day.
"As we go online, we have to think about how do we build community, how do we do it intentionally, and how do we welcome people in?"
—Professor Madeleine Msall
Through July and August, BOLT organized a slate of conferences, seminars, and weekly consultations with instructional designers. By summer's end, 86 percent of faculty had attended at least one BOLT offering, with most attending many more. Another thirty-five lab instructors, departmental coordinators, curators, and academic staff also participated in trainings.
Additionally, many departments organized book reads among their faculty members to start discussing how to integrate anti-racism into their classes. Other professors took advantage of a campuswide reading of Me and White Supremacy, organized by the Office of Inclusion and Diversity in Student Affairs.
One of the outcomes of these twin crises, many have observed, is that faculty are expanding their definition of the common good and working harder to make their classes inclusive. This may be due in part to what lies at the root of both online teaching and anti-racism education: both require a sense of community and connection to be successful.
"The pandemic circumstances are terrible, but it's a moment in which we are being required to be creative about what we do," Professor of Physics Madeleine Msall said. "As we go online, we have to think about how do we build community, how do we do it intentionally, and how do we welcome people in?"
Pritchard noted that BOLT encouraged faculty this summer to think about ways to develop online communities. "Today's technology is good at facilitating communication, but the most effective and long-lasting learning is social," she said. "Communication must entail a feeling of connection and community. It must reflect responsiveness to each and every student, a sense of our shared humanity, a sense of purpose, and a sense of the common good.
"And technology per se doesn't do that," she continued. "So professors had to intentionally build into their virtual interactions that sense of humanity and sense of purpose. Faculty at Bowdoin are really good at doing that in person, but I think they had to think carefully how they do that online."

Pritchard also credited BOLT's outreach for strengthening collegiality among faculty. "I can't stress enough how the creation of BOLT has helped shift the culture around teaching so that it is more collaborative," she said. "I think Bowdoin faculty rightly value autonomy and value their ability to innovate on their own terms, but it has been so inspiring to see the level of collaboration." She mentioned a BOLT crowdsourcing site on which professors daily pose questions or problems and quickly receive answers and suggestions. "With all that is on their plate, they help each other," she added.
For example, government professor Allen Springer joked that, after being exhausted by online teaching last spring, he at times contemplated retiring this summer. But he found inspiration from his peers. "One thing that has really been very helpful are meetings with other people in my department," he said.
The communal experience of revamping traditional teaching methods to fit a new digital environment will have longer-term impacts, Springer thought. "That collaboration has been really helpful, and that will stick well beyond this experience, because we have talked an awful lot more about how we teach than we had earlier."
Professor Springer is not alone in realizing that all of the investment Bowdoin is making now will have abiding effects—from the goal of turning Bowdoin into a more transparent, more inclusive campus, to leading to adjustments in faculty's approach to teaching. Because "in some ways, really effective teaching looks very similar in person and online," said Katie Byrnes, director of Bowdoin's Baldwin Center for Learning and Teaching and a BOLT member.
Pritchard agreed: "The criteria for success are the same for online and in-person teaching. But having to redesign courses for online delivery has prompted faculty to be really intentional in their course design and to articulate their course goals and expectations for students. That intentionality about their teaching is something they will take with them long-term and improve education for all students once we return to an in-person context."
"One of the things that has become evident is that excellence in online teaching has a lot in common with excellence in in-person teaching: it is driven by careful attention to learning goals, is deliberate in its design, and fosters excitement for learning," said Jen Scanlon, dean for academic affairs.
Marine Biology: The World Beyond Our Screens
In more typical years, Biology of Marine Organisms takes advantage of Bowdoin's location on the coast of Maine to introduce students to marine ecology. Throughout the semester, the class makes field trips to nearby rocky intertidal zones, mudflats, and salt marshes.
After learning in July that their class would be online in the fall, Visiting Assistant Professor of Biology Justin Baumann and Biology Lab Instructor Bethany Whalon spent many hours traipsing around the seashore with a GoPro camera to develop a trove of videos, photographs, and data to share with students who couldn't be here in person.
With Baumann working the camera and Whalon serving as nature guide, they attempted to recreate these habitats digitally as best they could. All together, they made nearly seventy videos about a range of subjects.
"We are trying to still get them out there and to show them Maine," Whalon said. "We're trying to give them the Bowdoin experience, even though they are not present."
By virtually trailing Whalon and Baumann on YouTube, students learn to identify marine organisms like bivalves, crabs, snails, barnacles, and algae. They study how tidal pool water chemistry and composition are affected by factors such as water depth, the time between high tides, and the pool denizens that contribute to or remove oxygen from the water. And they see how ocean wave energy affects rocky substrata, depending on the site's exposure and steepness of slope, and how this influences the organisms that live there.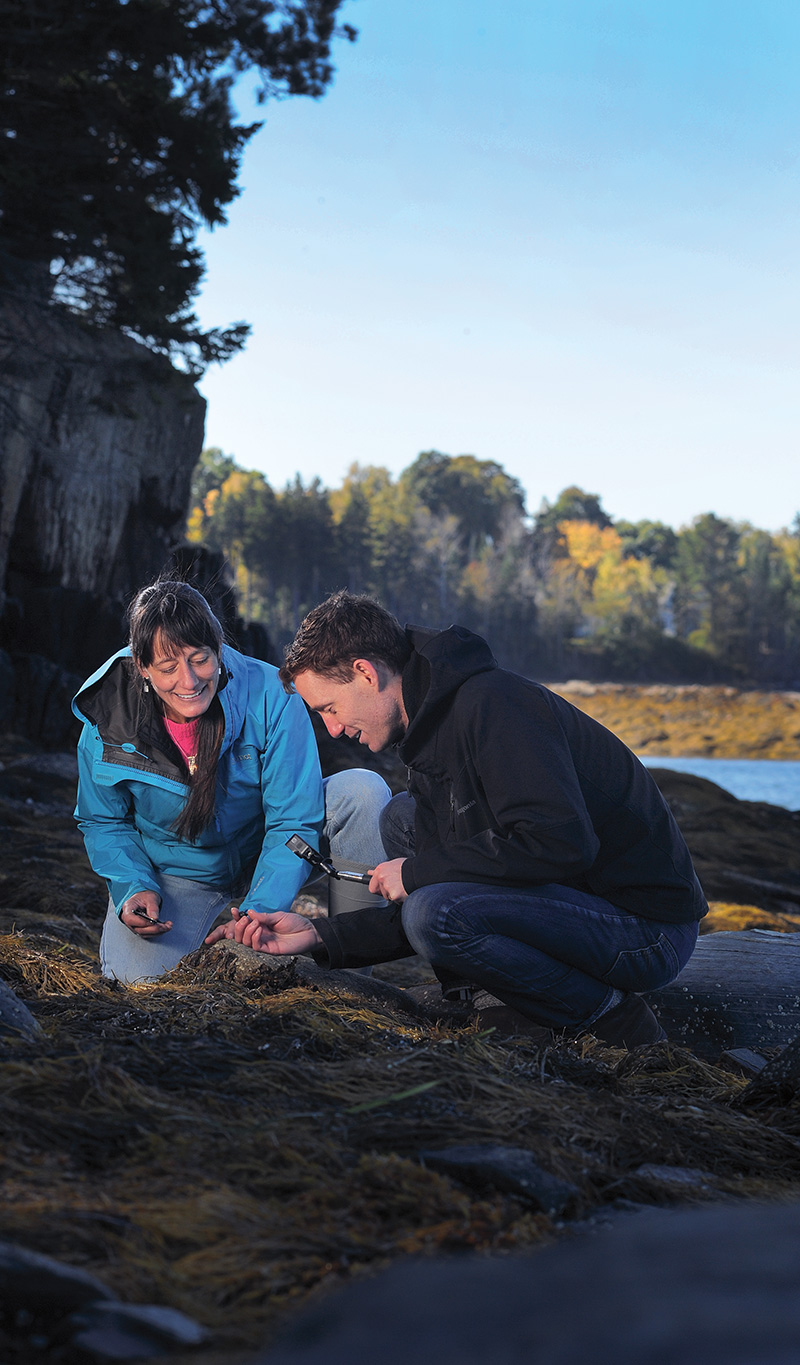 Alexia Brown '21, who is taking the class from her home in New York City, said following the video forays is "the closest thing to an 'escape to the sea' from the four walls of my apartment."
Before the class began, Whalon and Baumann sent out what they affectionately call "lab care packages" to each student. The "ecology near me" kits included a ruler, a caliper, a tape measure, colored pencils, a Rite in the Rain notebook, a small magnifying glass, two quadrats (a frame to mark out an area of habitat), and even snacks.
With these tools, students can head outside no matter where they are to study the environment around them. "They can learn about ecological systems in any setting," Baumann said. "How do you really learn environmental science? You basically go to the environment and watch it."
Baumann and Whalon asked the students to find one small area—perhaps a portion of sidewalk with weeds poking through cracks, an urban garden, a spot near a pond or in a forest—and observe it over eight weeks.
"The more we look at the world around us, the more we see," Whalon said. "They'll start noticing things they never saw before. It doesn't matter where they are, what they find, or what organisms are living around them. They'll start realizing that the weather, humidity, time of day, and season affect everything, and that there is a rhythm to everything."
Each week, the students make a new video of their sample area and upload them to Flipgrid, a video discussion and sharing tool. Since the students are spread out across the world—from Nantucket to New Zealand—they are sharing discoveries about diverse ecosystems.
Anneka Williams '21, who is in Washington state, said that while it is disappointing not to be doing field-based work in Maine, she appreciates how the course is pushing her to explore her local surroundings. "I think it is strengthening our ability to be scientists in a lot of different environments as opposed to a pre-defined 'lab' environment," she said.
Baumann is using the remote semester to teach his students how to use R, a statistical programming language, to analyze their data and reveal patterns in their findings. "These are transferable skills they might as well learn, since we can't teach them how to do comparative anatomy or whatever we would normally do in the lab," he said. "Instead, we can teach them another skill, [one] that they can learn remotely."
As they respond to the isolation the coronavirus pandemic has wrought, faculty are also responding to the pandemic of institutionalized racism in the academy, so Baumann and Whalon are also devoting class time to looking at racism in science. "The field of marine ecology is very white and historically male, and it continues to struggle with colonial and postcolonial undertones—or overtones might be more appropriate," he said.
Many of the discipline's "classic experiments" and papers, from the 1950s to 1970s, were by white men in the tropics. To counter this, Baumann has assigned many journal articles by women and people of color.
"Before the class discussion, I do a short profile on the lead author and talk about who they are, where they come from, and their contributions to the field," Baumann said. "And we are going to get into issues of colonialism and racism in the second half of the class as we discuss tropical ecosystems.
"We want them to have tangible, usable skills," Baumann continued, "as well as an appreciation of the world around them."
Teaching Japanese Online: Using Technology to Convey Passion
Typically during August, Associate Professor of Asian Studies Vyjayanthi Selinger works on her research. This summer, though, she put away her books on July 31 to dedicate the remaining summer to learning new technologies for her fall classes. With help from her teaching assistant, Ella Jaman '22, she created many hours of engaging interactive content for her students— including video lessons and quizzes—by using HP5 software and one of Bowdoin's newly issued iPads. (In support of online learning and to foster accessibility and equity, the College distributed an Apple iPad Pro with available Wi-Fi and cellular data connectivity—activated and covered by the College for those students who have internet needs—an Apple Pencil 2, and an Apple Magic Keyboard for iPad.)
While she did this to develop fun and effective asynchronous offerings (which is when students engage with class material independently), she had a couple of other goals in mind too.
With less in-person time with her students now, Selinger said she still strives to inspire them. "And I hope my students still see my passion for Japanese, and my care for them— that these are coming through, just expended in another way," she said.
Additionally, because she believes "the beating heart of every class is community," she is selecting technologies that she believes can best bring students together. One app she's excited by is Spatial Chat, which tries to recreate the experience of an in-person social gathering.
Students studying Japanese are using Spatial Chat to organize trivia nights, movie nights, and communal study sessions so students can drop in for company or to do homework together.
"It allows for the more natural gathering activity that usually happens," Selinger said.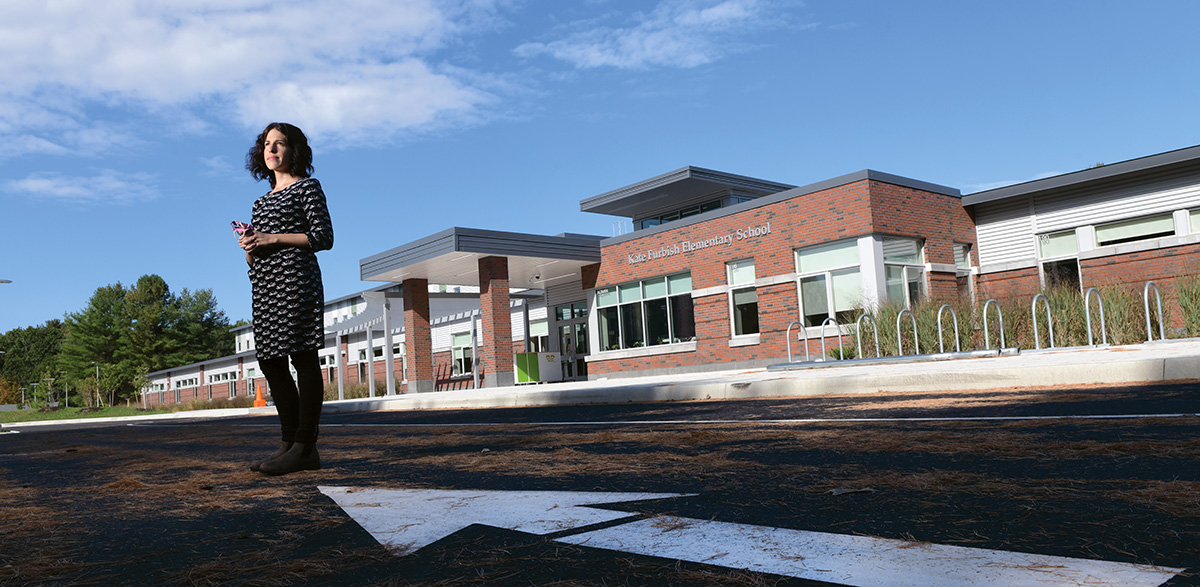 Fluency
Students in professor Margaret Boyle's class Teaching and Learning Languages and Cultures are teaching Spanish, French, Russian, Chinese, Japanese, and Arabic to students at Kate Furbish Elementary School in Brunswick, Maine.
While the Bowdoin students are bringing language instruction to a public school that does not have the budget for it, they are also introducing children, in grades pre-K to second grade, to different cultures.
"I'm asking my [Bowdoin] students to understand language pedagogy and anti-bias education," Boyle said.
While language learning at a young age has numerous benefits for cognitive development and sets children up for second-language fluency as adults, it also offers the opportunity to foster openness and tolerance, Boyle explained.
"Kids are not too young to talk about race," she said. "The earlier that we are explicit about race and identity with young children, the more it has a meaningful impact on their beliefs, attitudes, and actions for the rest of their lives."
Boyle's language outreach in the community did not start off with such an ambitious social agenda. It was born from a volunteer student club she launched at Bowdoin in 2017 called Multilingual Mainers. Up until last winter, club members proficient in a language other than English offered regular lessons to elementary students during their lunch break.
Boyle also volunteered at the school from time to time. As she was reading a Spanish version of The Hungry Caterpillar one day, she recalled, some of the children responded, "That's so weird!" This prompted her to start a conversation with the five-year-olds about why it can feel strange to be around something new.
"Then I realized the program had this importance I wasn't intending," she said. "It isn't only about language proficiency and early access to languages, it's also about culture and identity in Brunswick, Maine, and why it matters that students are exposed to a variety of languages and cultures."
Boyle began to think about how to expand the program so that Bowdoin students could gain teaching skills while fostering in children "curiosity, compassion, and understanding across difference," she said.
Racial unrest in the country and the Black Lives Matter movement gave her even more impetus to put a formal program in place.
To support her goal, Boyle received a $10,000 seed grant from the Whiting Foundation's Public Engagement Programs.
Though she designed the course before the pandemic and envisioned her students in school classrooms, Boyle said the class has adapted well to the online environment. "I feel excited about the possibilities for the course and how we can support the schools when teachers are needing extra help with distance learning," she said.
Students create weekly videos for the children—on themes like greetings, numbers, holidays, cuisines, and cultural traditions—and occasionally join them for live online sessions.
Sam Kingsbury '21, a math and Hispanic studies major, was drawn to the class for its integration of languages and anti-racism. He is considering pursuing a career as a Spanish teacher.
"The class had two things that strongly appealed to me: one was the actual experience of working with kids and teaching them, even though it is via Zoom or video lessons," he said. "And two was its strong focus on intercultural competence and race, which is something we don't think about much but is crucial in terms of second language acquisition."
"Our experience of these twin pandemics demonstrates the profound necessity of a liberal education," Scanlon said. "In our case, one that commits to a twenty-first-century common good, one that is anti-racist, inclusive, and celebratory of the profound power of learning in the natural sciences, social sciences, humanities, and arts."
Rebecca Goldfine is assistant director and content producer in Bowdoin's office of communications and public affairs.
Fred Field lives in Portland, Maine, and is a frequent contributor to Bowdoin Magazine. More of his photography can be found at fredfield.com.
---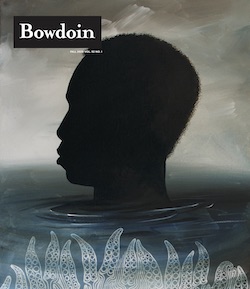 This story first appeared in the Fall 2020 issue of Bowdoin Magazine. Manage your subscription and see other stories from the magazine on the Bowdoin Magazine website.