Published October 13, 2020 by Rebecca Goldfine
Brandon Lee '21 Enrolls in Nationwide COVID-19 Vaccine Trial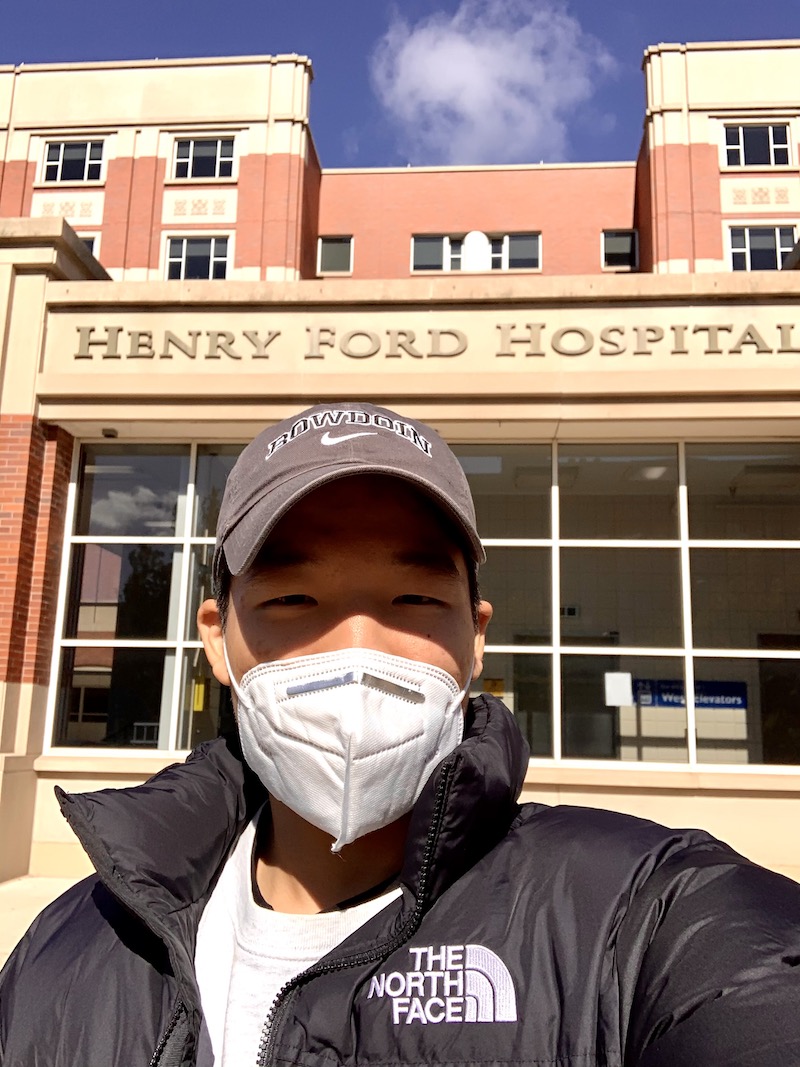 Lee received his first injection at the Henry Ford Hospital in Detroit in early September, and his second and final shot twenty-eight days later. The experimental vaccine is one of the front-runners in the race for a safe and effective treatment to curb the pandemic.
Following these injections, Lee will be monitored by the company to see if he develops any side effects, and most importantly, antibodies that protect him from COVID-19. 
"It is the least I can do to contribute to combating the pandemic on a local and global scale, and to ultimately reduce the burden on essential workers," he said in a recent interview. 
Though Moderna has enrolled 30,000 adults around the country for its phase III vaccine trial, participation by Asians was minimal at the time he signed up, Lee said, providing another impetus for his involvement. "The enrollment was low in relation to the total Asian demographic in the US, so I'm happy to contribute to diversifying the study, which is crucial," he said.
While he didn't experience symptoms after the first injection, he did have flu-like symptoms following the second. He does not know whether he is among the 50 percent of participants who received a placebo or the test vaccine, but he has had similar responses to flu vaccines in the past, he said. "It happens and is no reason to be afraid of the vaccine," he added.
Moderna's test vaccine is unique in that it is the first to try injecting a synthetic form of the virus's messenger RNA (mRNA). The idea is for the mRNA to trick the body into producing some of the viral proteins itself to provoke an antibody response. Traditional vaccines are made up of small or inactivated doses of the whole disease-causing virus or bacteria.
Interested in both public health and medicine, Lee said, "A big motivation was my inner bio nerd that was geeked to participate in a study that is so large-scale and ambitious."
Lee is also involved in another prong in the fight against COVID-19. He is volunteering as a contact tracer for Michigan's Center for Disease Control and Prevention, a position he just started in September. "It's fulfilling to help keep my community safe and informed," he said. 
Though he had been searching for a contact-tracing position since April, the state didn't pull him onto its team until this fall. "The cases skyrocketed after schools opened and the volunteer force was quickly short-staffed," Lee explained.
In his first weekend as a contact tracer, on September 22 and 23, Lee called between thirty and forty people who had been in contact with someone who tested positive for COVID-19. 
"There is a whole range of emotions we encounter during calls," Lee said. "Most people are pretty understanding when we ask them to quarantine, but a lot of times there is frustration, confusion, and sometimes outright rejection of what we ask them to do, which is rare. It's been an exercise in being able to attend to all those different responses and to be empathetic over the phone."
Like Warsameh Bulhan '22, who is working as a contact tracer in Maine, Lee explains to people how to quarantine for fourteen days, and offers to connect them with social service resources if they need assistance with childcare, food, medications, or mental health resources. Contact tracers monitor people daily throughout their quarantine by phone or text message, "to check in on them and give them resources if their symptoms progress," Lee explained.
So far, he said he enjoys the work and finds it rewarding—and is grateful to one of his professors for encouraging his interest in epidemiology. "I would like to give a shout-out to Professor Riley," he added, referring to Nancy Riley, Bowdoin's A. Myrick Freeman Professor of Social Sciences.
"Her epidemiology course that I took sophomore year was a big reason I wanted to pursue contact tracing, and I've been able to use a lot of the vocabulary and principles I learned in her course during my phone calls with people. She was and continues to be a big inspiration."