A Teaching Museum Steps Up Its Tech Game to Bring Art to Students
Published by Rebecca Goldfine
Since spring, staff at the Bowdoin College Museum of Art (BCMA) have been generating a trove of high-quality (and, when possible, 3D) digital replicas of objects to support online teaching. At the same time, they are forging an alternative way to visit the Museum.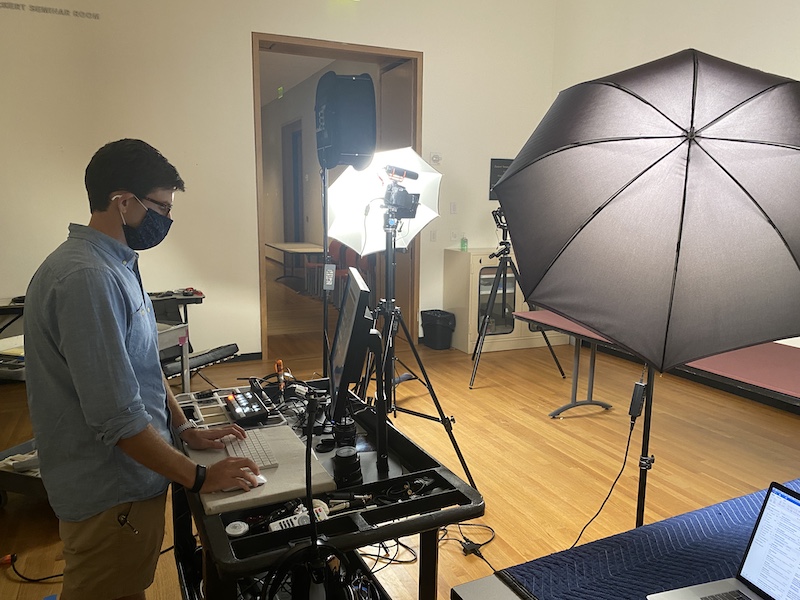 Digitizing the Museum's holdings is a way to share its physical objects—and all the history, culture, and ideas they convey—with faculty and students during the pandemic. At the same time, this effort is also enabling anyone in the world with an internet connection to explore the Museum's more than 20,000 paintings, sculptures, drawings, and artifacts. 
"The tools we are developing for the campus this semester are really an investment in the digital future of our collections," explained Sean Burrus, the Andrew W. Mellon Postdoctoral Curatorial Fellow. For the past several months, Burrus has been collaborating with partners across the campus to create new online experiences for the Museum. He has received help from members of Bowdoin's Academic Technlogy and Consulting team—Colin Kelley, David Francis, and David Israel.
Burrus added, "We want to make sure that what we're doing for faculty also helps the public, by making our collections more accessible."
The effort to digitize those collections began years ago. But COVID-19—and the need to migrate classes online for safety reasons—added urgency to the project.
After setting up a studio in the Zuckert Gallery—with lights, tripods, a rotating table, and sturdy mounts— Burrus has been photographing between a half dozen and three dozen objects a day.
At the moment, he's prioritizing art that faculty are using in their fall and spring classes. The museum provides all of these classes with ePackets, links that allow students to look at and learn about the art pieces, including their exhibition history and prior wall labels, if available. (Twenty-two classes this semester have ePackets.)
Visiting Assistant Professor of Art History Kate Gerry is teaching a fall-semester course called Building a Virtual Exhibition: A 'Hands-On' Experience, in which students are creating a public website to complement the exhibition New View of the Middle Ages: Highlights from the Wyvern Collection. It will be available for viewing by early January.
"Although I believe strongly that there is no substitute for viewing and examining works of art in person, the BCMA has been enormously helpful as I envision and develop new ways to teach in an online environment," Gerry said. 
Throughout the semester, she and her students—as a class and in smaller groups—have met with Burrus, Bowdoin Senior Interactive Developer David Francis, and other Museum staff. "I think this kind of person-to-person availability is crucial to maintaining the supportive and student-centered experience that is such a fundamental part of the Bowdoin experience as we figure things out in the world of online teaching," Gerry said.
Susan Wegner, associate professor of art history, has also been taking advantage of the virtual Museum this semester. "Sean Burrus ingeniously opens the treasure house of BCMA's art storage through ePackets and short home grown films, exuberantly encouraging students and teachers to transcend the current physical closure of the Museum," she said. "His enthusiasm in engaging art from thousands of years of human life has fostered ongoing discoveries." 
Because the digital reproductions of art are high-resolution and huge, students can zoom up close to inspect details. Many of the objects, like vases and coins, have also been rendered in three dimensions, and students can spin the piece around with their mouse (or fingertip on an iPad).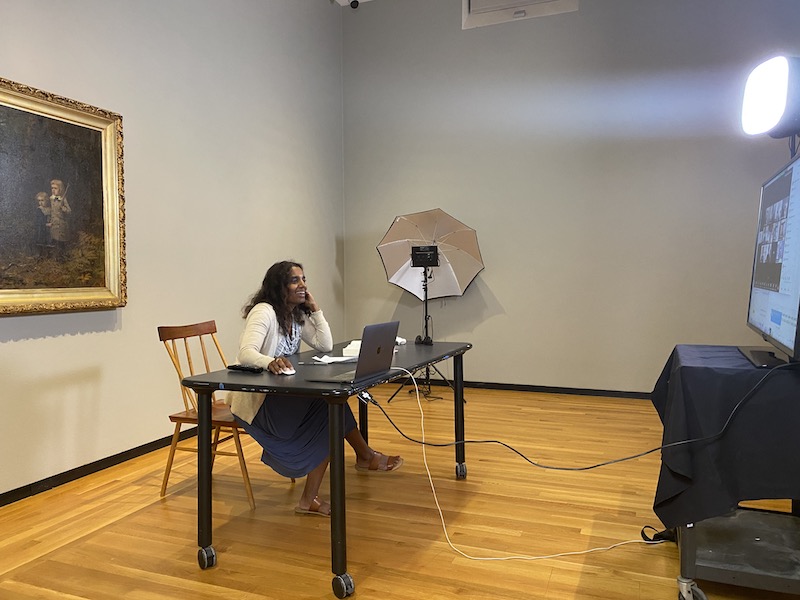 While some of these 3D objects were created by stitching together several high-resolution photos, the museum also bought a 3D scanner this summer to create even more vivid reproductions.
The museum is also supporting faculty by opening its space to those who either want to record their lectures there or livestream classes from a gallery while standing next to the art they're discussing. To ensure a high production value, Burrus and Elizabeth Humphrey—the curatorial assistant and manager of student production—have been running a makeshift video studio on site. With one video camera trained on a professor, they use a second camera to zoom in on the art. To ensure a high production value, their work has been supported by Colin Kelley, and museum preparators José Ribas and Jo Hluska.
The hope is that these efforts will benefit the museum and Bowdoin students—as well as art lovers everywhere—for many years, Burrus said. "In the current climate, identifying new and innovative strategies to share collections (and knowledge) online is fast becoming a core public function of museums across the world," he added.
Anne Collins Goodyear, who co-directs the Museum with Frank Goodyear, said it's been exciting to see the progress made by the Museum. "We are excited about the innovative strategies being cultivated at the Museum of Art to share our collection in novel ways with audiences here at Bowdoin and around the world," she commented. "New technologies provide important opportunities for student and faculty researchers to gain fresh insight into works of art and to access them more easily."
Frank Goodyear added a note of gratitude. "We are grateful to the Bowdoin community for partnering with us in this experimental initiative and applaud the great work being done by our colleagues at the museum, in IT, and on the faculty as well as by Bowdoin's students in pioneering revolutionary tools and methods for teaching and learning," he said.