Published September 01, 2020 by Bowdoin News
The Annual Opening of the College: Bowdoin's 219th Convocation
Opening the academic year, President Clayton Rose chose to center the role of denial as we face the dual challenges of COVID-19 and racism. For the first time in the College's history, Bowdoin held a virtual Convocation ceremony to mark the occasion.
Traditionally, first-year students and faculty gather in Pickard Theater to hear remarks by President Clayton Rose and others. This year's event, on September 1, was livestreamed at 3:30 p.m., allowing the entire Bowdoin community to watch. Rose said he "looks forward to the day when we can again be together in Pickard, along with our new first-year class." 
The event had four speakers: Rose; Director of the Rachel Lord Center for Religious and Spiritual Life Eduardo Pazos Palma, who gave the invocation; Senior Vice President and Dean for Student Affairs Janet Lohmann; and Professor of Chemistry and Biochemistry Danielle Dube. They all spoke from the stage in Pickard, where they observed physical distancing guidelines.
Addressing the incoming first-year students in the Class of 2024, Pazos Palma noted that, while the past six months have brought "pain, fear, and enormous uncertainty," he hoped that the next four years of college would be "marked not by the fear of the unknown, but of the joy we do know." That is, the joy of perseverance, the joy of family members rooting for you, the joy of learning, and "the joy that comes from getting to know yourself, your strength, beauty, and courage."

This was followed by Voices from Bowdoin's Past, delivered by Lohmann. She drew parallels between the challenges facing Americans today and those faced more than half a century ago, particularly in the year 1968.
"Stories in the Orient that year are reflections on race; student activism; the strife of war, protests, and assassinations; a divisive presidential election with a law and order focus, and an overall call to action in what appeared to be a society in decline." Lohmann described today's challenges as "different yet stunningly familiar, as we confront a pandemic, continued racial injustice, political tension, economic inequality and distress, student activism, and calls for action across many fronts."
She concluded her address by encouraging people to rise to those challenges. "Our job today is not merely to survive these times but to make real progress, using our knowledge of the past, our dreams for the future, and our commitment to the common good. We will all always remember where we were in 2020," said Lohmann. "But it's 'what we did' that will matter most."
In her address, "Understanding and dismantling structures, one bacterium at a time," Dube acknowledged the "near-continuous uncertainty" that we are all navigating "in the face of imperfect information."
"We are being asked to take steps forward, with no clear sense of where they will lead," she described. That, she added, also describes the life of a scientist, who devises and carries out experiments to seek insight into what is uncertain and unknown, often confronting failure and missteps.
Dube also opened up about her difficult path to a career in chemistry, one that is dominated by men. She has at times struggled with feelings of inadequacy and self-doubt. And she found that her love of science alone was not enough to propel her forward; she also leaned on a community of peers within the science world to buoy her through "countless challenges."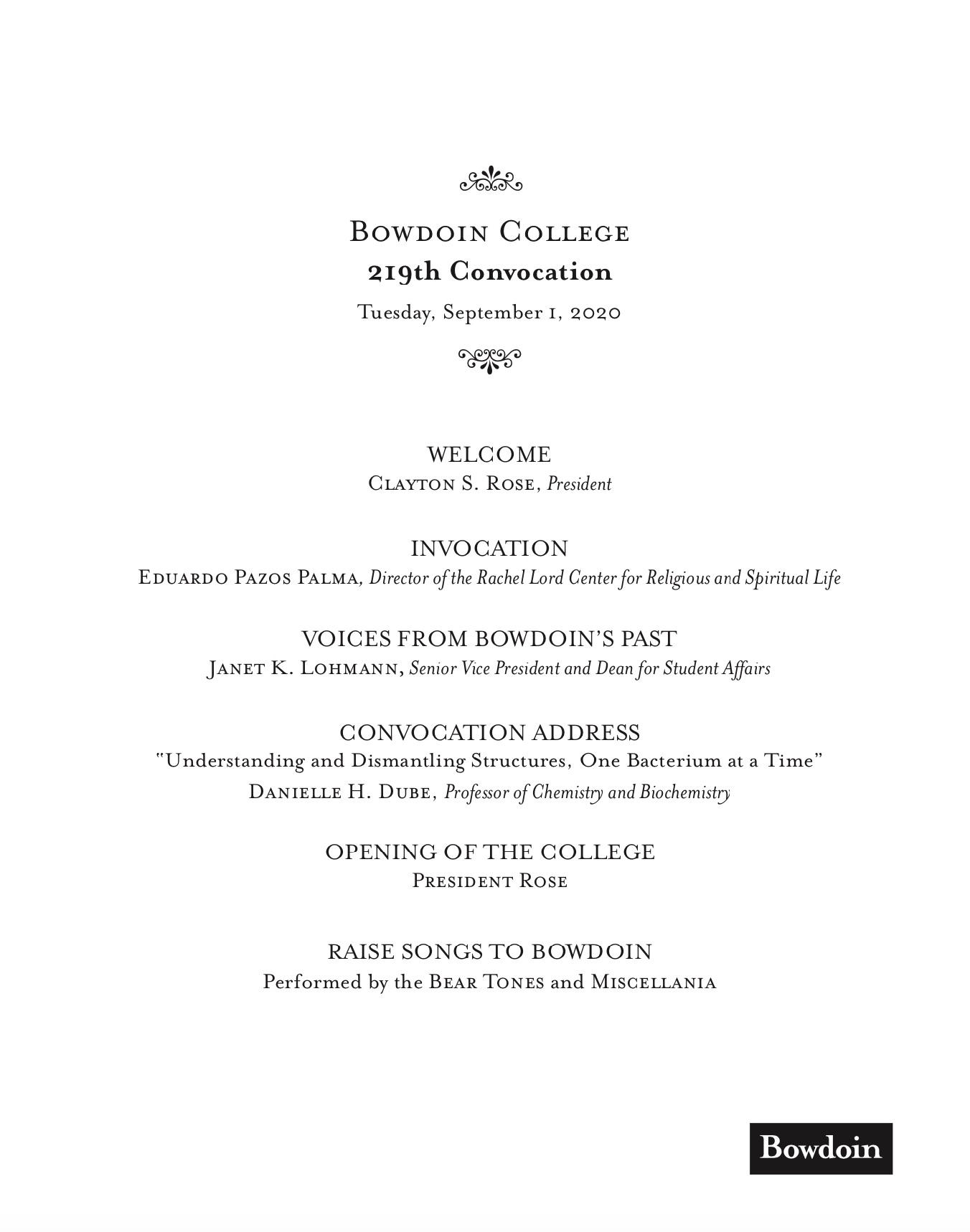 Creating other such communities will help to dismantle larger social structures that keep women and people of color from entering the sciences, she argued.
"We have much to learn to get this right, to create an environment that fosters a sense of community and belonging—where we elevate the voices that society has muted—because each of us has something to contribute."
She urged students to believe in their gifts and to help build community to pull down power structures based on exclusivity and privilege. "No matter how insignificant we might feel, how much we might doubt ourselves, or how others might perceive our voices, we have a set of experiences that allow us to bring a unique lens to the table," she said.
"Illumination from each of these lenses sheds a pinprick of light that, when added together, provide an image and path that will help move society forward as we tackle profound structural challenges revolving around human health, the economy, and social and racial justice," she added. "Together we can dismantle the structures that provide armor to powers that seek to justify and maintain inequity."
In his address formally opening the academic year, titled "Denial," Rose spoke about the concurrent pandemics of COVID-19 and racism. "I bring together the virus and racism, not because they both represent grave threats, which they do, but because at the root of our inability to successfully deal with them, or to get on a solid path to dealing with them, is denial," he said.
He talked about a "deliberate willingness to dismiss and ignore data, facts, and truth. Instead, driven by a desire to buttress a chosen ideology at all costs, misinformation and lies are substituted in place of facts, data, and truth. And the costs are public safety, justice, and equality," he continued.
Those studying and teaching at a liberal arts college like Bowdoin, Rose argued, have a duty to engage in the battle to rid our society, and the world, of both scourges. 
"For generation after generation, a Bowdoin education has provided our students with the ability to think critically, to reason, to learn, to be nimble intellectually, and to communicate thoughtfully and persuasively. We develop the ability to ask hard questions, and the skill and disposition to avoid assuming that just because it's on the internet or said by someone on TV that it is true," he said.
"This is what we have done at the College for a very long time. And it's this liberal arts education that is exactly what is required to have the skills and disposition to understand and overcome the ugly and dangerous manifestations of denial."
After the academic year was declared "in session," the ceremony was rounded off with "Raise Songs to Bowdoin," performed remotely, via Zoom, by members of the student a cappella groups Bear Tones and Miscellania.