Published August 25, 2020 by Tom Porter
Summer Intern Helps Prisoners Free Their Minds
Emma Hahesy '22 spent most of the summer corresponding with prisoners across the US. To be precise, she was helping to educate them through College Guild, a Brunswick-based nonprofit that offers correspondence courses to America's incarcerated population.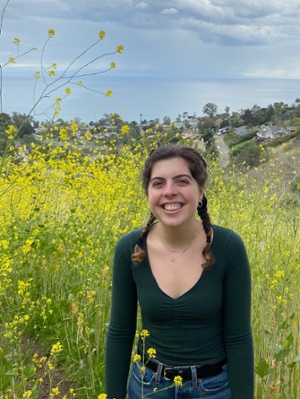 "We mail papers to the prisoners, who then complete them and send them back to be graded by set of volunteer graders," said Hahesy. "The grading we do is not like the typical grading you would get in high school or college," she explained, "It's more interactive." So it's less about getting the red pen out and correcting grammatical errors and more about encouraging the prisoners to think about issues and to express themselves.
"Our correspondences aim to show them the value of thinking about the world in different ways. So, on a paper we might write a comment saying 'that's a really interesting point, but maybe you could also consider this…' It's not about testing their knowledge or powers of recall. We want them to communicate and develop a passion for learning," said Hahesy.
More than two million Americans are currently behind bars, and College Guild courses are open to any of them. The volunteers who correspond with them do so anonymously—they don't know the prisoner's name and vice versa, and the responses are impersonal, never using the pronoun "I" for example. But this doesn't stop volunteers and prisoners from developing a fruitful and productive relationship.
Hahesy, a biology major and sociology minor, has been a volunteer since March. Over the summer she was able to expand her role at College Guild by developing her own course for the organization to offer prisoners. "The course, which is called Disease, reflects my own interest in public health," she said, "and it sets a number of tasks. We ask prisoners to look at different types of infectious diseases, their treatments and preventions. We also talk about pandemics, how diseases have shaped cultures through history, and discuss the issue of public health and health care. The questions prisoners have to answer are things like 'What would you do in this person's shoes?' 'What is your opinion on this treatment?' 'What do you think of holistic medicine?' One of the tasks is to write a poem," she added.
"We want them to communicate and develop a passion for learning," said Hahesy.
"We give the prisoners a few hard facts they can refer to, but the goal is to help them understand the value of learning and thinking critically and also teaching them to respect themselves. Part of the reason I was drawn to this internship was to learn how a small nonprofit works, something that was not largely possible as I had to work from home due to the pandemic. I was also, however, drawn to the idea of helping those who often don't have the educational options many of us have."
Hahesy secured a grant from the Preston Public Interest Career Fund, one of more than a hundred grants awarded through Bowdoin's Office of Career Exploration and Development, enabling students to pursue summer internships that would otherwise be unpaid.