Online Teaching: Japanese with Vyjayanthi Selinger
Published by Rebecca Goldfine
Bowdoin News is publishing a series of stories about online classes, offering a glimpse into how faculty, staff, and students are adapting to the challenges of teaching and learning during a pandemic.
The pace moves quickly in Vyjayanthi Selinger's online intermediate Japanese class. Each student is given frequent opportunities throughout the hour-long session to conjugate verbs, translate phrases, or ask questions. They're helped along with slides of animated characters and Japanese letters that Selinger shares on her screen.
Despite teaching through a computer, Selinger manages to convey attentiveness and good humor as she corrects and encourages students. The synchronous sections of her online class—when students all meet together—are in some ways the easy parts of teaching for her, since they most approximate in-person classrooms.
To develop the class's asynchronous offerings, when students engage with the course material independently, Selinger and her colleague, Senior Lecturer Hiroo Aridome, spent the month of August mastering new technologies and creating many interactive lessons, quizzes, and lectures for the three Japanese language classes they're teaching this semester: elementary, intermediate, and advanced.
While she has less face-to-face time with her students, Selinger said she still hopes she can inspire them. "When we were meeting synchronously or in person, I was able to explain so many things to students in the moment, and communicate warmth and show them my passion for the subject," she said. "And I hope my students still see my passion for Japanese, and my care for them—that these are coming through, just expended in another way."
Below is a sample of some of the tools Selinger is using this fall, both synchronously and asynchronously, to foster inspiration and ensure her students advance their Japanese—and to have some fun in the process.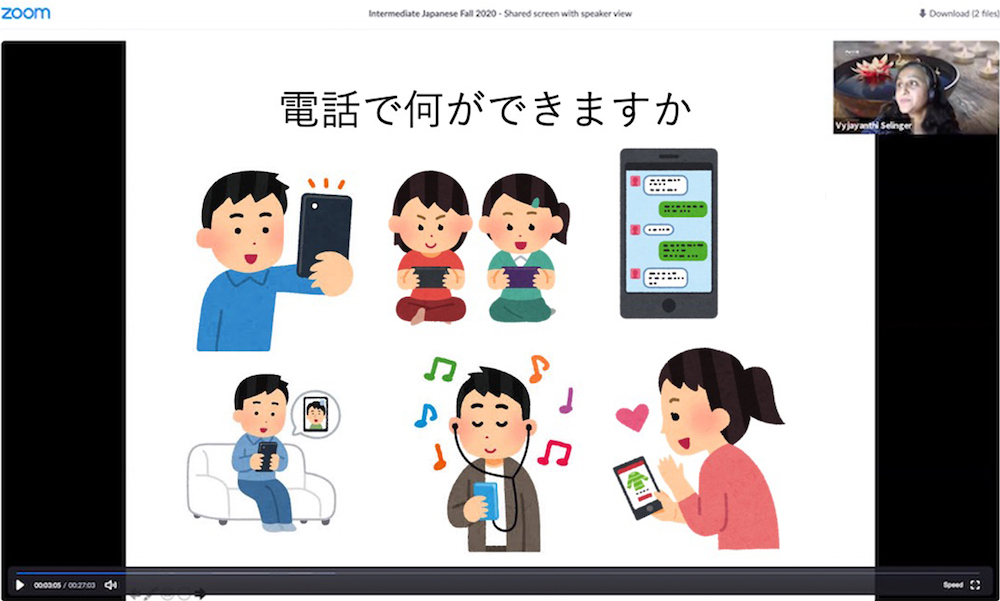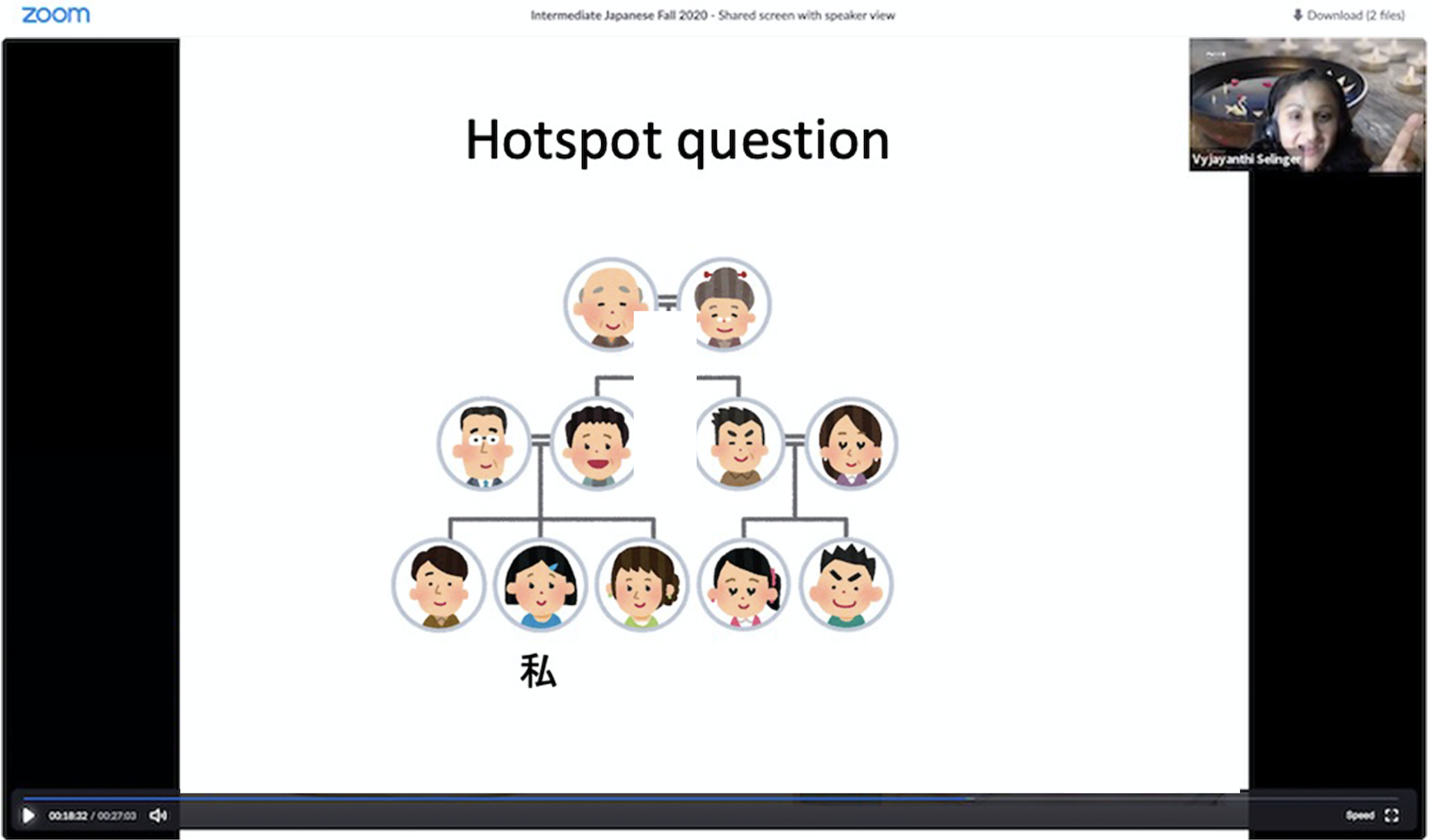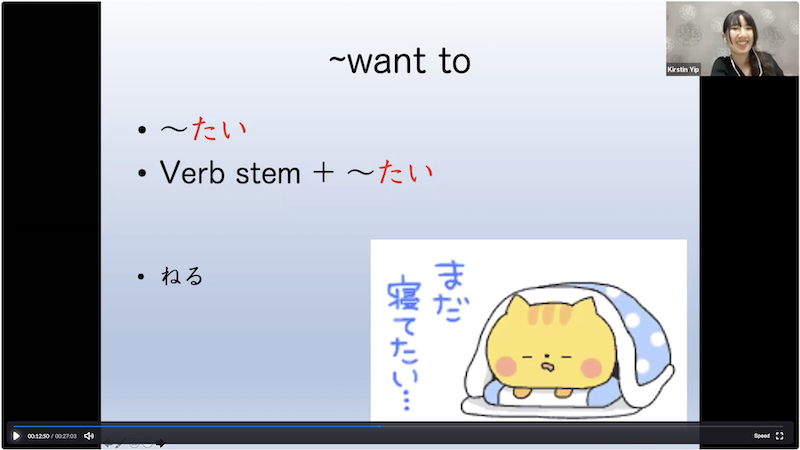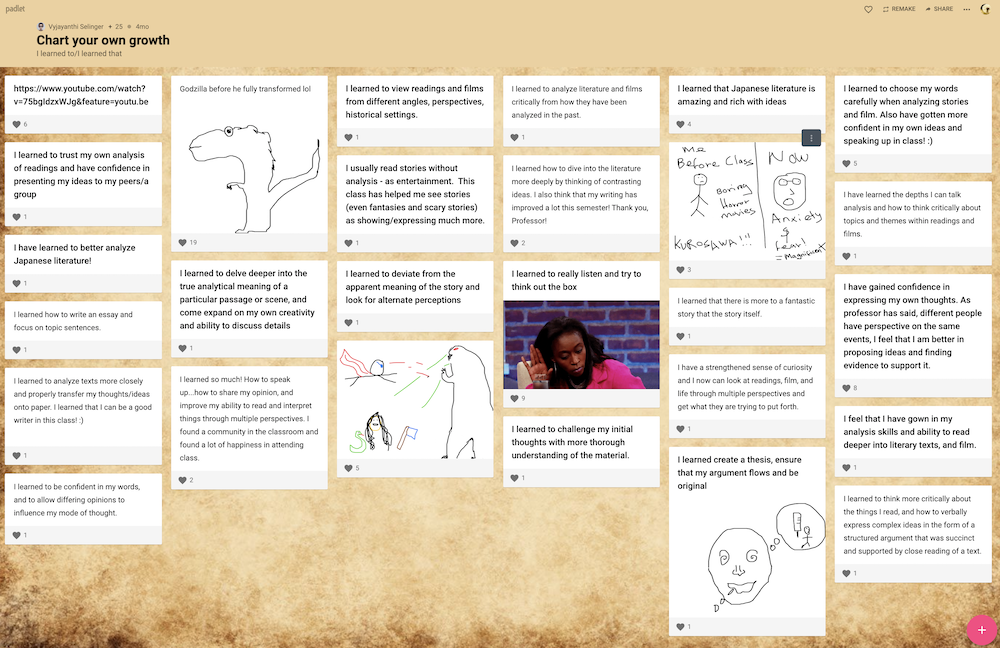 Synchronous Teaching Tools
Though she has a knack for getting students to speak up in class, Selinger has adopted a few applications to enhance the live experience for them.
• Padlet: Padlet works like a digital corkboard, allowing students to post comments, GIFs, videos, images, links, and other media during class—and to respond to other students' contributions.
Because posting to Padlet is not totally spontaneous, shyer students tend to participate more. "I heard from people on Padlet I don't normally hear from because they had five minutes to compose their thoughts in writing," Selinger said. "And students are very good at 'liking' things, so we talk about the top five likes."
• Zoom polling: Selinger has also found a way to compensate for her difficulty assessing students' comprehension on Zoom. Normally, she and other teachers are adept at reading a class to see if their students are following the lesson. But this kind of scanning for confusion or uncertainty is near impossible in an online class when you're gazing at a screen of small faces. To check in with students as she's moving along, Selinger uses anonymous polling. She likes the built-in tool that Zoom offers, especially because it accepts Japanese.
Asynchronous Teaching Tools
To incorporate other elements of teaching—like encouraging self-directed learning or fostering a sense of inclusion and connection among classmates—Selinger has turned to another set of tools.
Because she believes "the beating heart of every class is community," she is trying different approaches to bring students together. One way is with an app called Spatial Chat, which is designed to recreate the experience of an in-person social gathering.
• Spatial Chat: Every participant in Spatial Chat is converted into a bubble that they can move around the "room" with their mouse to pop into conversations out of earshot of other groups. "It allows for the more natural gathering activity that usually happens," Selinger said. Upperclass students studying Japanese are using the program to organize trivia nights, movie nights, and study sessions so students can drop in for company or to do homework together.
• Flipgrid: Selinger is also asking students to use Flipgrid to share a bit of themselves with others. With Flipgrid, users make short videos that are organized into a grid. For the class's first assignment, the students were asked to describe their summer.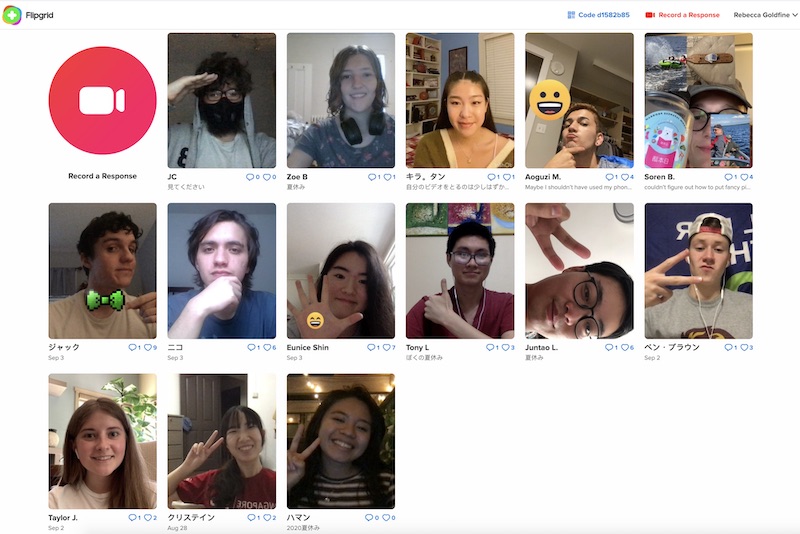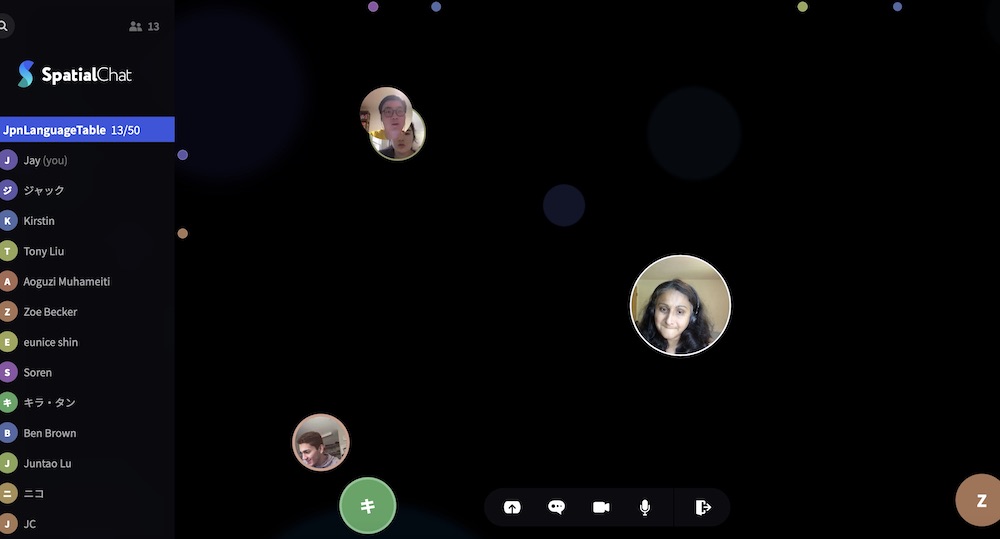 • Interactive videos: Selinger has developed a series of interactive instructional videos that she has programmed to pause at different points along the timeline to give students a chance to write in an answer to a question or take a quiz. 
 • Digital flash cards: Ella Jaman '22, the course TA, created online flash cards to help students memorize vocabulary. Selinger said she admires not only Jaman's creativity, but her efforts to create a more inclusive pack of cards. Selinger recalls an instance when Jaman was not content to follow a lesson plan that taught the word for a heterosexual couple. She asked if she could create a card for a homosexual couple, too. 
• Online quizzes: At the end of some vocabulary lessons, students are prompted to take a quiz. Jaman came up with some novel ways that go beyond the standard multiple-choice option. For instance, instead of writing in the correct answer for "uncle," students can hover over the figure in a family tree. "She made vocabulary fun," Selinger said.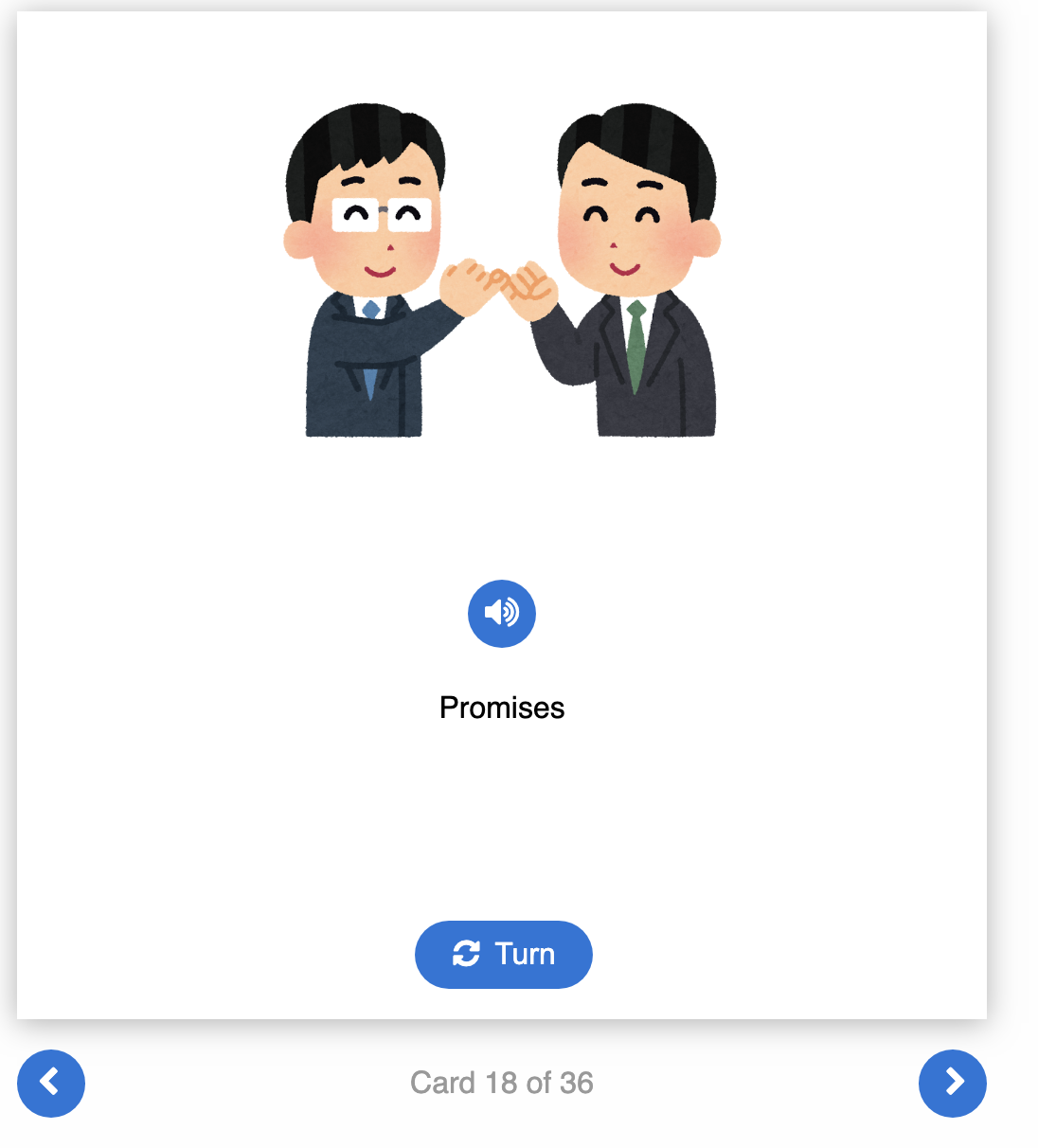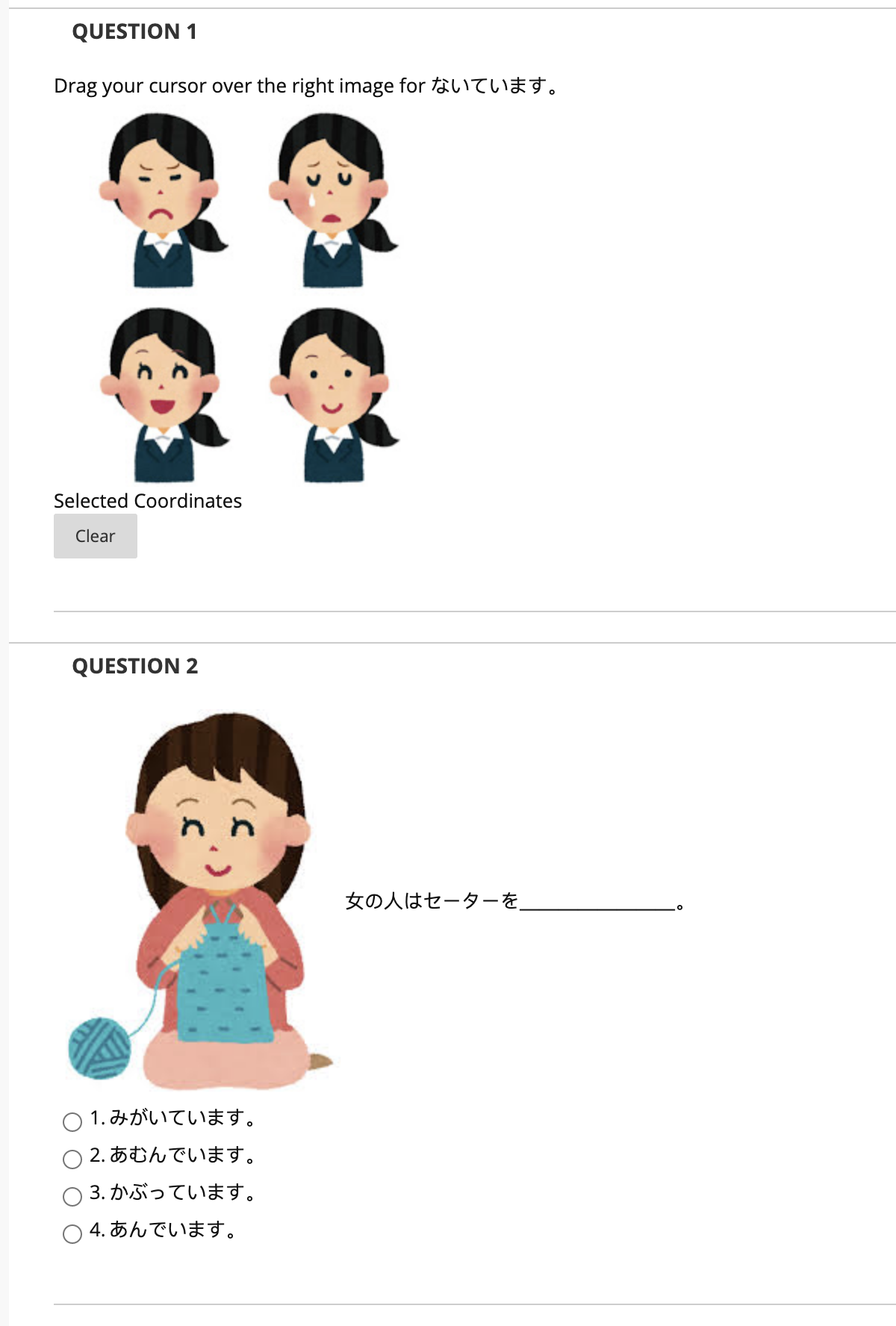 • Writing Japanese letters: To provide students the opportunity to practice writing Japanese letters—to perfect both the strokes and the order in which they must be drawn—Selinger likes the interactive Kakimashou.com site. Students can use their iPad stylus or computer mouse to write directly onto the screen, and get instant feedback on whether they're doing it correctly. "For East Asian languages, the shape and order in which you write characters is important, so this is a website that teaches correct stroke order," Selinger said. 
• Faculty feedback: For some quizzes, students are instructed to use their iPad stylus to write answers directly onto the screen. Selinger then can see their answers and respond with her own iPad stylus right on the page. 
• Video essays: After seeing last spring how adept students in her Japanese literature and film class (Gods, Goblins, and Godzilla: The Fantastic and Demonic in Japanese Literature and Film) were with Zoom, she offered them a chance to use it to create a video essay in place of a written essay.
"Video essays require the exact same organization that written essays require," Selinger said, and similar—"if not tighter"—structure than papers. "Students amazed me with how much rehearsing they did to achieve a crisp presentation!" Plus, instead of having to describe a scene in words, they can play the clip to reinforce their analysis, as well as use Zoom's annotational tools to mark up the scene.