Published September 28, 2020 by Tom Porter
"At First Light" Photography Book Well Received in the Media
In an ideal world, the Bowdoin College Museum of Art would currently be celebrating two hundred years of Maine statehood with a series of exhibitions. One of those shows, At First Light: Photographs of Maine Artist Studios and Homes, was to feature a selection of images captured by the celebrated architectural photographer Walter Smalling.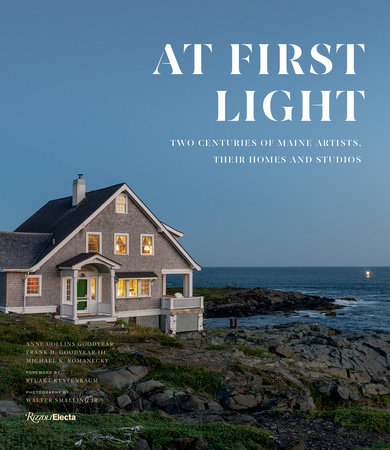 Those plans were derailed by the COVID-19 pandemic—the exhibition was postponed until next summer—but that didn't stop publication of the book designed to accompany the show. At First Light: Two Centuries of Maine Artists, Their Homes and Studios (the book) has garnered considerable positive attention in the media since its publication earlier this year. It chronicles twenty-six extraordinary artists of the last two hundred years who have lived and worked in Maine and features breathtaking photographs by Smalling of their homes, studios, and surroundings.
At First Light also includes essays by Frank H. Goodyear and Anne Collins Goodyear, who are codirectors of the Bowdoin College Museum of Art, as well as essays by Michael Komanecky, chief curator at the Farnsworth Art Museum, in Rockland. The foreword, meanwhile, is written by Maine poet laureate Stuart Kestenbaum. Featured artists include Winslow Homer, Marsden Hartley, Robert Indiana, David Driskell (H'89), Lois Dodd, Molly Neptune Parker (H'15), and Richard Tuttle.
Writing in The New York Review of Books, Lucy Jakub reflects on how various artists have interacted with the landscape of Maine. She refers to At First Light and how its "Short essays further explore the sense of place that drew artists and permeated their work. The houses tell stories all their own," she continues. For example: "Homer's house in Prout's Neck was like a ship, paneled inside with polished boards, with a cantilevered balcony from which to watch the sun rise over the sea." Jakub goes on to talk about the Passamaquoddy artist Molly Neptune Parker, who died in June. "[She] spent her life weaving traditional baskets from the wood of the ash tree, a craft that has helped her tribe to survive economically and culturally in the face of assimilation."
At First Light: Two Centuries of Maine Artists, Their Homes and Studios was published in March 2020 by Rizzoli Electa and is available from the Bowdoin bookstore.
Watch a conversation with photographer Walter Smalling, who spoke to Bowdoin College Museum of Art codirectors Anne Collins Goodyear and Frank Goodyear in early September.
Read more reviews of the book. 
Camden Herald.  https://knox.villagesoup.com/p/creative-enlightenment-two-new-books-celebrate-maines-place-in-art-world/1854066
Down East Magazine. (https://downeast.com/arts-culture/art-books-for-the-bicentennial/
Kennebec Journal. https://www.centralmaine.com/2020/06/25/bushnell-on-books-writers-lovers-and-at-first-light/
Maine Homes. https://mainehomes.com/behind-the-canvas/