Published August 21, 2020 by Rebecca Goldfine
Med Student Donald Detchou '19 Publishes Papers on Breakthrough Surgery
Donald Detchou, a second-year medical student at the University of Pennsylvania Perelman School of Medicine, is the lead author of a new paper about a novel surgical technique to remove spinal tumors.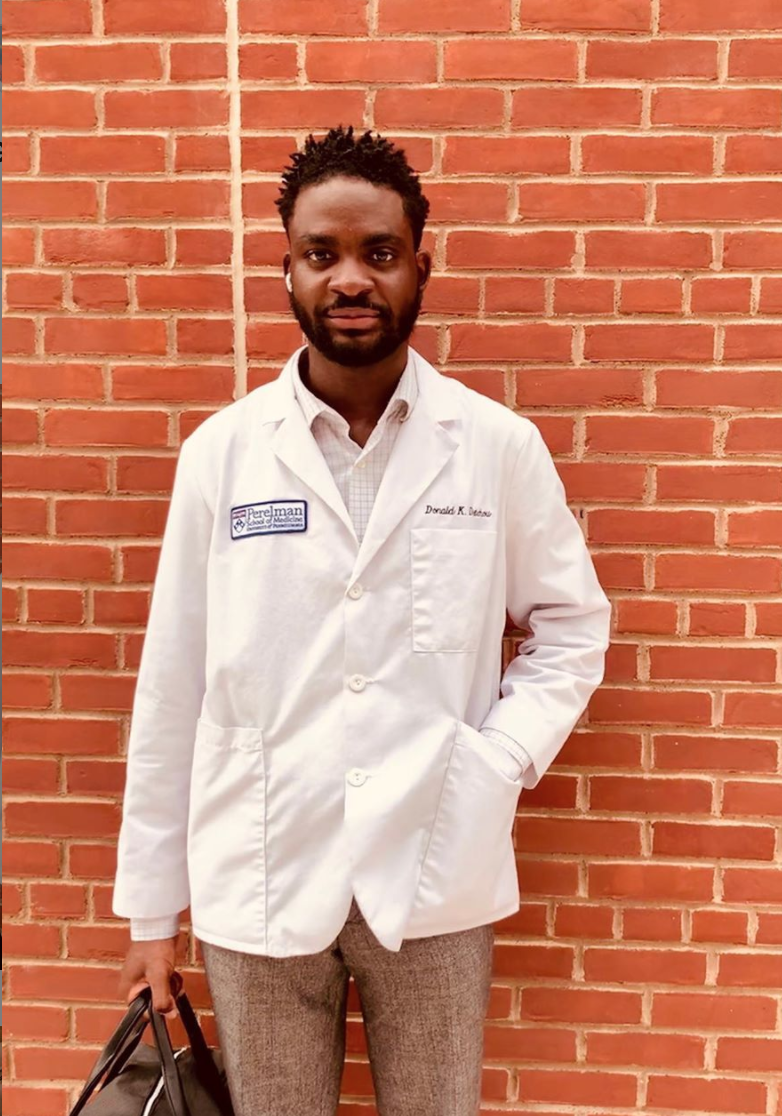 Chordomas are rare, locally aggressive tumors that can metastasize to the bone, lungs, liver, and soft tissue. Studies have shown that taking out the entire tumor ensures survival from those affected by the cancer. However, removing malignant growths on the spine is precarious, as it's easy to damage nearby blood vessels or nerves and cause permanent damage or prolong patient recovery.
In a recent paper published in World Neurosurgery, Detchou explains that his team of UPenn researchers—led by Chief of neurosurgery Neil R. Malhotra—have described an innovative approach to operating on these tumors, which lessens the chance of inadvertent harm. The tool they use, an ultrasonic bone-cutting device with a serrated tip, utilizes microvibrations that distinguishes between hard and soft tissue and selectively cut mineralized structures, including bone. In the surgical world, this technique is known as piezosurgery.
The patient undergoing the two-day surgery was a forty-three-year-old with end stage renal disease requiring dialysis, whose spinal tumor was detected during a full-body screening for a kidney transplant. After the procedure on his spine, he was soon able to go home and recover, and made a successful return to the kidney transplant list following re-evaluation six months later.
Since 2016, Malhotra and his group have utilized the ultrasonic aspirator on eight patients—in three different areas of the spine—and all patients have had successful post-surgery outcomes, Detchou said. "While this ultrasound technology increases the surgeon's ability to safely take out tumors, its use in neurosurgery is infrequent and thus poorly documented," he added. As a result, he also wrote the first clinical series of patients with chordomas treated with piezosurgery, currently undergoing review for publication at another leading neurosurgical journal.
Although he has just finished his first year of medical school, Detchou has already published three papers. Another three with him listed as lead author are currently under review, with another "fifteen sitting in line, ready to be submitted," he said.
Detchou has formed relationships with several research physicians across all three nearby university hospitals, which he says is one of the reasons behind his publishing success. "One big thing at med school, you get to do what you care about and like," he said. "If I am interested in brain surgery, all I have to do is reach out to one of the brain surgeons and say, 'Hey, I am a medical student interested in this. Do you have time to talk, or can I observe your OR?' And everyone has been very welcoming and very open."
He added, "Along with contributing speed and energy, I've been fortunate enough to be matched with incredible mentors on great projects."
A neuroscience major while at Bowdoin, he also credits a professor in a different department for teaching him the art of writing. "My freshman seminar, Affirmative Action and United States History with Dr. Brian Purnell, was one of the most helpful classes I've taken," he said. "That's because producing manuscripts for publication after going through his bootcamp is very easy!"