Published August 03, 2020 by Tom Porter
Internship Enables Aspiring Journalist Emma Sorkin '22 to Gain Valuable Experience
Rising junior Emma Sorkin is getting to grips with all manner of subjects this summer, and writing about them for the Portland Press Herald, a newspaper and website serving southern Maine.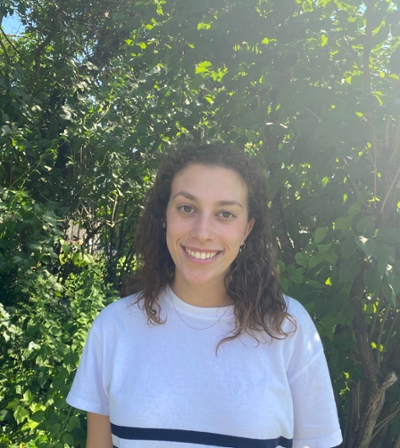 The aspiring journalist and history and Hispanic studies double major is the recipient of a grant from the Robert S. Goodfriend Summer Internship fund—one of 102 awards distributed to students by Bowdoin Career Exploration and Development (CXD) this year, enabling them to pursue unpaid summer internships.
Sorkin talks about what she's been doing and what she's learned so far in her internship.
This summer I am the features intern, so I have been working with the features editor at the Portland Press Herald on a variety of stories. Usually, I am assigned stories and am responsible for conducting interviews, research, and writing the article. Sometimes I have to finish the article the same day, and for longer pieces I usually have a few days. I've worked on a bunch of interesting stories so far! A few things I wrote about are how books about race are selling out across Maine, a local shoe repair store that has been in Westbrook for generations that is closing, civil rights activist and writer James Weldon Johnson's connection to Maine, and how local farms are staying in business.
I have really enjoyed working here. While I have had to forego working in a busy newsroom due to the COVID-19 pandemic, and therefore have been working remotely, I have still learned about how local news organizations function. This experience is also teaching me about the importance of communicating information to communities in a nonbiased and easily accessible way. It's been meaningful to see the impact my stories can have on people.
I really like writing and reporting because it gives me the opportunity to talk with people I would not normally get to meet and share important stories. I applied to the Press Herald because I thought it would be a great chance to improve my journalism skills and grow as a writer and reporter. I also want to gain a better understanding of what a career in journalism would be like and to use my skills in a real-life context.
This internship has helped me further consider my plans for after Bowdoin. Working at a great news organization like this has reaffirmed how much I enjoy working in this field and how interested I am in pursuing a career in journalism. This has enabled me to think more realistically about what I want to do post-Bowdoin.