Bowdoin's Plan to Keep Everyone Safe This Fall
Published by Rebecca Goldfine
From outdoor tent classrooms to rigorous COVID-19 testing schedules, Bowdoin's administrators have thought through every detail of campus life to try to prevent an outbreak of coronavirus this fall.
Every contingency has been considered, according to Dean of Students Kristina Bethea Odejimi. "We have done an enormous amount of planning to prepare for a lot of what-if scenarios," she said. "And if something were to go wrong, we will be able to pivot accordingly."
Throughout the summer, many staff people have been involved with campus preparations—from taking on big jobs like overseeing the COVID-19 testing center in Morrell Gym or creating an all-virtual orientation for first-year students to taking care of finer details like figuring out where students arriving by bus can put their luggage while they get their first on-campus virus test. (Students aren't allowed into any buildings until they can prove they've been tested.)
Two sophomore interns—Jeremiah Brown '23 and Tiffany Delgado '23—"have been especially helpful," Odejimi said, in "allowing us to think about all of the granular pieces" of student life.
Mike Ranen, associate dean of student affairs and director of residential and student life, has been helping to direct many of these efforts. "The process of figuring out how to safely reopen has been an amazing logistical challenge, with so many moving pieces, and the biggest moving piece is that the global pandemic is changing on a daily basis," he said. "Figuring out how to create a safe campus for all has taken the brilliant minds of everyone on campus."
Now that the planning is done, Bowdoin is relying on students to follow the rules. "Bowdoin can only do so much," Assistant Dean of First-year Students Stephanie Rendall said. "It's all about compliance."
35,000 Tests
The College has issued a Guide to Fall 2020 outlining policies to help ensure that every student on campus stays healthy while receiving an excellent education. The guide covers every aspect of campus life—from how large students' social gatherings can be to how Bowdoin is modifying its indoor ventilation, heating, and air-conditioning systems to improve air circulation.
Importantly, the guide also explains the three-color alert system the College will use to shift rules in response to changing circumstances. "Rules, measures, and access" become more restrictive from yellow to orange, and more so from orange to red.
There will be more than 650 students on campus this fall, and another 140 living off campus. 
Every student on campus—including the sixty-nine residential life staff (who are all students), those of the 464 students in the Class of 2024 who are studying on campus, and approximately 200 upperclass students—is required to get tested for the COVID-19 virus regularly. The first test has already be sent to every student at home.
For the first two weeks of school, all students will be tested three times a week. From that point, they're required to get tested twice weekly up to November 21, when the campus closes for the semester.
In addition, staff and faculty are required to be tested based on how often they are on campus and how frequently they're in contact with students.
Head Athletic Trainer Dan Davies, who is coordinating the COVID-19 testing this semester, said the single most critical piece to pulling off this huge undertaking is people's cooperation—and timeliness. "The main thing is showing up on time for your testing slot," he said. "All students and employees will need to plan ahead and make testing a priority within their weekly schedule." 
The 140 students who received permission last year to live off campus this year will also have access to free COVID-19 tests—as will every Bowdoin student studying remotely who has chosen to rent an apartment close to campus. Bowdoin has partnered with Mid Coast Hospital to provide one test per week to each of these students at no cost. The students need to schedule their tests at the hospital's Parkview location in Brunswick.
The second vital piece to making this undertaking successful, Davies added, is ensuring that people blow their noses before arriving at the testing facility, either in their dorm rooms or outside. The Broad Institute—which will handle all of Bowdoin's COVID testing—cannot analyze a sample if it contains solids. 
Morrell Gym will be open Monday through Friday, 7:00 a.m. to 4:00 p.m. With a staff of sixty-four (some are Bowdoin employees; others are temporary staff), the center is equipped to test eighteen people every fifteen minutes. From registration to swabbing, the whole process takes three minutes.
The nasal tests themselves are self-administered. They require people use a Q-tip-like applicator to swipe three times in the right nostril, and three times in the left nostril, before placing their sample in a sealable bag. "You barely put the swab in your nose," Davies said. "There's zero uncomfortability."
Every day, a courier will run the samples to Boston so that Broad Institute can return the results within twenty-four hours. 
By the end of the in-person semester, Bowdoin anticipates it will have administered 35,000 tests. 
From the Medical Team
From Jeffrey Maher's point of view, as director of health services for Bowdoin, there are two major arms to keeping the campus community healthy this semester.
"The first is the public health arm," he said, which includes teaching and encouraging students and staff to practice physical distancing, frequent handwashing, and diligent monitoring of symptoms.
The other arm addresses the medical side of preventing an outbreak. It is critical to screen people frequently enough to identify an infection before community transmission can occur. "We want to screen students, faculty, and staff before they become symptomatic," Maher said. 
If a student tests positive for COVID-19, they and Bowdoin administrators will know within twenty-four hours. The infected student will have to move from their dorm room to the College's isolation unit, which has rooms with private bathrooms and kitchenettes. The Inn can house up to forty students. 
But they will not be left alone. "Every student that tests positive, in addition to being isolated, will have resources showered upon them," Maher said. "Not just food delivery and laundry pickup, but also telehealth visits with the medical team, and Res Life check-ins every day." 
During the telehealth calls, the student will take their temperature and an oxygen reading. If sick students cannot control their fevers or have low oxygen levels, they will be sent to the hospital by ambulance.
Experts suggest most young people infected with the coronavirus have no symptoms or mild symptoms. For this reason Maher anticipates "most of the support will go toward combatting isolation and boredom." (This is also one reason frequent testing is important—so that students don't unknowingly become vectors for the virus.)
Students sequestered in Stowe will be required to remain there for ten days, or for one day after the resolution of symptoms—whichever is longer.
Meanwhile, trained contact-tracing staff will get in touch with everyone who has been in close proximity to the infected person for longer than fifteen minutes within the past forty-eight hours. 
Students identified as contacts must quarantine for fourteen days. In quarantine, face coverings are required in hallways and students may not leave their residence. Each room will have a fridge. Meals will be delivered, and testing will be done in consultation with Health Services. 
Tents on Campus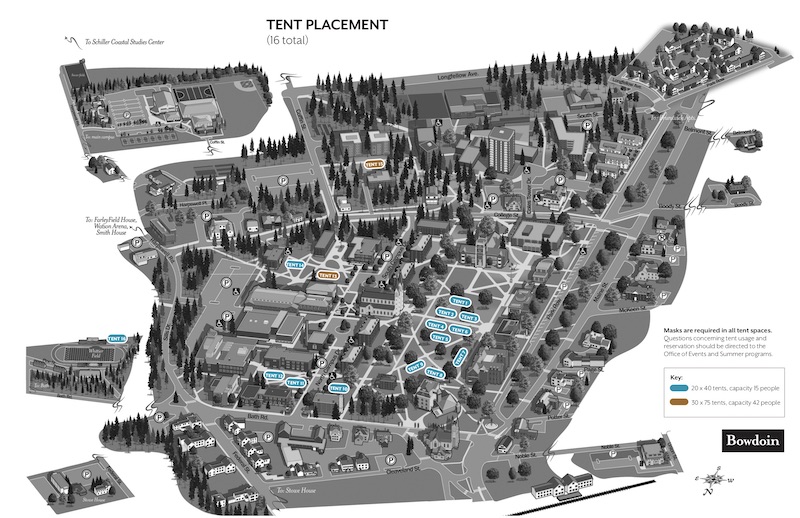 This semester, the only in-person classes will be the thirty-two writing seminars for first-year students. Every first-year is assigned to one of these classes, which helps to prepare them for four years of rigorous intellectual work. Two of the writing seminars will be virtual to accommodate the approximately twenty-three first-years who have opted to attend Bowdoin remotely this fall.
Seventeen tents have been rented and set up on campus to harbor these in-person seminars. And other outdoor classroom locations might be added. "A number of faculty were interested in teaching outside if we could find easy ways to make that work," said Executive Director of Events and Summer Programs Tony Sprague. Each tent will be outfitted with Wi-Fi, lights, whiteboards, and electrical outlets.
When the tent is not being used for teaching, it will be available to students who want to hold small meetings, such as Residential Life groups or student clubs, Sprague added, but only following the first two weeks of the semester.
Faculty are ready to help students who have to miss class. "At any moment, if a student needs to be excused and goes remote to go into quarantine, or if the status of the campus changes, faculty are prepared for that," Maher said. "We may be eliminating in-person classes for a period of time—that is part of the scheme—or a faculty member can choose to go remote for their own reasons."
Residential and Social Life—on Campus and off
Every student on campus this semester will live in a single room and share a bathroom with four to six other students. By spreading first-years out among sixteen residential halls rather than eight, the density of students on each floor has decreased from about twenty-four to six.
The students are also encouraged to keep a minimal amount of stuff in their rooms. In the event the College has to close quickly to prevent a public health emergency, they will have seventy-two hours to leave campus. For the same reason, the College is allowing first-years to bring cars.
Every part of campus life will be very different this fall—from dining to socializing to studying in the library—and Bowdoin is asking students to sign a residential community agreement to comply with its new policies. While these rules will dramatically change campus life, College administrators say it won't prevent students from having an enriching—and fun—experience.
"We're committed to working with the students so they can have as robust an experience as possible, given the safety and health protocols in place," Ranen said.
"Do I think there will be opportunities for them to engage with each other and their peers? Yes, and they'll have fun, but this campus will look very different," Odejimi added.
"One thing I will say," she went on, "is that we will be providing quality programming for students to engage in whether they are remote or on campus. That will not change."
The College will be offering health and wellness programs, inclusion and diversity programming, Black Lives Matter events, anti-racism education, volunteering opportunities, career workshops—all virtually, so every student, on and off campus, can participate.
"No one is taking their foot off the gas pedal," Odejimi said.