Published August 27, 2020 by Tom Porter
Alumni Awards Revealed
Undeterred by challenges of the pandemic during the last semester, Bowdoin alumni continued their impressive work on behalf of the College over the 2019–2020 academic year. This was recognized by the recent announcement of this year's Alumni Council and Alumni Fund awards by the Office of Development and Alumni Relations.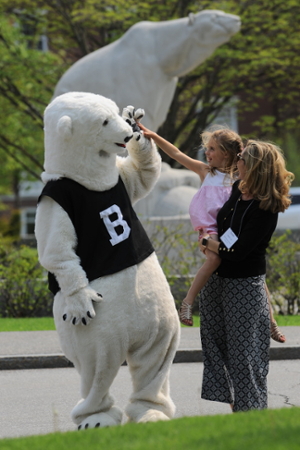 The list of recipients includes individuals, teams, and classes, who are thanked for their exceptional volunteer work. "Bowdoin is so fortunate to have thousands of alumni who give the College their time, energy, and guidance," said Scott A. Meiklejohn, senior vice president for development and alumni relations.
"This partnership of alumni, parents, and other volunteers working with staff is part of what makes Bowdoin better," he continued. "The awards are a small token of our appreciation, and we hope that classmates and friends will join us in thanking this year's winners."
Alumni Council Awards
This year's winners include eight Bowdoin graduates, ranging from the Class of 1956 to the Class of 2010, all of whom are honored for going the extra mile in helping their alma mater. 
Alumni Footprints Awards: These are given in recognition of ongoing efforts in support of the office of Career Exploration and Development at Bowdoin. Inspired by the words of poet Henry Wadsworth Longfellow, Class of 1825, this award recognizes a volunteer who has left "footprints on the sands of time" through their demonstrated enthusiasm, initiative, and outstanding execution and achievement in organizing at least one event or program in the Bowdoin community across the globe during the preceding academic year.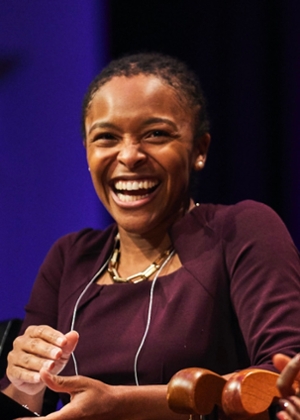 This year's recipients are Kalena A. Griffin Costa '98 and Krystal L. Buissereth '08, who are being recognized for their contributions to the first Sophomore Bootcamp, a large-scale career-focused program for sophomores held on campus in January of this past year. Nearly two hundred students returned to campus for this five-day program to develop career-building skills, from self-knowledge to résumé writing. Buissereth was also honored for contributing to the panel discussion "A Seat at the Table" as part of the AF/AM/50 celebration in November 2019. 
Foot Soldier of Bowdoin: This goes to Reid S. Appleby Jr. '59. The Foot Soldier of Bowdoin Award was created by the Alumni Council in 1999, to honor "one who exemplifies the role of a foot soldier of Bowdoin through his or her work" for the College. It was created through the generosity of David Z. Webster of the Class of 1957. Along with the award, a scholarship is awarded in the recipient's name to a deserving Bowdoin student through the Foot Soldier of Bowdoin Scholarship Fund.
Appleby has served on numerous Reunion and Gift Committees and is a respected and well-known alumnus among fellow Rhode Island Polar Bears. Described as the "true glue" that holds the Class of 1959 together, he won praise for his admirable efforts in helping organize last year's sixtieth class reunion.
Polar Bear Award: This was established in 1999 by the Alumni Council, to recognize a small number of alumni for their significant personal contributions and outstanding dedication to Bowdoin through a record of service. This year, there are four recipients:
Chester W. Cooke III '57, whose formal volunteer work for Bowdoin includes membership on his fiftieth Reunion Committee and longstanding service as a Class Agent. This work was previously recognized in 2007 with the Harry K. Warren Trophy.
Gerald C. Chertavian '87, P'20, P'22 is thanked for his remarkable record of service to Bowdoin, which includes receiving the Common Good Award in 2017 for his work outside the College. He has also served on his Reunion Committee and at one time was a participant in Phonathon.
Forty-one years after winning the Alumni Service Award (the highest honor given by the Alumni Council), Paul G. Kirby '56, P'83 is again recognized for his "unwavering and outstanding" service to Bowdoin, including a long spell as class secretary. His efforts also included many years volunteering with BASIC, now known as BRAVO (the Bowdoin Regional Admissions Volunteer Organization), for which he was presented with a plaque entitled "Mr. BASIC," for his exceptional service.
Wellesley L. Wilson '08 is recognized for the guidance and leadership displayed during her service as national chair of BRAVO (see above), which supports and expands the outreach of the admissions office in the recruitment of qualified students for Bowdoin.
Young Alumni Service Award: This is granted to an alum who has graduated within the past ten years and recognizes exemplary continued service to the College, rather than a single act. The 2020 recipient is Maxine C. Janes '10, who has stayed connected to campus through her work as a BCAN advisor, class agent, regional volunteer, and chair of both her fifth and tenth Reunion Committees.
Alumni Fund Awards
Awards have been presented to seven classes for their participation and contributions to the Fund, as well as to a number of volunteers and class agent teams.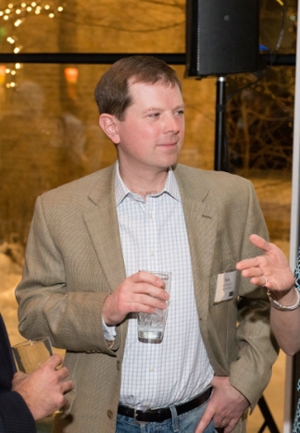 Volunteer Awards
Robert M. Cross Award: Established in 1990, the Robert M. Cross Award is awarded annually to the class agent or agents whose outstanding performance, hard work, and loyalty to Bowdoin, as personified by Robert M. Cross '45, H'89 during his many years of association with the Fund, are deserving of special recognition. This year's award recognized two individuals, Jeanne Brountas '83, class agent, and Sean Marsh '95, 25th Reunion Committee chair.
Described as a "super-volunteer," Director of Annual Giving Christi Lumiere writes of Brountas, "Her careful attention to persaonalization and creativity resulted in the class exceeding its revenue goal." Marsh, meanwhile, is honored for working tirelessly on his twenty-fifth reunion and helping his classmates raise $75,000 more than their largest gift total to date.
The Class of 1976 Trophy: Established in 2004, the Class of 1976 Trophy is awarded annually to the class agent, associate agent, or team of volunteers whose energy, creativity, and leadership in a nonreunion year are deserving of special recognition. The 2020 trophy goes to Class Agent Kristin Pollock '04. "Kristin should receive this award because she is constantly pushing boundaries with her class," writes Leadership Gifts Officer Linda Tan. "Right when the pandemic hit, she suggested that the class of 2004 have an event with frontline workers, which was extremely successful," she added.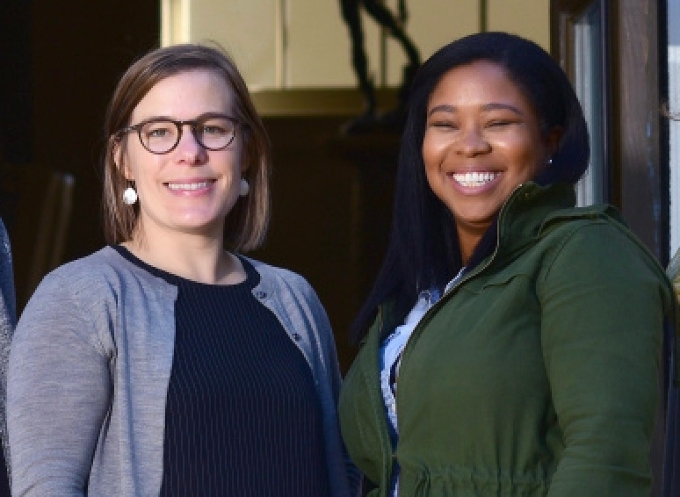 Class Awards
Leon W. Babcock Plate: Awarded annually to the class making the largest contribution to the Alumni Fund, the Babcock Plate was presented in 1980 by William L. Babcock Jr. '69 in honor of his grandfather, Leon W. Babcock '17. This year's winner is the Class of 1977, which raised $503,207.
The Alumni Fund Cup: Awarded annually since 1932, the Alumni Fund Cup recognizes the reunion class making the largest contribution to the Alumni Fund. The cup goes to the Class of 1975, which has raised $424,901.
Class of 1916 Bowl: Awarded annually to the class with the greatest improvement over its Alumni Fund performance of the preceding year, the original Class of 1916 Bowl was presented to the College by the Class of 1916 in 1959. The bowl recipient this year is the Class of 1962, which has raised $154,979 this year—a 63 percent increase over 2019.
Class of 1929 Trophy: Established in 1963 by the Class of 1929, the award recognizes that one of the ten youngest classes attaining the highest percentage of participation. This year's award goes to the Class of 2013, with a 38.7 percent participation rate.
Robert Seaver Edwards Trophy: Awarded annually to that one of the ten youngest classes making the largest contribution to the Alumni Fund, the trophy honors Robert Seaver Edwards, Class of 1900. It was presented to the College in 1965. The 2020 award goes to the Class of 2010, which raised $44,611.
Harry K. Warren Trophy: Awarded annually beginning in 1998, the Harry K. Warren Trophy recognizes the two reunion classes achieving the highest percentage of participation. Among the group of classes celebrating fifth to twenty-fifth reunion years, the trophy went to the Class of 2000, which achieved a 45 percent participation rate. Among the classes celebrating thirtieth to fiftieth reunion years, the trophy went to the Class of 1970, which achieved a participation rate of 66.1 percent.
Fund Directors' Trophy: Established in 1972 by the Directors of the Alumni Fund, the Fund Directors' Trophy is awarded annually to the class or classes that, in the opinion of the directors, achieved an outstanding performance that deserves special mention. This year, that honor goes to the Class of 1968 Class Agent Team: Nathaniel B. Harrison, Robert Lakin, Alan Fink, Elliot Hacker, and Thomas Sides, who helped the Class achieve an 84.8 percent participation rate—the highest of any class in the 2020 fundraising year.