A Day Like No Other
Published by Tom Porter
The physical distancing and other guidelines necessitated by the COVID-19 pandemic had already ensured this would be a move-in day like no other. Then came the rain. Nevertheless, spirits remained undampened and the welcome was warm.
By 9:30 a.m., the parking lots adjacent to the first-year dorms would typically be a hive of activity, as Bowdoin's newest students, aided by family and friends, would traipse in and out of their new abode, laden with belongings. On this day, things are quieter. Much quieter.
"Move-in day is always one of my favorites," said volunteer Tom Ancona, associate director of the McKeen Center, "because usually everybody's really excited." Ancona was sheltering under an awning between Maine and Winthrop Halls, welcoming new arrivals and avoiding the downpour that blighted much of the day, a remnant of Hurricane Laura.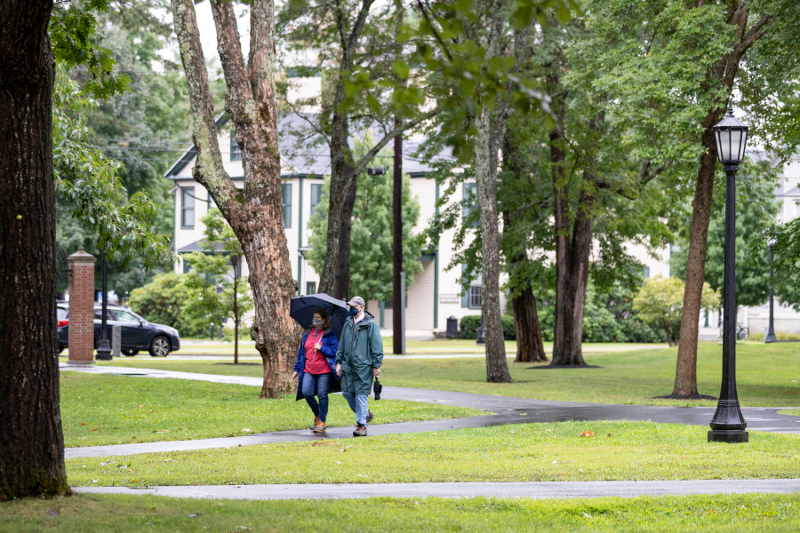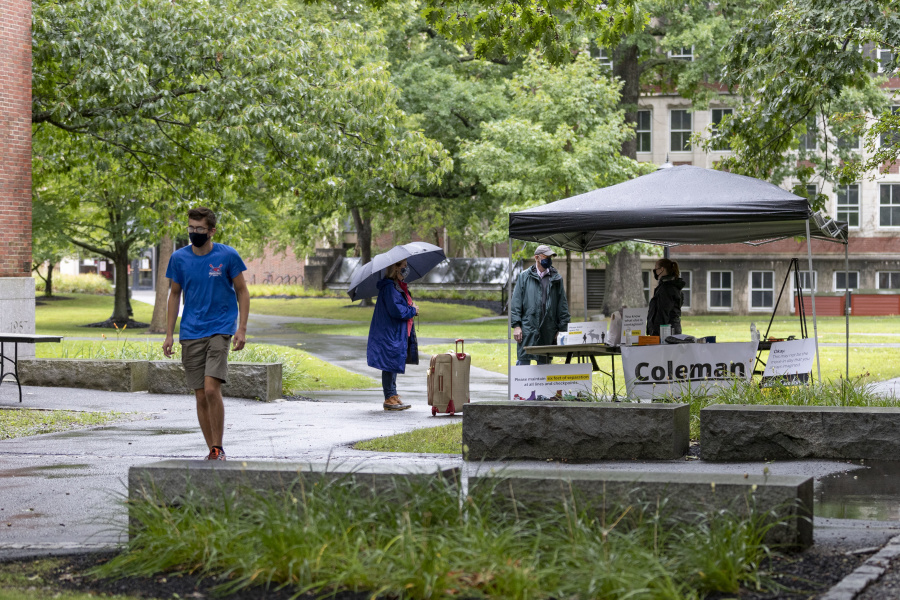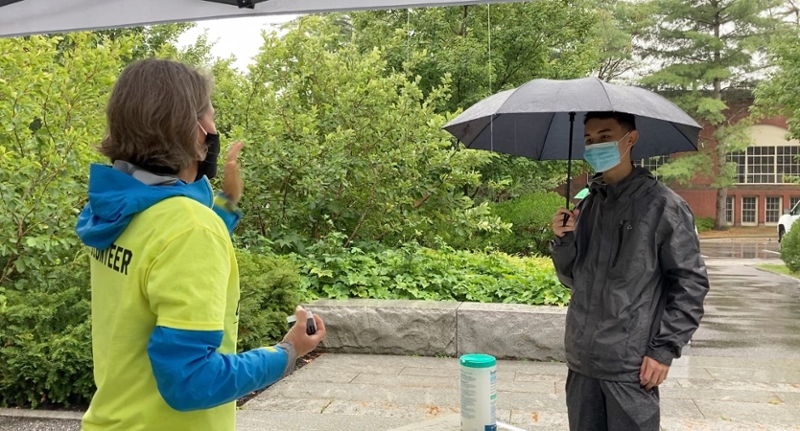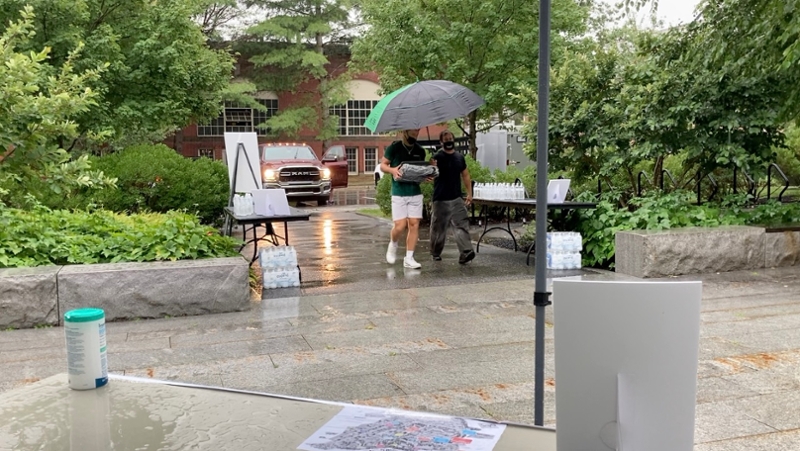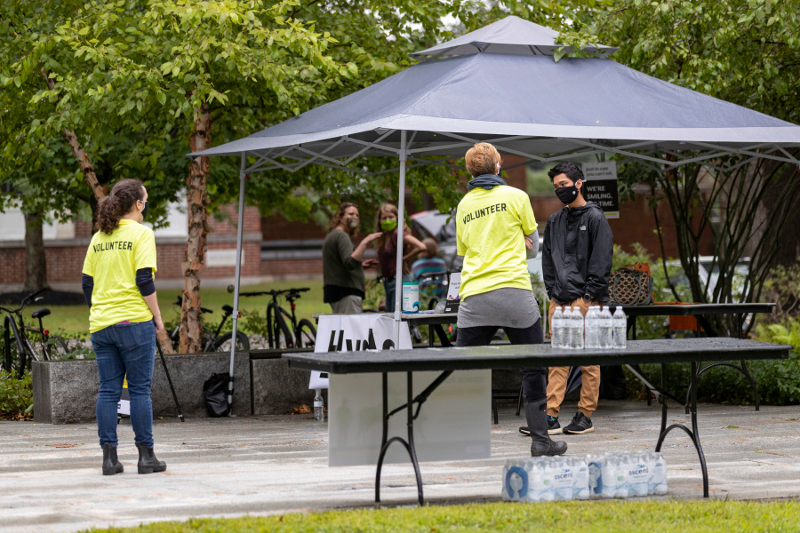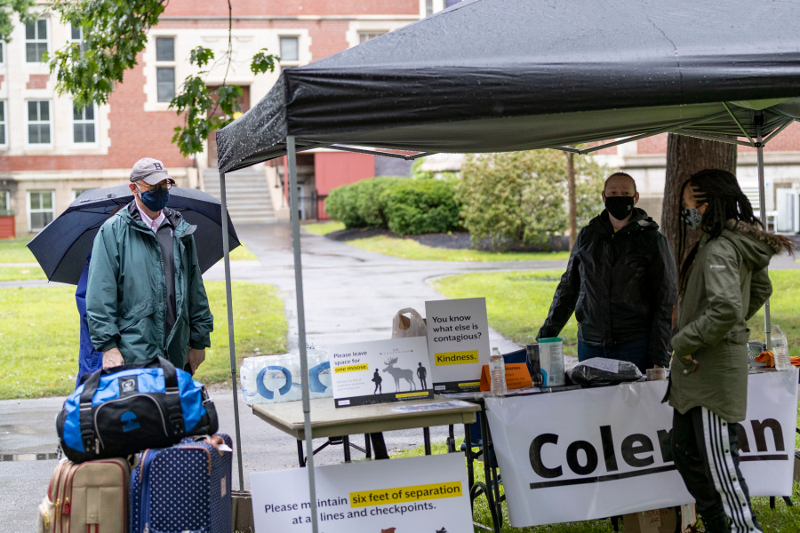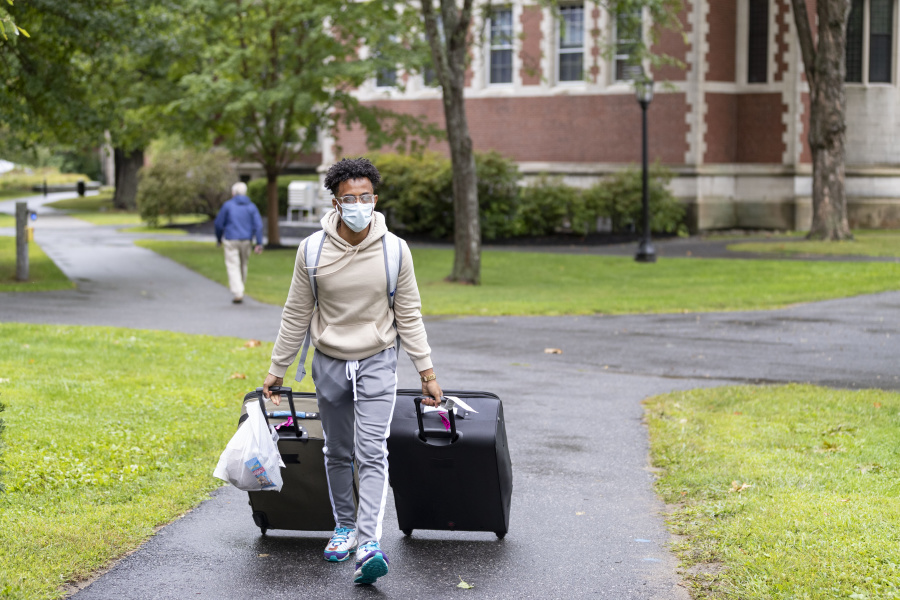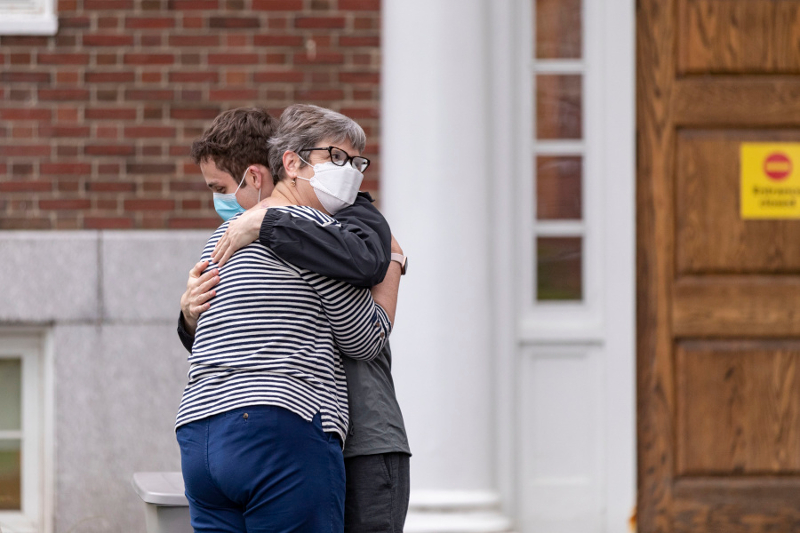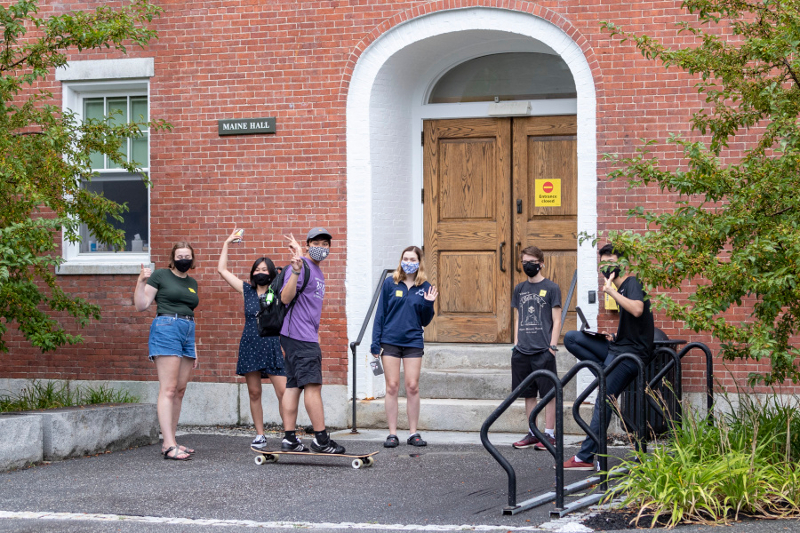 On Saturday, August 29, the arrivals were carefully spaced out so as to limit human contact. "The students signed up to move in at certain timeslots between eight a.m. and seven p.m.," said fellow volunteer Sarah Chingos, who is also Ancona's McKeen Center colleague.
"It's so different this year," she said. "I normally help students carry things to their rooms; I love the energy of it." This year, however, only the one person who brought each student to campus, typically parents or other family members, were permitted to help them, and then only as far as the front door of the dorm. Students had been encouraged to bring fewer belongings with them this year.
This is just one of several guidelines that students are expected to follow this semester. Before arriving at their rooms, they were tested in Morrell Gym. Once settled, they will undergo a period of what's being termed "quarientation," requiring them to stay in their rooms until they have received two negative test results. They can only leave their residence hall to get tested, pick up take-away meals, and participate in their daily exercise outside on campus. They cannot leave campus and, whenever they are outside their private bedrooms, masks must be worn. Despite the obvious limitations and the frustrations that go with this, student affairs and res life staff have worked hard to craft an engaging and substantive "virtual" social experience to reduce isolation and foster connection.
"Everyone's doing a great job," said Carol Norton, as she dropped off her daughter, Maggie Norton '24, at Winthrop Hall. "I'm a state schoolteacher in Maryland," she added, "and we've been forced to go completely online already after trying to hold in-person classes, so I think what you've done here is really prudent, taking the initiative early and being consistent." Today is still a tough day though, she admitted. Dropping her daughter off is hard, but not being able to help her settle in her room makes it harder still.
"It feels good to be able to reassure folks, even if we can't physically help them," said Tom Ancona. "Hopefully people will look back on this move-in day and think 'well, that was strange, but we got through it'— sort of like this whole year!" 
An Address from the President
For the incoming members of the Class of 2024, their first day on campus concluded with an address from President Clayton S. Rose. Typically given from the steps of the Walker Art Building, the speech this year was delivered via Zoom. Rose used the occasion to share two ideas with his audience: "First, you are here to be challenged like never before, and, second, you are here to become intellectually fearless," he said.
"On being challenged," he continued, "the better way of saying this is that you are here to challenge yourselves. You will find the work will push you, at times push you very hard." Getting used to the level and pace of college work will take time, he warned, strongly encouraging students to "keep pushing yourselves out of your comfort zone."
On the subject of intellectual fearlessness, Rose said this was something that was at the core of the Bowdoin education. "Our education and our experience are about questions more than answers," he went on to say. "They are about challenging deeply held views and pushing ourselves to comprehend new material—to engage with new ideas and with ideas where we disagree, and, in doing so, to consider material that shakes us up, that unsettles us. A great liberal arts is not an easy thing, but it's deeply rewarding."
Watch President Rose's address and other Town Hall events for Bowdoin students.