Published July 20, 2020 by Rebecca Goldfine
With a Funded Internship, Griffin Marshall '21 Seeks An Alternative Aquaculture Treatment
Now in his second summer working for the biotech start-up Prospective Research, Griffin Marshall '21 is continuing to help search for a drug that can control disease in aquaculture stocks.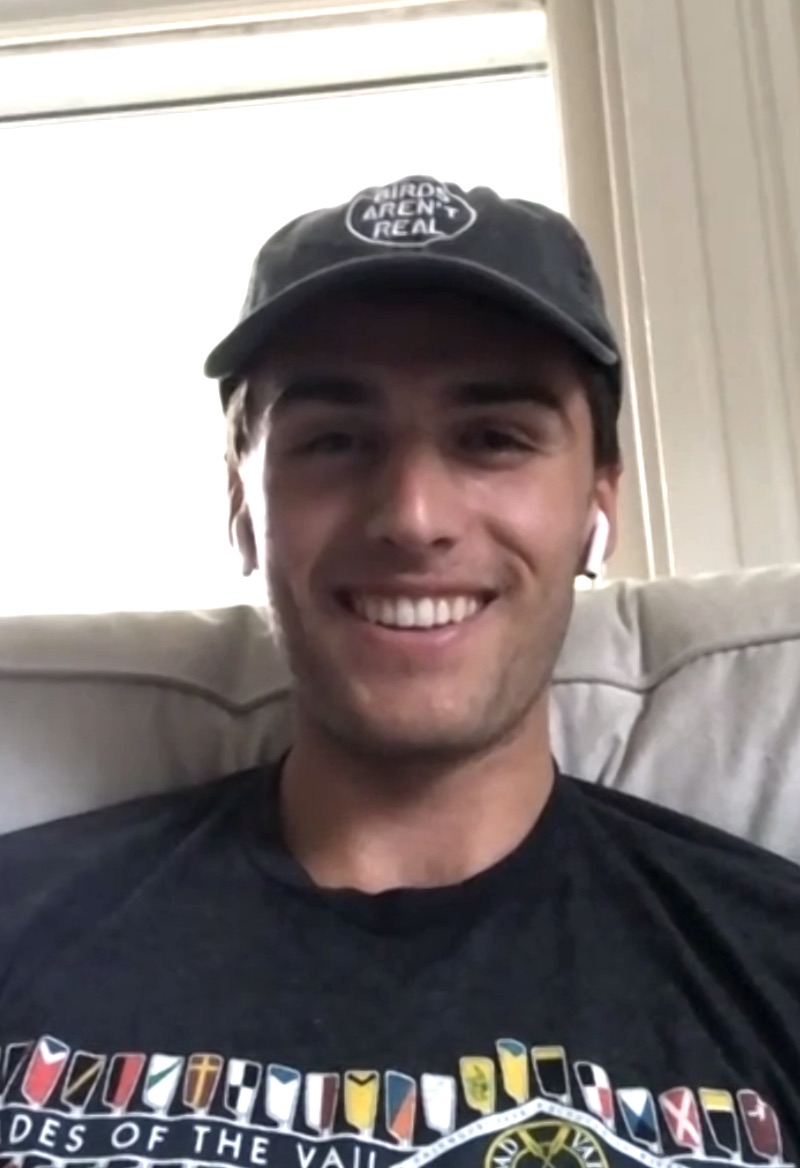 While this summer he is working in a lab running experiments and bioassays, last summer he spent a lot of time in swamps.
That's because Prospective Research is searching for the next great medicine in dirt. "Dirt prospecting," Marshall calls it.
"My job last year was field work and dirt dilutions. I'd go out with waders and sterile vials, scoop up dirt, and go back to the lab," he said. After diluting the samples and putting them in an incubator, he would watch what grew—sometimes blooms of rainbow-colored bacteria colonies.
Prospective Research's team is small—two founders, two interns, and a scientist with a background in drug development. Now that they've collected some promising bacteria strains, they're developing them in the lab to see whether they can effectively fight against bacterial, fungal, or parasitic pathogens in aquaculture species like shrimp, salmon, and oysters. 
This summer, Marshall has a Scott and Anne Perper Internship Fund from Bowdoin to support his summer internship. The fund is one of 102 grants that Bowdoin Career Exploration and Development awarded to students this year to pursue unpaid summer internships.
Marshall is working in an emerging area of discovery: the development of antibiotic alternatives that can control the spread of disease in marine organisms. "The implications are massive," he said. "In aquaculture, density is the key. If you can increase density, you get more food. But the biggest hindrance is disease."
Antibiotics in aquaculture are problematic, mainly for the resistance that might build up to them, and countries have placed strict regulations on their use. So Prospective Research is looking for a bacteria that will act like a probiotic and outcompete pathogens in farmed fish or shellfish populations.
"It works the same way as in your gut," Marshall said. "It will decrease the overall density of the pathogenic species. Pathogens are always present, but they only become a problem when there are a lot of them."
Marshall spends his days in a small laboratory in Beverly, Massachusetts, experimenting with different ways to grow the bacteria colonies he's collected from the environment. The promising ones that can be successfully cultivated are tested with live marine species in a lab in Arizona.
As a biology major and environmental studies minor, Marshall said he's interested in the intersections of science and environmentalism. "This is a really cool spot, because we're looking at aquaculture, which gets at the ecology aspect, but it also has microbiology," he said.
Working in a commercial lab has also been exciting, he said. "It's been a valuable experience, because it feels like what I am doing is not just for the sake of learning but for the sake of building a business, and I'm building more connections in the science world."