Published July 27, 2020 by Rebecca Goldfine
Senior Investigates Bowdoin's Transition to Coeducation from Men's Point of View
Forty-nine years after Bowdoin opened its doors to women, in 1971, anthropology major Emma Kellogg '20 analyzed the reactions of male students to this remarkable moment in the College's history.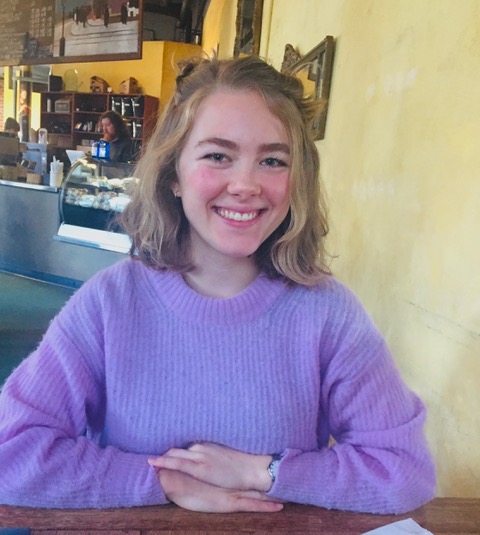 While many more male students experienced the early years of Bowdoin's coeducation, there are fewer recorded narratives from them than from the first wave of pioneering female students. This trend is mirrored across colleges and universities, Kellogg said.
"Analyses of coeducation at formerly all-male institutions tend to highlight women's stories, experiences, and perspectives, and men students are positioned as unmarked background actors," she writes in her thesis.
So she decided to explore the overlooked subject of how men made sense of this dramatic change, and how their view of themselves also shifted as the historic institution around them became a different place.
Her thesis, A Men's College with Women: Masculinity, Sexist Laughter, and Stories of Solidarity during Bowdoin College's Transition to Coeducation, 1969–1975, is archived in Bowdoin's digital commons. In recognition of her work, she received the anthropology department's David I. Kertzer Prize for "an outstanding research project."
Kellogg's path to her honors project was somewhat fortuitous. The summer before her senior year, she worked as the oral history intern for the George J. Mitchell Department of Special Collections & Archives. One of her tasks was to interview alumni during the College's annual Reunion Weekend.
The event hosted classes spanning from 1954 to 2014, and Kellogg spoke to members from all classes. But the interviews that especially intrigued her were the ones with members of the Classes of 1969 and 1974. The students who graduated in '69 had experienced firsthand the debate leading up to the matriculation of female students, and those who graduated in '74 were the ones to greet the women when they arrived. 
After transcribing and processing her interviews, Kellogg was encouraged to continue analyzing this period by her advisor, Professor of Anthropology Krista Van Vleet.
"Emma wrote a fantastic honors project," Van Vleet wrote in an email. "She used oral histories and old Bowdoin Orient articles, cartoons, and images to illuminate the ways that masculinity and 'the Bowdoin student' were produced among students in the late 1960s to early 1970s."
Looking back almost fifty years, some of the men Kellogg interviewed spoke about "what it meant to be a man on Bowdoin's campus at this time, and how they imagined themselves as Bowdoin students when what that meant was radically changing," she said.
She compared the narratives of her interviewees to the primary sources she read to better illuminate how "masculinity and men's power—performed within stories, jokes, images, or other communicative events—were articulated and negotiated in ongoing ways."
Law, Culture, and Society, with Assistant Professor of Anthropology Simon May: "I realized that all these things I had taken as static, stable, and natural weren't, especially the law. I find interesting the snail trail of values or ideologies of cultural change over time. And we looked at cool case studies. Law is often talked about in this serious lofty tone and this sort of looked at it from a different direction."
Classic Twentieth Century LGBT Cultural Texts, with Associate Professor of English Guy Mark Foster: "We read a lot of novels that had theories that applied to what I was writing about for my honors project. One that I read that was helpful—especially because the timeframe matched up with my research—was Ruby Fruit Jungle, and another that I really enjoyed and found helpful was The Color Purple." 
History of Anthropological Theory, with Professor of Anthropology Krista Van Vleet: "I just love the history of anthropology. I loved learning about the discipline and getting to read all these theorists and anthropologists. It really grounded my anthropological learning."
Though plenty of men had welcomed women to their school, she detected insecurities as well. "When the Bowdoin student body starts to change and the narrative around that starts to change, some students have anxiety about whether they fit in and whether they belong," she said. For a few men in the 1970s, some wondered if they were "the right kind of man" for a place like Bowdoin.
"People really wanted to belong at Bowdoin, no matter who they were, and they wanted to fit in and see themselves reflected as an archetypical Bowdoin student," she said. 
Though Kellogg's is an examination of a period half a century ago, she sees implications for the College today. "The narrative of today that parallels coeducation of the '60s and '70s is the diversity-in-higher-education movement," she argues.
Her project suggests that the transition to coeducation was in part undertaken by the College to continue attracting students, especially men. And she suggests there are similarities between the 1960's rationale to justify coeducation and the rationale that sometimes is used to promote greater ethnic and racial diversity among students at colleges and universities. In both cases, concern about the education of the dominant group (men students or white students) justifies the change.
"In the '60s and '70s, people were talking about bringing women to campus as a sort of balm or medicine, a way to fix the problems they were seeing on campus," Kellogg said, including some people's perception that male students were unruly, inattentive, and more engaged in protesting and partying than in the pursuit of knowledge. The presence of women, it was thought, might serve as a calming and civilizing influence.
"It wasn't about how higher ed could change itself" to ensure women felt entitled to participate in the full breadth of the College's academic and social offerings, she observed. "It was more like, if we bring women here, we'll be able to attract more of the men we want." 
She hears echoes of that old College rhetoric still, such as "that we need to bring people of color to campus because they will help white students realize they live in a global society, and it will teach our students who are predominantly white to interact with people who aren't like them, or help them to understand different cultures," she said.
Van Vleet said that anthropological research like Kellogg's is often a process of discovery, both intellectually and personally. "Because part of the analytical process is reflecting on our own cultural assumptions. Emma's fascination with the stories that alumni told her deepened as she found some of the events and individuals they mentioned in various texts created by students during the transition to coeducation."
"At the same time," Van Vleet continued, "thinking about the College's rationale and diverse student reactions to coeducation during 1969-1974 challenged her to reflect on contemporary experiences of racial and class privilege (as well as gender privilege) and what it means to create learning and living contexts that are increasingly inclusive and justice oriented."
Kellogg, who also minored in Japanese, said she's interested in one day working for a museum, archive, or cultural institution. She's also considering law school or graduate school to study anthropology or one of the other social sciences.
"I love school, and I enjoyed doing this thesis," she said. "I found it invigorating and nourishing—the whole process: researching, writing, working with my advisor, and seeing a different side of Bowdoin's history."