Published July 13, 2020 by Bowdoin News
Chryl Laird Wants You to Understand Black Voters—And the Various Factors That Inform Their Decisions
With Election 2020 looming against a backdrop of political unrest and protests of systemic racism, the Black vote is in sharp focus.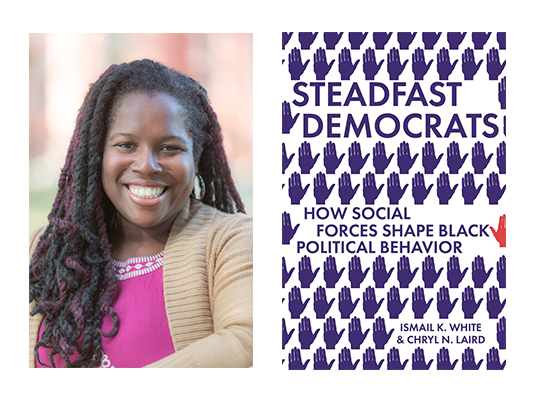 Assistant Professor of Government Chryl Laird, author of Steadfast Democrats: How Social Forces Shape Black Political Behavior (Princeton University Press, 2020), teaches courses in race and ethnic politics, American politics, and political behavior and has emerged as a source of clear insight on the matter.
In the USA Today article "Young Black Voters Say They Aren't Enthusiastic about a Joe Biden Presidency" that was picked up by dozens of sister publications across the country, Laird weighs in on the divide between younger and older Black voters, saying that "younger voters who came of age during President Obama's administration, where Biden was vice president, have higher expectations of their politicians, and likely want to see a more progressive Democrat in office."
Laird goes on to say older Black voters are more pragmatic when they cast their ballots because experience has shown them that change takes time. Read more of what Laird has to say in the article.
Earlier this year, Laird and her coauthor, Ismail White, an associate professor of political science at Duke University, contributed the piece, "Why Black Voters Stick with Democrats," to The Atlantic, and in May wrote "Here's Why Black Americans Were Mad at Biden's Comment—Even if They'd Say the Same Thing Themselves" for The Washington Post.
Laird has also appeared on NPR's All Things Considered and on MSNBC's Morning Joe.