Why We Run
Published by Alison Wade '97
Student athletes from Bowdoin's cross-country and track teams develop other-level perseverance to train and compete as runners. Recreational running has various advantages and meanings for individuals, especially in the midst of a pandemic that has much of the country homebound.
With many of us managing stress and emotions more than ever, we ask: Why run—and why run now?
Early in her running career, Amanda (Allen) Nurse '09 was running a 5K in South Portland, Maine. Approaching a hill in the last half mile, Nurse was overtaken by another runner, who told Nurse she was sandbagging (running below her ability) and encouraged her to sprint to the finish together with her. Nurse recognized Joan Benoit Samuelson '79, the 1984 Olympic marathon champion, and she did what a runner does in such situations: she found another gear.
"To this day, I think about that all the time. Joanie was one of the first people who believed in my running ability," Nurse said.
The encounter was one of Nurse's first lessons in mental toughness, a lesson that distance running repeats to those under its tutelage. As April Strickland, a visiting assistant professor of anthropology at Bowdoin and a runner, put it, "Even when it's difficult and even when you want to stop, you're often capable of much more than you think you are."
At February's US Olympic Marathon Trials in Atlanta, Georgia, on a hilly, windy course, Nurse finished ninety-fourth in 2:43:35. On her way to the starting area, she received a text message from Samuelson. It read: "Go U Bear! Run the race you have worked so hard for today. Running with you from Maine."
"It's crazy to think that, in such a relatively short amount of time, running has become such a huge part of my life," said Nurse, who played lacrosse at Bowdoin. "If you had asked me when I was at Bowdoin if I would ever have been a competitive marathon runner, I would have laughed."
The accessibility and efficiency of running leads many into the sport who, like Nurse, had never imagined themselves as runners. The barriers to entry are low compared to other sports. No special facilities or teammates needed. Some runners find that running not only changes their fitness, it also changes their self-perception.
The Mental Routes to Peak Performance
Though the act of running is a simple one, the sport is not easy. Racing is about getting the most out of oneself and becoming comfortable with discomfort. Bowdoin's distance runners have used a variety of strategies to run their best.

Modern sports psychology was in its infancy when Samuelson competed at the Olympic Games, but she's famous for her mental toughness. "I remember saying to my coach right before the Olympics, 'Whoever wants this race the most is going to win,'" she said. "I've always considered my mental abilities in the sport to be as strong, if not stronger, than my physical abilities."
Coby Horowitz '14 began using visualization techniques more seriously in his running at Bowdoin, and he believes it gave him a big advantage over his competition. "I didn't have to worry about running the race, because I'd already done it in my head ten or fifteen times; I'd already thought of anything that could happen," said Horowitz, who ran a record-setting 4:00:41 mile as a senior at Bowdoin, and then a 3:59:55 two years later.

Nathan Alsobrook '97 ran for Bowdoin and now serves as the College's head Nordic ski coach. "I started off my career focusing on the technical sides of coaching, and I thought of the mental game as a little frosting on the cake. Now, I see that the mental aspect is actually the cake, and everything else is just the frosting. It is so much more hugely important than I ever would have dreamed when I started coaching twenty years ago."
As a runner, he used a lot of "macho tough-guy stuff" for motivation. Think clenched knuckles and gritted teeth and imagine a drill sergeant screaming in your face. "I know now that that's not enough, and it's maybe even counterproductive," said Alsobrook, who still runs and is a competitive age-grouper.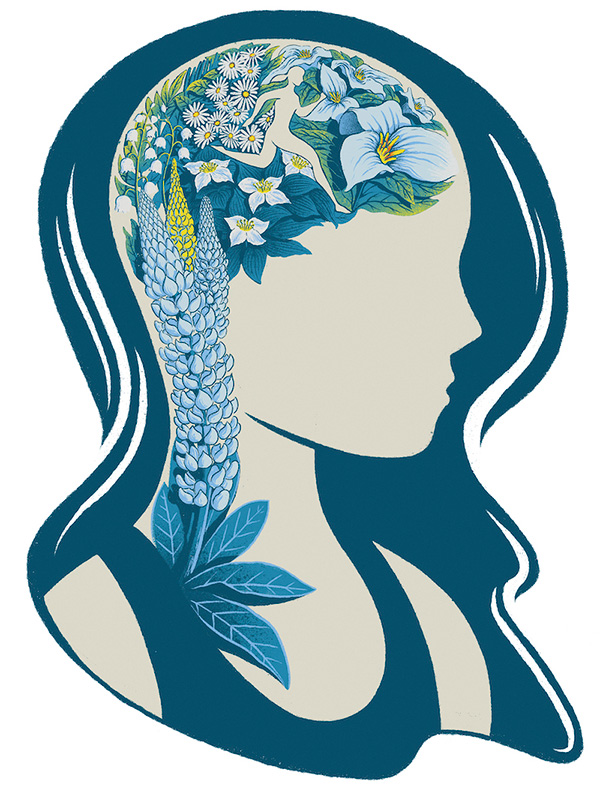 While there's no doubt that running one's hardest is painful, ask Bowdoin runners about the pain, and you're more likely to hear about gratitude. Caroline Shipley '20, who was part of Bowdoin's national championship distance medley relay (DMR) team in 2018, appreciated Bowdoin's director of track and field and head cross-country coach Peter Slovenski's emphasis on joyful running. Instead of thinking about being tough when races became challenging, she focused on being thankful for the opportunity to compete, enjoying her races as much as possible.
Leading into a pivotal race in Bowdoin's cross-country season last fall, Shipley joked with her teammates that when they hit a key spot on the team's home course, they had to "engage party mode" in the final stretch.
On race day, while many of her competitors were undoubtedly focusing on digging deep and being tough, Shipley found herself motioning with her arm as she came around the corner as if she were actually "engaging party mode." She finished that race stronger than any cross-country race she had ever run. What began as a joke became somewhat of a mantra to the team, because they found it worked.
When Sean MacDonald '19 was in high school, he approached running from a place of seriousness, telling himself he had to perform well, or else. For MacDonald, that tactic was ultimately counterproductive, and he stopped enjoying the process. Arriving at Bowdoin, MacDonald made an agreement with himself: Approach running in a healthy, productive, and enjoyable way, or don't do it. Fortunately, Bowdoin was the perfect place for him to do that.
MacDonald became known for smiling late in a race, when others might be grimacing. "I was just enjoying having the ability to go out there and compete. I was just grateful," he said. The pain was still there, but thinking about his family, teammates, and gratitude made it easier to handle. He was not one of the cross-country team's top seven runners his first year, but in the process of learning to run with joy, he transformed himself into an All-American by his senior year. As a result of his mental shift, he says, he saw his academic performance and his relationships improve, too.
Keeping the Joy in Running
The first time Laurie McDonough '98 saw Coach Slovenski, he jumped off the balcony at Farley Field House onto a high-jump mat wearing a Batman costume. She assumed he was an older student pretending to be the coach, but, no, the masked man was very much Coach Slovenski. Slovenski, who was a college decathlete and pole vaulter, has been at Bowdoin for thirty-three years, and he's built a program like no other.
The cross-country team's list of non-running activities has included canoe races, Nerf battles, running with horses at Popham Beach, sing-alongs, talent shows, and jumping off Burnett Road Bridge in Freeport, at the mouth of the Little River. One of the team's favorite traditions is the annual "blindfold run." Runners are driven from campus into the countryside wearing blindfolds so they can't tell where they're going. Once they arrive at the destination, the blindfolds are removed, and the team has to run—and navigate—their way back to campus. (Slovenski trails in a team vehicle, and if the runners have not made it back to campus after running a set distance, he picks them up. No one has been seriously lost—yet.)
During last fall's apple orchard run down a muddy trail, the apparently ageless Slovenski joined the team for one particularly gnarly stretch. "It was just this hilarious image of Coach Slovenski leading the charge through this absolute madness of a forest in the middle of wherever we were in Maine," recalled Shipley. What does any of this have to do with becoming a better runner? Slovenski thinks of it as "keeping the joy" in running, and the activities are designed to offset the pressure of distance running—because the training and racing can be very demanding.
"All the special events we do have a role in our curriculum to make us faster runners. Talent shows, canoe races, bonfires, and our other traditions teach some combination of how to prepare, have poise, and come through in the clutch. A season of running for Bowdoin is going to include challenge, high standards, exhaustion, pain, recreation, education, and humor," said Slovenski.
Team traditions are such a fundamental part of the Bowdoin cross-country and track and field programs that when LJ Que, who became the head coach of women's track and field a year ago, broke out a guitar and began singing with Slovenski during her first year as an assistant coach, team members asked her if that was part of her job interview. "I don't know if any other coaching duo can say that they have guitar jam sessions in their offices," said Que.
"It really is a happy place," said Claire Traum '21. "After a long day of working hard in classes and in the library, at practice I'm guaranteed to have a blast—interesting conversation, a great workout—and leave sweaty and content."
Traum, another member of Bowdoin's 2018 national championship DMR team, talks about rushing out of class to get to the field house so that she wouldn't have to do push-ups for being late to practice, and being met by teammates playing tug-of-war and having handstand contests.
Though Horowitz is one of the most successful runners in Bowdoin history, he says that when he talks with his former teammates now, they're more likely to talk about the fun they had participating in team "shenanigans" than their athletic accomplishments.
Running as a Lifelong Sport
On March 12, five Bowdoin competitors, four of them seniors, were in North Carolina getting ready to compete at the NCAA Indoor Track & Field Championships when they received the news that all remaining NCAA contests were canceled. It was an unprecedented and heartbreaking end to the four seniors' collegiate running careers. To provide some temporary relief, they went out into the parking lot of their hotel with Coach Que and screamed at the top of their lungs.
Though it might provide little consolation at present, a silver lining for those runners is that they're not done running. Ask any of the many alumni and members of the Bowdoin community who call themselves runners today. It's a lifelong sport.
Danielle (Raymond) Triffitt '97 spent four years competing in a wide range of events as a member of Bowdoin's cross-country and track and field teams. She now runs ultramarathons. "I'm happy when I'm out in nature, seeing new places," said Triffitt. When she ran the Western States 100-Mile Endurance Run last year, three of the crew members who supported her along the way were Bowdoin classmates, and two of the three were her former teammates.
Emily LeVan '95 was inducted into Bowdoin's Athletic Hall of Honor in 2008 as a field hockey and track and field standout. In the latter sport, she specialized in sprinting. It wasn't until after graduating that LeVan decided to try running marathons, because the new challenge appealed to her. "It's a physical challenge, certainly, but in many ways, I think it's more of a mental challenge," said LeVan.
It turned out LeVan was good at marathoning, too. She eventually worked her personal-best time down to 2:37:01 and represented the US at the 2005 World Track & Field Championships.
LeVan is a nurse practitioner in an emer- gency department, stressful work even under normal circumstances. "I actually prioritize running or some kind of physical activity in times like these," she said, "because I recognize that, at least for me, it's such an important piece of keeping me healthy and centered and happy."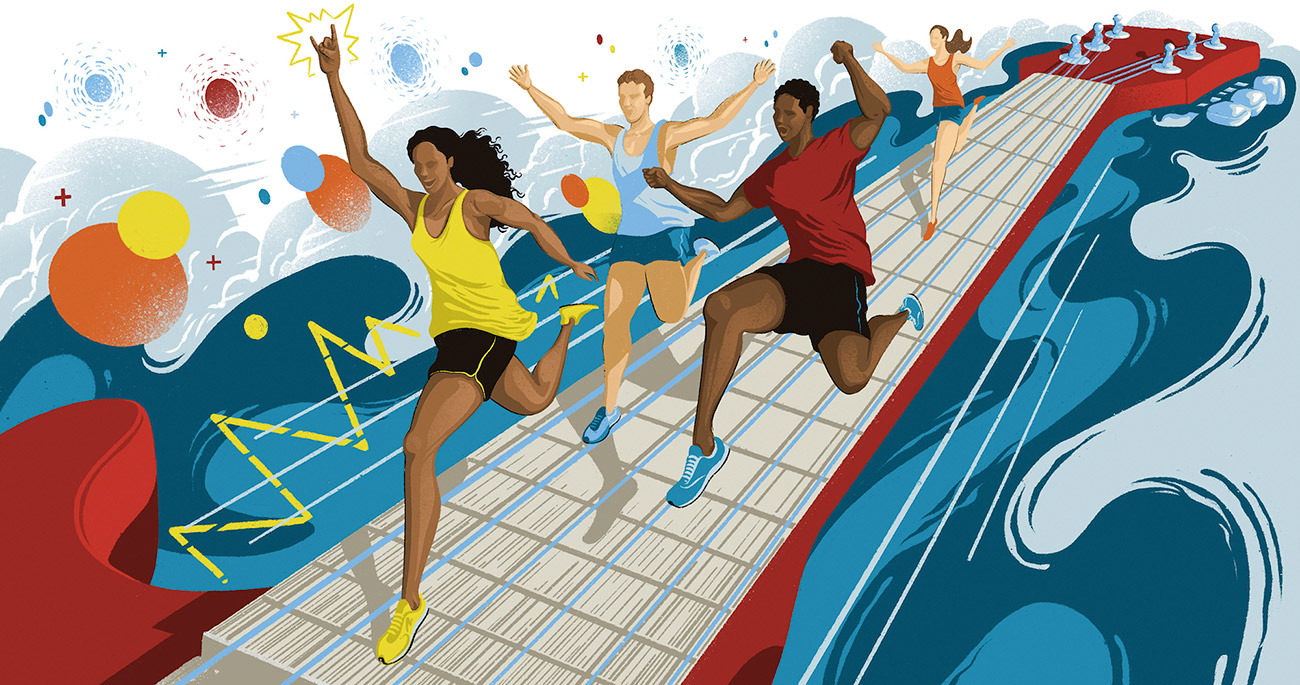 Running appears to be experiencing a surge in popularity during the COVID-19 pandemic. While that's partly due to accessibility to a means of exercise, it likely also has something to do with what running does for the mind.
Dr. Mitchell Greene, a clinical and sports psychologist based in Haverford, Pennsylvania, says that many people are attracted to distance running for the fitness benefits it provides, and they're often surprised by its therapeutic benefits.
"There just seems to be this shift in perspective when you come back from a run," said Greene. "As I like to say, 'My problems are still there, but they just don't feel as heavy as they did before I ran.'"
Dr. David Raichlen, a professor of biological sciences at the University of Southern California, says the mood boost and reduced anxiety associated with running likely has to do with endocannabinoids, which he describes as the endogenous form of THC, the active ingredient in marijuana. Raichlen said they probably work synergistically with endorphins, which have historically gotten most of the credit.
"I think of endocannabinoids as being these anxiety-reducing neurotransmitters that give you feelings of reward, but also calm you down," said Raichlen.
Raichlen's research has shown that the greatest boost in endocannabinoid levels tends to come when one is working at an intensity that corresponds with running for most people.
Janet Lohmann, Bowdoin's senior vice president and dean for student affairs, played field hockey for Stanford, but she took up running when her children were young, partly to get some time to herself. "Right now, I run for the sake of getting settled," she said. "I think better when I run. I problem-solve better when I run. My emotions are better when I run."
Samuelson said that she has trouble focusing and being productive until she's done her run. "Once I've run, I'm able to really tackle anything that comes my way during the course of the day," she said. "I find that most of my deep thinking and creative thinking are done when I'm out running. More so now, given the challenges out there."
Running can be a solo pursuit or a team effort. Biology professor Barry Logan no longer runs, because of an injury, but he ran collegiately for Cornell University and competitively for many years after. When he thinks back on his running, he thinks of the meaningful relationships that he formed through the sport. "There's something extraordinary about a common physical purpose, working hard at something with somebody, shoulder to shoulder, that's bonding. You're both facing in the same direction. There isn't a demand for ceaseless conversation, like if you were sitting at a café table, and a pause might feel like it had to be filled," said Logan.
Running also tends to bring together people who otherwise wouldn't necessarily cross paths. "That's one of the incredible possibilities of running socially—it can be a great leveler. It has potential to override the ways we separate from each other," said Wes Adams '87. "It doesn't matter if you're twenty-five or fifty-five when you're doing a track workout together. You're just both working as hard as you can. That's one of my favorite things about it."
Though Samuelson has been more of a solo runner for most of her career, she always had races to look forward to where she would celebrate with friends and other runners beyond the finish line. For now, all of the races she had planned to run have been canceled, but she appreciates that she still has the ability to get out and run.
"It's a gift to be able to run right now. It's a gift to know the sport as intimately as I do and to be able to look forward to that time every day."
Alison Wade '97 ran cross-country and track at Bowdoin and has worked in the running industry for twenty years. She is publisher of Fast Women Newsletter and a frequent contributor to Runner's World magazine.
Mark Frudd is an illustrator based outside of Leeds in the United Kingdom. His has provided illustrations for the French Open, Runner's World magazine, adidas, and Coca-Cola.
---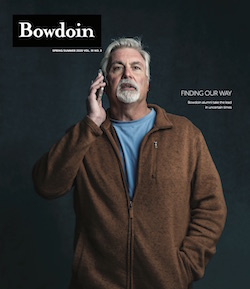 This story first appeared in the Spring/Summer 2020 issue of Bowdoin Magazine. Manage your subscription and see other stories from the magazine on the Bowdoin Magazine website.