The Strange Tale of Searles Hall
Published by Michael Blanding
You'll still hear the story occasionally when you're walking through the Quad. A student tour guide, perhaps, will pass by Searles Hall, a fantasia of towers and spires painted a salmon pink, and say that the money to construct the building had been left to the College by a family patriarch by the name of Searles.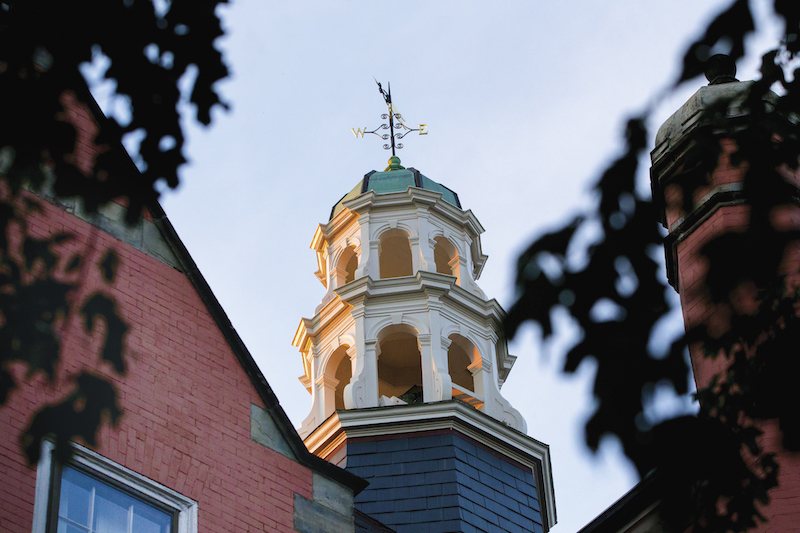 The rest of the family, however, had been cut out of his will, and so his descendants built an edifice to be as ugly as possible, choosing the lurid shade to shock posterity.
It is an amusing tale of intergenerational spite, with two glaring problems: First, many think the building is quite beautiful, and second, it's not true.
In fact, the real story behind Searles Hall is much stranger than a simple tale of disgruntled heirs. It's a story that involves one of the country's richest robber barons, spiritualist séances, a May-December romance, and a distinguished early Bowdoin grad. At its center is the woman for whom the building is named: Mary Hopkins Searles, who never set foot on Bowdoin's campus, much less saw the building that bears her name.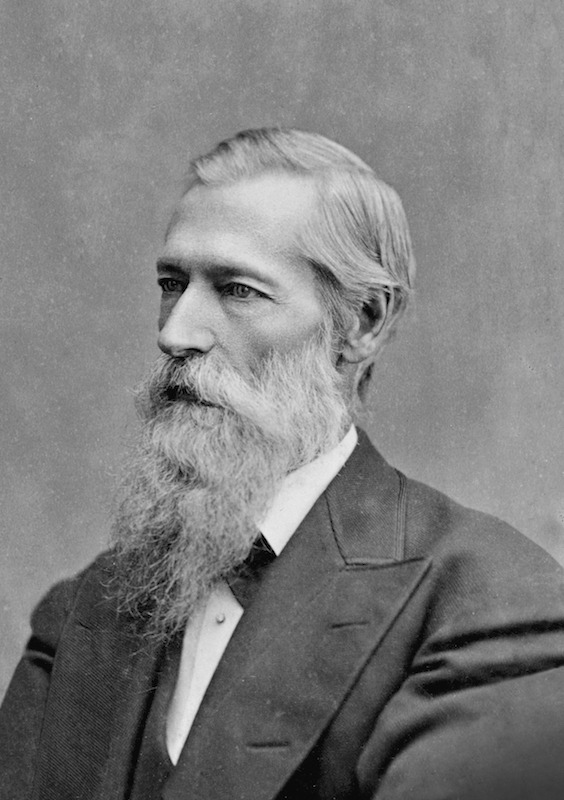 "The truth is actually stranger than the fiction,"
says John Cross, the College's secretary of development and college relations, and self-dubbed "unofficial historian."

"It's much more complicated and interesting."

The saga properly starts clear across the country, with Mark Hopkins, a bright-eyed entrepreneur who followed the "forty-niners" out to California to profit off the Gold Rush. Instead of panning for treasure himself, he set up a hardware store to cater to the prospectors, and made himself a fortune.

Five years into the endeavor, he returned back east to Great Barrington, Massachusetts, to woo (and win) his childhood sweetheart and first cousin, Mary Frances Sherwood, a schoolteacher's daughter with a sharp mind and confident air, bringing her back to Sacramento as his wife.

While the Civil War raged in the East, Hopkins and three associates, C. P. Huntington, Charles Crocker, and Leland Stanford—the so-called Big Four—invested in the Central Pacific Railroad Company, the western half of the first transcontinental railroad. By the time it was completed in 1869, all four tycoons were filthy rich.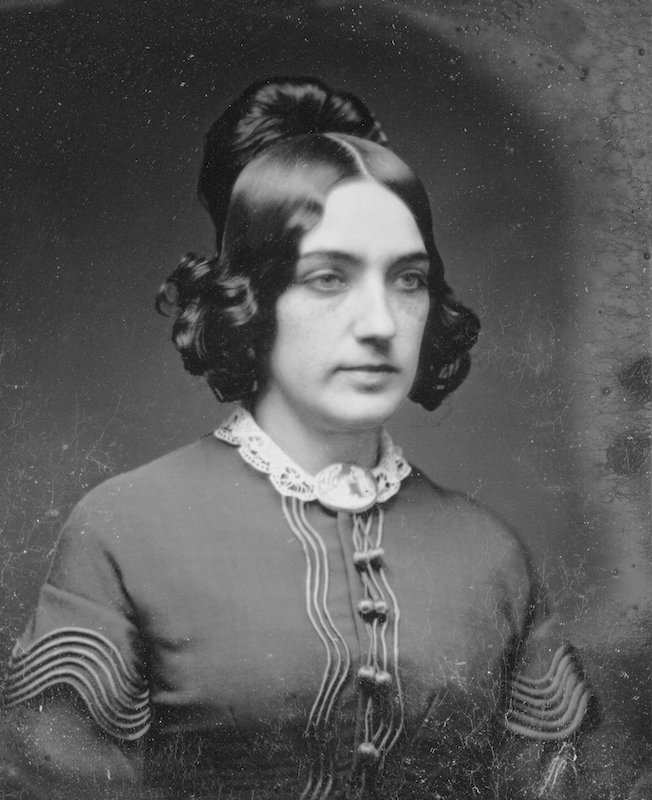 While Hopkins was famously miserly (it's said he could "squeeze 106 cents out of every dollar"), his wife persuaded him to spend some of his money on a grand forty-room mansion atop San Francisco's Nob Hill. Before they could move in, however, Hopkins died in 1878, leaving Mary with a fortune of $21.7 million (more than half a billion in today's dollars).
The couple had no children of their own, but they had taken in Timothy Nolan, the son of a former dockhand who had drowned, and raised him as their own. By the time of Hopkins's death, Nolan had risen to the position of treasurer of the railroad company, and he now cared for Mary, who formally adopted him as Timothy Hopkins—the closest thing she had to an heir to the great fortune. "He had every expectation that he would inherit the estate," says Cross.
That calculus changed, however, in the spring of 1883, when Mary met Edward Searles, an interior decorator she hired to deck out the Nob Hill mansion. A dashing man with a flowing moustache who went by his middle name, "Frank," Searles too was a self-made man. He came from a poor farming family in Methuen, Massachusetts, and worked in a cotton mill as a boy, then taught music in Bath, Maine, before eventually earning a job as an interior decorator at the upscale Herter Brothers in New York—the Vanderbilts' own preferred firm.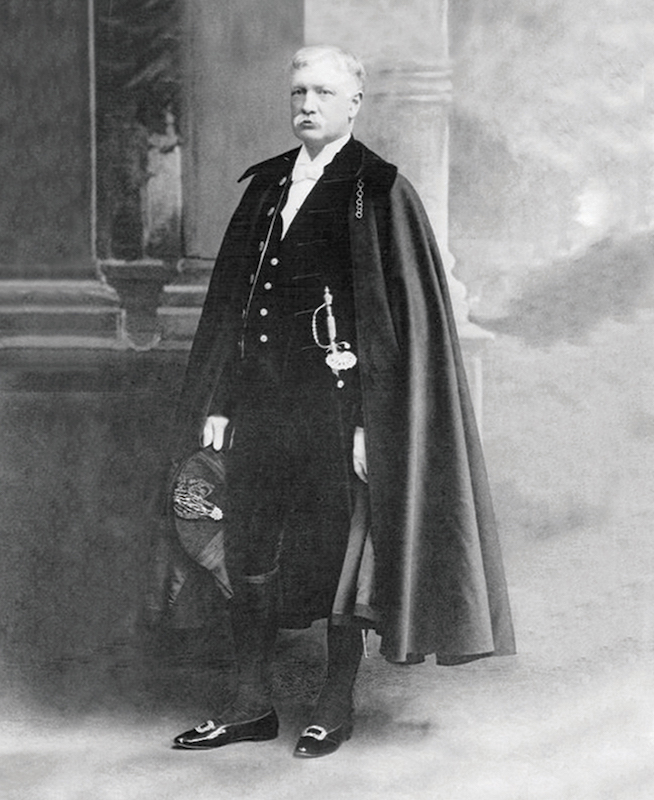 Searles traveled to California for his health and earned a dinner invitation to visit Mary. The wealthy widow was immediately smitten. She hired Searles on the spot to oversee the decoration of her Nob Hill palace and then worked intimately with him on the construction of another mansion back home in Great Barrington. Despite being twenty-two years his senior, Mary proposed marriage to Searles within months. He initially demurred, but after bonding over more building projects, the two finally married in New York City in 1887. Searles was forty-six; Mary, sixty-eight.
Almost as soon as they were married, Mary changed her will to divide the fortune equally between her new husband and adopted son, Timothy. Searles put the wealth in a trust managed by his New York law firm, Stillman and Hubbard, while he and his wife embarked on a six-month "grand tour" of Europe, and then more building projects—including a monstrous palace on Block Island, Rhode Island, with three levels of white marble columns and a soaring cupola. That home was designed by architect Henry Vaughn, best known for constructing Washington's National Cathedral. The couple called it White Hall, but local residents came to know it as "Mansion House," or more derogatorily, "Searles' Folly," and the public beach now at the site of the former house is known as "Mansion Beach."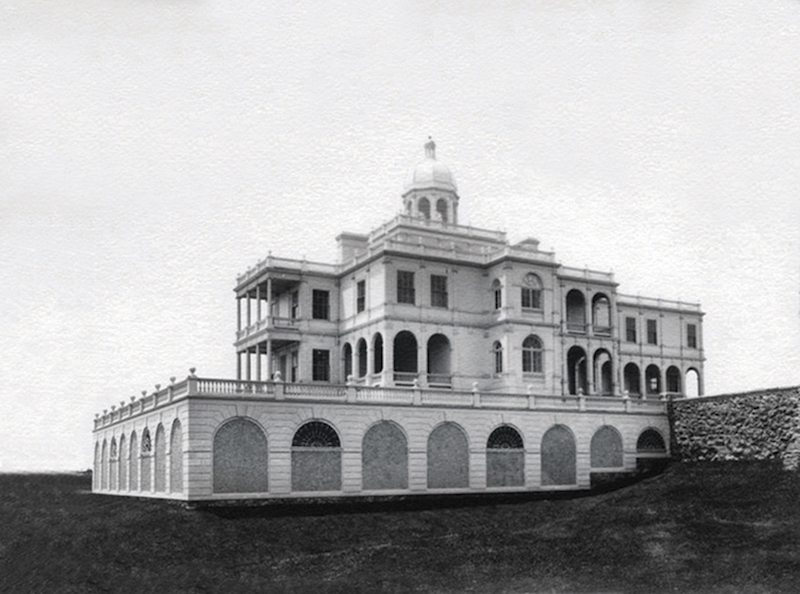 The Searleses completed the house in 1890 to the tune of $1 million but only lived in it for a few months before Mary became ill with dropsy and heart disease, and she died on July 24, 1891. In her obituary, The New York Times called her "one of the wealthiest women in America." When her will was read, Timothy Hopkins was in for a shock. Sometime during her four-year marriage to Searles, Mary had changed it to read: "I give, devise, bequeath all my property, real, personal, and mixed of whatever kind and wherever situated, to my said husband: Edward F. Searles."
Hopkins was left with nothing. In fact, Mary had intentionally included a clause reading, "The omission to provide in this will for my adopted son, Timothy Hopkins, was intentional and not occasioned by accident or mistake." Hopkins immediately sued, claiming the will was a fraud. The trial commenced in Salem, Massachusetts, in September 1891—and simultaneously it was tried in the press, with newspapers mostly siding with Hopkins, who, they implied, had been swindled out of his rightful inheritance by a "fortune hunter" who came to California to prey upon a feeble old woman.
During the trial, some witnesses contended that the will was a forgery that Mary never personally signed; others argued she signed it under duress. The most bizarre accusations came from the son of the Hopkins family's former physician, who said that he had seen Mrs. Searles participating in séances in which she was communing with the dead. Searles had been an enthusiastic initiate in her "mystic circle," he said, and manipulated messages from the beyond to turn her against her adopted son.
For his part, Searles admitted that he had taken part in séances in their Great Barrington home but contended he had never done anything to coerce Mary into changing the will. In fact, he "admired her very much," he told Hopkins's lawyer.
Pressed on whether he married her "for her love or her money," Searles conceded that it was a bit of both. But asked which motive was stronger, he said, "love."
Searles was aided by the steady testimony of Thomas Hamlin Hubbard, Class of 1857, the partner in the law firm that he had tapped to manage Mary's fortune. Hubbard was the son of a former governor of Maine who had graduated from Bowdoin along with his brother John. Despite coming from privilege, when the Civil War broke out, both Hubbard boys enlisted; John was killed, but Thomas rose to become a general. Afterward, Hubbard went to Wall Street, where he had a successful legal career, including managing the Hopkins fortune. When Hopkins's lawyer called that trust into question, Hubbard defended the arrangement, detailing the many productive ways he'd invested her money. While he had nothing to do with the will, he noted that Mary had always been of sound mind and judgment in financial matters.
In October, the judge delivered his verdict: the will was valid, and Searles would receive the entire fortune. Hopkins immediately appealed to the Supreme Court, but he withdrew his claim a few months later, in March 1892, after the two sides came to a settlement. In the end, Hopkins received $3 million, along with fair market value for the Nob Hill home. Searles, meanwhile, got the bulk of the fortune, now valued at more than ten times that amount.
It's at this point in the story that Searles Hall enters.
After the trial, Searles offered to pay Hubbard handsomely for his services. Hubbard declined, however, asking that Searles take the money to endow a new science center at his alma mater instead. "It reflects very well upon Hubbard and his loyalty to Bowdoin," says Earle Shettleworth, Maine's former state historian. "Considering he'd been successful in the law case, instead of choosing for himself, he chose for the College."
Searles agreed, presenting the gift to the College on June 21, 1892, on the conditions that the College use his favorite architect, Henry Vaughan, and that construction cost no more than $60,000. At the time, Bowdoin's campus had been a long line of buildings, starting with the Federal-style Massachusetts Hall. Now, suddenly, the campus became a quad, with the simultaneous construction of Searles Hall and the Walker Art Building (which was done in the grand neoclassical Beaux-Arts style of domes and columns typical of the period). "They are absolute contemporaries, and yet there are no two buildings so different architecturally," says Shettleworth.
For Searles, however, Vaughan harkened back to the English Renaissance, incorporating elements of Elizabethan and Jacobean architecture in a style called Jacobethan. Originally done in yellow Perth Amboy brick, the façade that faces the Quad is dominated by two large bays of four windows each, topped with Dutch gables and flanked by crenelated turrets. In the center of the building, a stately entrance sits between two narrow octagonal towers, with a spindly cupola rising above it. The other side of the building, however, is done in a completely different style, with a U-shaped space between a Federal-style façade. "It really is a striking building," says Cross.
Inside, the building was just as ambitious, consisting of three self-contained units, one each for physics, biology, and chemistry. While it made traveling between departments awkward, the design was intentional, in part to provide a firewall between the buildings should a fire or explosion occur in one of the labs. The labs themselves were state-of-the-art for the time.
"It was really a world-class facility," says Dale Syphers, professor of physics and department chair, who has taught at Bowdoin for thirty-three years. Among its other innovations were "constant temperature rooms" built with an airspace between the walls to avoid large variations in air temperature, and an "optical room" with light-blocking shutters to create total darkness for optical experiments.
In the main physics lecture hall, a hole in the floor allowed professors to suspend a model of a geyser, complete with a hose and heating coils, into the laboratory below. "At the start of the lecture, you'd talk about how Old Faithful happens, while you kept measuring the temperature," Syphers says. "Then all of a sudden it would blow, and water would hit the ceiling a good eighteen feet up."
Ultimately, the price tag was double what Searles had intended. The college, however, was thrilled about its new acquisition. "Never was an institution more in need of such a building, and never was a building more perfectly adapted to meet that need," President William DeWitt Hyde said in the dedication ceremony in the chemical lecture room on September 20, 1894. Searles didn't attend the ceremony, but General Hubbard spoke for him, saying he "deems this building a fitting memorial to a noble woman who, herself the daughter of a teacher, was always interested in the case of education; who, to the end of her life, was a diligent student; who understood the worth of a well-trained mind and the worthlessness of life's tinsel and display."
After the trial, Hubbard went on to endow the Hubbard Memorial Library, also designed by Vaughan, to fill out the end of the Quad. He also helped fund the dash to the North Pole by Robert Peary, Class of 1887, and rumor has it, he got Searles to contribute to the endeavor as well.
After the trial, however, Searles became a recluse. Perhaps stung by all the negative publicity, he hid out behind the gates of his estate in Methuen, Massachusetts, pouring his money into more and more elaborate building projects. He decked out that residence with pillars of pink Himalayan marble, a 2,000-piece chandelier, and a three-story pipe organ. He built an even more elaborate home in New Hampshire, modeled after a medieval castle, down to the front door, which literally came from Windsor Castle in England. Searles died in 1920 at age seventy-nine—and once again, a high-profile dispute for the Hopkins fortune played out among his heirs, eventually leading to exhuming his body to make sure he wasn't offed by foul play.
Searles Hall, however, has lived on. Just a few years after its dedication, Bowdoin professors conducted some of the first experiments with X-rays in the building, including arguably their first medical use. Years later, sex researcher Alfred Kinsey, Class of 1916, worked late into the night in the Searles biology wing, categorizing and mounting bird specimens. By the middle of the century, the building had started showing its age, and in 1954 it underwent extensive renovations, including removal of the walls separating the three departments, creating a twisting maze of crooked corridors connecting floors that didn't quite match up.
Rumors about Searles Hall's original bricks also began around that time. Over the years, portions of the original soft yellow brick eroded with the New England spring thaws, to be replaced in spots with hard red brick instead. In order to bring some unity to the structure, the College painted the entire building over in 1954 in its current shade—to the chagrin of some amateur architecture critics.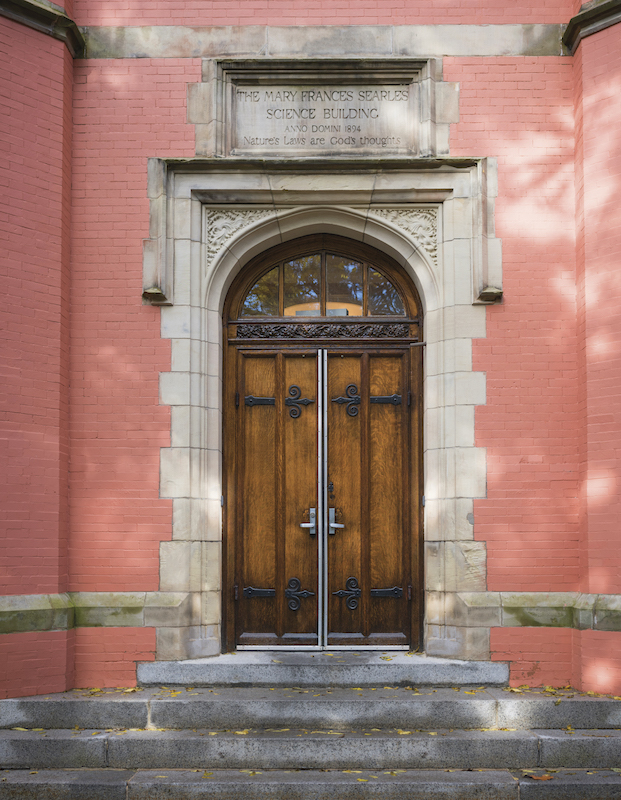 "That started the myth that a family was bound by the will to build the building, and it was designed to be ugly," Cross says.
Eventually, biology and chemistry departments vacated the building, and math and computer science came to join physics. In 1999, the building saw a second major overhaul. An inspired $9 million renovation by Cambridge Seven Architects added a 2,000-square-foot glass-and-granite atrium to enclose the U-shaped back side of the building, with a series of ramps to connect all of the floors into one cohesive whole. More communal space for interdisciplinary work was added as well, along with audiovisual and computer technology to make it state-of-the-art once again.
In the process, the geyser was removed from the physics hall and placed into storage, and the entrance into the attic—where students once held keg parties and found their way onto the spine of the roof—was closed off. Giant murals of animal species that once covered the walls of the biology building were also demolished, except for one: a giant whale on the wall of a classroom where a huge set of blackboards was to be installed. "So the construction workers wrote on it, 'Save the Whale,' and they did," says Syphers. "It's currently still there behind the blackboard."
Just so, perhaps, the ghost of Mary Frances Sherwood Hopkins Searles lives on somewhere in the building, awaiting some spiritualist to wake her. When they do, they can tell her the strange story of how her fortune has indirectly inspired generations of scientists over the past 125 years—and still contributes to one of Bowdoin's most unusual backstories.
Michael Blanding is a Boston-based investigative journalist and a New York Times best-selling author.
---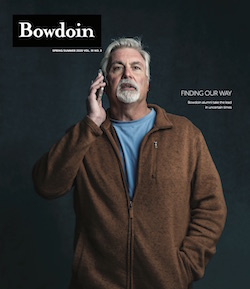 This story first appeared in the Spring/Summer 2020 issue of Bowdoin Magazine. Manage your subscription and see other stories from the magazine on the Bowdoin Magazine website.