Published June 05, 2020 by Rebecca Goldfine
McKeen Center Recognizes Class of 2020 Changemakers
This year, the McKeen Center presented awards to six graduating seniors and one community member, in recognition of their thoughtful, unwavering, and enthusiastic service to the common good.

This year, the McKeen Center honored recent graduates Julianna Kiley '20, Anna Martens '20, Olivia Giles '20, Oratile Monkhei '20, Ben Hopkins '20, and Caroline Daigle '20, along with Donald Soctomah P'14, the Passamaquoddy tribal historic preservation officer and director of the Passamaquoddy Cultural Heritage Museum.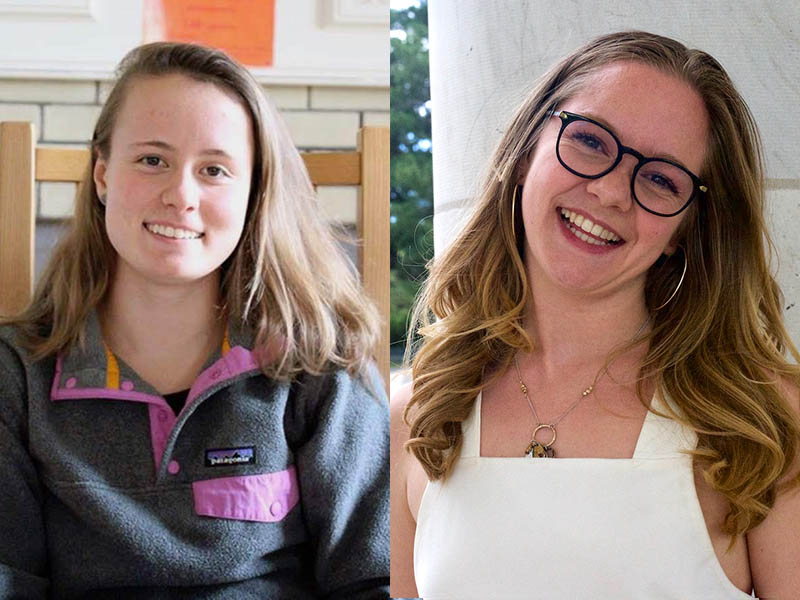 Julianna Kiley '20 and Anna Martens '20
The Lydia Bell Award for Initiative in Public Service is presented annually to a Bowdoin student who exhibits the energy, enthusiasm, and commitment necessary to initiate and lead opportunities for others to effect change, influencing the Bowdoin culture in the process.
The commitment by Julianna Kiley and Anna Martens to improving educational quality and access has driven them to address these issues in a variety of settings, from Casco Bay High School and The Telling Room to Bowdoin's own campus.
Noticing a lack of attention paid to rural education, they founded Maine College Circle (MeCC), a club that partners with a nonprofit of the same name and works to inspire youth in rural Maine communities to set high aspirations for themselves at a young age. Every year since its inception, MeCC has grown in depth and breadth thanks to their leadership. What started as a monthly newsletter has grown into an enterprise that includes upkeep of a website and YouTube channel, site visits to East Grand School in Danforth, collaboration with the Mitchell Institute, and hosting the College Knowledge Bowl. Because of their tireless effort, positive spirits, and commitment to collaboration, Kiley and Martens have empowered many children to reach their full potential.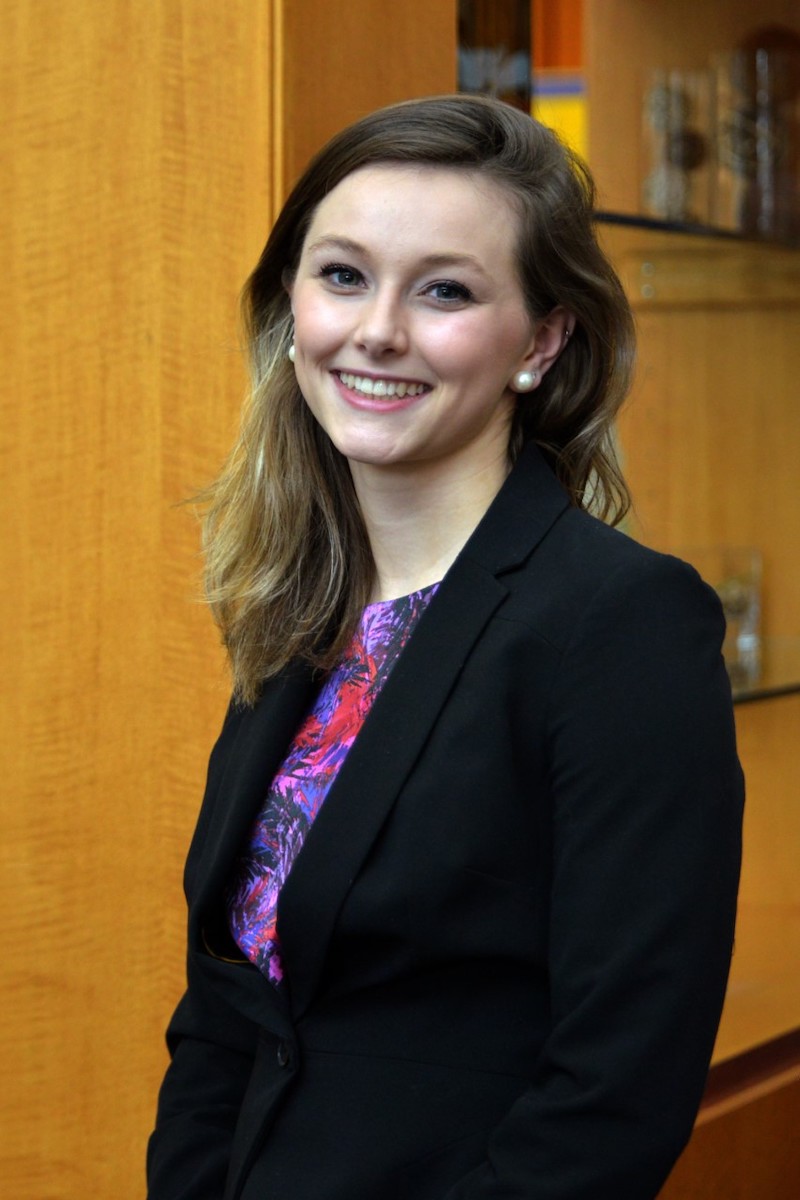 Olivia Giles '20
The Bowdoin Spirit of Service Award is presented annually to a Bowdoin senior who embraces such a commitment to improving the lives of others through service that their life speaks strongly, even though they may remain humbly quiet.
Olivia Giles has shown a strong commitment to key community partners while at Bowdoin by working with The Gathering Place and Mid Coast Hunger Prevention Program since her sophomore year. She also branched out to explore other aspects of service, working with the Immigrant Legal Advocacy Project in Portland, Pine Tree Legal Assistance in Lewiston, and the Center for National Interest in Washington, DC, through the Bowdoin Public Service Initiative. She has been on the board of The Gathering Place since August 2017, building a bridge between Bowdoin and that organization. Mary Connolly, executive director of The Gathering Place, says "Olivia's empathy for those in need and her understanding that solutions to complicated issues take collaboration, dialogue, and leadership has greatly advanced the mission of The Gathering Place. Olivia sees the world as larger than herself." 
Donald Soctomah, Passamaquoddy Tribal Historic Preservation Officer
The Bowdoin Spirit of Service Award is also presented annually to a community member who embraces such a commitment to improving the lives of others through service that their life speaks strongly, even though they may remain humbly quiet.
Donald Soctomah P'14 is the Passamaquoddy Tribal historic preservation officer. He has also served as a forester for the US Forest Service and the Passamaquoddy tribe, and as the Maine tribal state legislator for eight years. He has devoted his life to preserving the language, history, culture, and land base of the Passamaquoddy people. As a legislator, he worked with Rep. Donna Loring in efforts to require Maine public schools to teach Wabanaki native history and to ensure that offensive place names in the state are eliminated and replaced with names reflecting cultural awareness and sensitivity to native people. In 1999, he worked closely with the US Environmental Protection Agency to preserve an important Passamaquoddy archeological site and protect Passamaquoddy ownership of the artifacts.  
Soctomah has published many interactive educational tools and award-winning books for adults and children: Tihtiyas and Jean received the IParent Award in Canada; Remember Me received the National Moonbeam Award; and The Canoe Maker has been nominated for the Maine Literary Awards. His other writing includes: Passamaquoddy at the Turn of the Century, 1890–1920, Let Me Live as My Ancestors Had, 1850-1890: Tribal Life and Times in Maine and New Brunswick, and Hard Times at Passamaquoddy, 1921–1950. He has helped with the films Song of the Drum and Healing Woods, as well as several television programs for National Geographic, Discovery Channel, Maine PBS, Canadian Television Network, and Animal Planet. In 2015, Donald was awarded the Constance H. Carlson Prize from the Maine Humanities Council and the Guardian of Culture and Lifeways International Award for Lifetime Achievement from the Association of Tribal Archives, Libraries, and Museums. An accomplished photographer and storyteller, Soctomah is passionate about preserving stories of the tribe, and he has recorded extensive oral histories with tribal elders in the Passamaquoddy language.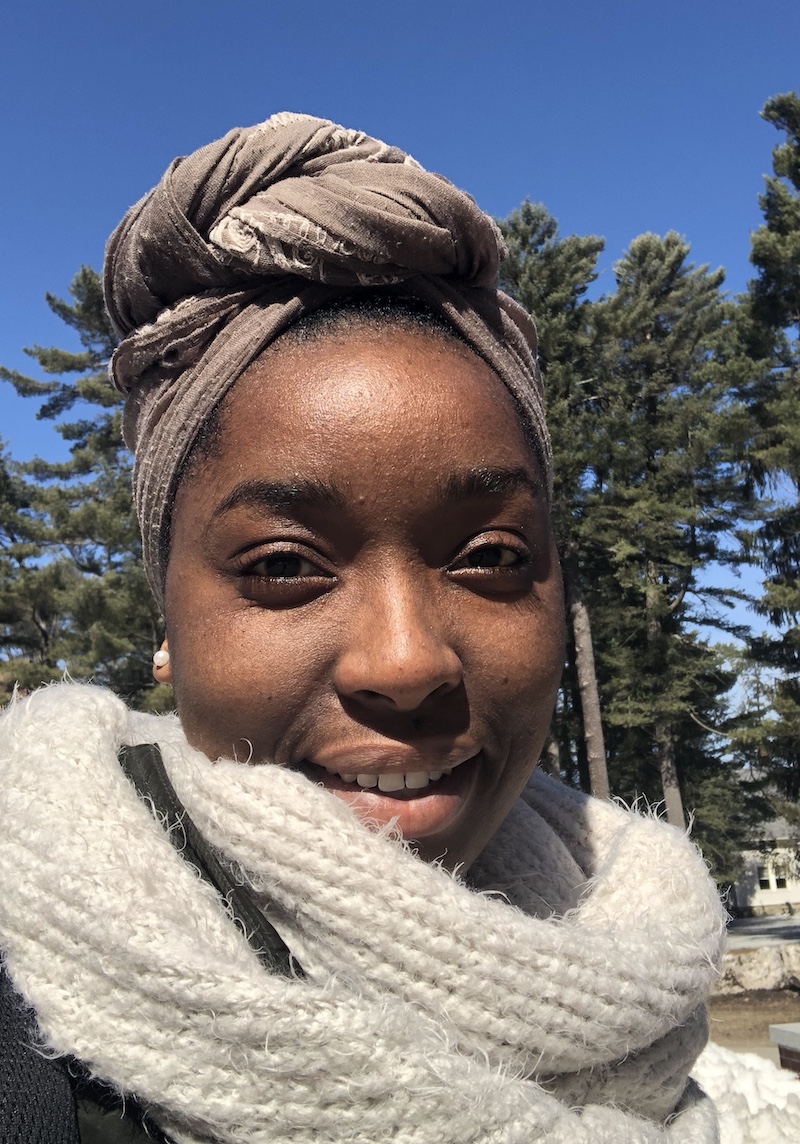 Oratile Monkhei '20
The General R. H. Dunlap Prize was established by Katherine Wood Dunlap in memory of her husband, Brigadier General Robert H. Dunlap, USMC. It is awarded to the student who writes the best essay on the subject of service in addition to having demonstrated a personal contribution to service.
Oratile Monkhei's Dunlap essay reflects eloquently on leadership and the qualities of public service that she asserts define good leadership, namely that "transparency, integrity, love, and resilience are ingrained tenets informing our contributions to the world."
Monkhei has broadly explored this theme at Bowdoin, refining her perspective through active engagement with InterGroup Dialogue, Alternative Spring Break, Bowdoin Public Service in Washington, and Residential Life, always seeking to "globally ponder on who we are" and seeing our interconnectedness as "a call to intentional action." Monkhei complemented her service work with in-depth academic study of leadership and development in Africa, specifically her own home country of Botswana. Her senior thesis examined the "intricacies of public political engagement and what Batswana political leaders may need to consider in their efforts to mobilize a politically conscious citizenry." By seeking to understand her own foundations and motivations, she concludes that "public service is the archetypal glue that bridges the gaps of institutional and personal engagement, communal and/or civic; whereby, we serve a body of people to stimulate an ideal communal environment where all can physically, emotionally, spiritually, and psychologically thrive." The Dunlap Prize perfectly recognizes Oratile's personal warmth, generosity of spirit, and record of service leadership at Bowdoin.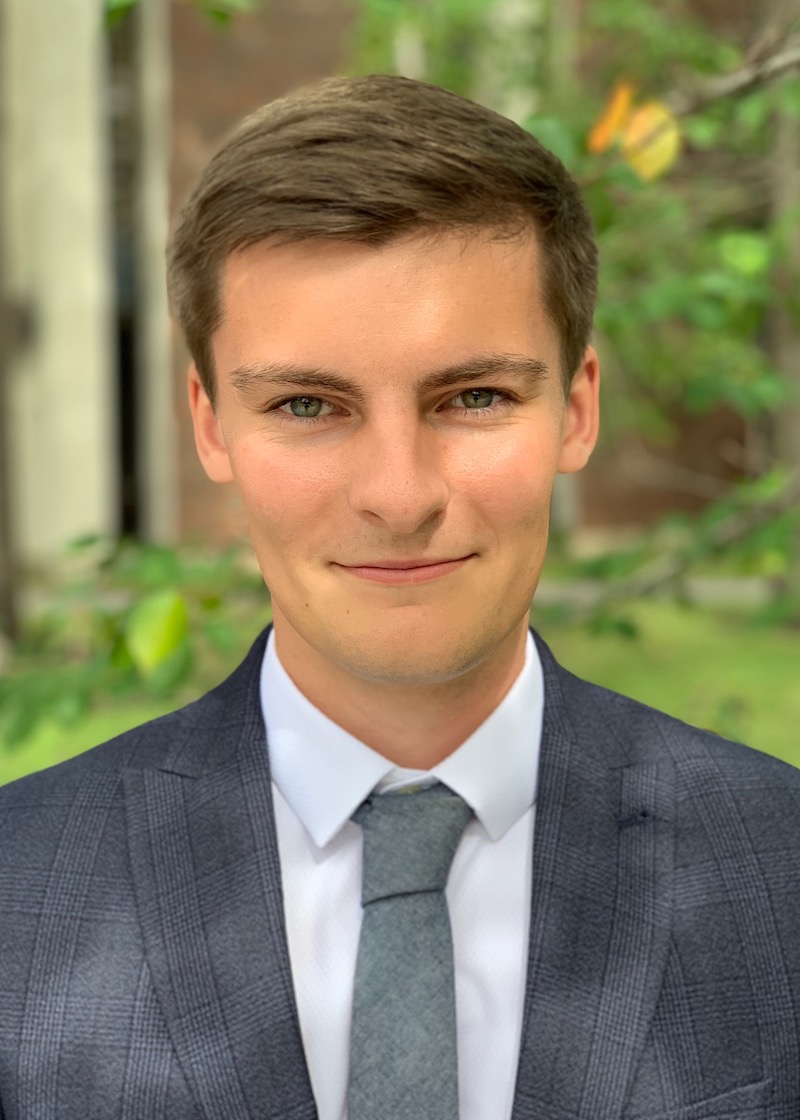 Ben Hopkins '20
The Henni and Harry Friedlander Student Prize was established in honor of Henni Friedlander, who survived Nazi Germany to immigrate to the United States, where she was an inspiring example of how joy of life, rather than hatred and bitterness, can lift the human spirit and enable us as a society to promote the common good. It is awarded to a Bowdoin undergraduate who has overcome adversity in his or her own life and gone on to contribute to the common good.
Arriving at Bowdoin from the UK, where he had mentored other US college applicants through the Sutton Trust, Hopkins quickly engaged across virtually every area of campus. His dedication to service and teaching beyond campus showed in his work on alternative breaks, where he served first as a participant, then coleader and, in his senior year, as the McKeen Fellow responsible for leading seminars and trip preparations. Associate Director Andrew Lardie remarked, "Ben's exemplary teaching and mentorship set the tone for this year's trip leaders, building group cohesion and setting a high bar for them to aspire to as administrators and educators for each of their trip groups." Hopkins's easy smile, unflagging kindness, and quiet leadership earned him universal respect, from his peers on student government and student activities to division heads and senior administrators who sought his counsel on how best to cultivate an inclusive campus community. Director of Residential Life Mike Ranen wrote, "Ben is a true leader. He is encouraging, compassionate, firm, with a vision and the execution to make things happen...He is fundamentally positive and a changemaker whose personality is so humble (and British) that he inspires everyone around him no matter what part of campus he is working to improve."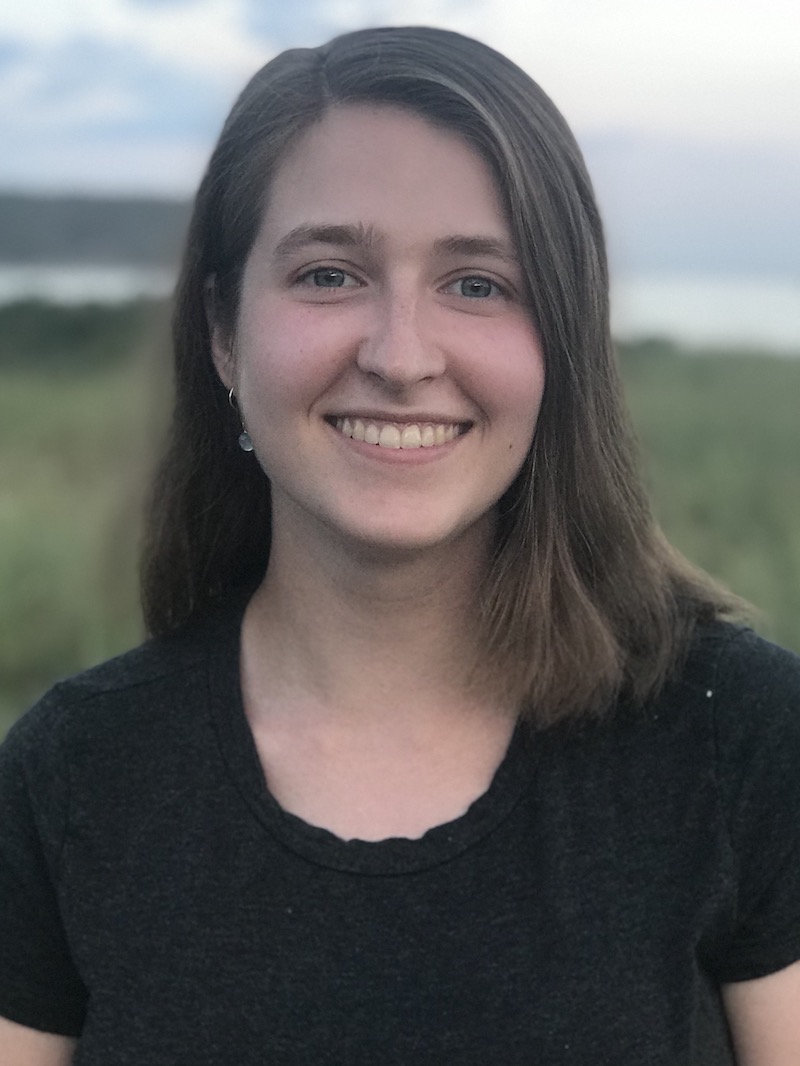 Caroline Daigle '20
The Maine Campus Compact Student PILLARS Award is given annually to one student from each of the Maine Campuses who are pillars of their campuses and in their communities. These students support the civic efforts of others and take leadership roles in addressing and finding solutions to issues that face their communities through philanthropy, innovation, learning, leadership, action, responsibility, and service.
Caroline Daigle is driven to provide her peers and the Bowdoin community with opportunities to learn about, engage with, and provide service for the common good. Her own engagement has included volunteer roles with multiple organizations and the leadership of Red Cross blood drives. She served as the Common Good Day fellow in 2019, coordinating Bowdoin's annual day of service for over 500 students, faculty, and staff in partnership with nearly fifty community organizations. This program is key in highlighting the important work that McKeen Center volunteers do and in recruiting students into programs, and Caroline's stellar leadership ensured a successful start to the 2019–2020 academic year for the McKeen Center. As the special projects McKeen fellow, Daigle has had an impact in multiple areas in her senior year, in particular with building online resources for faculty exploring community-engaged teaching and laying the foundation for future work with organizations serving recently arrived asylum seekers to Brunswick. Daigle's sincerity, perspective, and first-class organizational skills proved crucial navigating a constantly evolving situation in our community, and her diligence will benefit our relationships in the community for years to come.