Finding Our Way
Published by Katie Benner '99
In the earliest days of the pandemic's sweep into the US, you could be excused for feeling a little bit safe in Maine, removed as the state was from spots of COVID-19's deadliest surge.
But even in those early days, Bowdoin alumni in Maine were planning, preparing, and getting in place to tackle not just the virus but the effects it would have on Maine's industry, children and families, and our most vulnerable populations.
These local examples—neighbors fighting to keep others safe—symbolize what we know are similar stories, and similar acts, by Polar Bears everywhere.
Set in the Bowdoin Pines, the portraits for this story were inspired by photographer Heather Perry's Six Feet Apart project, which includes Perry interviewing her subjects by mobile phone as she photographs them. Links to these recordings can be found in the image captions.
Without daycare, parents brought children along, adding to the particular energy of the moment.
Cover photo: Caitlin Civiello '10, and her daughter Cameron.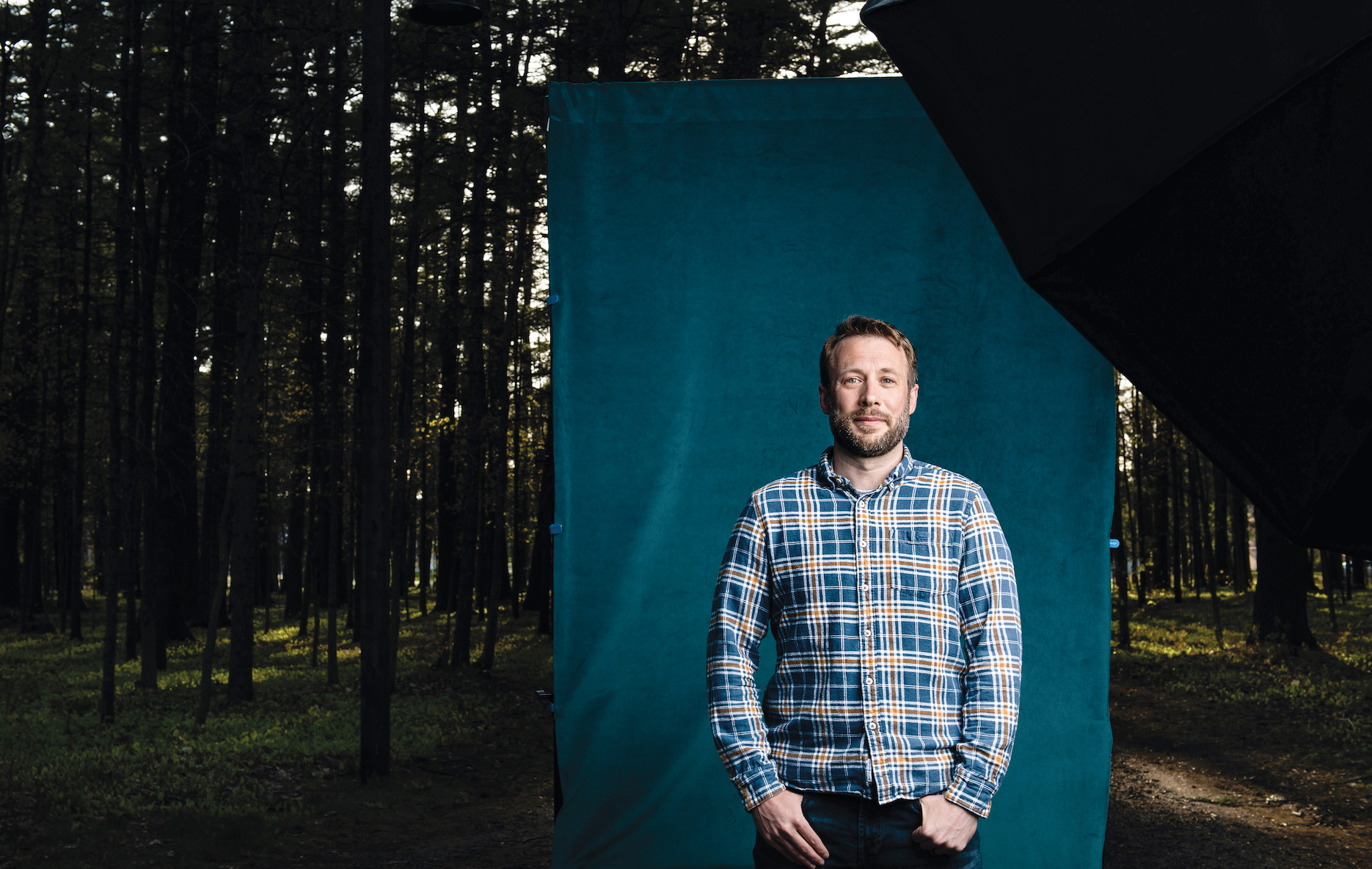 When fishermen in Maine first noticed that sales in Asia had slowed, few Americans had heard of the novel coronavirus. Some had heard about a mysterious virus in China or read news reports when authorities locked down Wuhan, home to eleven million people, in an attempt to stop its spread. But the problem seemed like just another sad news story happening someplace far away.
But Ben Martens '06, executive director of the Maine Coast Fishermen's Association, was learning all that he could about the new coronavirus. Members of his organization rely heavily on Asian customers who buy lobster and monkfish. As prices dropped, he wondered how severe and long-lasting the slowdown would be, and he sought new buyers who could get the industry through a hard couple of months. But he thought that an epidemic "couldn't happen here in the United States, in Maine."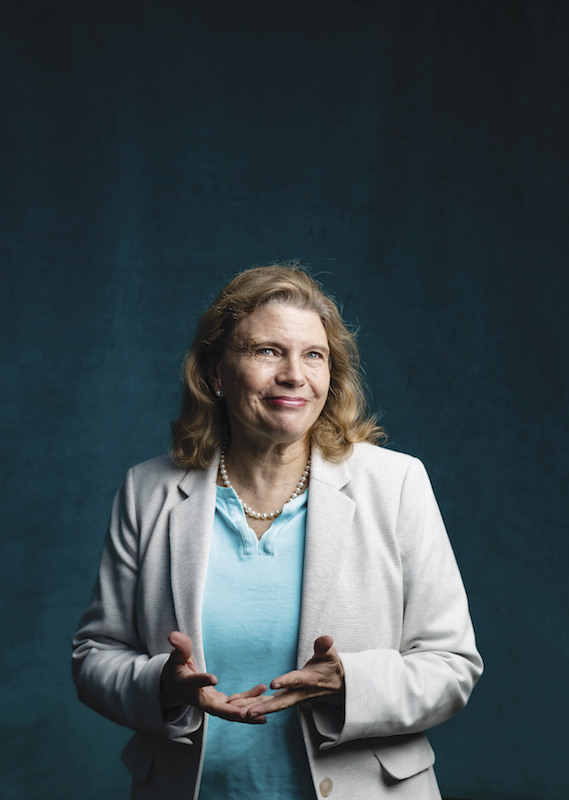 Just thirty miles down the coast, Dr. Dora Anne Mills '82, chief health improvement officer at MaineHealth, had been receiving increasingly urgent updates about the burgeoning virus all winter. 
She and her colleagues hoped that the virus would be contained overseas, but over the Martin Luther King Jr. holiday weekend, they prepared their eleven hospitals for a public health emergency.
MaineHealth created a way to flag patient files for symptoms of COVID-19, the disease caused by the coronavirus, and created protocols for safely treating potential coronavirus cases. They posted signs about fevers and coughs at the entrances to all their facilities, and they began to order more protective gear and testing equipment for MaineHealth's 23,000 employees.
"By early February, I was working on coronavirus probably at least half of my time, and by the end of February, it was all my time," said Mills, who, prior to MaineHealth, was director for public health for the State of Maine and director of the Maine CDC for fifteen years.
Martens and Mills had an early look at a health care and economic crisis that has paralyzed much of the world. When the World Health Organization (WHO) declared the fast-spreading coronavirus a global health emergency at the end of January, few Americans understood how severely it would affect their lives. But, as it tore through large swaths of the country, the gravity of the situation became clear—the virus would spark the most serious health and economic crisis that politicians, educators, social workers, business owners, and medical professionals have faced in generations.
Many of the leaders who fought to keep Maine safe were Bowdoin alumni, whose response to the virus was swift and humane and guided by expertise. And their guidance will continue to be needed as the state's quarantine lifts to help revive the economy.
"The closing down was the easier part,"
said Mills.
"The opening up will be harder."
The new coronavirus came to America early this year, showing up first in Washington state, where politicians hoped it would be contained. But the virus was exceedingly contagious. Public health officials watched with dread as it spread through Europe in February and the death toll in China topped 1,000 people.
The nation's first responders heard about how quickly the virus had spread in Washington and how severely ill people had become. Some noted that Italy's reported cases grew exponentially, from just a handful to more than 150 in a matter of days, and that officials had locked down towns and canceled events. They grew alarmed.
"A lot of our awareness started with our emergency services and the fire department," said Audra Caler '05, the town manager of Camden, Maine.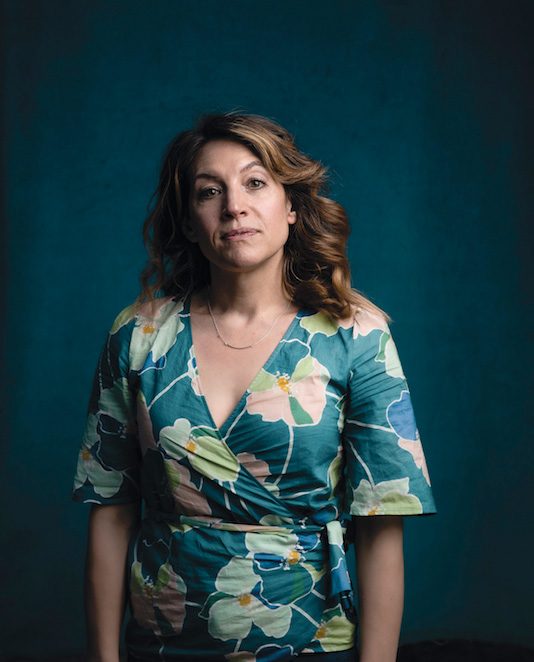 "They just knew it was happening. They're connected with other departments across the country, and they were aware early on that this was something they'd have to prepare for."
Not every town and city heeded early warnings, but Caler decided to plan for a possible epidemic. "In February, we started to think, okay, this will directly affect all of us," she said.
Along with the fire department, the police department, and the town's financial managers, she identified areas that could be hard hit by a virus, like Camden's three elder care facilities.
"Our fire chief is also our emergency management director, and he worked with the nursing homes early to outline plans and make sure they had the resources they needed to respond," she said. (As of late May, none of those facilities had experienced a severe outbreak.)
Homebound people would also need extra help, so Camden modified a police program, "Good Morning, Camden," which it used to check in on the town's elderly residents. Officers would now check in on more people and see if they needed essential supplies.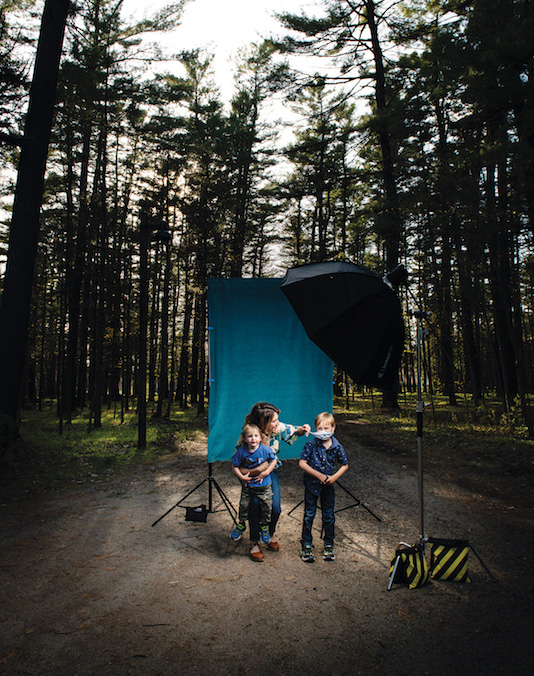 Caler's apprehension grew when seasonal residents returned to town months earlier than usual to escape potential coronavirus hot spots. Camden's finance director began to procure more personal protective equipment, or PPE. First responders created new emergency response procedures that would protect them from exposure to the virus.
The State of Maine was preparing, too. On March 2, Governor Janet Mills convened a coronavirus response team led by Dr. Nirav Shah, the director of the Maine Center for Disease Control and Prevention, and commissioners who oversee public health and safety, education, veterans affairs, prisons, transportation, labor issues, finance, and emergency management. She also had conversations with her sister, Dora, about what was happening in the medical community. The picture did not look good. Nine days later, President Trump banned visitors from most of Europe. Stock markets fell. And the WHO deemed the coronavirus a global pandemic.
In March, the world changed, sharply and swiftly.
In the beginning, some offices closed when employees were thought to have the virus, but life mostly proceeded as usual.
Tasha Graff '07 attended a 250-person retirement party for her father on March 7 at the Museum of Science in Boston. "We are so lucky no one got ill there," she said. Guests nervously talked about the virus. Hardly anyone shook hands. Hand sanitizer flowed.
By the time Graff got back from Boston, panic buying had begun around South Portland, where she teaches high school English. Lines were longer, and shelves were emptier. News reports said that the virus could wreak havoc in San Francisco, Los Angeles, and New York City. While Maine seemed relatively safe, school administrators had started to hold meetings about the virus. She hoped that they would remain in session until the April break, when they could come up with a "plan B."
Several New England colleges moved to online learning. Martens, who lives in Brunswick, had heard that Bowdoin was thinking about closing the campus, and he "knew that the threat had moved to a new level" when it finally happened. He ramped up his outreach to Maine's congressional delegation, and his association made a bigger push to get health information to fishermen, many of whom were in demographics that were most impacted by the virus.
"I realized that my high school would close down sooner than later," Graff said. "This was not something we wanted to be behind on."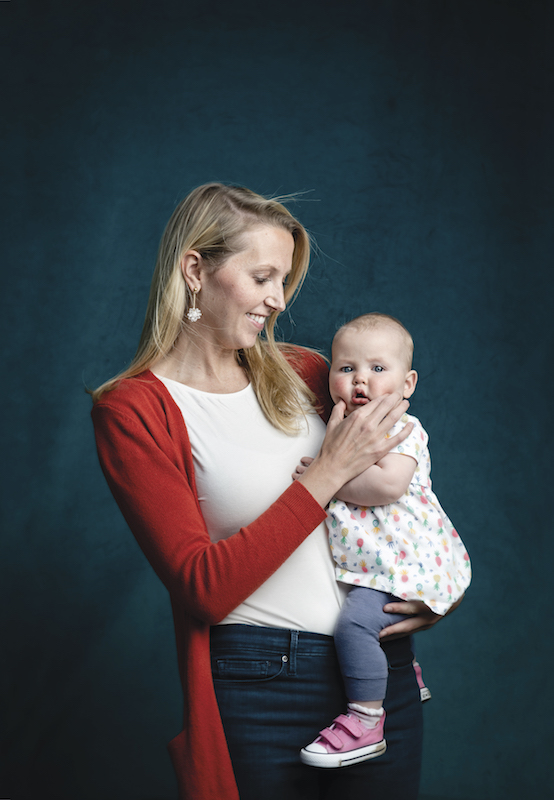 Caitlin Civiello '10, an emergency room doctor at Mid Coast Hospital, flew to Florida to see her in-laws on the day that the NBA said a player had tested positive for coronavirus and it was suspending the basketball season.
Her hospital director asked her to return to Maine immediately. While Civiello was at the airport on her way home, Pen Bay Medical Center, where she picks up shifts, asked if she could work the following morning. The first patient in Maine had tested positive for the virus, and everyone would be in meetings related to the pandemic.
"I'd read about the virus spreading in Washington state and Italy and China, but I didn't think it would affect me yet," Civiello said. "I wasn't paying close attention to the medical aspect of the virus. It was still foreign to me and scary to walk into."
Pen Bay had been asking outpatient doctors like Kendra Emery '00 to sign up for inpatient privileges and to think about how the virus would change their work. The hospital opened an acute respiratory center to care for patients with respiratory complaints and to conduct drive-through testing. Emery was tapped to lead it.
At the end of the week, President Trump declared a national emergency. Over the weekend, Governor Mills declared a civil state of emergency and recommended that classroom instruction and nonurgent medical procedures end as soon as possible.
Graff's school emailed the faculty to say that they would immediately transition to remote learning. She had left her papers, laptop charger, and the book she was teaching on her desk. (It would be weeks before she saw the inside of her classroom again.) "The email said we'd have two staff days on Monday and Tuesday and then we'd start remote learning on Wednesday," she said. "It felt surreal."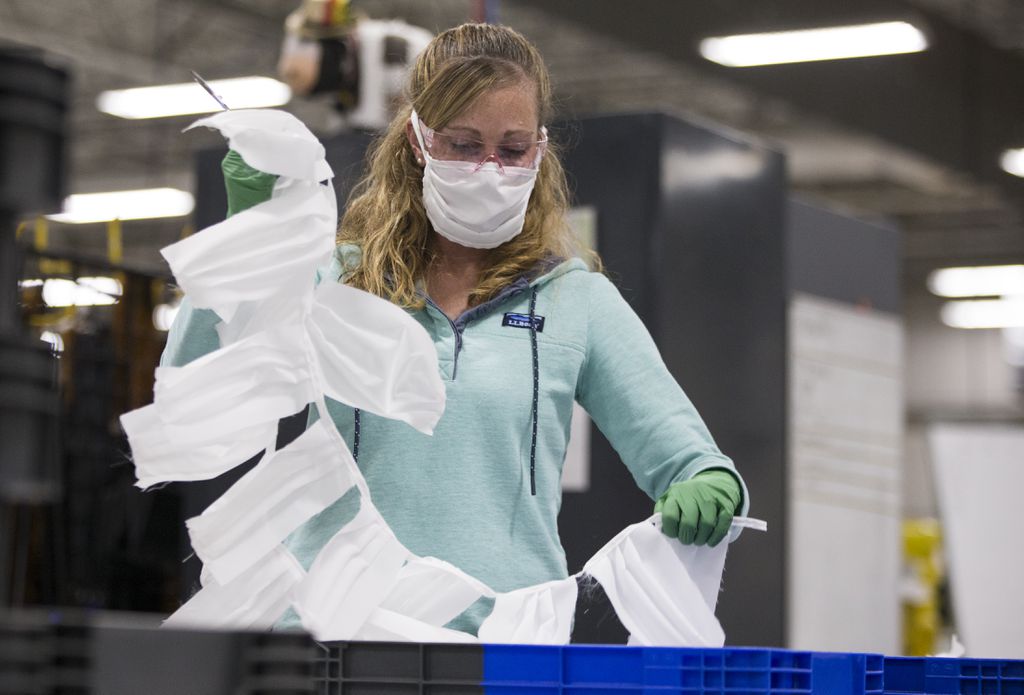 Stephen Smith, the chief executive of L.L. Bean, asked Dora Anne Mills to call in to the store's management team meeting. "I thought he'd ask about what precautions they should take in the store," Mills said. Instead he asked how the company could help her address the pandemic. "Leon Gorman was the president for many years and went to Bowdoin," Mills said. "He would have been so proud."
They decided that the store could use its connections in Asia to buy masks, and that Mainers who made their outdoor equipment could make protective gear instead. Two days after the call with Mills, L.L. Bean closed its stores, but it would pay some of its employees to pack boxes for the Good Shepherd Food Bank.
"Here they were, making this most challenging decision to close, and yet they were calling me to ask how they could help," Mills said.
The governor's emergency declaration set off a wave of cancellations: St. Patrick's Day parades, community gatherings, celebrations, weddings, and more. Restaurants and bars closed their dining rooms. Maine soon banned gatherings of more than ten people. Nonessential businesses closed. Maine saw 4,900 people file for unemployment the week of March 15, the highest weekly total since the Great Recession, according to News Center Maine.
Maine's COVID-19 cases soon surpassed one hundred, and the US said that it had more confirmed cases than any other country in the world.
City halls, libraries, and social service agencies in Portland had closed.
Many of the volunteers who gave their time to help vulnerable people had stopped leaving their homes. As resources for the poorest disappeared, the Preble Street Resource Center decided that it must keep its shelters, soup kitchens, and other essential operations going. 
"It's been the hardest two months of my career. No question about it. But, we are home to a lot of people—we're a safety net—and it was critical to stay strong and stay open."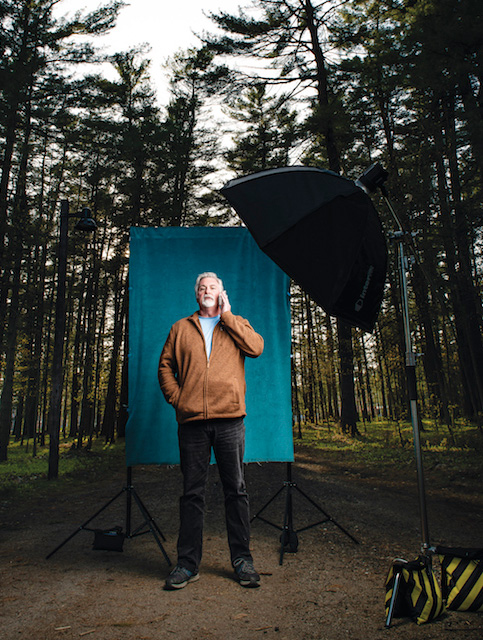 "Our clients are poor, and they are often thought about last," said Mark Swann '84, the executive director of Preble Street. "We wanted to make sure we were thinking about them first."
Preble Street's emergency planning group asked the CDC, health care experts, and colleagues around the country how to operate during the shutdown and keep everyone safe.
Staff received a 50 percent pay increase for hours worked at essential programs to help offset the new dangers and demands they faced, even though no one knew how Preble Street would offset the cost. Employees in finance, development, administration, and case management worked from home.
Similar organizations on the West Coast had turned their soup kitchens into takeout operations to stay open, and Swann intended to do the same. "This is the busiest soup kitchen in northern New England," he said. "We had to plan for deliveries, change the cooking schedule, and ramp up our supply of to-go containers at a time when every restaurant was buying more. It all had to shift overnight."
After the shift, Preble Street's largest soup kitchen distributed about 300 meals a day from its facility and delivered 900 more to the YMCA, sober houses, and other shelters, as well as directly to people living on the streets—more than the 1,000 meals a day it served before the pandemic.
Demand continued to rise. Preble Street served 68,000 meals this March, 25 percent more than the previous March. It served over 100,000 meals in April, an 85 percent increase over April 2019. "The world is upside down," Swann said.
Staff at the shelters spaced beds farther apart and set up handwashing stations. Upon the recommendation of infectious disease experts, they started to perform temperature checks and to log visitors in order to track and trace sick people.
In the midst of the upheaval, the state of Maine asked Preble Street to open a new shelter, underscoring the virus's immediate and severe impact on the economy. During the Great Recession, the biggest increase in shelter numbers happened more than a year after the economy tanked. "It is really, truly a last resort to be homeless," Swann said. "People will do anything they can—go further into debt, sell off their assets, move in with others to spread the rent burden—before they end up at our door."
And yet the need was so great that Preble Street set up fifty emergency beds in a gym at the University of Southern Maine. The state also rented out a hotel for homeless people and group home residents who tested positive for the virus. "Anyone doing this work around the country, we're kind of holding our breath," Swann said.
The coronavirus pummeled the country all through the spring. By April, nearly 10 million Americans had lost their jobs, and 30,000 new COVID-19 cases appeared each day. With no coordinated procurement at the federal level, states were left to compete with one another to buy protective masks, face shields, gloves, and other medical equipment. The bidding drove prices higher, just as state budgets were in precipitous decline.
Andrew Mountcastle '01 used a 3-D printer for his work at Bates, where he teaches biology. After the pandemic struck, engineers he knew online talked about how to print badly needed protective equipment, like face shields and parts for respirators. "It's a little bit of the wild West," Mountcastle said. "Lots of engineers are working on different designs, and it's unclear which, if any, have been tested in a clinical setting."
He asked peers with 3-D printers at Bowdoin and Colby to help him produce protective equipment, and, within weeks, the group delivered batches of face shields to LincolnHealth in Damariscotta. They took in more orders for first responders, who sometimes receive protective gear after hospitals and medical staff. Their printers ran around the clock.
Hospitals began to burn through more protective equipment than usual to keep patients and medical workers safe from the virus. For each shift at Mid Coast, Civiello is met at the entrance by a staffer who pumps sanitizer into her hands and gives her a mask.
At the hospital's "PPE store," she picks up new items that she can't reuse from her previous shift. She now wears a gown, a scrub cap, a mask, eye protection, and a face shield when she works. She dons a special N-95 respirator mask only when she sees a patient who is suspected of having the coronavirus.
"I'm fortunate to be in a position to be able to help health care workers and first responders in my state in this way, but, at the same time, I feel like they deserve better,"
Mountcastle said.
"It's infuriating that they are relying on me, with a 3-D printer, to protect them from this dangerous virus."
Civiello said that the new layers of protective gear changed her interactions with patients, who can no longer look into the faces of their doctors and nurses for reassurance. She often apologizes for not being able to show her face. Patients have been understanding.
Quarantine immediately made many people feel isolated and alone. Work and school became more difficult. Live classes were unrealistic for Mountcastle because his students were spread across different time zones.
Graff and her colleagues decided that their top priority was to "do no harm." A book she had recently assigned about America's criminal justice system suddenly seemed too heavy for students to read while they dealt with the shocking and difficult shift. And she felt it more important to connect with her students than to teach new content.
"The amount of pressure put on public schools is immense," Graff said. "We're the place where students get two meals a day, social work services, health care, and vision checks. Now everything is happening beyond my classroom."
Child abuse reports dipped after the pandemic began, in part because teachers are some of the main reporters of abuse. "Because my assignments can include writing about what's going on, I can still get a little bit of an inside view into a student's life," Graff said. "I can make a referral if I find that someone is hungry or living in unstable housing. But it's trickier now that I can't lay eyes on the kids."
A large percentage of Graff's school district receives free or reduced school meals, and those students immediately faced the threat of going hungry. Administrators quickly built five remote sites in South Portland, where anyone under the age of nineteen can get breakfast and lunch for as many people as they need. "We have seen a huge uptick in people accessing those meals," she said.
Problems emerged as the pandemic created more stress at home. Some students didn't live with an adult who could help with their schoolwork; others lived with adults who had lost their jobs. Graff and her colleagues decided not to give letter grades. "I'm not going to give a student a D on an essay and then send them to their bedroom alone."
By the end of May, more than 40 million Americans had filed for unemployment.
The country faced an unprecedented level of uncertainty as politicians struggled to balance public safety and economic concerns.
Martens had spent all spring rallying support for the fishing industry, which relies on a combination of overseas markets and restaurants for most of its sales. He had kept in constant contact with Maine's congressional delegation and with fishing associations in Alaska, Massachusetts, and California. He worked around the clock to make sure that Congress allocated money for fishermen in the first phase of the Coronavirus Aid, Relief, and Economic Security (CARES) Act, the legislation created to get money to small businesses and the unemployed.
"Our delegation was fighting for Maine, and it goes a long way for us to know that," Martens said.
It was initially difficult for him to persuade fishermen to participate in the complicated financial rescue programs. The spring is always slow, and many hoped things would pick up later in the year. "It's been an education process to explain why they might not make the same money over the summer as they usually do," said Martens. The association also began to offer mental health resources as the general sense of stress and unease grew.
The economic picture has pressured governors across the country to reopen the businesses, schools, and other services that closed in March. Governor Mills issued her plan to gradually restart business activity and tourism—hopefully without sparking a problematic outbreak.
There is reason for hope. Maine so far has among the lowest numbers of recorded COVID-19 cases in the country, and one of the lowest death rates, according to state data compiled by The New York Times. "We've been very fortunate," Emery said. "Midcoast Maine has been pretty aggressive in its social distancing policies. The only vaccine we have right now is staying home."
Hospitals are encouraging patients to return for nonemergency care. "We're not so busy that we can't protect every patient that walks through the door," Civiello said. "You don't need to be scared to see the doctor."
There is much we don't know about the new coronavirus, including the likelihood of a winter surge and whether immunity follows infection. We know that the virus will spread after social distancing eases and people travel again, but we don't know how much. And we don't know when we'll have an effective vaccine or a treatment. So much uncertainty can be overwhelming. The enormity of the economic decline and how the pandemic will end are both unknown.
But, in a message written in April to her Bowdoin Class of 1982, Mills asked her classmates to "find the strength and inspiration to keep moving forward" as they grieved the loss of their pre-pandemic lives, of their loved ones, and of their jobs.
"I think back to the 'Offer of the College' and realize how its words resonate brightly and provide inspiration," she wrote. "I think back to classroom discussions on Father Zossima's exhortation in The Brothers Karamazov to love beyond all else, to moonlit walks across the Quad with newfound friends, and to time volunteering with classmates to help immigrants settle into Brunswick.
"No pandemic can take them away from us—our love for each other, our memories, and our pursuit of the common good."
Katie Benner '99 is a Pulitzer Prize-winning investigative journalist for The New York Times who recently joined the College's board of trustees.
Heather Perry is a photographer based in Bath, Maine. Find her Six Feet Apart project on Instagram at @heathfish or at sixfeetapartproject.com.
---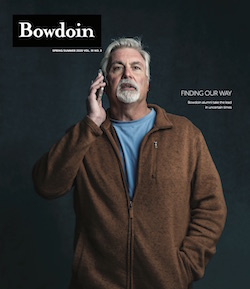 This story first appeared in the Spring/Summer 2020 issue of Bowdoin Magazine. Manage your subscription and see other stories from the magazine on the Bowdoin Magazine website.