Published June 09, 2020 by Tom Porter
A Joyful Noise: Students Stage Online Music Festival
More than thirty students recently collaborated in an online music festival. Fourteen acts, from classical to human beatbox, via soul and rap, entertained an audience of more than a hundred people over two hours. The whole event is now posted and available to watch on YouTube.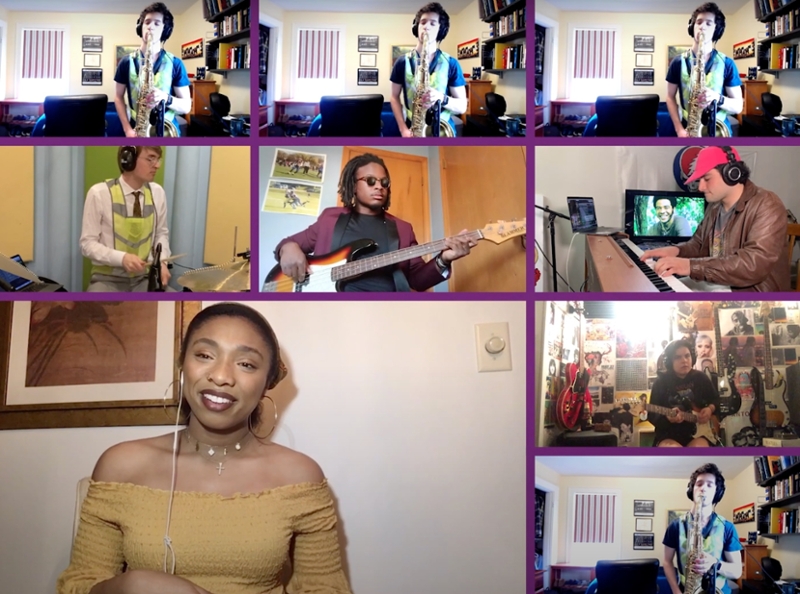 PolarJam, as it's called, was put together by two student groups, the Bowdoin Music Collective and the Bowdoin Entertainment Board. "It was SO COOL to see the Bowdoin music scene still vibrant from afar, and I hope the attendees of the event enjoyed it as much as we did," said Nick Cattaneo '21 of the Bowdoin Music Collective, who helped organize the festival. "It was by far the highlight of my quarantine, and the closest thing to normal Bowdoin I've felt since returning to my childhood bedroom in early March."
Also involved in organizing PolarJam were Josh Brooks '20, Danny Little '22, Claire Reboussin '21, and Chris Ritter '21. Additionally, Cattaneo and Little feature as festival performers as part of a musical collective called Bus, whose Bus Rides Remote is musically and technically the most ambitious of PolarJam's fourteen acts. A seventeen-minute medley of four songs, the project features twelve student musicians, as well as Cattaneo's mom, Susan, on backing vocals for three of the tracks. Cattaneo himself plays drums and keyboards on all tracks while Little is on saxophone and keyboards. "With all the musicians recording their parts individually, due to the lockdown requirements of the pandemic, the final product took a lot of editing," said Little, who, along with Cattaneo, put the various parts of the project together over two and a half weeks, using editing programs Premiere Pro and DAW Logic Pro X. "It took many hours, but it was great fun," he added.
Talking of Bowdoin musicians, Ariana Smith '21, who can be heard singing "Lovely Day" in the Bus Rides Remote, was recently featured in V magazine for her new song "Bridge to You."