Bowdoin Celebrates the Class of 2020
Published by Rebecca Goldfine
Graduating students and members of the Bowdoin community watched from across the country and around the world as Bowdoin livestreamed the Class of 2020's virtual celebration on May 23, 2020.
The event was not a replacement for the traditional cap-and-gown Commencement that Bowdoin will hold on campus next May for the Class of 2020, but rather the first act, a way to recognize the achievements right now of an extraordinary group. 
The program for this year's celebration of the Class of 2020 was put together with ideas and preferences submitted by seniors. 
The Class of 2020
The graduating class comprises 473 students, forty-six of whom are from Maine. Forty-three states, the District of Columbia, and Puerto Rico are represented, including Massachusetts with sixty-eight students, New York with fifty-four, California forty-seven, and New Jersey and Connecticut, each with thirty-four. Graduating international students represent thirty-two countries and territories.
The Saturday afternoon ceremony began at 12:45 p.m., with a slideshow of personal photos contributed by seniors. 
Paula Petit-Molina '20 and Lisette Watters '20, members of the senior class gift campaign, next offered the Thorndike Oak Toast, a longstanding tradition commemorating George Thorndike, Class of 1806, who famously planted an acorn in campus soil.
"Today our senior class writes its names in Bowdoin history," Petit-Molina said. "Our achievements as scientists, writers, educators, athletes, entertainers, artists, and critical thinkers have shaped the Bowdoin community we share today and will continue to shape it in the years to come."
As she wrapped up the toast, Watters said, "The Class of 2020 is truly a special class. I could not be prouder to be graduating with these people today." She raised her pint of what appeared to be milk. "We did it! Even though it was not the way we envisioned celebrating, we have so much to be proud of today." Read the full text of their toast.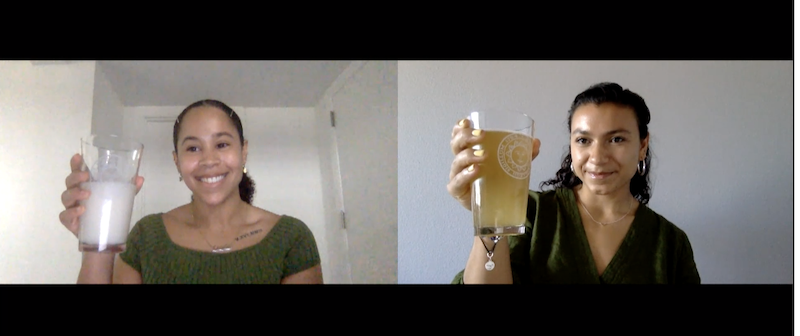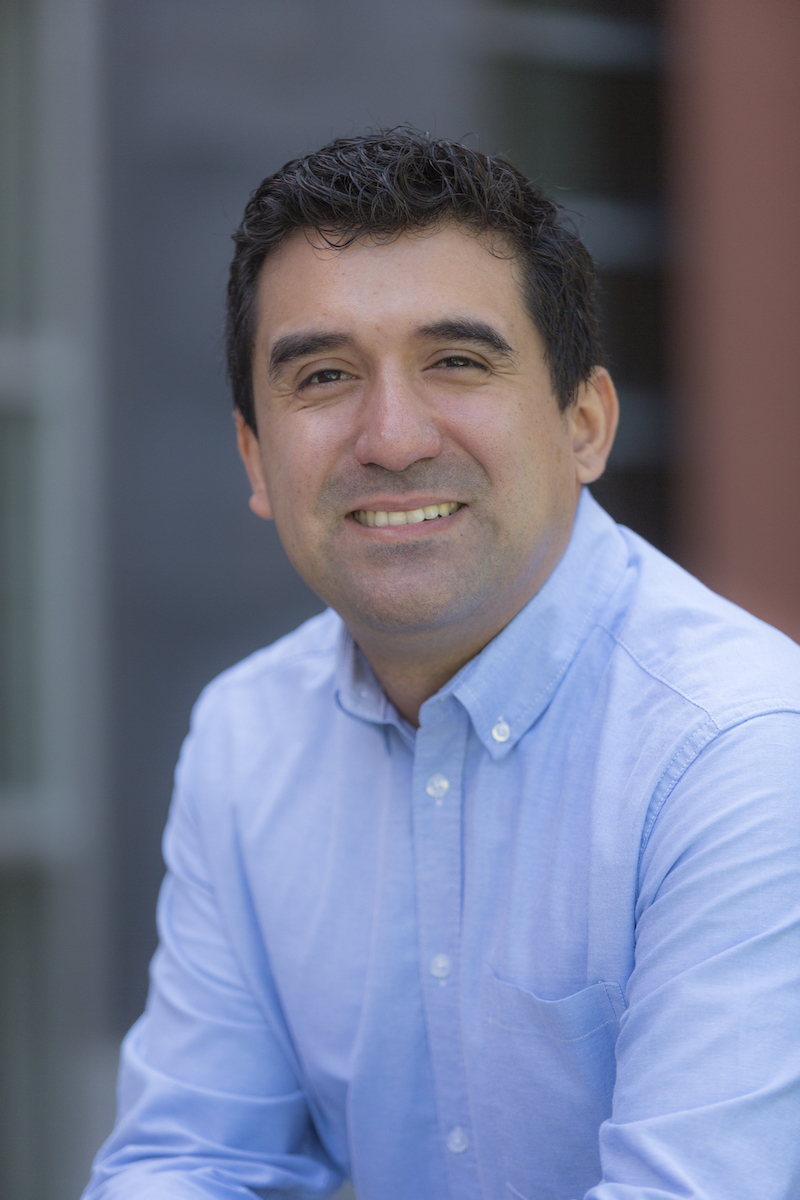 President Clayton S. Rose next welcomed the graduates and all who were joining in to watch the live webcast. He noted that he was speaking from the steps of the Walker Art Building, where he first addressed the Class of 2020 four years ago. 
Rose then introduced Rev. Eduardo Pazos Palma, director of the Rachel Lord Center for Religious and Spiritual Life, who gave the invocation.
Pazos Palma spoke about how hard the current situation is for seniors, who were unable to say goodbye in person to all the people who have made their years at Bowdoin so special: their friends, classmates, professors, coaches, and staff.
But he applauded their preserverance. "Although it is nothing like any of us imagined this semester would end up being, you have made it! You made it through one of the hardest moments of your college career, and we are here to celebrate that."
Later, he urged the graduates to never stop searching for joy, hope, and love—which are crammed into every nook and cranny of life. "Class of 2020, we need you more than ever. We need your optimism. We need your hope. We need your creativity. We need your intellectual fearlessness. We need you to be a voice to lead us into the future. We need your stories of resilience; your stories of overcoming; your stories of beauty and humor."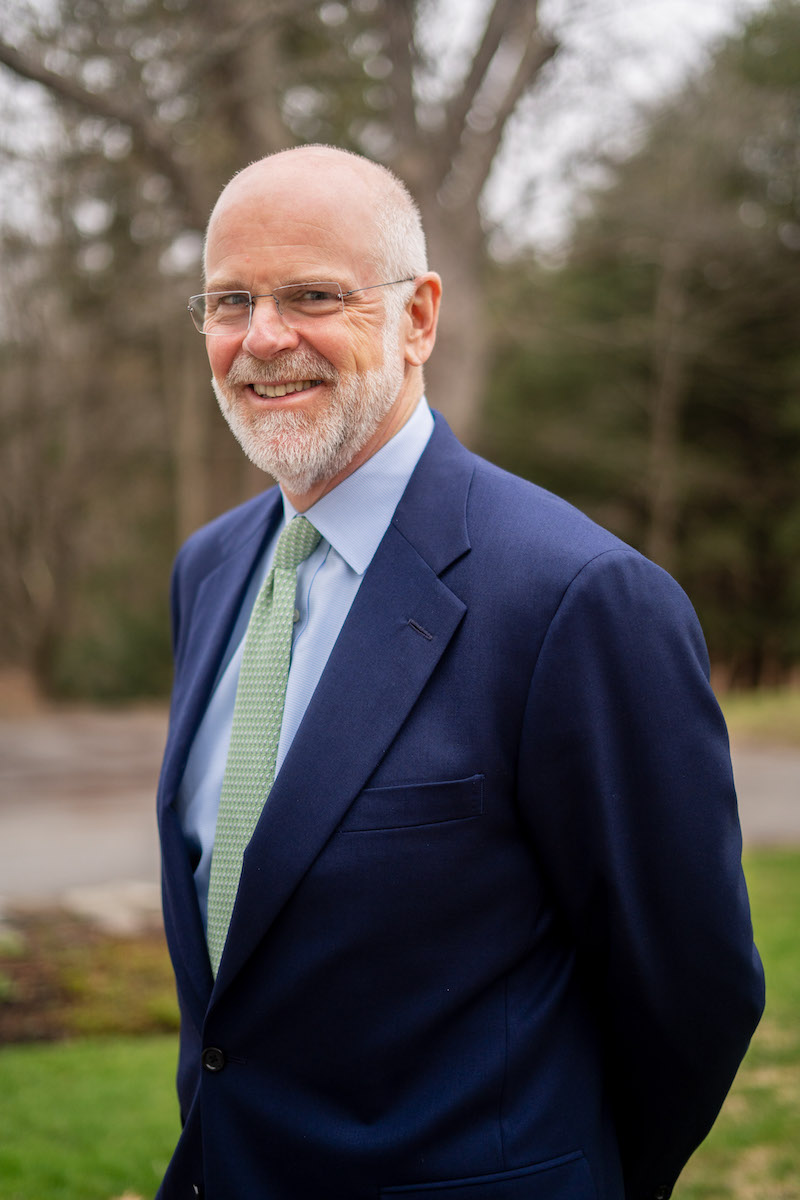 In his celebration remarks, Rose reinforced Pazos Palma's acknowldgement of the senior class's tenacity in getting through a trying historic event to earn their diplomas from Bowdoin.
He then shared what he believes is essential for a happy life, a truth that has come into even stronger focus for him during the pandemic.
"Find and nurture the special relationships that make you whole," he said. "Find those people who will love you completely and without question—they are out there—and give them the same."
"Grow the friendships and relationships that draw out the best in you, with those who love you for who you are and who are there for you as you are for them—they are magical and life changing. No amount of money, no fancy titles, no other goals can come close to the satisfaction that comes from the special relationships."
Speaking from home with a Bowdoin banner behind him, Angel Ramirez '20, senior class president, offered a message to his fellow graduates and their families. "For many of us graduating this year, this is the culmination of the American dream for their families, who may have arrived in the U.S. with nothing in their pockets."
The seniors as a whole have had to navigate extraordinary circumstances to arrive at this day, Ramirez said, and going forward, will "continue to face unforeseen challenges we will have to overcome." But it is times like these, he added, when "we're reminded of the importance of fostering community."
"While we can't physically be with each other today, we are together in spirit," he continued. And as the Class of 2020 heads off into the world, he urged them "to be intellectually fearless, to ensure we are the pioneers of the changes we would like to see in the world."
Following a video of personally recorded messages by Bowdoin staff and faculty for the graduating class, Rose and Chair of the Board of Trustees Robert F. White '77, P'15 conferred the baccalaureate degrees.
The names of every graduating student scrolled up the screen, accompanied by a specially recorded "Raise Songs to Bowdoin" for the Class of 2020, performed by George Lopez, Bowdoin's Robert Beckwith Artist-in Residence.
Matt Klingle, associate professor of history and environmental studies, tweeted at Bowdoin after the ceremony, sharing what was most likely a widely felt sentiment.
Just finished watching. Graduation by proxy isn't what anyone planned for, but @BowdoinCollege did a great job. Choked up seeing students, colleagues, and friends far removed. So proud of #Bowdoin2020 graduates. Congratulations! https://t.co/ErXz6sSX6K

— Mattthew Klingle (@matthew_klingle) May 23, 2020