Published April 13, 2020 by Rebecca Goldfine
Josiah Oakley '21 Wins Prestigious Beinecke Scholarship for Graduate School
Anthropology and music major Josiah Oakley has earned a
Beinecke scholarship
, which provides $30,000 for graduate studies in the arts, humanities, and social sciences
. The grant is awarded to college juniors who show "exceptional promise."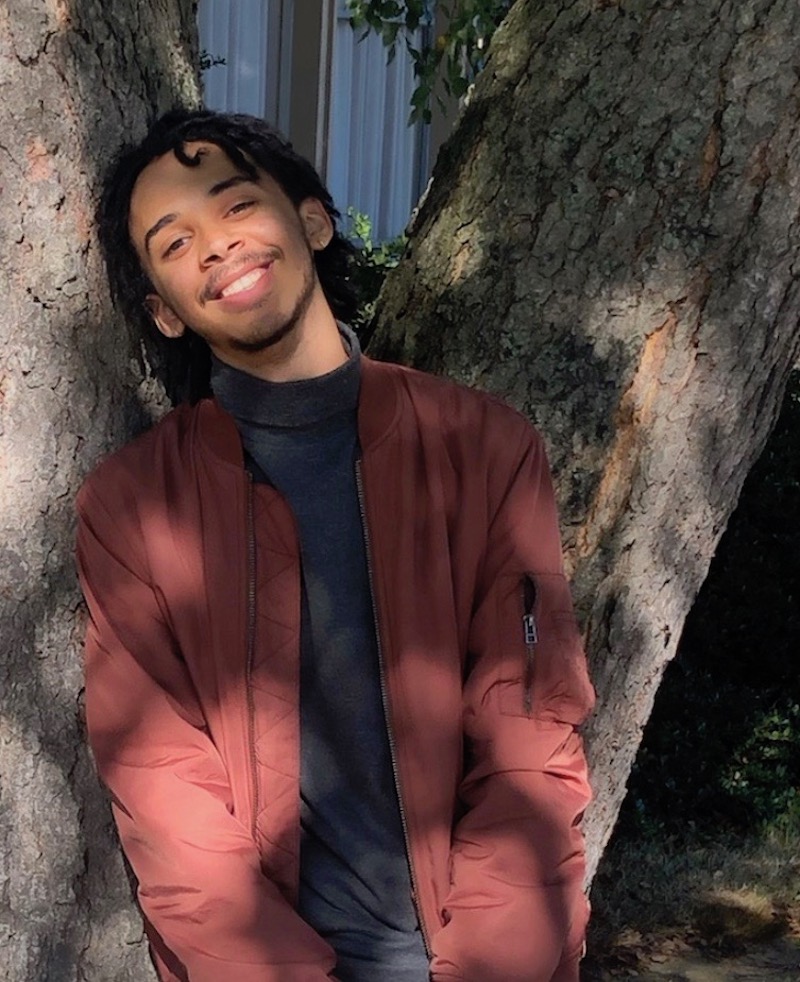 Though Oakley has not yet selected a specific graduate school to attend after Bowdoin, he has a good idea of what he will pursue when he gets there.
He is seeking an interdisciplinary PhD program—perhaps at Columbia, Northwestern, or Indiana university—that will allow him to investigate ethnomusicology, African American studies, performance, political studies, and gender, women's, and sexuality studies. 
For the past year, as a Mellon Mays Undergraduate Fellow, Oakley has been working on an honors project that reflects his wide-ranging interests—looking at how contemporary African American artists use their voices for alternative protest.
"What I mean by alternative is how they convey humanity, emotion, sexuality, and intimacy, and how they realize the whole of oneself," he said recently via a Zoom online chat. "I am interested in the idea of the voice as an instrument that encompasses who we are, intentionally and unintentionally."
Oakley's academic query into the voice as a means of protest began on a personal level, as he wrestled with his own voice growing up in Connecticut and at Bowdoin. While he has always been a singer in musicals, choirs, and a cappella groups, it was his speaking voice—and what it seemingly revealed about him—that he has questioned.
Throughout his life, Oakley has grappled with insecurities about how stereotypes assigned to his voice do and do not reflect his sexual, gender, and racial identity. "So I am really interested in how we come to create cultural constructs and how the voice has come to symbolize those things."
In his research project, he is analyzing how artists, including Janelle Monáe, Solange Knowles, and Frank Ocean, use their voices to "take those expectations and turn them on their heads, or lean into them to emphasize protest." 
Besides falling in love with research and academia, Oakley wants to become a professor for the chance it will offer him to mentor young people. Throughout his life, the adults who have stepped into his path to help him, including high school teachers, Bowdoin professors, and Mellon Mays faculty, have been powerfully important to his trajectory.
"They have been such huge influences on me and shaped my sense of my potential and what I can do in my life, and my sense of my worth," he said. "All of that is to say that a big reason I am interested in pursuing a PhD is because there is such power in leading young people through thought—especially young, queer, black folks. I see a lot of value in passing on the things I learn."
A few favorite classes
Sex and State Power, with Assistant Professor of Gender, Sexuality, and Women's Studies Jay Sosa. "This class deepened my understanding of concepts like relativism and social construction, and I developed a relationship with anthropological theory that continues to inform my understanding of cultural value systems today." Through this class and others, "I realized that from birth humans engage with culture to interpret their world, and through the lens of culture the world interprets us in turn. The resulting relationship shapes humans' understanding of other people, our sound, and our bodies, as well as the messages they carry."
Protest Music, with Associate Professor of Africana Studies Judith Casselberry: "One of my favorite classes, Protest Music with Professor Casselberry, essentially traces the lineage of African American protest music from slavery to present day. It has been an interesting and important marker for me, and opened up a project like mine to research an idea through music." 
Women of Color in Politics, with Assistant Professor of Government and Legal Studies Chryl Laird: "This was my first-year seminar and it was an amazing class. I learned a lot about setting the stage for the interrogation of America that I was going to be doing for the rest of my time at Bowdoin. I also developed a powerful relationship with Professor Laird that has followed me in terms of mentorship."