Inuit Kayak-Builder Brings Skills to Campus
Published by Tom Porter
Kayaks are an intrinsic feature of Inuit culture, used for hunting, fishing, travel, and recreation, employed by generations of indigenous people across the Arctic, from Alaska to Greenland and Labrador.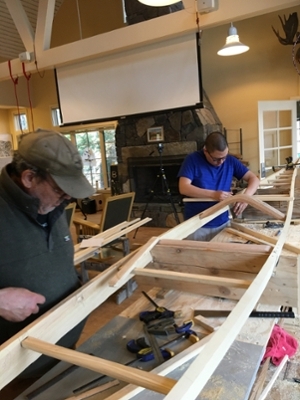 Noah Nochasak has been making them for ten years. He recently traveled from his hometown of Nain, on the coast of Labrador in northeast Canada, to help construct a replica kayak that will be featured in an upcoming exhibition at the Peary-MacMillan Arctic Museum.
Kajak!, which uses the Labrador Inuit spelling of the word, is scheduled to open shortly after the museum reopens to the public. The exhibit explores how Inuit employed these traditional skin-on-frame watercraft, often customizing them to suit the water and ice conditions they encountered. It also looks at the recent revival of interest in the practice in the Canadian Arctic, as more Inuit reclaim their cultural heritage.
For ten days in early March, Nochasak could be found in the Bowdoin Outing Club's Schwartz Outdoor Leadership Center, working alongside Fred Randall, a renowned skin-on-frame kayak builder who lives locally. Over that time, they began the construction of a replica of a traditional Labrador Inuit kayak. Ribs of white ash were added to the hull, made from spruce and oak, and the skeletal wooden frame gradually took shape. Later the skin will be added, made from synthetic fibers rather the traditional sealskin, for ethical reasons.  
"As an Inuk, I have a lot of interest in preserving my culture," said Nochasak, who leads the Nunatsiavut Government's Kajak Revitalization program. This kayak is based on one collected by Bowdoin students and faculty in 1891. The detailed plans were drawn up by a group of kayak experts who surveyed it in 2008. The plans are complex, said Nochasak, but it's that complexity that attracts him. "I like that it's about skill, and not about how big a boat you can afford!"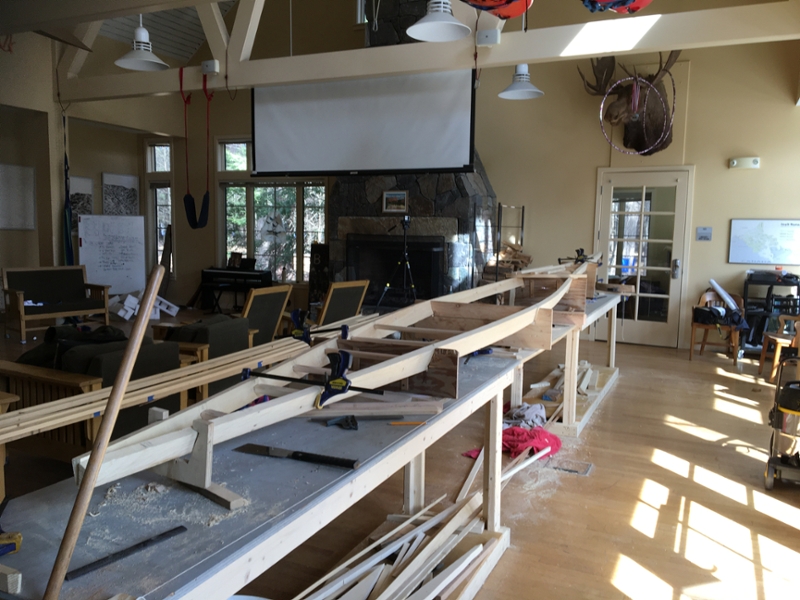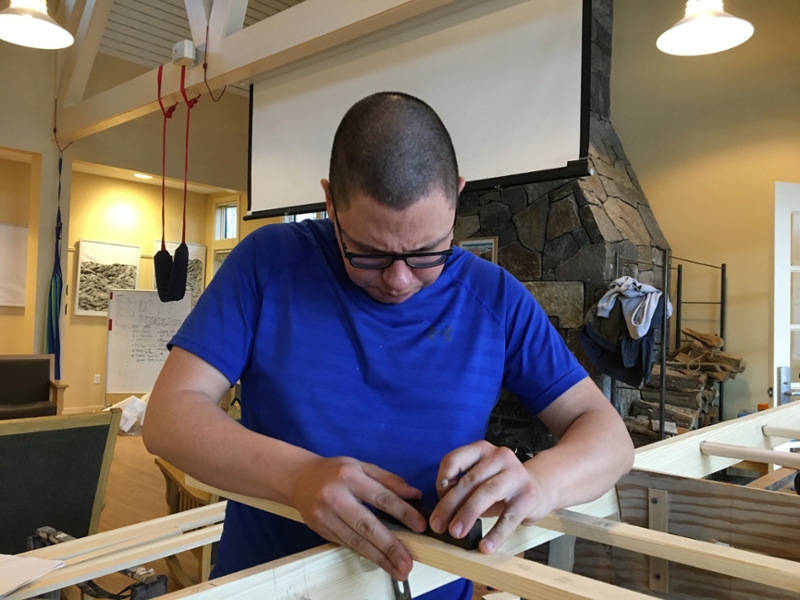 Retired engineer Randall, already a keen recreational kayaker, said he became fascinated with traditional kayak building after he stopped working, and he has since built many replicas. The original design of these vessels is truly impressive, he said, and they were built for a variety of purposes.
"Some are designed to double as sleds for when you find yourself on an ice sheet, some are designed specifically for rough water, some for hunting caribou, some for very calm water. The Inuit's knowledge of how to design a craft that's perfect for the environment, it blows your mind."
The kayak building project is funded by grants from the Kane Lodge Foundation, Inc., and the Oak Foundation.
The Kajak! exhibit is due to open a few weeks after the Peary-MacMillan Arctic Museum again opens to the public.