Bowdoin Produces Face Shields for Medical Staff
Published by Tom Porter and Doug Cook
Using a 3D printer, staff and faculty at Bowdoin College have begun producing National Institutes of Health-approved visors for personal protective equipment (PPE) face shields. A first batch of more than a dozen has already been delivered to LincolnHealth in Damariscotta.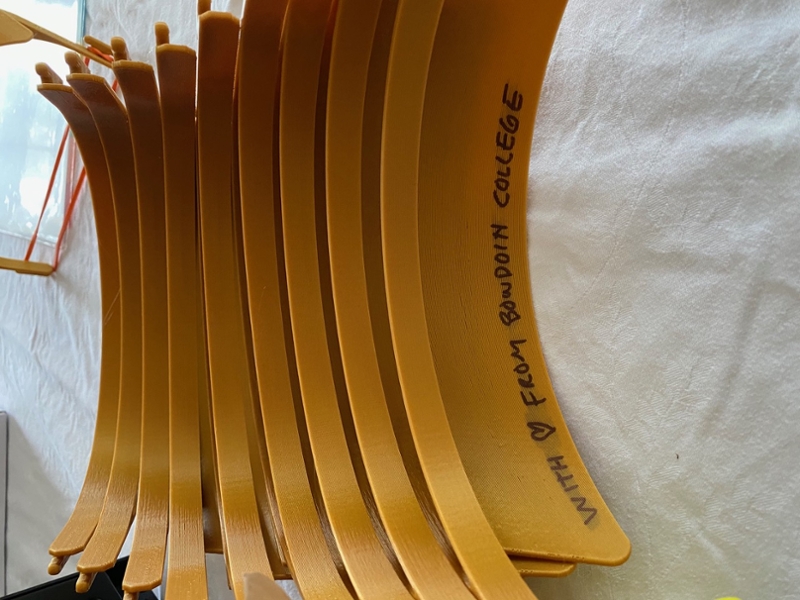 The 3D printer is working around the clock at the home of staffer David Israel, who works in Bowdoin's Academic Technology and Consulting Group (AT&C) and has much experience in 3D printing. "I can't really work on campus, so I put the printer in the back of my car and brought it home. It's not very large, but it is a little noisy. We're all 100 percent on board with the project goals, though, so we put up with it running pretty much 24-7!" 
Israel said he started working on the project himself before being contacted by Assistant Professor of Biology Andrew Mountcastle '01 at Bates College. "He asked if I was interested in collaborating with Bates and Colby on a COVID-19 response project that would address the issue of hospitals and first responders running dangerously low on PPE supplies," he explained. "The small group of folks from Bowdoin, Bates, and Colby who have access and experience with 3D printers and laser cutters started talking online."
While some people contacted hospitals and first responders to figure out their needs, others worked on figuring out the right design and sourcing the correct materials. One of those involved in the discussions was Associate Dean for Academic Affairs Stephen Perkinson, who had been helping to coordinate Bowdoin's broader effort to donate PPEs to area hospitals.
The visors are paired with the clear plastic dividers used in three-ring binders to compose face shields. Visiting Assistant Professor of Art and Digital and Computational Studies Erin Johnson is gathering the printed components from the various printers and coordinating the making and purchasing of the clear plastic components of the shields. She is also organizing deliveries of the shields to health practicioners and reaching out to other people with 3D printers who want to help. "We are all so grateful for the tireless work that health practitioners are doing across the country and here in Maine. This is an effort, however small, to support them in their work and increase their safety on the job," said Johnson.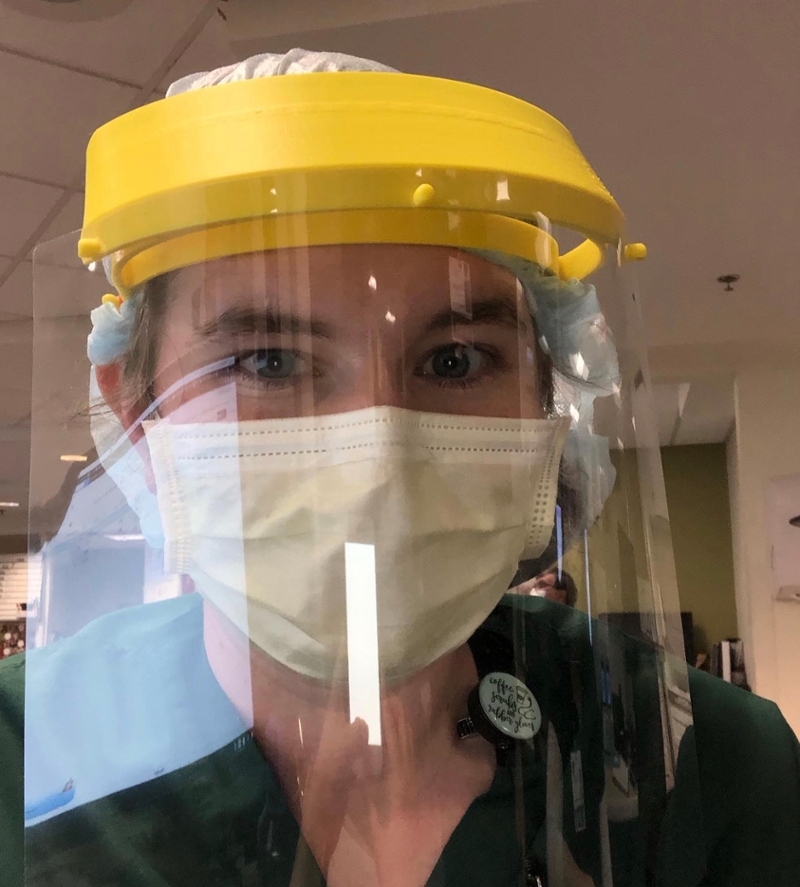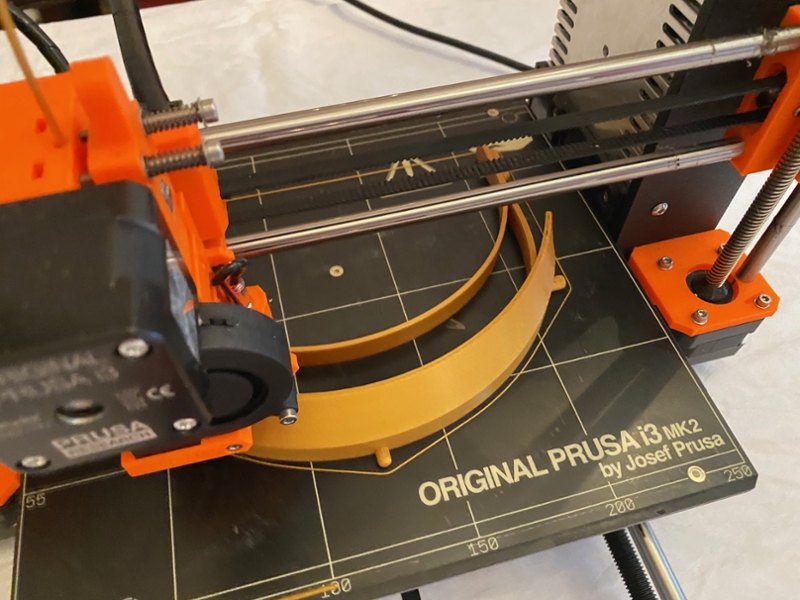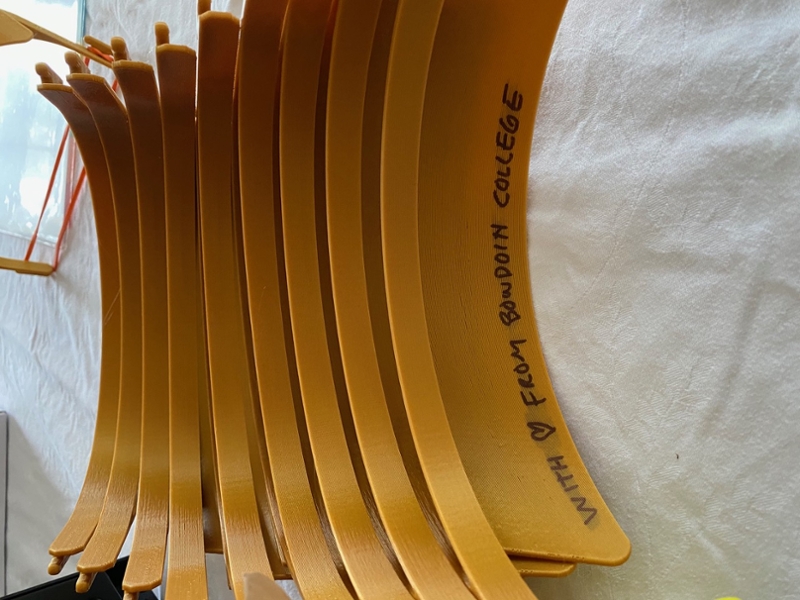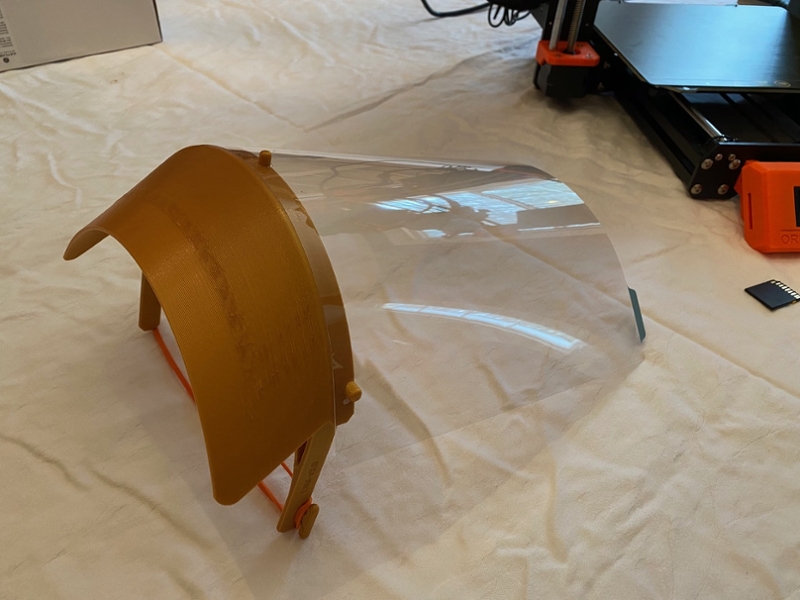 The effort may be small, but it's growing. Israel currently makes eight visors per day at his house. Librarian Sue O'Dell has started printing two a day on the machine in Hatch Science Library, while library assistant Jeffrey Cosgrove has also joined in the effort, using a home printer. Israel said a second printer used by AT&C should be working soon, once repairs have been completed. "I hope to have it running by Tuesday [April 7] so I can double production," he commented. "I'm just happy to be able to do something in the midst of this terrible mess to help out the amazing people on the front lines. I hope this helps keep them safe, even if in just a small way."
Meanwhile, Bowdoin College's Campus Emergency Management Team has been donating items from its inventory to Brunswick's Midcoast Hospital. By the end of March, the team had handed over 4,000 N95 face masks, 480 pairs of safety glasses, 110 barrier gowns, 480 oral swabs, and five boxes of exam table paper.