Published March 11, 2020 by Bowdoin Magazine
The Joy of Sharing
Back on campus as an assistant director of annual giving, Brianna Bishop '16 turns BowdoinOne Day into her every day.
What brought you back to Maine? 
I'm very spoiled in that several of my best friends from Bowdoin ended up in Portland shortly after we graduated, and my family has always been in Maine. I was only out of the state for a year before I decided to come back—a little sooner than I had planned, but Portland with your best friends is too good to pass up. I had also acquired a Chihuahua by this point, who I figured could use a bit more of the space and greenery that Portland has to offer (He loves it here, too!). 
Did you always envision yourself returning? 
I really appreciate the place and the community my parents chose to raise me in (Bowdoin, Maine—go figure!), so I always knew I wanted to come back at some point. I'm not the most outdoorsy of Mainers but growing up on thirteen acres of woods gives you an appreciation of the quiet, and that quiet is hard to find elsewhere. This is especially true when you want the amenities of a city without the headache; my neighborhood on Munjoy Hill is a best-of-both-worlds situation for me. 
Tell us a little about your role as an assistant director of annual giving. 
I've been in my role since July 2018, which means I had the opportunity to try a few different things before returning to the College in a professional capacity. I mainly work with the youngest graduated classes and with a handful of classes in the '60s, so I get a broad picture of what the Bowdoin experience looks like for alumni. A lot of my job is volunteer management, which means I get to spend a lot of time talking with Bowdoin's most involved alumni. I also manage BowdoinOne Day! 
What's your favorite part about your job?
My absolute favorite part of the job is meeting with alumni and learning about what they're doing now and how their experiences at Bowdoin shaped their lives. A lot of people found their passion at Bowdoin, and many of us found our best friends for life. So many met their partners, either during school or at some reunion five, ten, fifteen years later. Lots of us found job opportunities and incredible life experiences through the expansive Bowdoin network, and some are responsible for bringing the power of that network to brand new communities. Bowdoin plays a different role in everyone's story. 
What's the best part about living in Maine?
Portland is a small city; there's space to breathe, but you're also (at most) two degrees of separation from whomever you run into on the street. This is also true in a way for Maine as well—it's a big small town. For me, this translates into a feeling of community that I think mirrors what we build at Bowdoin. 
What's the best part about working back at Bowdoin?
My favorite part of Bowdoin when I was a student was the people, and that answer remains true now. Of course, I haven't been gone that long, so many of the people are the same! I get to run into professors who taught me in class, dining staff I knew well as a student, and, until recently, many students with whom I shared classes or campus jobs.
I've also been lucky to expand the world of Bowdoin people I know, especially when it comes to staff and students who have come in since I graduated. My Bowdoin network only gets bigger. 
It would be a mistake not to mention the food, of course. I've only been back for about a year and a half at this point, but I've still managed to eat about fifty Bowdoin logs, five gallons of Hungarian mushroom soup, and enough of the pub's fish tacos to feed a small village.  
Was there any singular experience when you were a student at Bowdoin that helped to cement your love of the state?
I was a little nervous when I chose Bowdoin, which was so close to where I grew up, that I would grow restless in Maine. The opposite turned out to be true. I met so many other students who were Mainers and learned about what Maine meant to different people. The joy of sharing Maine with people from elsewhere was not something I expected, and watching others fall in love with this special place only made me love it more. 
If you could be anywhere in Maine right now where would that be and why?
It's the winter, so I can't say I would want to be there right now, but my ideal spot is the Eastern Prom on a warm, sunny day. A spectacular view of the ocean, as many dogs running around as you could ever hope to meet, and the combination of locals enjoying their neighborhood and tourists taking in the sights give that spot a great energy during the summer. A good friend, a book, and an ice cream complete the picture. 
For people reading this who are nowhere near Maine, what in your opinion should they be absolutely missing right now—if only they knew better to be missing it?!
I didn't know what I'd been missing in Brunswick until I came back to Bowdoin! The food has always been good, but options for places in town open past 8 p.m. were limited. With a few new breweries and Bolos, a bright and cheery Tex-Mex restaurant/bowling alley right off Maine Street, I think Brunswick is cooler than ever. And of course, Gelato Fiasco remains a favorite that I'm always missing unless I'm literally eating it in that moment—anybody who hasn't tried it needs to the next time they visit campus.
---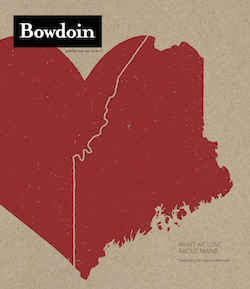 This story first appeared in the Winter 2020 issue of Bowdoin Magazine. Manage your subscription and see other stories from the magazine on the Bowdoin Magazine website.