Published March 11, 2020 by Bowdoin Magazine
Maine Field Notes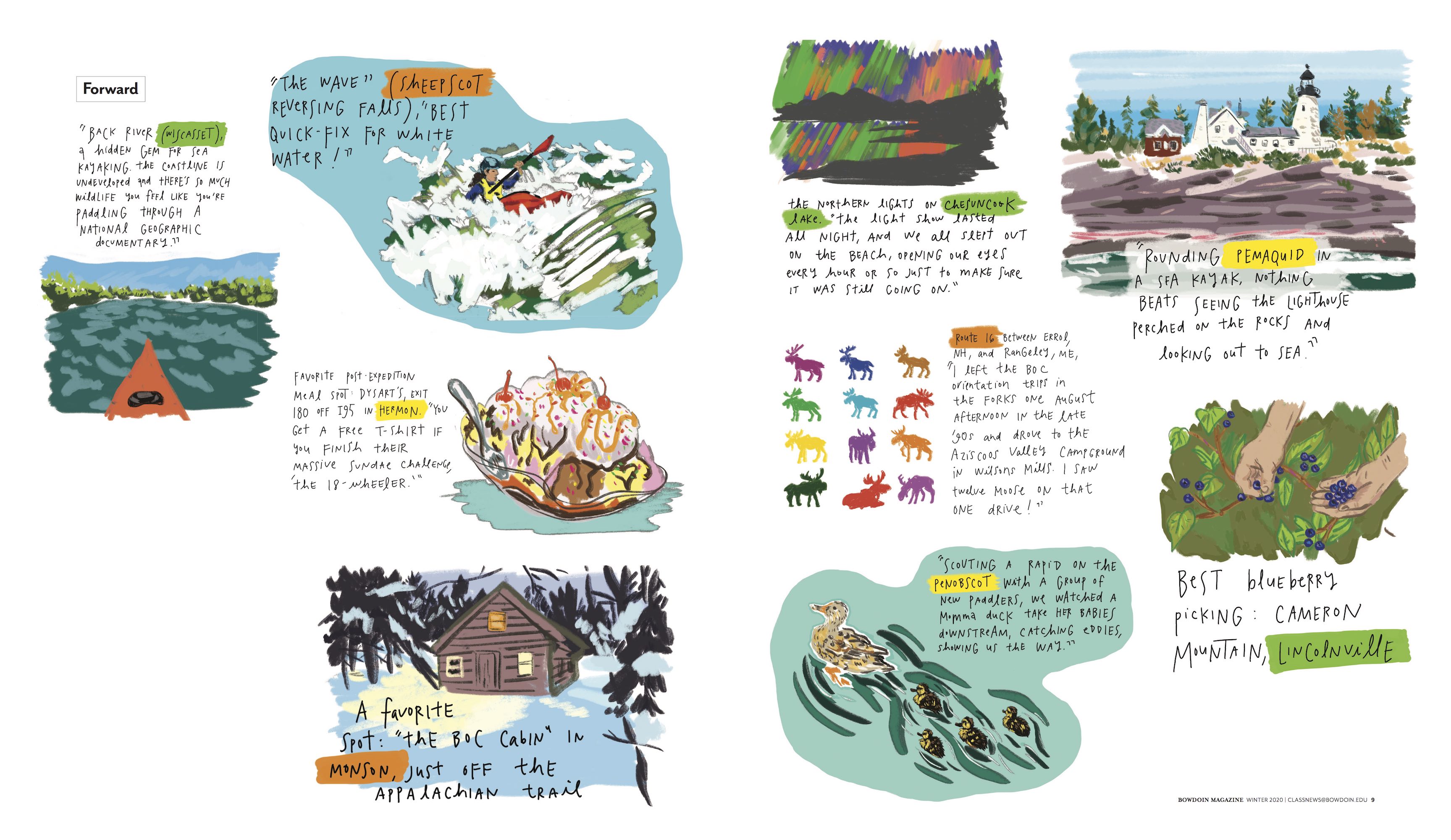 We'd be hard-pressed to find anyone at Bowdoin who's logged more Maine miles than Bowdoin Outing Club Director Michael Woodruff '87 and his assistant directors. Woodruff, who has thirty-two years of BOC trips in the books, and his intrepid staff cover hundreds of miles of Maine trails, roads, and waterways every year, sharing them with students and others in the Bowdoin community.
Artist Susan Coyne '07, a former "BOC-er" herself, illustrates a few of the BOC's favorite spots and memorable experiences along the way.

Below the slideshow of Susan's illustrations we've listed a few additional favorites that we didn't have room for in the print edition.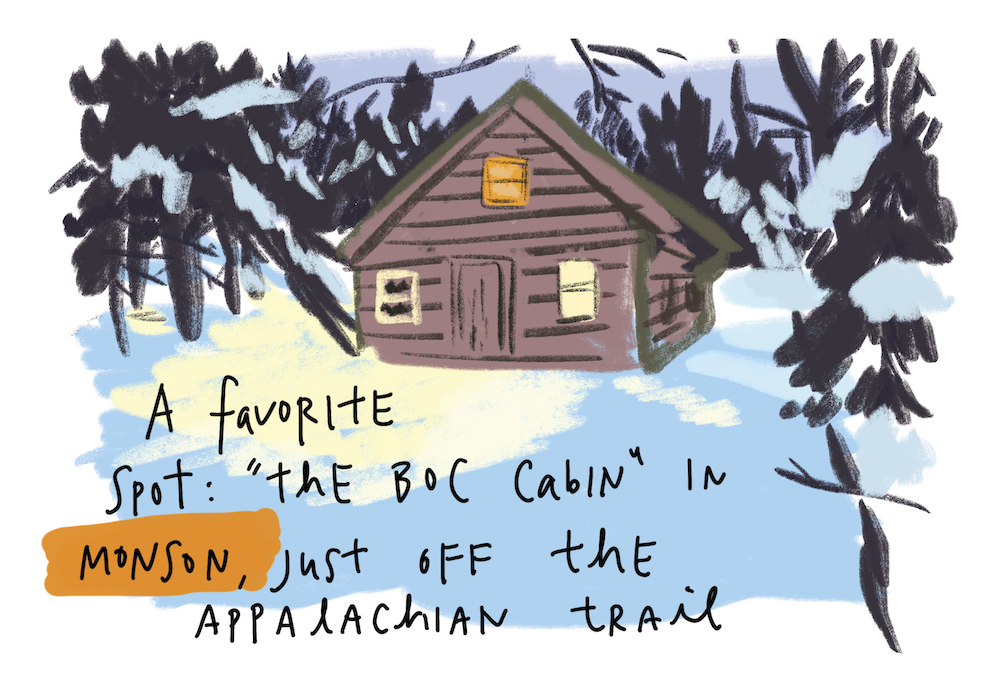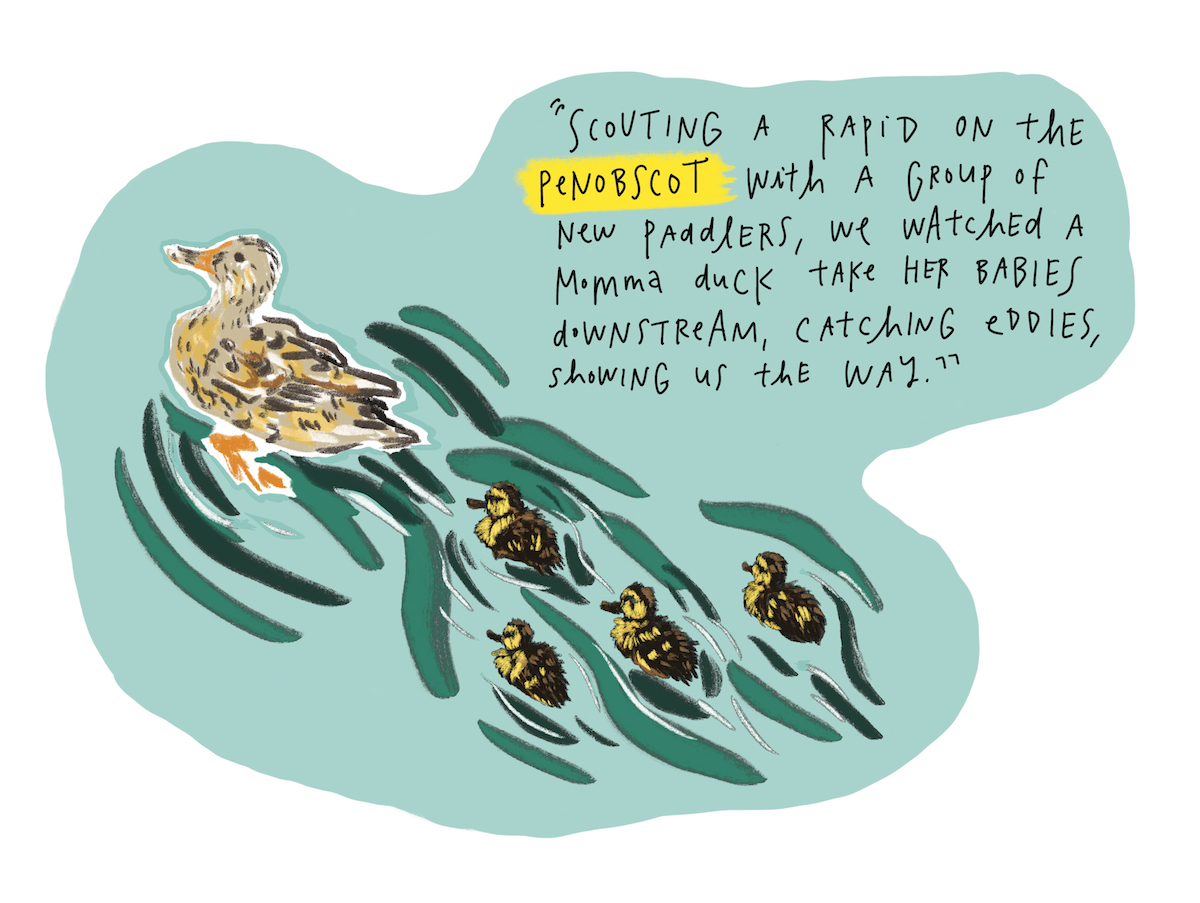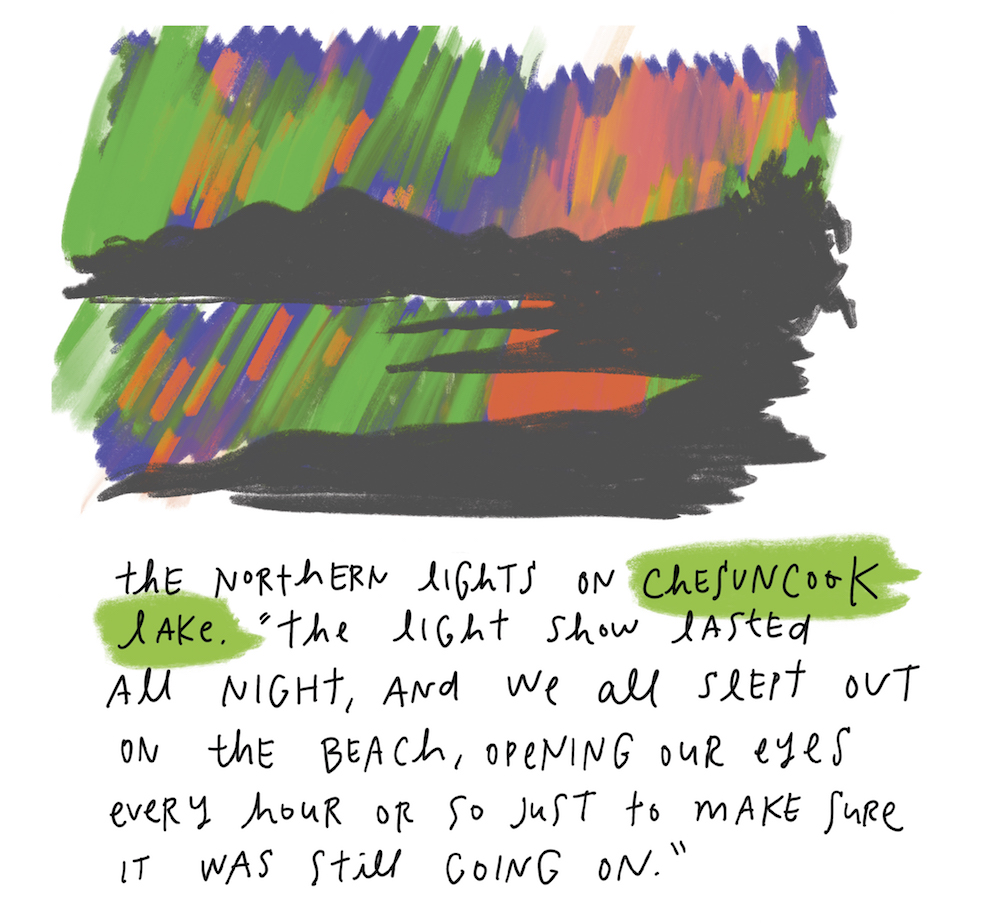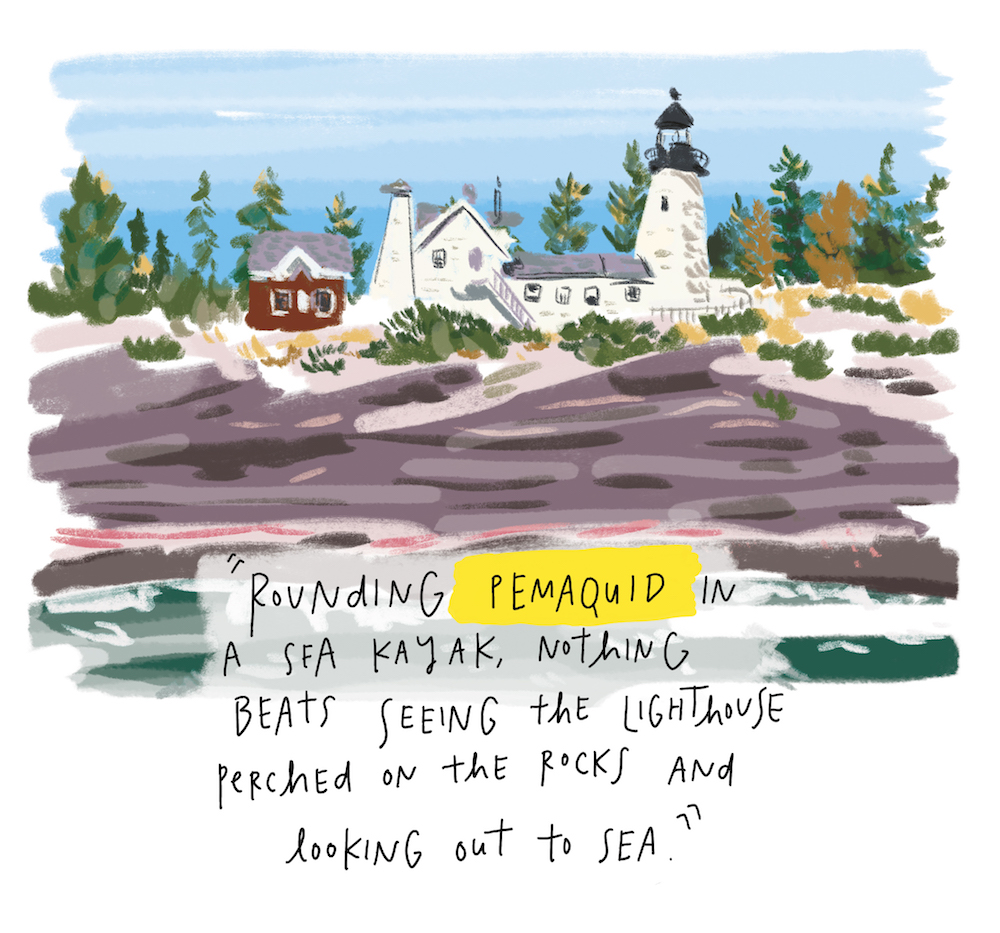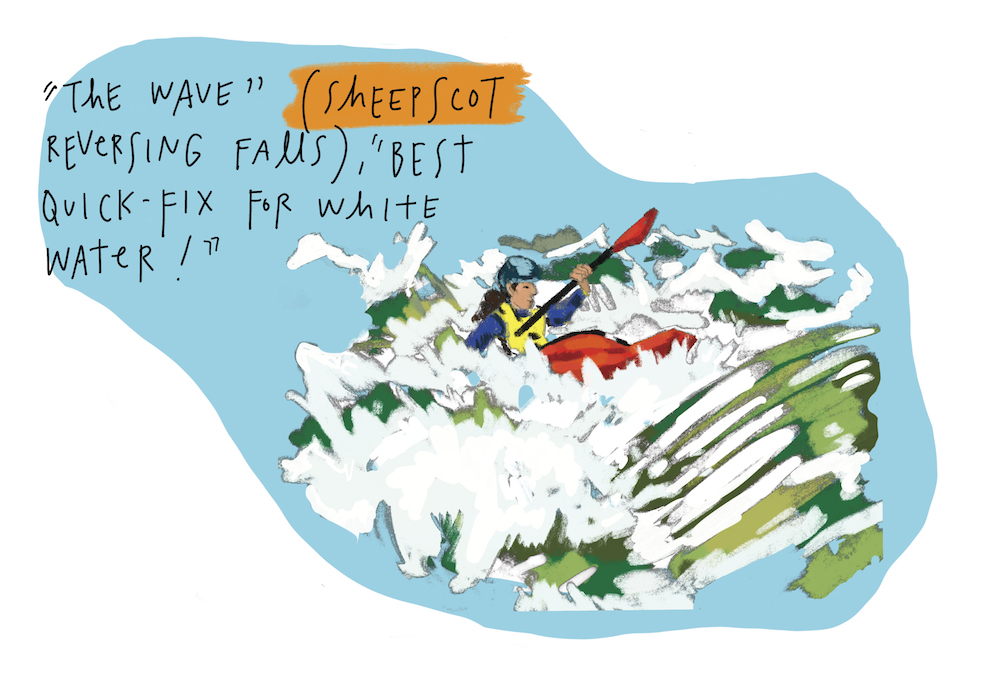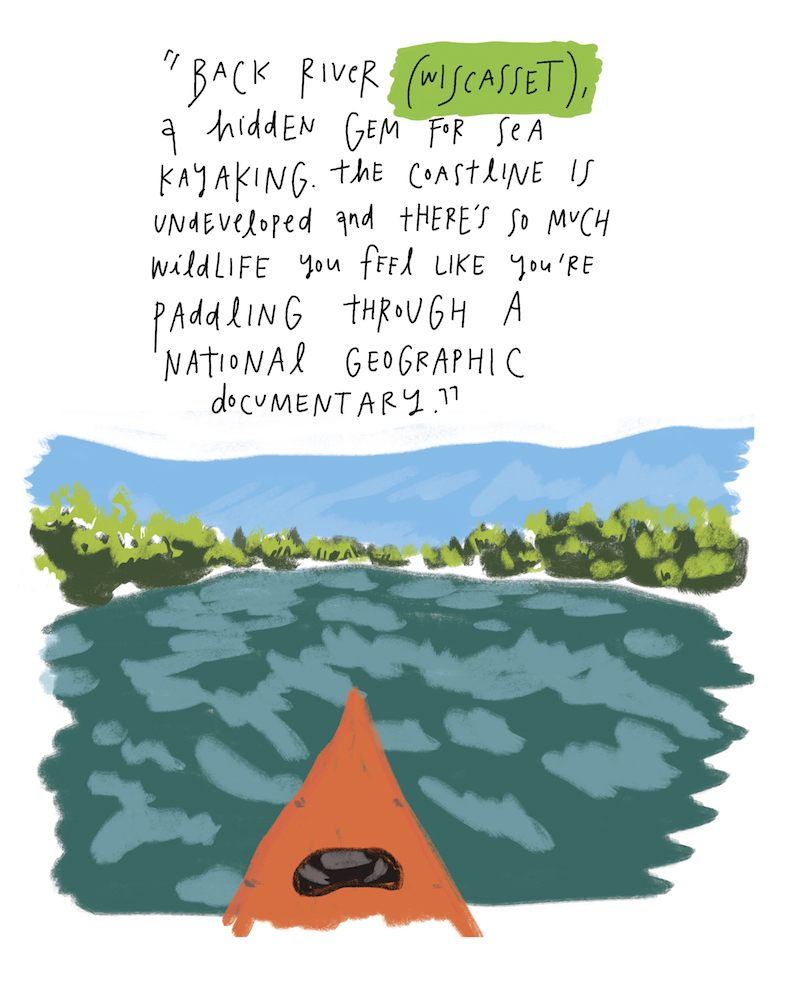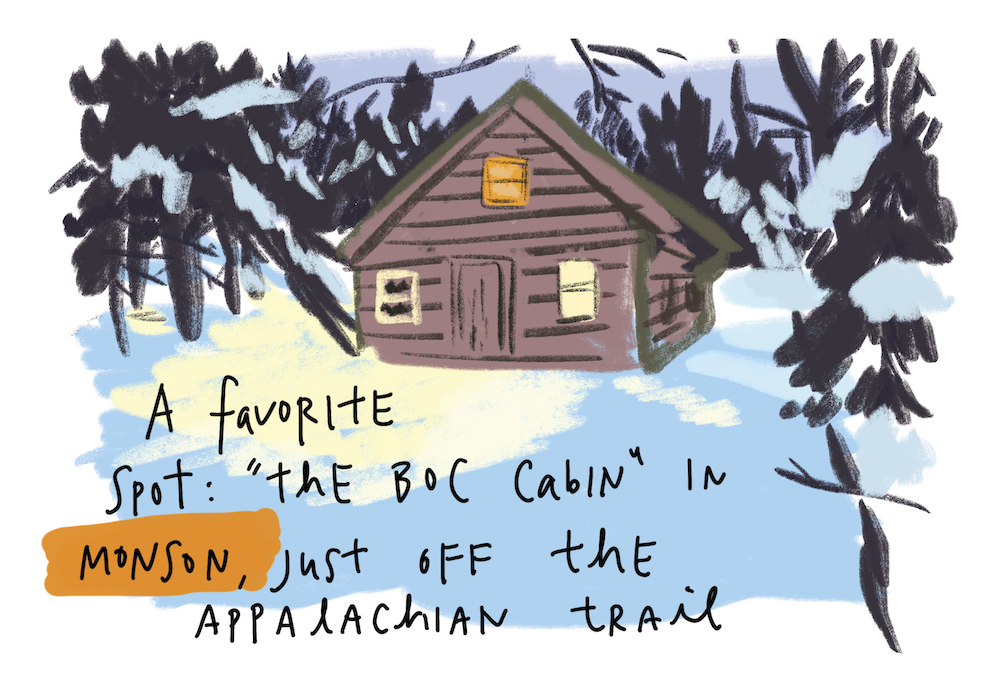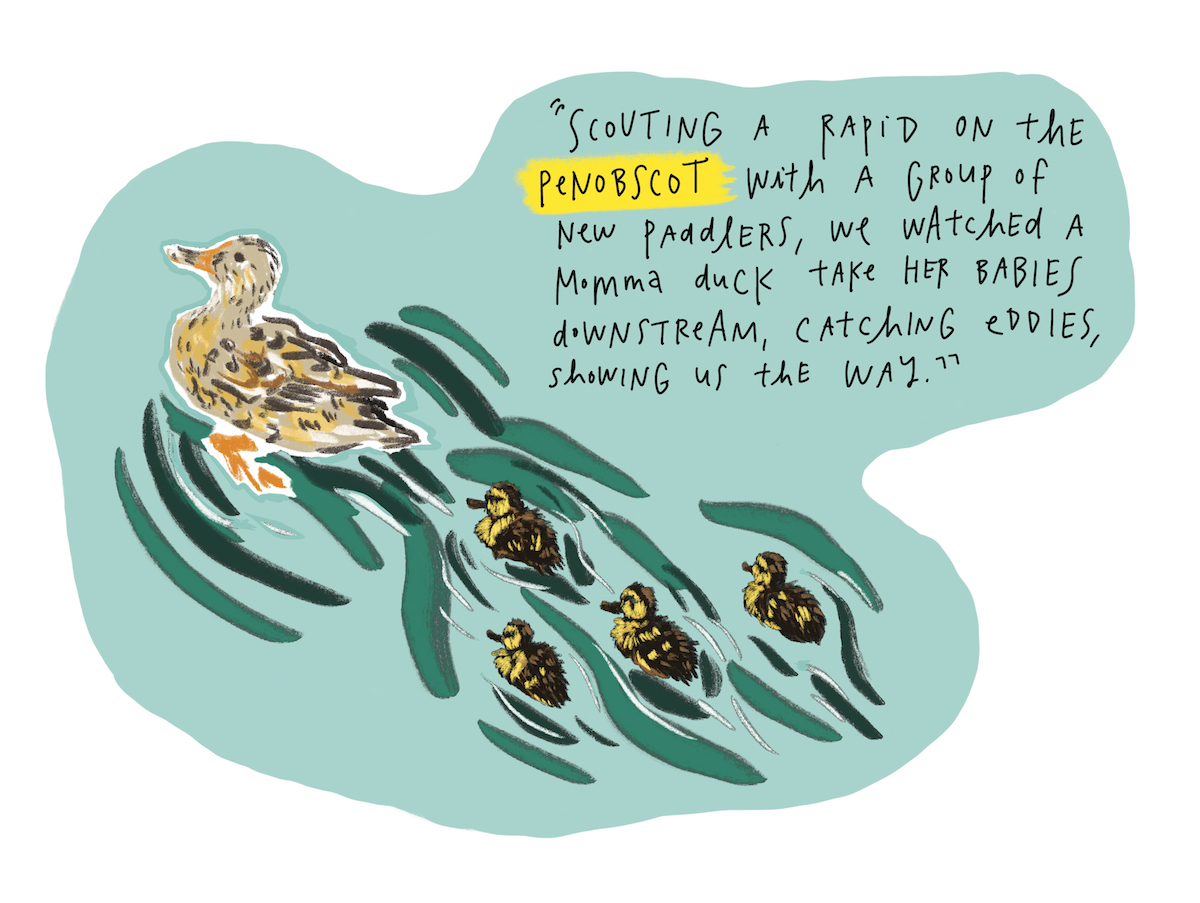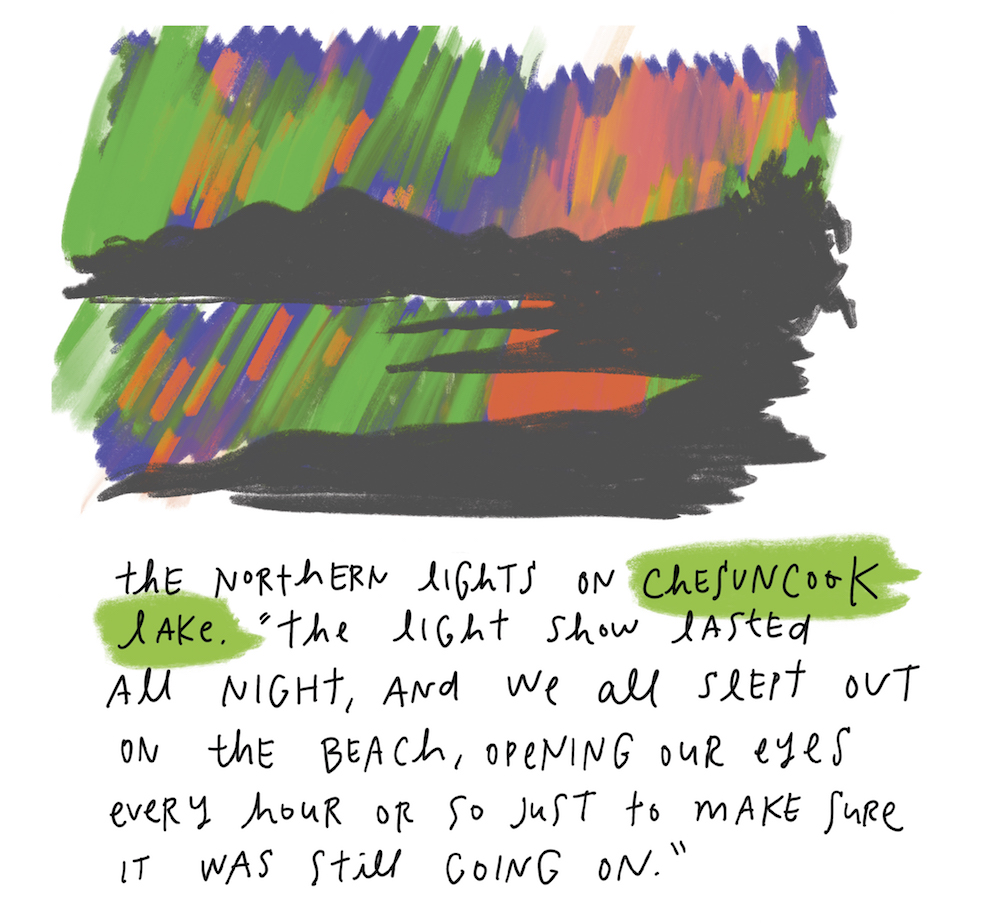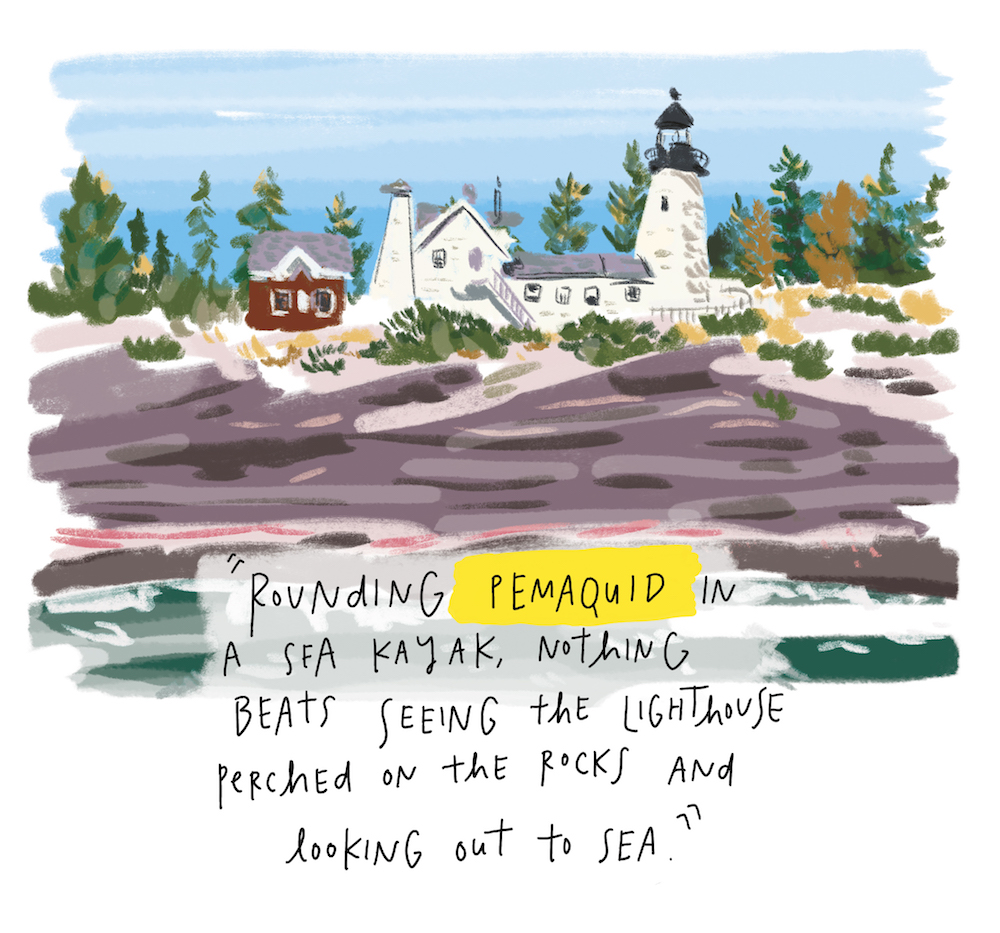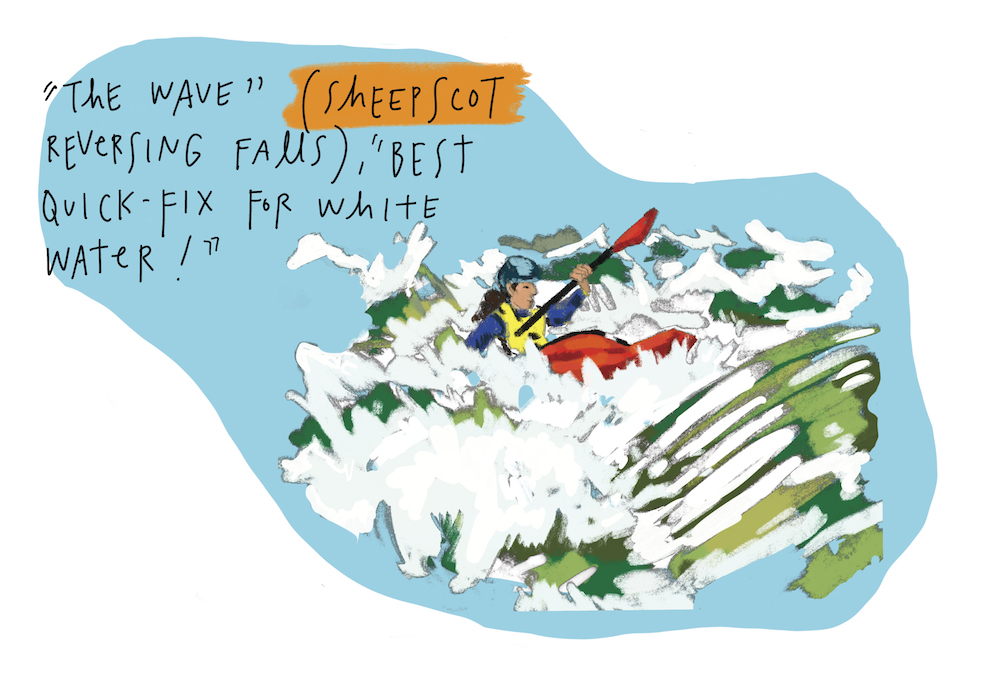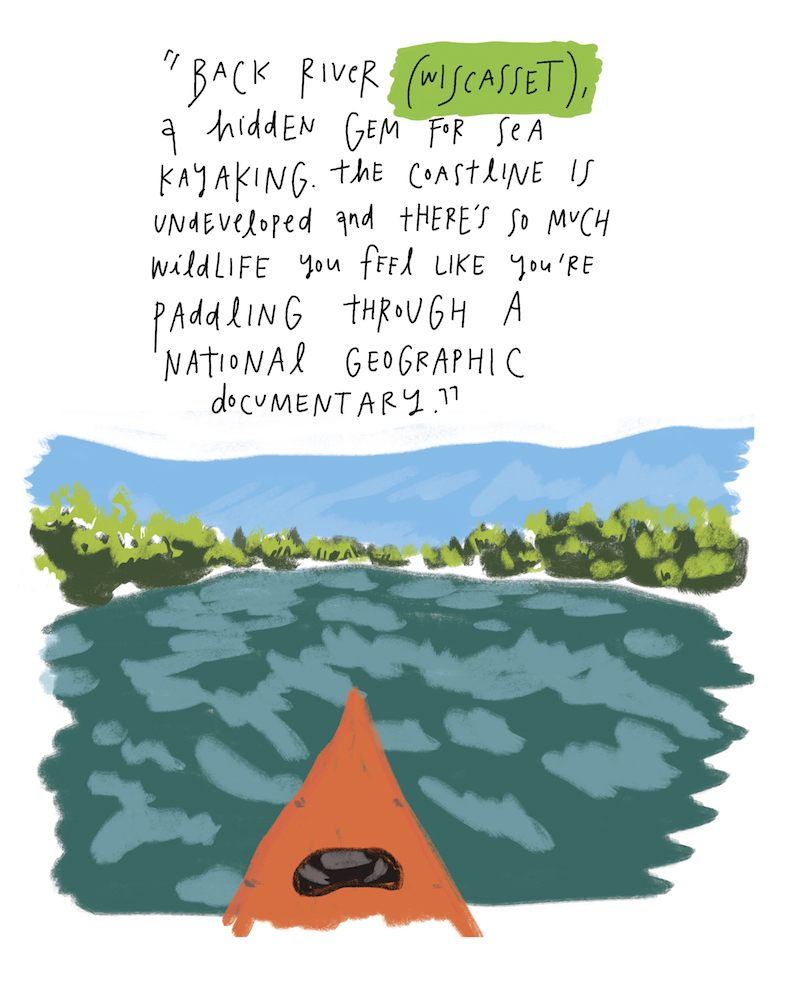 Additional BOC Favorite Spots and Moments
Most awesome sunset: Flagstaff Lake, Rangeley
Most mosquitos encountered: Moose River Bow Loop (north of Jackman)
A favorite spot: Seboomook section of the West Branch of the Penobscot River, where huge flotillas of Bowdoin rafts and kayaks gather
Favorite breakfast sandwich: Douin's Market and Diner, New Sharon. Back story: It appears as a normal biscuit, egg, and cheese (and for some, sausage) sandwich, but there's something magical about it and it became a tradition, especially with skiers heading to the mountains.
Baking a birthday cake on a Whisperlite stove. Assistant director Stacey Linehan had a birthday with a leadership training group on Crow Island one year and they baked her a birthday cake. "I was super proud as I had been working hard to teach people to cook and bake in the field," she said.
"There are some incredible drives across Maine. Three of my favorites are: Route 26 through Grafton Notch from Newry to Upton (and on to Errol, NH); Route 17 over the Height of the Land from Mexico to Oquossoc; and Route 11 from Fort Kent to Sherman. If you have not been on any of these roads, and you like rural scenery and driving, you need to check these out. They don't necessarily get you anywhere (although I always have a destination in mind when I have driven them), but it is often the journey that counts." —Mike Woodruff '87
"Another road worth mentioning is Route 6, between Jackman and Greenville, which follows the Moose River down to Moosehead Lake. Last fall, I saw the first and only lynx I have seen in Maine along that stretch of road before we got to Brassua Lake. Like many wildlife sightings, it was a surreal moment, as the lynx emerged from a culvert onto the edge of the road. Tess Hamilton '16 exclaimed "There's a lynx!," and for a long magical moment I was looking at an animal I had been hoping to see for decades. (We'd stopped, as there was no other traffic on this oft-deserted stretch!)"
Favorite scenic view: Gulf Hagas, the "Grand Canyone of the East."
Favorite stargazing spot: Crystal Springs Farm Trails, Brunswick
"In Grafton Notch one winter, hiking after dark after a day of ice climbing, an owl flew across my path leaving the most perfect imprint of its wings in the newly fallen snow." —Laura (Jeffris) Schoene '05
Paddling a canoe around a moose in the middle of rapids on the Allagash River. 
Sewell pond (Georgetown Island), a classic swimming hole.
"In February, 1993 we took our first overnight hiking trip to Whitecap Mountain in the Mahoosucs (near Sunday River). We bushwhacked to the summit from the parking lot at Screw Auger Falls in Grafton Notch. It turned out to be a frigid weekend with temperatures dipping to minus 30–40 degrees F.  We were not well prepared, with sleeping bags that were probably rated to 20 degrees and tarps as cover. We tried to sleep, but we were so cold and the sleeping bags so old and ratty, we could see the moon shining through them as we laid there trying to get warm. We filled our water bottles with boiling water but they quickly froze and gave us little heat.  It was so cold that we had to get up often and do jumping jacks and keep the stove burning to keep hot drinks flowing.  We shoveled snow and built a snow cave and took turns lying in there to get out of the wind.  We considered packing up and leaving in the night, but decided it was too dangerous, especially given that the cold had killed most of our batteries and we were without headlights. We waited for the first rays of the sun to hit, then quickly packed up and headed down the mountain." —Lucretia Woodruff
---
Bowdoin Outing Club contributors:
Michael Woodruff '87 (director, 1992–present)
Lucretia Woodruff (assistant director, 1992–2000)
Stacy (Kirchener) Linehan (assistant director, 2000–2005)
Megan Hayes '03 (assistant director, 2005–2007)
Laura (Jeffris) Schoene '05 (assistant director, 2005–2008)
Bree Simmons (assistant director, 2007–2010)
Devin Farkas (assistant director, 2010–2013)
Sarah Johnson '13 (assistant director 2013–2016)
Adam Berliner '13 (assistant director 2015–2018)
Anna Bastidas (assistant director, 2016–present)
Tess Hamilton '16 (assistant director, 2018–present)
---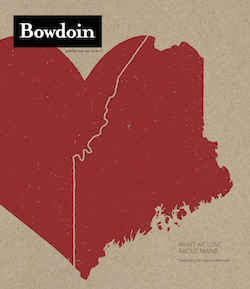 This story first appeared in the Winter 2020 issue of Bowdoin Magazine. Manage your subscription and see other stories from the magazine on the Bowdoin Magazine website.