Published March 31, 2020 by Rebecca Goldfine
In Online Classrooms, Customized Backgrounds Evoke Familiar Scenes
Many faculty are using video conferencing technology like Zoom to teach their classes remotely during the coronavirus pandemic. The program allows users to customize their backgrounds rather than showing the (sometimes pet- and child-filled) rooms behind them.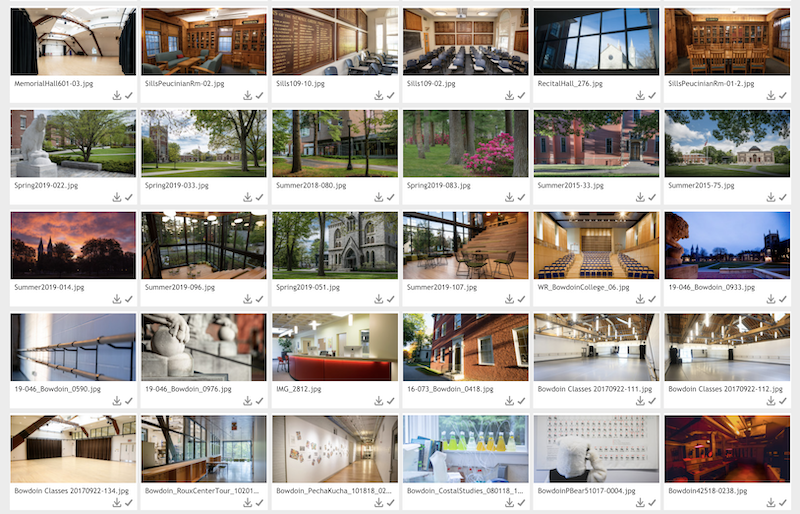 Bowdoin's IT department, which has been supporting faculty as they teach online, suggested to the College's communications department that some professors—and also students—might appreciate having a selection of backdrops to choose from. The more nostalgic, perhaps, the better.
A small team from that office, including Melissa Wells, Leanne Dech, and Scott Schaiberger, pulled together a variety of images from Bowdoin's photo archives, including "spring campus scenics, Maine landscapes, exteriors of iconic buildings, classrooms that might set the scene, and favorite campus spots," said Schaiberger, director of marketing services.
Not all are merely pretty. Some are whimsical and funny. Actor Patrick Dempsey H'13 is in one. The Bowdoin mascot boogying in a dance studio is in another.
"We thought some people might be interested in something unexpected or that could bring a smile—so there are mascot pics, campus personalities, and even a real-life celebrity," Schaiberger said.
The most downloaded photo after the initial launch was of Executive Director of Safety and Security Randy Nichols speaking into a radio, standing next to police tape and a fallen tree. The second most popular was of the mascot on a diving board. More images are expected to be added over the coming days.