Published March 25, 2020 by Rebecca Goldfine
A Nimble Library Pivots to Become Home Base for Remote Learning
As it became increasingly clear midway through the semester that Bowdoin, along with the rest of the world, would have to take drastic measures to protect community members from COVID-19, Library employees sprang into action.
Their goal: to transform their highly personalized, hands-on, and three-dimensional environment into an online one—for the time being—and to continue supporting faculty and students remotely. 
In just a few days, Bowdoin's library team made their operations completely digital, accessible via screens anywhere in the world. 
"We have moved from a residential experience to one that is totally living online," said Erin Valentino, associate librarian for research, instruction, and outreach. "We are turning ourselves inside out to reach students who are everywhere. They need to know that they can still get help and connect with Bowdoin and connect with themselves as Bowdoin students."
"To students who live across the country, and the world, in all time zones: We're still here; you can still reach us," she added.
How the Library is Supporting Remote Learning
Virtual Research Assistance: This service allows students to make videoconference appointments with librarians. "So we don't lose that incredibly important personal contact we have with students," said Director of the Bowdoin College Library Marjorie Hassen. 
Chat Widget: A button on the Library homepage connects students and faculty with a librarian between 8:00 a.m. and 8:00 p.m., Monday through Thursday; 9:00 a.m. to 5:00 p.m. Friday; and 1:00 p.m. to 5:00 p.m. Sunday.
Library Take-out: Staff and faculty can still request Library materials to borrow. A skeleton crew of one or two library employees is pulling books from the stacks (while wearing gloves and practicing healthy hygiene). The materials are available for pickup in the H-L Library lobby between 12:00 p.m. and 2:00 p.m., Monday through Friday. Fortune cookies are included.
Bowdoin Digital Delivery: All students and faculty can request chapters or excerpts from books and other material to be scanned at the Library and emailed to them. So far, 

Guy Saldanha, Bart  D'Alauro, and Helen Hill have fulfilled eighty scanning requests from faculty.

Ebooks: After President Rose directed Bowdoin to transition to remote learning, staff in technical services and in collections—Joan Campbell, Kate Wing, and Donna Van Dyke—immediately went through every course book required by faculty and bought e-versions when they could. "We've been purchasing ebooks like crazy in order to provide texts for faculty and students," Hassen said. While normally the Library strikes a balance between buying electronic and print books, right now it heavily prefers ebooks. "We can always go back and add a print copy," Hassen added. So far, Campbell and her team have bought ninety-three new books for classes and acquired a dozen books available for free in the short-term from publishers. "It's been incredibly satisfying because we have been able to fill a lot of requests," Campbell said.
Research librarians are prepared to join online classes to teach sessions on conducting research, and are continuing to work one-on-one with students pursuing independent projects. This semester, ninety-one students are working on honors projects, and 124 are doing independent studies.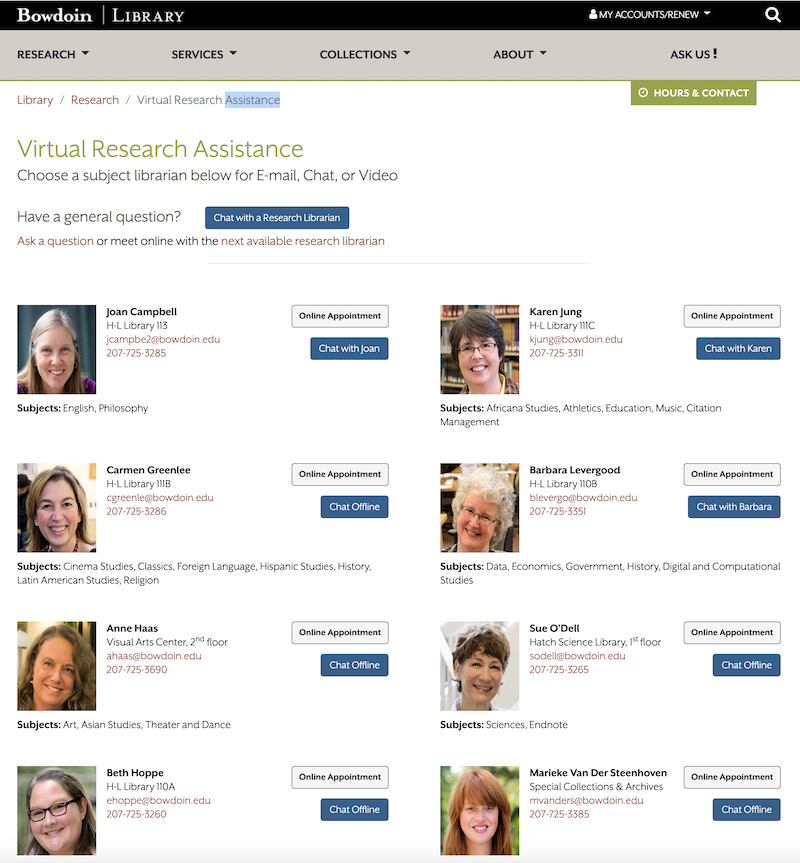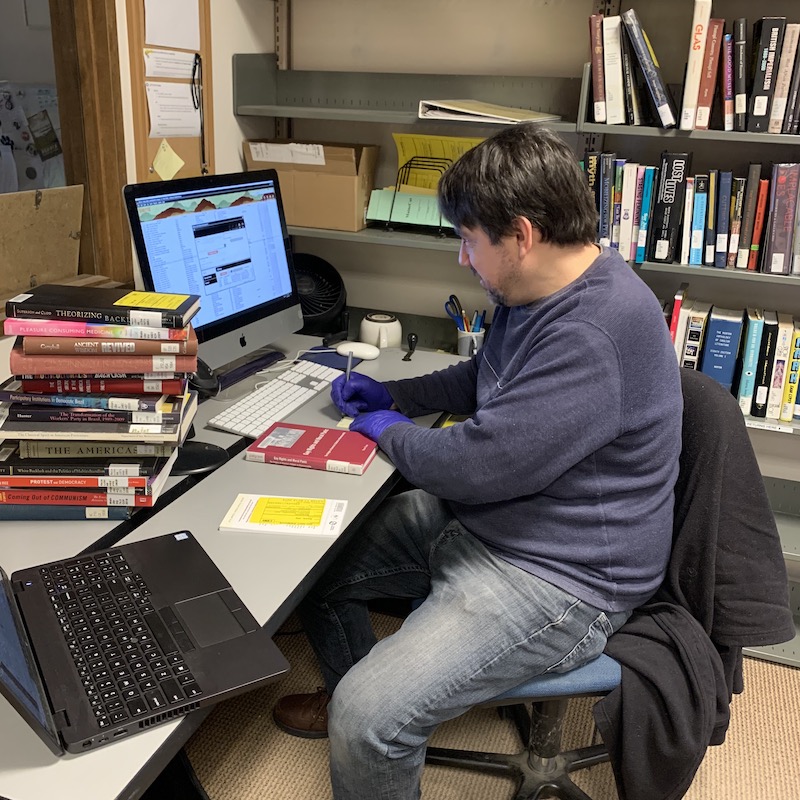 All the Library staff—in its research department, technical services, circulation department, and special collections—quickly pulled together to respond to the new working conditions and continue providing services. "It takes a full library to do this, all of us working together," Valentino said. "I am impressed by and proud of how the Library has handled this crisis. To a person, everyone has stepped up, pitched in, and made the work we do with students and faculty possible."