A Campus Responds
Published by Tom Porter
On March 11, 2020, Bowdoin College told students they would not be returning after spring break and would complete the semester through remote learning. "A distressing decision for everyone," said President Clayton Rose in a message to the Bowdoin community, and one that "will present substantial challenges for faculty, staff, and students."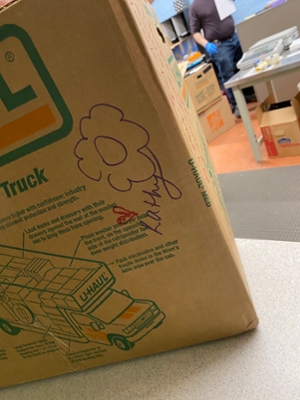 The most immediate issue was the logistical challenge of ensuring about 1,600 students were able to clear out their rooms and vacate the campus. This task—made yet more challenging by the fact that the majority of the student body was off campus when the announcement was made—was completed within one week.
 "It has been inspiring to see so many members of the Bowdoin community offer to help the students," said Associate Dean of Student Affairs and Director of Residential and Student Life Mike Ranen, who has been assisting in the coordination of volunteer efforts. Well over a hundred volunteers from across the Bowdoin community offered their services, he said.
Some packed up the contents of rooms for those who couldn't return, and some manned the helpline assisting students and families with questions, while others stored items for students, gave rides to the airport, and helped with the needs of those living off campus. "From students, faculty, and staff to community host parents, alums, and other Brunswick residents, we are all stepping up to help through these challenging times," said Ranen.
About 800 students returned to campus, joining the 500 or so who were already here, said Ranen. This left close to 300 who could not make it back and had to rely on friends and volunteers to pack up their belongings and ship them out. The College pledged to send each student that required it a box of essentials so they have all they need for their studies. Consequently, it was beyond a busy week for the Bowdoin mail center, which processed close to 600 packages, each weighing about forty pounds.
"This equates to 20,000 pounds," said Assistant Director of Campus Services Chris Taylor, who manages the mail center. "We would normally process this amount at the end of an academic year over the course of four weeks, rather than the five days since this started in earnest. I have been working at Bowdoin close to thirty years," he added, "and one thing I learned early on is that the generosity of this community can never be overestimated."