Published February 06, 2020 by Rebecca Goldfine
Hearing From Changemakers at Bowdoin's Annual Nonprofit Symposium
Career Exploration and Development
recently held its ninth annual nonprofit symposium, Passion in Action: The Power of the Nonprofit Sector, for students interested in nonprofit careers. The afternoon event offers them a chance to hear from and network with professionals who are working to turn ideals into reality.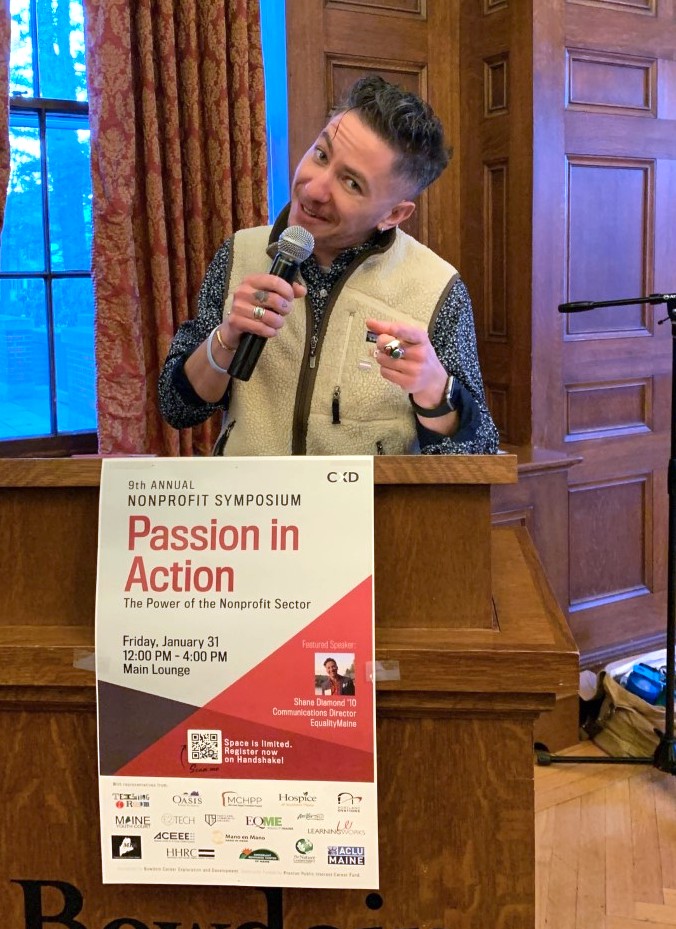 "What if you were to answer the question, what do you want to be when you grow up, with the answer, I want to be a changemaker?"
That was a prompt Career Exploration and Development Associate Director Meg Springer posed to the sixty students who attended Bowdoin's ninth annual nonprofit symposium on Jan. 31.
The students were joined by thirty nonprofit professionals, including alumni and Bowdoin faculty and staff. Guests and students were seated together in small groups at roundtables throughout Main Lounge to facilitate discussions.
Springer encouraged students to talk with many different people in the room about their careers. "I think you'll realize that for the most part there is no one direct career path or focus to follow, but that it's a process and a journey that is often directed by passion and risk-taking," she said. "All the professionals here with us today started somewhere." 
And, she added, "one of the goals of this symposium today is to turn your passion into action. And I think you'll find that it's not necessarily where you start, but that you start."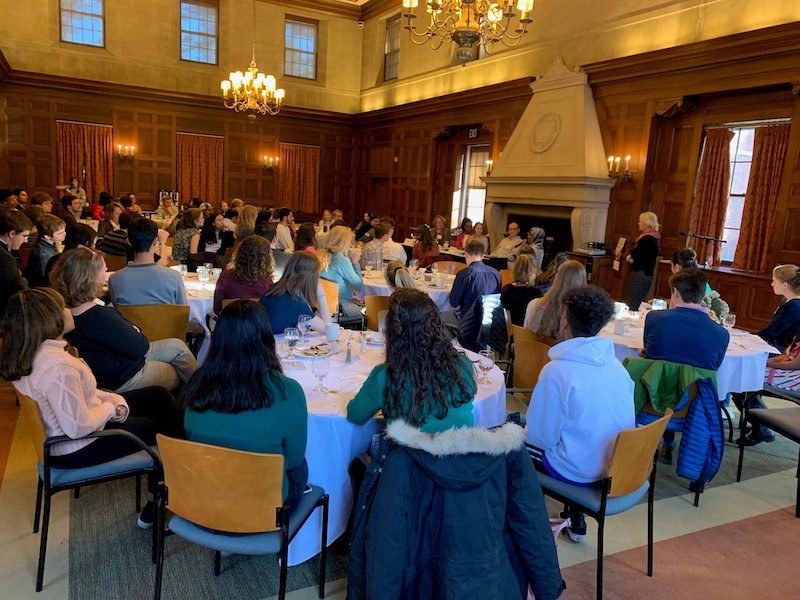 Kick-off Speaker Shane Diamond '10
The symposium's keynote speaker Shane Diamond '10—whom Springer introduced as someone "not afraid to take risks to achieve personal fulfillment and make a difference in society"—spoke about his leap from busy Bowdoin undergraduate to founder of a successful nonprofit. 
About a decade ago, Diamond launched Speak About It, a theater-based nonprofit based in Portland, Maine. Using both humor and gritty honesty, the organization's acting troops travel to high schools, colleges, and universities to perform skit-based shows about consent, sexual assault, bystander intervention, and healthy relationships.
Diamond first got involved with consent education and sexual assault prevention as a student here, where he was also a hockey player and peer health advisor. In Bowdoin's 2009 version of Speak About it, "I was asked to participate. Not that I was a great thespian, but because I was a queer athlete Jew, and that was the role I got to play," he said.
But he felt an important component was lacking. "It was weird because in 2009, no one was talking about consent and sexuality and sexual assault in a way that incorporated healthy sexuality. No one was talking about the fact that sex was fun and people enjoy doing it and smooching is enjoyable."
So when he launched his 501(c) Speak About It, the show was adapted to "bring pleasure and consent into the conversation, to really harness the yes-means-yes energy into the consent education, sexual assault prevention movement in a way that hadn't been done before."
Since its founding, Speak About It has been staged for over 300,000 students in thirty states and three countries. Just last season, five teams performed the show at fifty-three schools in twenty-nine states.
In 2018, Diamond stepped down as executive director from Speak About It and took a job as communications director for EqualityMaine, an LGBTQ+ advocacy and education organization. "Building a nonprofit for me was building something sustainable that didn't need me in the center of it," he said, explaining his decision to move on. "This was something that was so big and so great and so fantastic, it should outlive me."
Before he wrapped up his talk, Diamond reminded students that nonprofit work can be fun and filled with laughter, and that nonprofit jobs can and should provide a living wage. "This is my gentle shove for you," he said. "Ask for a little more money than you think you're worth."
Panel Discussion, "Community Action: A Catalyst for Change"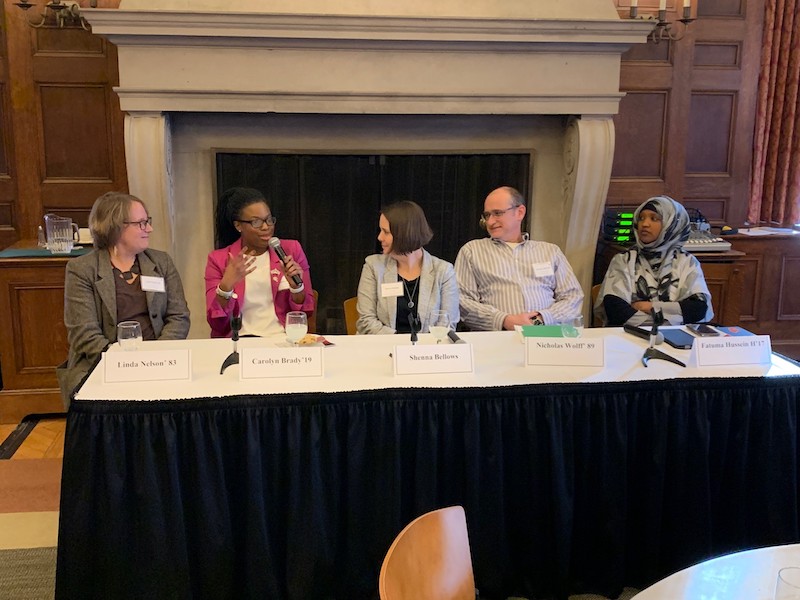 The symposium included a panel discussion with people working in a variety of fields, from the arts to the environment. The panelists "shared their stories about how they've acted on their passions to initiate change within communities," Meg Springer said.
Linda Nelson '83, director of Portland Ovations
Carolyn Brady '19, Americorps Learningworks, Miss Maine 2019
Shenna Bellows, Maine state senator, executive director of Holocaust and Human Rights Center
Nicholas Wolff, climate change scientist with The Nature Conservancy
Fatuma Hussein H'17, founder and director of Immigrant Resource Center Maine
The Nonprofit Symposium is funded by the Preston Public Interest Career Fund and sponsored by Bowdoin Career Exploration and Development.