Published February 05, 2020 by Tom Porter
A Taste of Home
The tastes of Vietnam came to mid-coast Maine over the weekend as a group of international students gathered for a traditional meal to celebrate Tết Nguyên Đán, or Tet—the festival marking the Vietnamese New Year.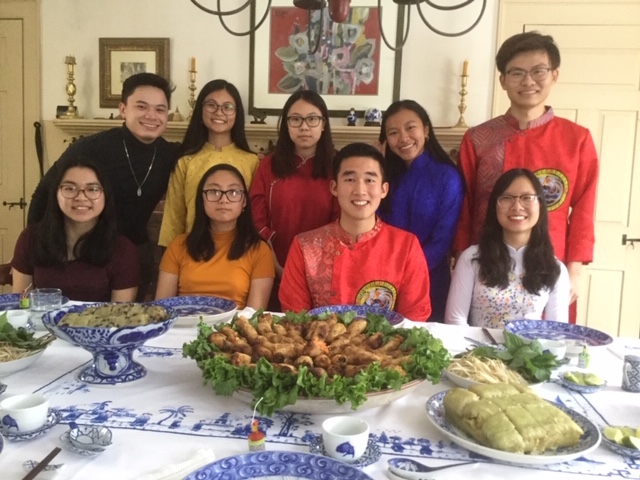 The setting was a historic farmhouse in the rural outskirts of Brunswick, where nine students came to honor this key date in the Vietnamese calendar. The house belongs to Brad and Katharine ("Kitty") Babson, who have been host parents to international Bowdoin students for several years.
Some guests wore traditional costumes as an authentic Vietnamese meal was served up. Students visited the Babson household the night before the feast to help prepare the food, which included beef pho noodle soup, spring rolls with dipping sauce, sweets, and specialty holiday treats such as bánh tét, or tet cakes, which are sticky rice cakes with mung bean and pork fillings. Vietnamese coffees and teas were also served.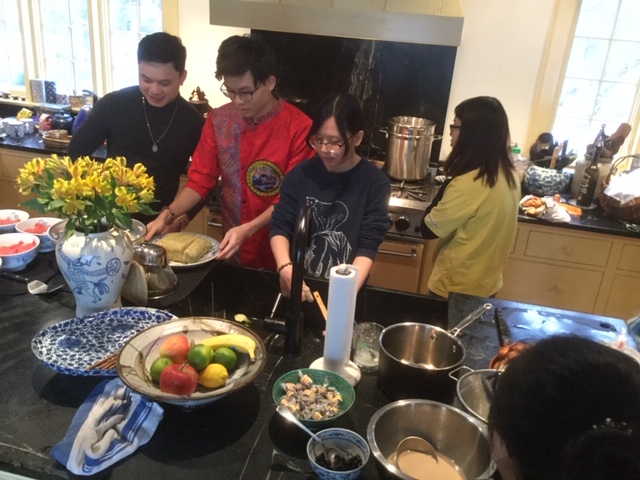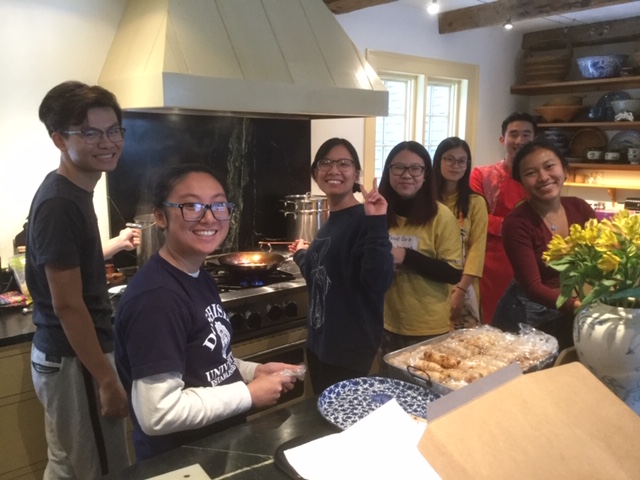 Kien Pham '21, who is from Hanoi, said the event was warmly welcomed by Bowdoin's Vietnamese community, for whom Tet can be a lonely time to be away from home. "It's the most important holiday for every Vietnamese person," he said. "The week-long event, in addition to marking the start of a new lunar year, is a time for families to come together, pay respect to our ancestors, enjoy customary food, and look forward to great times ahead. The number of Vietnamese students on campus has doubled this year, which only furthered the festive atmosphere," explained Pham. 
Brad and Kitty, who is an Episcopal minister, spent many years living in Asia, including a spell in Hanoi in the early 1990s thanks to Brad's job as a World Bank economist. "We have many fond memories of our time and relationships there." he said. "We know how important the Tet holiday is in their culture and we hosted the lunch to give these students an opportunity to celebrate together and enjoy some home cooking." The students came from different areas of Vietnam, he explained, including Hanoi in the north and Ho Chi Minh City in the south, as well as from immigrant families in the US.
Brad Babson is a currently a research associate at Bowdoin College. In 2018 and 2019 he was a Distinguished  Lecturer in Government, teaching courses on Asian politics.