Published January 15, 2020 by Rebecca Goldfine
Grua/O'Connell Scholar Sasa Jovanovic '20 Looks into the Future of the Internet
For her senior year honors project, Sasa 
Jovanovic '20 
is researching how Europe's new internet privacy law is rippling throughout the online world—even at places like Bowdoin.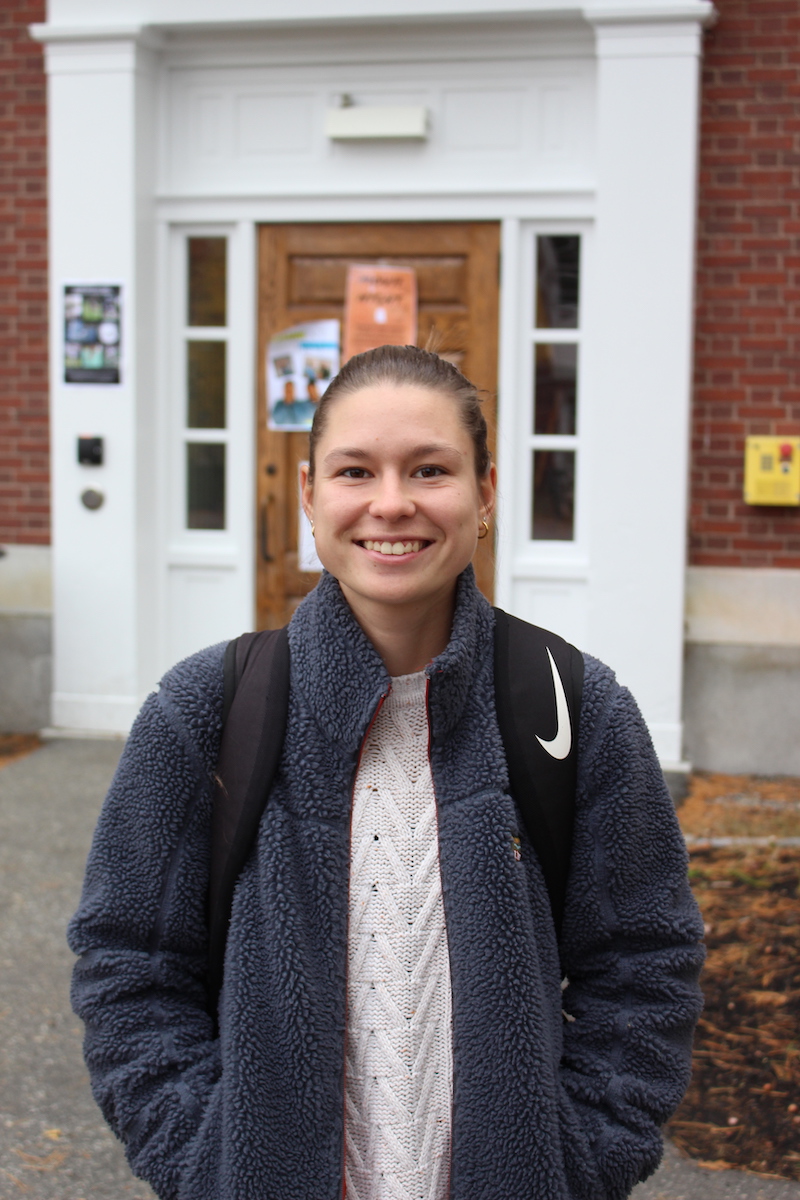 In 2016, the European Union (EU) passed a major piece of legislative reform, the General Data Protection Regulation (GDPR). Though designed for the nations within EU borders, the law could very well reshape the internet around the world, affecting the lives of its roughly four billion users.
To keep up with rapid technological developments, the EU has adapted a legal framework from one based on the right to privacy to one based on a right to one's personal information. As a result, the EU "has emerged as the foremost leader of data protection regulation in the world," Jovanovic said, which could mean it's on the way to becoming a global regulatory power.
For her thesis, "Governing the Internet from Privacy to Data Protection: The Extraterritorial Effects of EU Privacy Law in the Case of the General Data Protection Regulation," Jovanovic is using the GDPR to shed light on two ongoing debates concerning the effect of regulation on the online world.
Some believe that laws like the GDPR—designed for specific regions with unique laws—will inevitably spread beyond national borders.
"The internet then becomes a platform that crosses jurisdictions. In a legal context, jurisdiction is another way to express state power," explained Jovanovic. "If EU law is able to govern actors that do not fall under its territorial purview, what does this mean for state relations online?" 
"What is fascinating about data regulation and the internet is that whenever an actor—a state or a big firm—does some act on the internet it has these secondary effects, because everyone is operating from a position of interconnectedness," Jovanovic continued. These so-called network effects are particularly evident in the US where the world's biggest tech companies are located, mostly in Silicon Valley. For this reason, she is focusing her analysis of the impact of the GDPR on the US.
However, on the other hand, some suggest that regulations like the GDPR could hasten the fragmentation of the internet, so that multiple internets could operate differently based on where they are being used.
"These people point to actors like Russia and China who are engaging in cyber sovereignty and trying to make their internets insular," Jovanovic said. "This 'Balkanized splinternet' gives rise to different information realities for citizens of different countries, influencing their decision-making process throughout quotidian life."
The breadth of Jovanovic's research reaches as far as Bowdoin even, as she's curious about how the GDPR will play out at a variety of institutions, large and small. As a tech columnist for the Bowdoin Orient last year, she interviewed Bowdoin administrators responsible for managing the College's data. "Bowdoin is physically located in Maine, but it still has to respond to the new regulation," she said.
Jovanovic's thesis advisor, Professor of Government Laura Henry, said she's been impressed by how knowledgeable Jovanovic has become on her topic. "An amazing thing about Sasa is the way in which she has pursued opportunities at Bowdoin and beyond over the past three and a half years to build up her expertise on internet freedom and the implications of different conceptions of privacy for internet governance," Henry said.
Needless to say, Henry added, "Sasa was incredibly well-prepared to undertake an honors project on internet governance." 
A government and economics major, Jovanovic is one of twenty Bowdoin seniors and juniors this year to receive a $2,000 Grua/O'Connell Research Award to support deep dives into independent research projects. The award covers travel and other expenses, such as books or equipment. 
Jovanovic used her Grua/O'Connell funding to travel to London over winter break to conduct interviews and  do archival research at the Oxford Internet Institute, a leading academic organization dedicated to studying the intersection of society, information, and technology. She also visited London's nonprofit Privacy International, which defends the right to privacy through research, litigation, and activism.
Additionally, last fall she won a travel grant from the Internet Society to attend the Internet Governance Forum in Berlin, Germany. The annual conference brings together "stakeholders in the internet governance debate," including policy makers, academics, and technocrats. She was just one of thirty students from around the world to receive this invitation. The forum described these "youth ambassadors" as "some of the best up-and-coming minds behind the internet."
At Bowdoin, Jovanovic is an Innovation Fellow for the department of digital and computational studies. She hopes to attend law school and pursue a career in technology policy.