Published January 02, 2020 by Rebecca Goldfine
Bier Kraichak '08 Is Thailand's Outstanding Young Scientist of the Year
Ekaphan "Bier" Kraichak is being celebrated in Thailand for his contributions to botany, a passion and expertise he pursued as a Bowdoin student.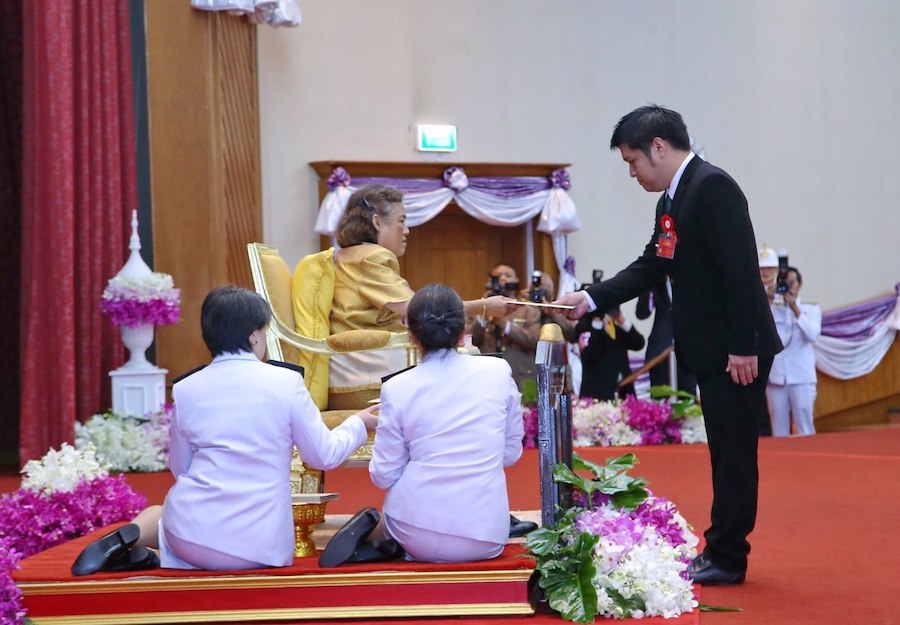 In October, Kraichak was presented with the national prize for scientists under thirty-five by Thailand's Princess Maha Chakri Sirindhorn at a formal ceremony attended by dignitaries such as the minister of higher education, science and innovation.
"Part of the whole show is to make people more aware of science as a career," Kraichak said, putting a modest spin on the monthslong feting he received.
Since graduating with a biology major at Bowdoin in 2008, Kraichak has successfully pursued his scientific career in both the US and his native country, Thailand. After earning his PhD in integrative biology at the University of California–Berkeley, working in a postdoctoral position at Chicago's Field Museum of Natural History, and teaching environmental studies at Lake Forest College, he joined Kasetsart University in Bangkok as an assistant professor of botany.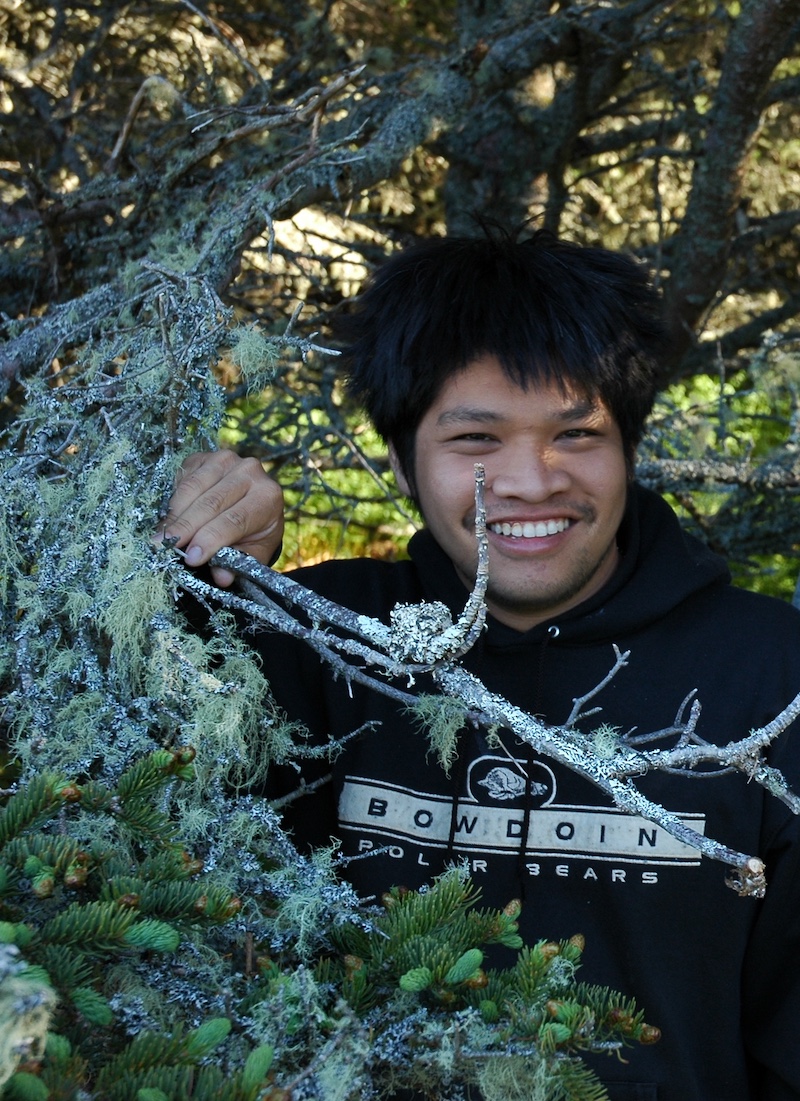 Kraichak is a pioneer in the study of lichens and bryophytes (which include mosses, hornworts, and liverworts), advancing our understanding of their evolution and diversity. "I incorporate newer techniques in molecular biology to identify plants and classify them into the right groups," he said, summing up his research. 
"Before we introduced our technique, a lot of classification was based on the morphology of plants, and now we have molecular data—DNA data—and from that we use statistical phylogenetics to see what is a family, what is a genus, and what is an order," he added. The results of his studies have led to the discoveries of a new species and new genera of lichens. 
The summer before his senior year at Bowdoin was a particularly pivotal one for him. He received a fellowship to do research at Kent Island's biological field station, where he created a species list of all the local lichen. He turned the work into a "spectacular honors thesis," his adviser, Nat Wheelwright, said. And that led to his first coauthored journal publication, "Habitat Associations of Macrolichens on a Boreal Island in the Bay of Fundy, New Brunswick, Canada."
Bowdoin students are still benefiting from his research. "We use Bier's publication from his Kent Island research in my Research in Ecology Evolution and Marine Biology class," said Patty Jones, assistant professor of biology at Bowdoin. And his lichen guide serves as students' main resource for Kent Island lichens. 
Growing up in an urban area just outside Bangkok, Kraichak said his love for the natural world didn't fully blossom until he arrived in Maine. He received an undergraduate scholarship from the Royal Thai Government to attend Bowdoin. "Coming to Bowdoin, we were literally in the forest, with the Bowdoin Pines next door," he said. "That gives you a new connection with nature." 
When he took his first field ecology class with Wheelwright, who is now retired, Kraichak said, "I felt I was where I belonged. I can go into any forest and feel like I know something about it." Yet, he added, "I am always learning."