Published December 19, 2019 by Samara Nassor '22 and Rebecca Goldfine
Faculty and Students Build an Africa Academic Hub for Bowdoin
Faculty and students have launched a new initiative on campus to bring together people with a common interest in Africa.
For a college in New England with a student population of just under 2,000, Bowdoin has a relatively sizable community of people who are from Africa, who study Africa, and/or who want to learn more about the continent's nations, history, religions, politics, arts, and environment.
Now, with the creation of a campus initiative called the Africa Academic Hub, Bowdoin community members—and local people, too, depending on the occasion—have a new path to broaden and deepen their curricular and extracurricular exploration of issues concerning Africa. 
"For a long time, I felt that the faculty, students, and staff interested in Africa existed in separate worlds," said Professor of History David Gordon. Last spring, after being encouraged by President Clayton Rose's call for more interdisciplinary learning initiatives in his Knowledge, Skills, and Creative Dispositions report, Gordon—with Associate Professor of Government Ericka Albaugh and Assistant Professor of Music Marceline Saibou—successfully pitched the idea to the dean of academic affairs.
"The first goal of the hub is simply to illuminate the many spaces around Bowdoin where Africa is currently being studied," Albaugh said, and then to help "create a community of students, faculty, and staff who seek to deepen their understanding of Africa-related issues." 
It was important to the Hub's faculty that students be involved in identifying goals for the endeavor, proposing ideas for events, and planning programs. So they partnered with the Africa Alliance club, a campus group for students with a connection to Africa. To more closely tie the two groups together, the faculty hired one of its members, Ruby Ahaiwe '21, to be the Africa Academic Hub's assistant this year.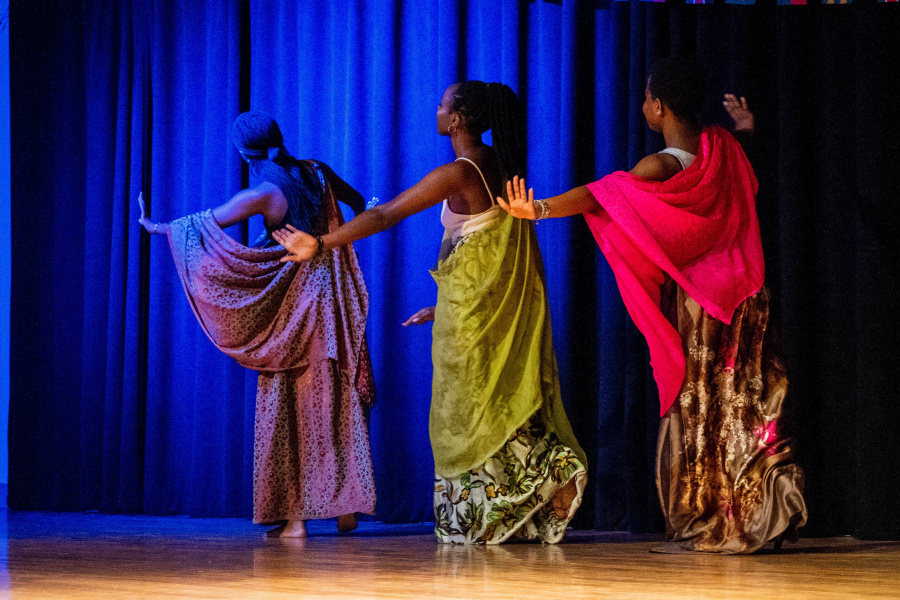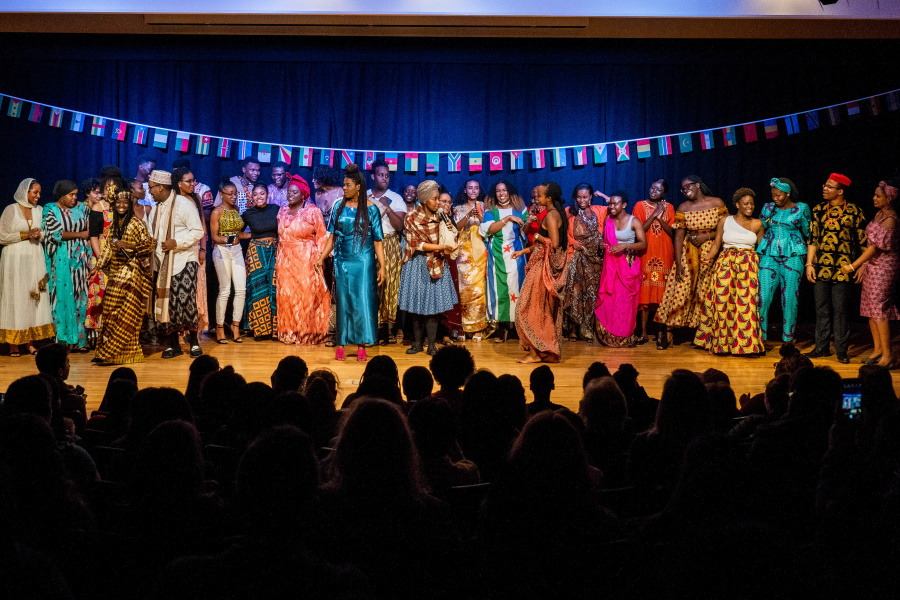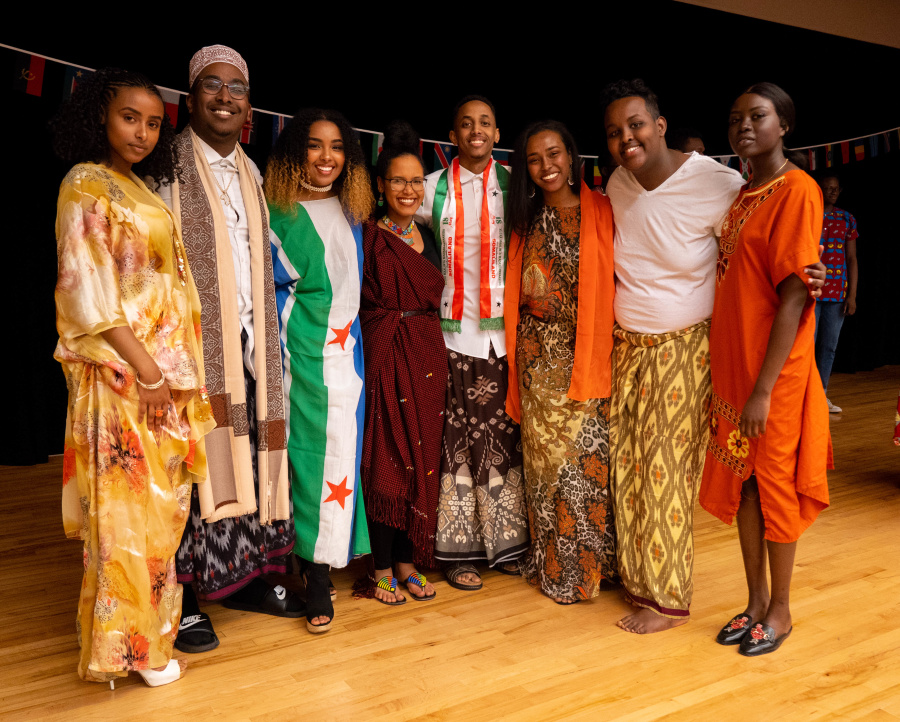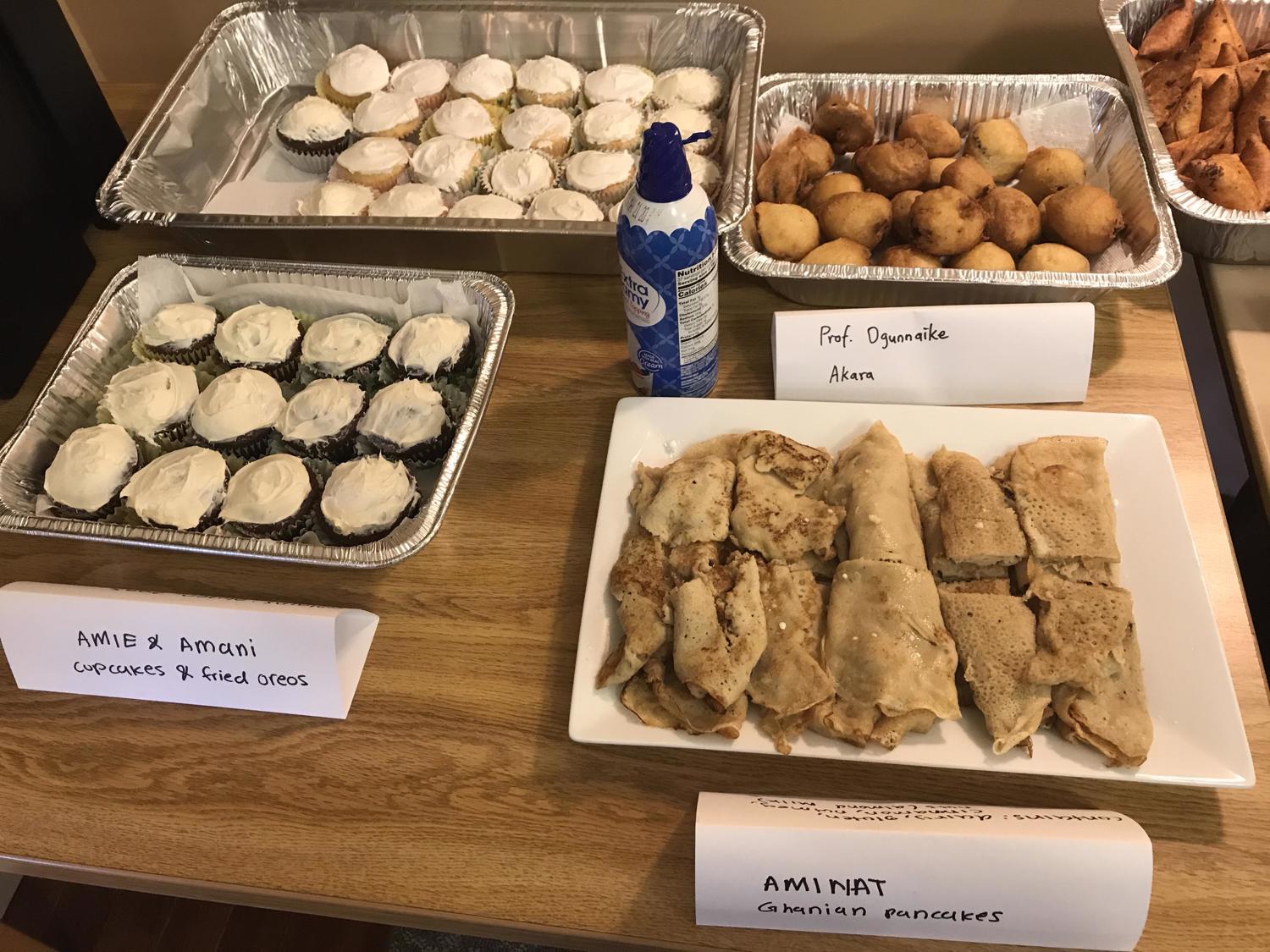 As a student from Nigeria, Ahaiwe said it's been helpful to her to be able to connect with fellow African students, even just to share their sometimes disorienting experiences of being a foreigner in Maine. But she felt something had been lacking. "I wanted to also understand professors' perspectives," she said.
"That is partly what the hub is about," responded Gordon, who is from South Africa. "It offers discussions for those who have their feet and their heart in two places—at least two places—and the intellectual response to that. There are different paradigms that exist in these places, and different ways to understand them. That is part of what we're trying to cultivate here."
Forging Connections
The Africa Academic Hub has several goals. One is to bring faculty, staff, and students together periodically to discuss themes related to Africa. It also seeks to organize Africa-centered events for the broader community, including the local African community. And, perhaps most importantly—and where it will likely be quite innovative—it seeks to integrate Bowdoin courses about Africa across the disciplines of history, government, art, music, and more.
"The intent of the Africa Academic Hub is to build curricular offerings within Africana studies, in particular the Africa and African Diaspora track of the Africana studies major," Gordon said, such as what he calls connection events. "We are really trying to build Africana studies by offering coordination between curricular offerings."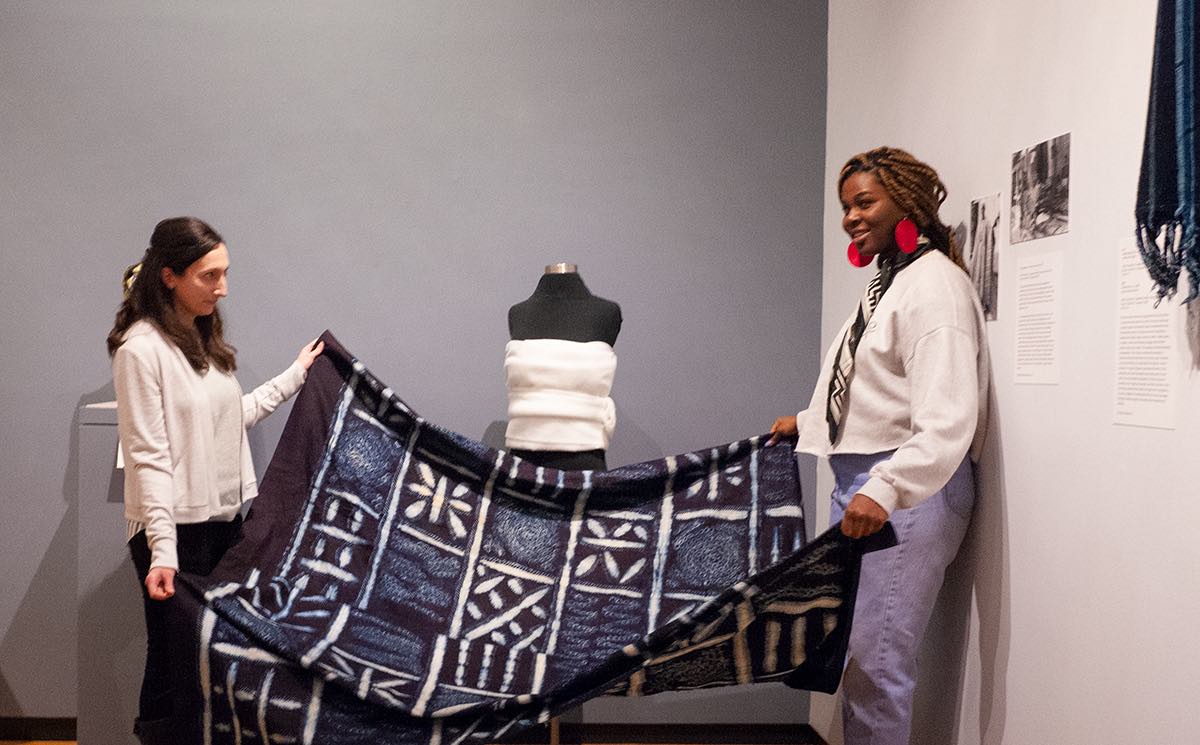 For example, this fall Gordon, Albaugh, Assistant Professor of Africana Studies Ayodeji Ogunnaike, and Professor of Romance Languages and Literatures Hanetha Vete-Congolo each taught a lesson in one of their classes on cultural restitution—whether colonial nations should return looted African art and objects. Though their courses  focused on diverse subjects—Central African art, aesthetics in Africa and Europe, African politics, and African religions—they all managed to weave the topic into their syllabi.
So in this way, the classes were able to examine cultural restitution through the lens of specific disciplines. Then, to cross-fertilize these ideas, the professors organized a communal experience for all sixty students in the four classes. Africa Alliance members were also invited.
With the assistance of Allison Martino, a postdoctoral curatorial fellow at the Bowdoin College Museum of Art, the students visited the Museum to examine the idea of repatriation through the work of Cameroonian artist Hervé Youmbi.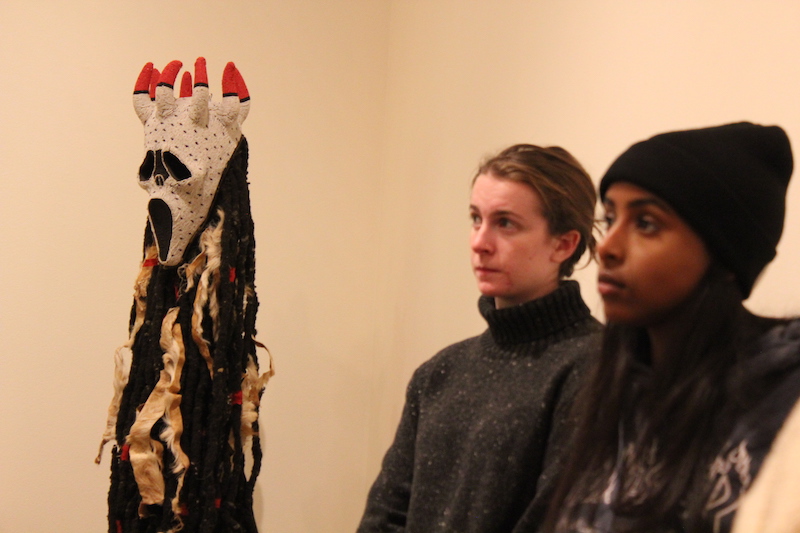 Bowdoin has one of the masks Youmbi has created for his Two-Faced Mask/Double Visage. The work features Bamiléké Yegué scream masks or headdresses that he and Bamiléké artists created together. The masks serve as functional objects in Bamiléké rituals, and they are also fine art that Youmbi sells to museums—with the stipulation that he or the Bamiléké people can request to borrow them to use in a ceremony. Along with the masks, Youmbi also asks museums to display the artworks' shipping crates, and his photographic and video documentation of the masks being worn in a Bamiléké dance.
The presence of the shipping crate, which in most museums is hidden in a basement, "asks us to think about the journey and the movement of the mask through Cameroon, and from Cameroon to the US and now Bowdoin," Martino said.
Following the museum visit, the students gathered at Cram Alumni House to discuss in more depth the global market for African art, addressing questions of authenticity and racial nuances. The students from the four classes were split up among tables, with a faculty member present at each to help guide the conversation.
Going forward, Ahaiwe said she'd like the hub to possibly look at the role of African and colonial languages in literature, or explore African businesses in Maine. Gordon said the conversation on cultural restitution will continue with a panel in March on the ethical display of African art. 
In addition, the Africa Academic Hub faculty will continue to identify themes that wind through all their classes, to be able to offer more connection events across campus. "We envision a hub of Africa-focused intellectual engagement that positions students at multiple physical sites of learning: classroom, gallery, studio, common room, dining hall, town office, field site," the professors write in their proposal.
Albaugh said she's personally looking forward to making new relationships and strengthening old ones with colleagues, students, staff, and local people. "Over time, I hope Bowdoin will become known as a focal point for engaging with and learning from African communities in Maine," she added.