Published December 04, 2019 by Tom Porter
Julia Maine '16 is Bowdoin's First US-Ireland Alliance Mitchell Scholar
This time next year, ocean scientist Julia Maine '16 will be living and studying in Ireland along with eleven other American scholars—the latest cohort of the George J. Mitchell scholarship program.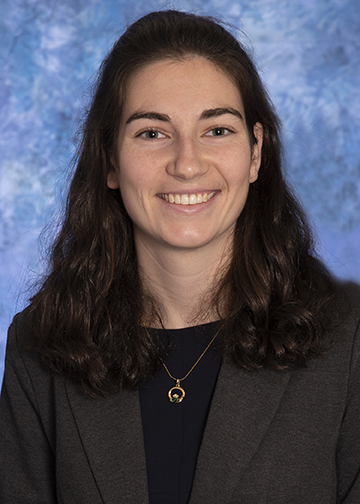 The program, now in its twenty-first year, is run by the US-Ireland Alliance, a nonprofit dedicated to promoting relations between the United States and the island of Ireland. It is named in honor of Senator George J. Mitchell '54, H'83 and his contribution to the Northern Ireland peace process.
Maine will be enrolled in the coastal and marine environments master's program at the National University of Ireland Galway, on the country's scenic west coast. "I'm interested in understanding how the Irish aquaculture industry is using environmental monitoring and forecasting to mitigate the effects of climate change, particularly harmful algal blooms," she said.
Maine grew up on an island off the coast of Maine and majored in earth and oceanographic science at Bowdoin, where she received a scholarship from NOAA that she used to conduct award-winning research on the effects of ocean acidification. She was also appointed by student government to the Climate Action Committee that oversaw the College's efforts to achieve carbon neutrality, which was ultimately accomplished two years ahead of schedule.
After graduation, Maine began working with fishermen to help them incorporate science into their newly established aquaculture operations. She currently works as an energy analyst for a Portland-based consultancy and in her spare time monitors harmful algal blooms as a volunteer for the state of Maine.
Maine said she was very grateful to everyone at Bowdoin and elsewhere who helped with the arduous scholarship application process. "It hasn't quite sunk in yet that next fall I'll be in Ireland, but I'm excited," she said, adding that she's especially excited to get to know all the other Mitchell scholars, who this year include a filmmaker, a chess playing mathematician, an artificial intelligence researcher, and a former figure skating champion.
(NOTE: Julia Maine is one of two Bowdoin graduates recently to be awarded prestigious scholarships to study abroad.)