Published November 18, 2019 by Rebecca Goldfine
Native American Heritage Month: Two Students Revitalize the Native American Student Association
Amanda Cassano '22 and Sunshine Eaton '22, coleaders of the recently revitalized Native American Student Association, have organized a month of campus events reflecting and celebrating Native cultures.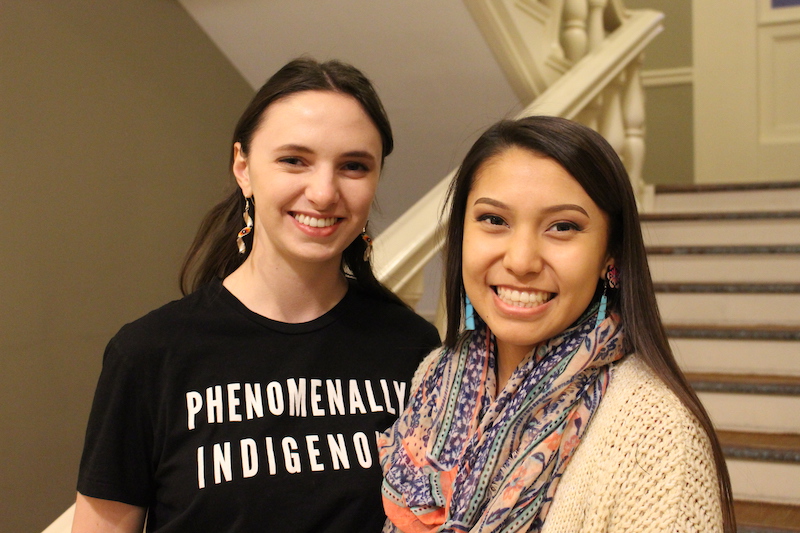 Before every event, Sunshine Eaton and Amanda Cassano offer a short acknowledgment—either in Eaton's indigenous language, Tewa, or in Cassano's, which is Mohawk.
"I thank everybody for allowing us to be here today and to be on this land and to come together in this way," Eaton translated.
This fall, the two helped Bowdoin celebrate Native American Heritage Month. The lineup of events kicked off with a talk by artist Derek No-Sun Brown, who descends from the Shoshone-Bannock, Klamath, and Ojibwe people. It included a panel discussion of indigenous land acknowledgments—a movement sweeping across the country to recognize Native people's long connection to the land and waters. Students, staff, and faculty packed Main Lounge to listen to the academic panel discuss the merits and drawbacks of this action.
And the month wraps up on November 22 with Tesuque Pueblo tribal leader Gil Vigil, who will speak about the Pueblo people's creation story and address current issues facing Native communities.
Vigil, who is the president of the National Indian Child Welfare Association and head of the Eight Northern Indian Pueblos Council Inc., also happens to be Eaton's grandfather. "He is a leader," Eaton said. "He has a lot of knowledge, travels a lot, and does a lot for my community and many other communities."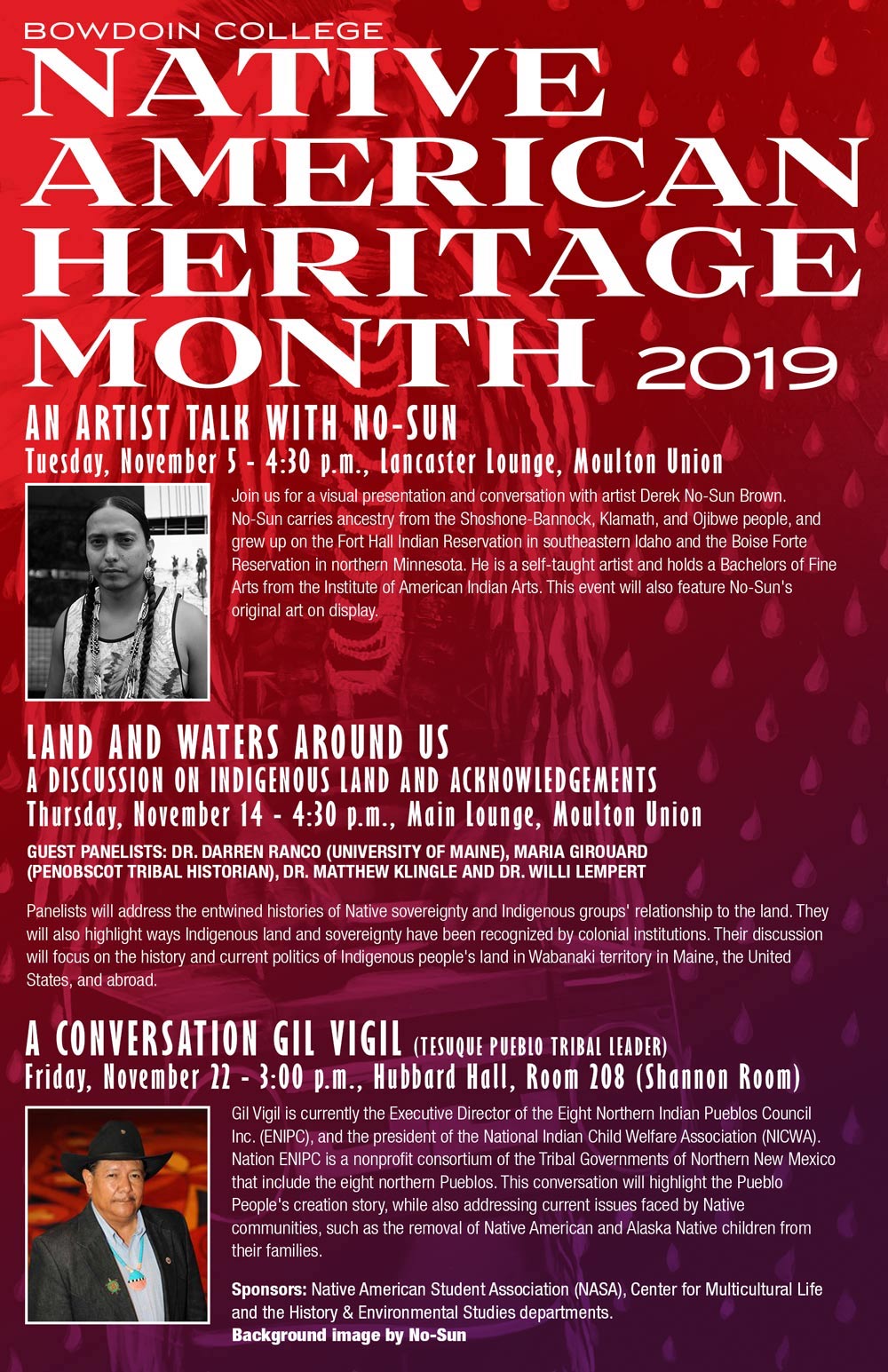 Eaton grew up on the Tesuque Reservation, north of Santa Fe, New Mexico. She and Cassano, whose heritage traces to back to the Mohawk Nation Villages of the St. Lawrence River Region in what is now Quebec, have worked tirelessly over the past year to revitalize the Native American Student Association (NASA). The programs featured throughout November reflect months of their planning and efforts to shine a light on Native heritage at Bowdoin.
"When I got to Bowdoin, I knew I wanted to be part of a Native American student association and learn more about my heritage and about indigenous issues," Cassano said. She admitted to being a bit disappointed that the group, following the graduation of some active members, had grown dormant. 
But she connected with Eaton last fall—as well as with staff and faculty advisors—and together they re-launched the organization. Today NASA has twelve members, seven of whom identify as Native. Eaton and Cassano are spreading the word that, along with Native students, non-Native Americans are welcome to join the club and participate in its activities. 
Though organizing Native American Heritage Month has been a big focus for Eaton and Cassano, they plan to hold other events throughout the year and host weekly club meetings. In October, they collaborated with Bowdoin Dining to prepare Indigenous People's Day menus with posole stew, sagebrush turkey, tortillas, wild watercress salad, frybread, and wojapi (a blueberry paste dessert). 
"The Lakota wojapi tasted good!" Eaton said. "I really appreciated their efforts."
The two said they'd also love to see more Native-focused academic offerings at Bowdoin, perhaps even a Native American studies minor or concentration. In the meantime, Eaton is developing a teaching pathway to focus on Native American studies. She speaks Tewa, and is considering becoming a teacher at her reservation's elementary school.
Cassano plans to declare a major in Asian studies and a minor in economics, and one day work to support her community in some way. "I really like the major, and it gives me a lot of insights. Even though it seems far or distantly related to Native American studies, it still is ethnic studies, and it informs how I could pursue Native American studies in graduate school." 
Revitalizing NASA and calling attention to issues impacting Native people has required a lot of their time and energy. But Eaton and Cassano both say that the challenge has been rewarding. 
"I wanted to be a trailblazer in a way," Eaton said. Growing up in a traditional family and community, she was taught to embrace her identity and be proud of being from the Tesuque Pueblo. She has strong ideas about the best way to share her culture and educate others about her heritage. "The activities and events we've been putting on are a way I can embrace who I am and let people know who I am," she said.
Cassano added that she is gratified to see the outcome of her work. "We are making a positive change for Bowdoin students," including for future Native students who might seek ways to remain connected to their cultures and to other Natives on campus. "I hope this organization will be here for them."