Published November 26, 2019 by Rebecca Goldfine
They Start as Host Families, Then Become Just Family
The 170 families who are part of Bowdoin's Community Host Program have opened their homes to students who live far away, giving them a cozy harbor when it's too difficult or expensive for them to return home.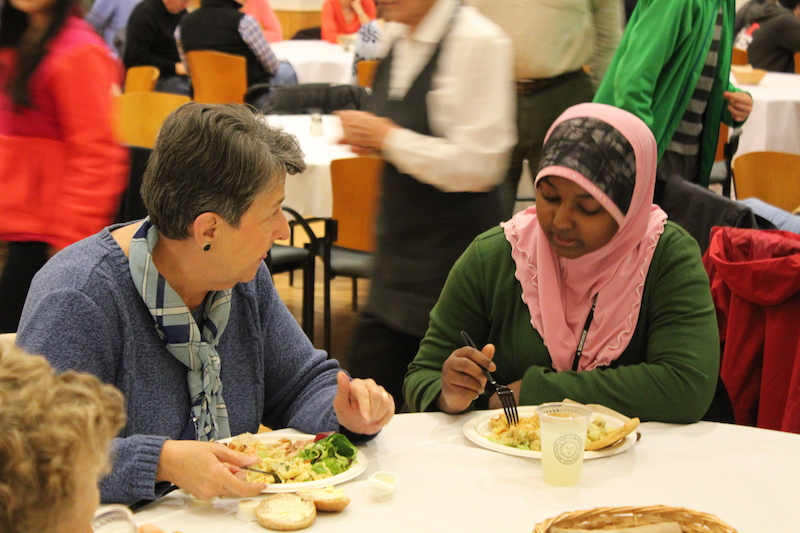 Samara Nassor '22, who is from Tanzania, shared a photo of her recent pre-Thanksgiving meal with her host family, which that night included her host mom and dad, their two grown children, and their grandchildren. She also sent a photo of her plate, filled with the traditional fixings of turkey, mashed potatoes, stuffing, and cranberry sauce.
Nassor said she's "lucky and blessed" to have her host family in her life. "I cherish all the times I've spent catching up with [host mom] Meg in car rides, teasing [host dad] David at the dinner table, listening to Biset's and Katelyn's animated stories and cracking jokes with the whole family by the fireplace. There's never a dull moment."
When Thanksgiving rolls around, many host families invite their students (and sometimes a few tag-along friends) over for a meal. Surrey Hardcastle and her husband, Hugh, who have been host parents for several years, are accustomed to expecting a diverse crowd around their Thanksgiving dinner table. On top of their four or five "official" students, they will often extend an invitation to other students on campus with no place to go.
"The students we've had over have been from all over the world," Hardcastle recalled. "And more than half the time, they're not accustomed to celebrating Thanksgiving." Often, too, she'll have students who are meeting for the first time. "There's something really exciting about this cultural moment of reflection and coming together when you're sharing it with students who don't know each other."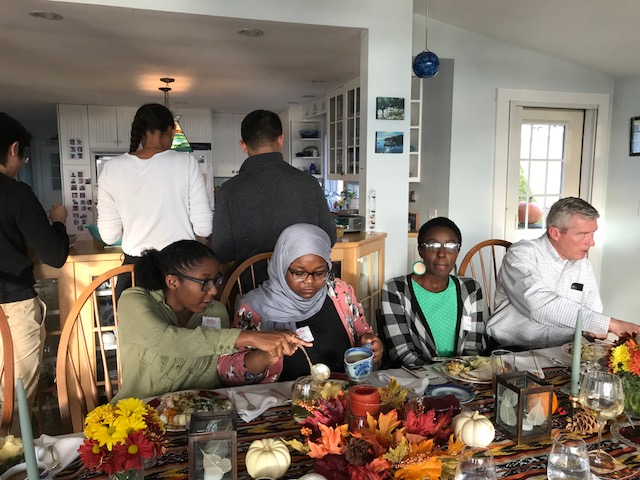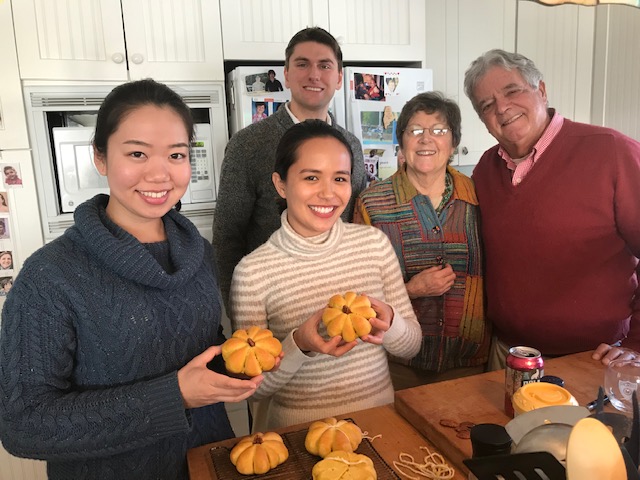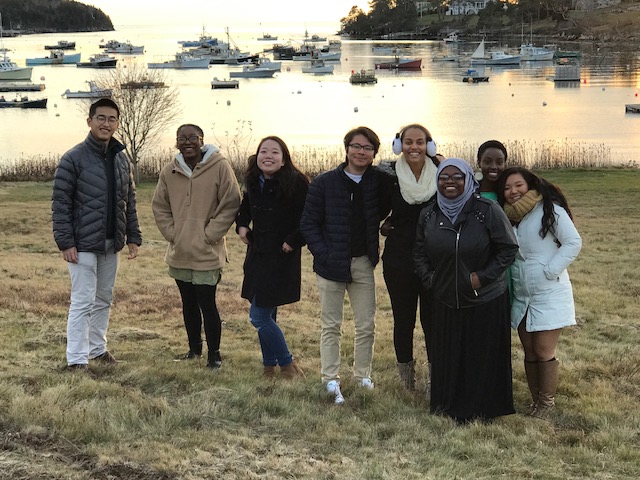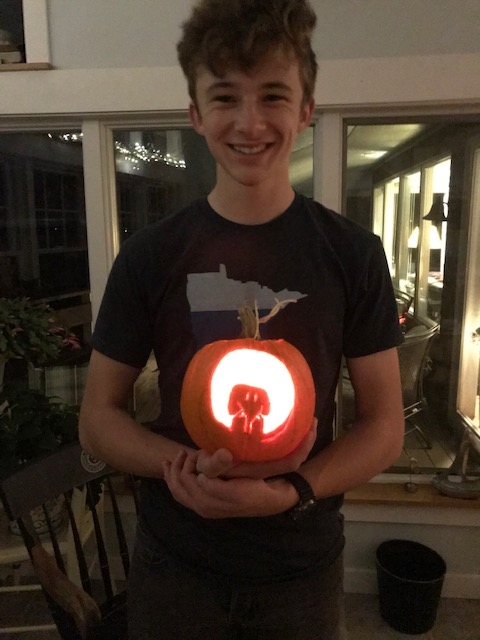 This year, the popular host program matched ninety-five first-year students with families, up from eighty-five a year ago. Students who live far away, both in the US or abroad, are given top priority when the program's steering committee works over the summer to match students with families, according to Silvia Lorrain, who oversees the program for Bowdoin.
"The Community Host Program aims to create a home away from home for international students and students from outside of New England," Lorrain said. However, if there are enough host families, she and the committee will match a student who lives closer by if the student requests one. 
While host families are especially important around holidays, many are supportive presences for students throughout the year.
Doug Bencomo '21 said his host family, the Nickersons of Topsham, provide him with an additional support system. "Having good host parents like Beth Ann and Mark allows me to have a sense of security, knowing I have someone to turn to and help guide me if I need help," he said.
Missy Demczak '21 said the Nickersons (they have several host students) have come to her musical performances and sporting events. They check up on her by sending texts, and will drop off goody bags for Halloween, Christmas, and Easter, or even to help her "survive" finals week, she said.
"It's nice to know that if I need anything during the school year, I can rely on my host family to help me out, even though my family is miles away," added Demczak, who grew up in Illinois and Ohio. "I think some of my favorite moments with my host family are going out for ice cream with my host sister, having a casual meal on Friday nights, or coming over to make s'mores in the backyard."
Surrey Hardcastle has lots of fond memories of having students over for meals or for a sailing or kayaking excursion on the bay near her home—a generosity she and her husband have extended to students' families when they come to Maine for a visit.
Last May, the Hardcastles opened their home to the family of Anu Asaolu '19, who is Nigerian American, for Commencement weekend. "They brought frozen Nigerian food from Minnesota. You should have seen all the food," Hardcastle said. Another student, Darlene Ineza '19, joined the feast with her Rwandan family. "We supplied the lobsters," Hardcastle added.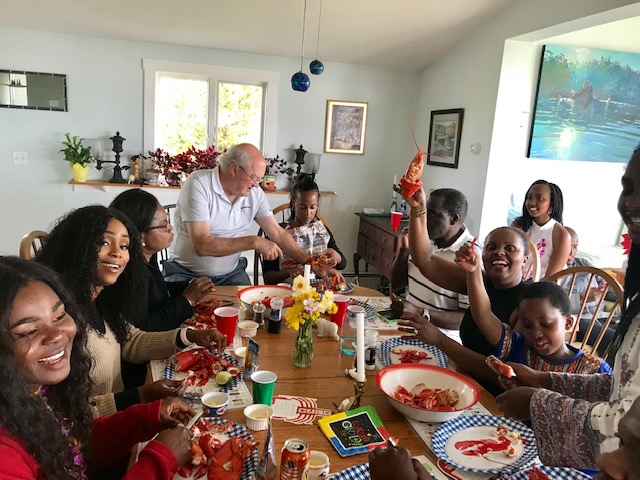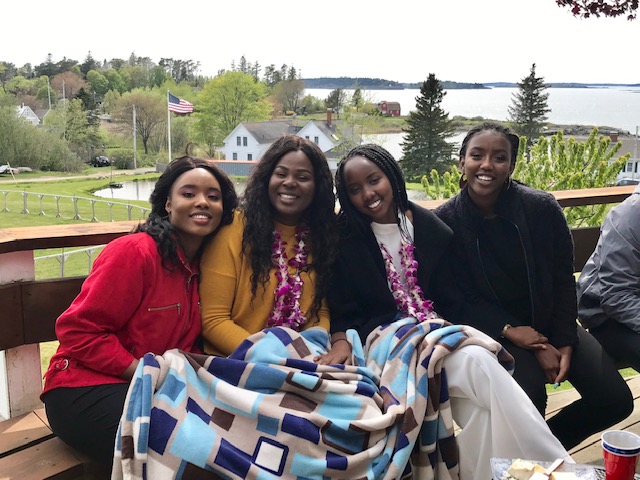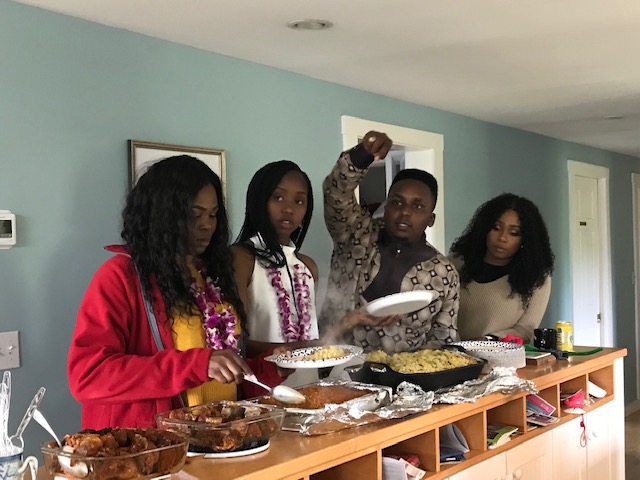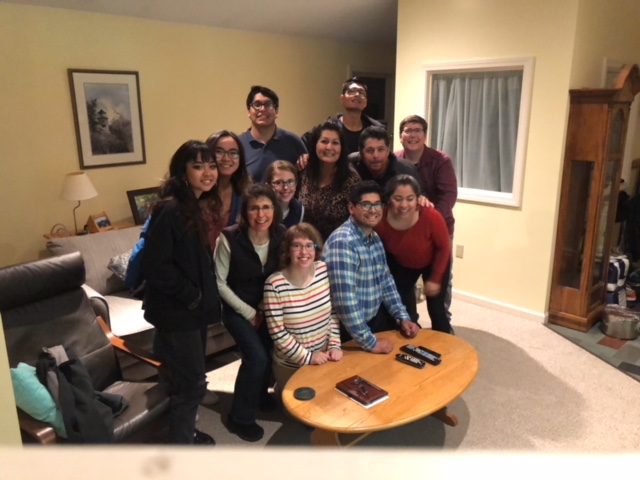 Beth Ann Nickerson, a teacher at Mt. Ararat High School, partners with Lorrain to help run the Community Host Program. Her family has hosted students for the past seven years.
After getting to know a student over four years, "they become part of our family," Nickerson said. "You create wonderful relationships," which can extend well after graduation—as well as to students' families. The Nickersons will be hosting the families of two of her graduating seniors this spring.
And the mother of one of Nickerson's host students, who lives in Pennsylvania, has offered to pick up her own college-aged daughter from the airport to drive her to school, even though she lives two hours away, Nickerson added.
While some comforting gestures provided by host families (and, in turn, extended families) are big, sometimes being a host family is as simple as providing a quiet space for a student to get away from campus for a bit, Hardcastle said. 
She remembers when one her students asked to hang out at her home to study for finals. "She came out here for a weekend and sat in a comfy chair in our sunny sitting room. Then we left her alone—feeding her or giving her coffee when she needed it." 
Though the program is designed with students in mind, Hardcastle and her husband say the exchange goes both ways. "They're an amazing group of young people," she said. "Yes, the program supports them, but they expand our horizons, and it is an enormous gift to us as well. We're seniors, and to be exposed to young people and how they're thinking makes us very optimistic about the future of the world. We're all expanded by the experience."