Published November 20, 2019 by Tom Porter
The Clear Path from Sociology to Law
Claudia Williams '11 recalled the moment she attended her first Introduction to Sociology class (SOC 1101) when she arrived at Bowdoin in 2007. "It was like a lightbulb clicked on," she said. "I felt I had found my intellectual home. I was ready to move in and start decorating!"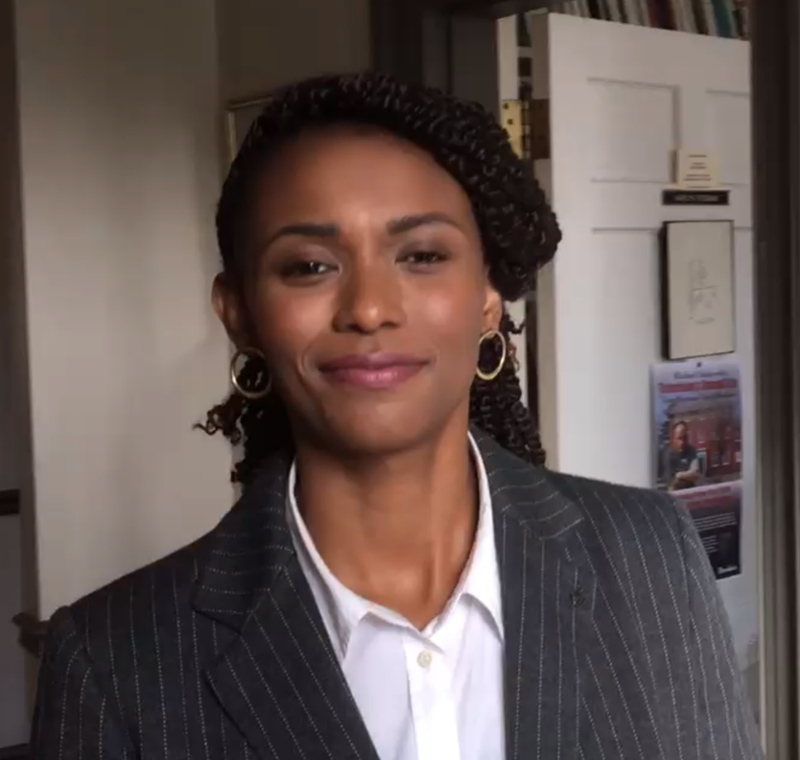 "Trailblazers HQ"
The class, taught by A. Myrick Freeman Professor of Social Sciences Nancy Riley, gave Williams her first real insight into the major influence that social forces have on people's lives. It was also the first step on the road to a legal career. Williams is now a judicial clerk for the Missouri Court of Appeals, where she supports appellate judges through conducting research and identifying key legal issues. Throughout her career, she has worked on substantive issues in education, dispute resolution, family and civil rights, and labor law.
Williams visited campus recently to meet students as part of a series of events called Public Service Profiles, organized by the McKeen Center for the Common Good: an informal and casual opportunity to explore pathways in public service. "I hope that by sharing my journey, which has been somewhat windy and curvy, I can explain how I've come to be where I am and give you some encouragement about your journey and help you blaze your own trail. You're at 'trailblazers HQ' here at Bowdoin."
Learning to Ask Questions
When she arrived at Bowdoin, Williams said she had it all figured out: she was going to major in government and legal studies and minor in Japanese (she admitted to an "embarrassing collection" of Japanese comics and graphic novels.)
This all went out the window when she attended her first sociology class, she said. A similar awakening happened to Williams when she started taking Africana studies with Professor Judith Casselberry and gay and lesbian studies with Associate Professor of English Guy Mark Foster. "I remember being pushed and challenged about my previous assumptions," she said. "Bowdoin's a great place for learning to ask questions." Williams ended up taking a double major in sociology and Africana studies, and then going on to pursue a master's in sociology at the University of Memphis.
"My sociology master's experience was amazing," she said, "helping me hone my research skills." Her thesis looked at issues of workplace protection for vulnerable populations, especially black LGBTQIA people. "By the time I completed my thesis, nearly everyone in my program was knee-deep in PhD program applications. But I was seriously feeling the pull of law as my next career step. I knew I loved advocating for people and telling stories."
"It may not be a straight path, but the key is to know who you are and trust yourself. You are the expert on your own greatness!"
Following a lengthy phone conversation with one of her Bowdoin professors, Daniel B. Fayerweather Professor of Political Economy and Sociology Emeritus Craig McEwen (who specializes in, among other things, sociology and law), Williams applied and was admitted to the law school at Howard University, a historically black university in Washington, DC founded by Bowdoin alumnus Oliver Otis Howard, Class of 1850. Howard also has a tradition of studying social justice, said Williams, who found her sociology background served her in ways she hadn't expected. "I had been trained very well in how to ask people questions. How to make someone comfortable and put them at ease, so they can share their life with you."
"It's All Very Theatrical"
At law school Williams learned a lot about the challenges faced by women in the workplace, some fired because they're pregnant, some because of their sexual orientation, with no protections. This led her in the direction of labor law, she explained, and a fellowship at the Service Employees International Union (SEIU), serving the largest union of healthcare workers in North America. Here Williams gained valuable experience and a chance "to think deeply about social forces, poverty, health care, and how we can amplify the voices of those who feel marginalized." She also found herself sitting at collective bargaining tables negotiating national labor contracts: "It's all very theatrical, like a face-to-face showdown, with the union on one side and the employers on the other, discussing things like health insurance premiums."
Now, as a legal clerk in Missouri, Williams supports appeals court judges, each with differing styles. "I've wanted to clerk since I was in law school," she said. "It gives me the chance to review individual cases, to read and research, while also spending time in the courtroom." Her advice to students as they consider their path in life? "Take advantage of the wealth of opportunities here at Bowdoin and allow your professors to help you. It may not be a straight path, but the key is to know who you are and trust yourself. You are the expert on your own greatness!"