Published November 18, 2019 by Rebecca Goldfine and Tom Porter
Sixty-One New Classes This Semester, From Victorian Realism to Computing Ethics
Students were able to select classes from a course catalogue filled with both beloved classics (Political Theory, Jane Austen, Deconstructing Racism, etc.) and sixty-one classes new to Bowdoin.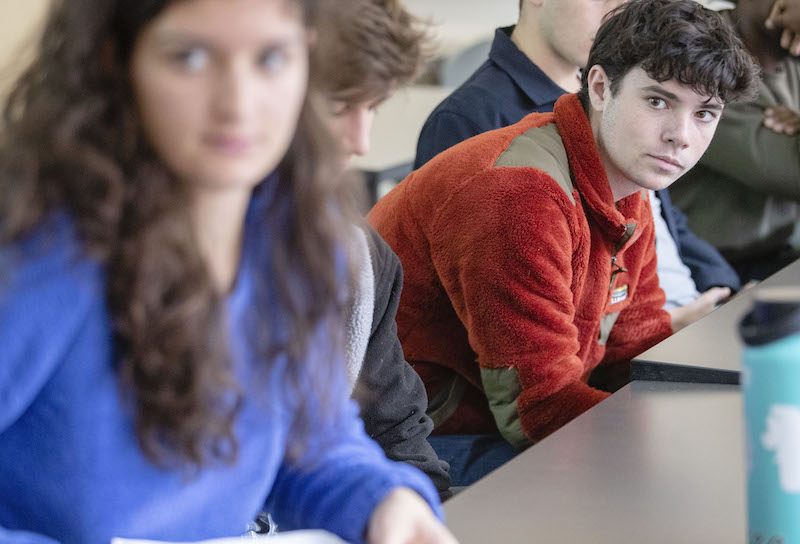 We focused on a handful of new courses—in digital and computational studies, economics, history, religion, and Russian—chosen somewhat arbitrarily to highlight the ways visiting or new professors are sharing their expertise and how tenured professors are recrafting their intellectual interests into new offerings.
---
DCS: 3450 Cognition in Analog and Digital Environments
Eric Chown, Professor of Digital and Computational Studies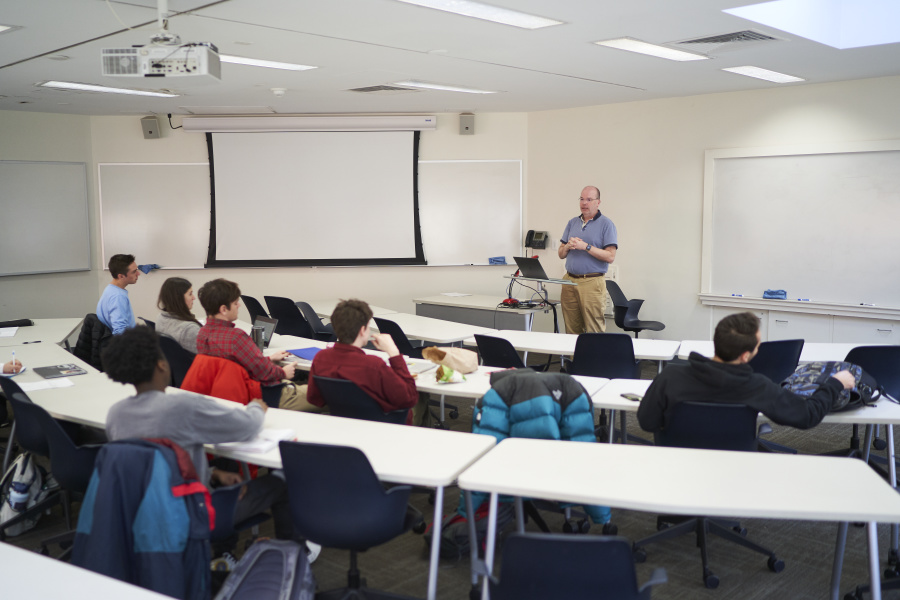 Though his class is new, Chown says his fascination with the intersection of human cognition and computation dates back to his graduate school days, when he studied with an environmental psychologist who investigated how our natural and constructed environments shape us. 
This topic is perhaps even more pressing today, since it's not just the physical world around us but also our digital world that has the capacity to profoundly influence how and what we think. In some ways, our brains weren't designed to cope with today's frenetic bursts of enticing stimuli. "Most of us are suffering from damaged attention," Chown said.
In his class, students study evolution and the brain—how we process information—and also how we are susceptible to digital misinformation and manipulation. Importantly, they also address what can be done about it.
"We discuss how virtual environments could be designed to be supportive, to be cognitively helpful so people can thrive in them," Chown said. "And we'll talk about ways of optimizing learning and how to use things like the digital world effectively," he added. In the end, he hopes the students leave with an understanding that "there are ways they can take ownership of their attention." 
---
ECON: 3501 Poverty and Economic Development
Marc Rockmore, Visiting Assistant Professor of Economics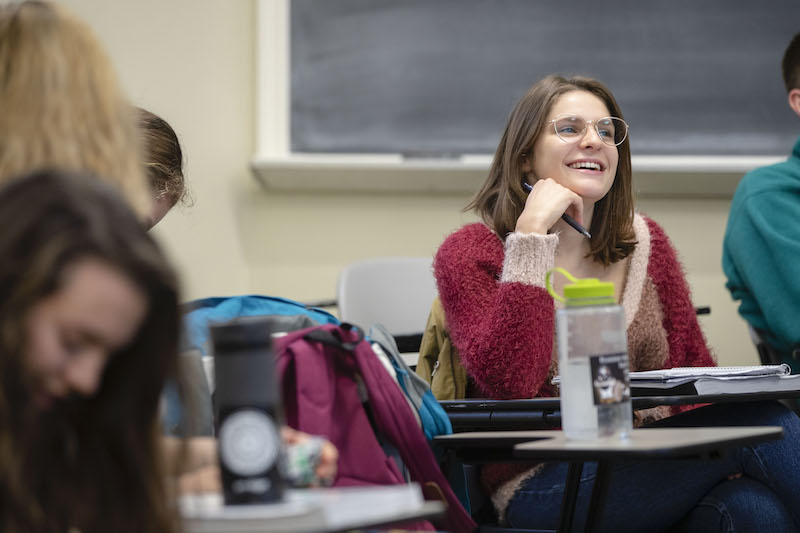 In Poverty and Economic Development, students study economic systems on large and small scales, zooming in as close as looking at how poverty influences individuals' decision-making and fates. While the class focuses primarily on sub-Saharan Africa and South Asia, it also touches on poverty in other parts of the world, including the United States.
"Within this seminar, we're moving a little bit outside of economics," Rockmore said. He lays other academic disciplines, like biology, epidemiology, and climate science, on top of the traditional study of economics. For instance, the class is considering the biology of learning—how the first two years of life are critical to life outcomes—and they are reading studies on how a slight increase in temperature can affect people's mental health and life outcomes.
"What I try to do in this process is give students a broader sense of not only how these different forces come together and shape poverty, but also how poverty interacts with these forces and can make them worse," Rockmore said.
---
REL 2522: Buddhism in America
Joshua Urich, Visiting Assistant Professor of Religion
As a historian of American religion, Urich teaches his students about the historical development of Buddhism in the United States—as it's practiced both by immigrant communities and by Americans without preexisting ties to the religion. "The big, overarching goal is to introduce students to the basics of how Buddhism got to America and what's been done with it, and also to think critically about how we study Buddhism in America," Urich said.
Only one student among the thirteen in the class is a religion major; the rest are majoring in subjects across the curriculum. And this, according to Urich, makes for lively discussions. He says it's rare to have a day when students aren't energetically batting around ideas on a range of subjects, from the "irruption of the sacred" to William Blake, Emile Durkheim, neurological research, and iPhone meditation apps.
In the class, Urich aims to introduce students to the history of Buddhism in America, but he also wants them to think more broadly about how religion in America works, what is considered an authentic religion in the nation, and what the limits may be for American religious tolerance.
---
HIST 2020: The Global Cold War
Salar Mohandesi, Assistant Professor of History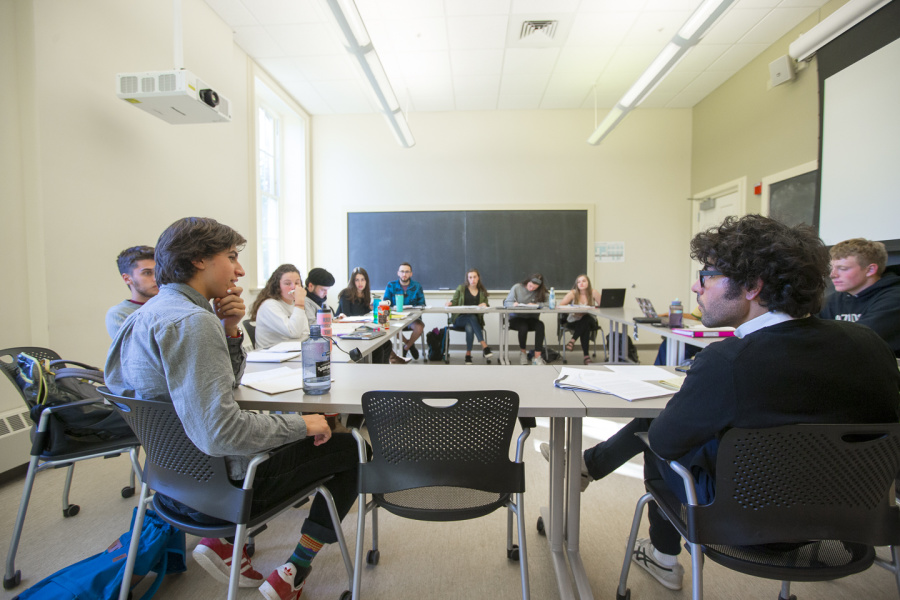 Mohandesi says his Global Cold War course tells a more complex story of the Cold War. While most accounts treat the period as a rivalry between two superpowers, with great attention placed on the US, his approach regards the Cold War as a competition between different models of social, political, and economic development.
"We stretch the timeline and expand the geographical scope of study, looking to imperialism, the rise of international socialism, the struggle against fascism, and the long history of decolonization in order to understand the deep origins of the Cold War," he added. "So, unlike more traditional approaches that focus squarely on diplomatic relations between Washington and Moscow, we attempt to weave together a synthetic narrative of the twentieth century from a global perspective."
Such a perspective, said Mohandesi, ties together histories that are often kept separate, showing how seemingly disparate events were often linked by similar global processes. The course is also important, he said, because the Cold War completely, and irreversibly, transformed life on our planet. "Studying it with such a broad perspective helps us understand the major international issues that confront us today—and it might even help us find ways to resolve them."
---
RUS 2315: Love, Sex, and Desire in Russian Literature and Culture
Reed Johnson, Lecturer in Russian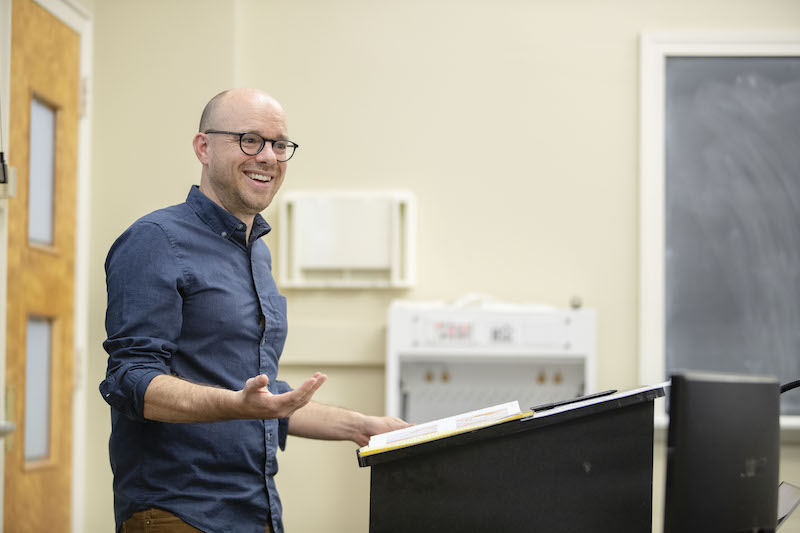 "It's such a great topic," said Johnson. "Love, sex, and desire are things we think about a lot, but not perhaps in a deep way." In Russian culture, however, such fundamental human experiences are richly depicted, he explained, and literature and film provide a window for students to see how another culture has imagined these human relations in ways often quite different from our own.
"When I was selecting works for this syllabus, I could include almost anything, because love plays a central role in many nineteenth- and twentieth-century works," Johnson said. The course, which was created by department chair Alyssa Gillespie, looks at more than two dozen works, ranging across three centuries. "We're reading short stories, four novels, and poetry and watching four films," said Johnson, "And the bulk of the material is from the nineteenth century onward, when Russian culture really began to flourish under writers like Pushkin, Dostoyevsky, and Tolstoy."
The course, which is taught in English, is a good introduction to Russian literature and culture in general, said Johnson, who hopes some of the students will be interested in delving deeper and pursuing Russian language courses.
---
New Courses, Fall 2019
Introduction to African Religions and Cultures
Black Women's Lives as the History of Africana Studies: 18th and 19th Centuries
Recreating Africa: Diasporic Imaginings of Race and Space
Deities in Motion: Afro-Diasporic Religions
Medical Anthropology
Landscapes of Power: Culture, Place, and the Built Environment 
Living and Dying in Ancient Rome
Matisse and Picasso
African Americans and Art
Medieval Art and the Modern Viewer: Building an Exhibition with the Wyvern Collection 
Militancy and Monasticism in South and Southeast Asia
Korean Beyond Borders: Contemporary Literature and Film
Methods in Ocean Change Ecology
Current Topics in Marine Science
Motor Systems Neurobiology
Ancient Greek Medicine
Ethics of Computing
Introduction to Caribbean Dances and Cultures
Intermediate Improvisation and Partnering
Filmmaking and Born-Digital Storytelling
Cognition in Analog and Digital Environments
Economics of Money, Banking, and Finance
Financial Economics
Poverty and Economic Development
Writing Studio
Introduction to Environmental Literature
Shakespeare's Tragedies: Pathos and Politics
Victorian Realism: Dickens and Eliot

Geographic Information Systems (GIS) Applications in Earth and Oceanographic Science

Coastal Oceanography
Aesthetics in Africa and Europe
Texts Talking Back: French Canada Speaking to Itself and to the World through Literature

Politics of Climate Change
Political and Economic Development in East Asia
International Relations in East Asia

The World's Most Dangerous Place? Gender, Islam, and Politics in Contemporary Pakistan

Serious Games: Critical Play for History
'Deviant Lives' in Latin America
The Global Cold War
Medieval and Reformation Intellectual History
Women, Performance, and Activism in the Americas
The Swerve: Lucretius's De rerum natura 
Quantitative Reasoning: Mathematics for Sustainability
Experiencing Latin American Music

From Claudio Monteverdi to Lin-Manuel Miranda: Issues at the Intersection of Music and Theater

Aesthetics
What is Equality?
Contemporary Theories of Racism
Seminar in Behavioral Neuroscience 

Believers, Converts, and Apostates

Religion on the Move: Religion, Migration, and Globalization

Popular Religion in the Americas
Buddhism in America
Love, Sex, and Desire in Russian Literature and Culture
Pushkin
Sociology of Deviant Behavior
Racial and Ethnic Health Disparities

Sociological Perspectives on Asia(ns) and Media

Migrant Imaginaries
Musical Theater Performance
Performance in the Twenty-First Century