Published November 26, 2019 by Rebecca Goldfine
With Dance, Visiting Artist Paints Pictures of Her Country
For the event, Ibarguen choreographed an original three-act piece, with three main characters, called Retablo Peruano. She performed in Kresge Auditorium earlier in November.
Retablos are works by indigenous artists that typically depict scenes from life; sometimes they are quotidian, sometimes they show extraordinary or historical events. The first retablos were inspired by the Spanish triptychs that indigenous people encountered in Catholic churches and which depicted the lives of saints or scenes from the Bible.
"Indigenous artists took them from there and re-signified them, made them about people, even about the Spanish conquest itself, turning a European sacred language into a hybrid, popular, and secular language," said Wolfenzon, an associate professor of Romance languages and literatures.
Wolfenzon, in her introduction to the dance, also addressed the unexpected combination of literary studies and dance. "Some of you might be wondering what Vannia's work has to do with a literature class at Bowdoin about the clashes of tradition and modernity in twentieth-century Latin America," she said.
She explained that she had been a dancer herself until she was twenty-three, and that she and Ibarguen were in a dance class together when they were little girls.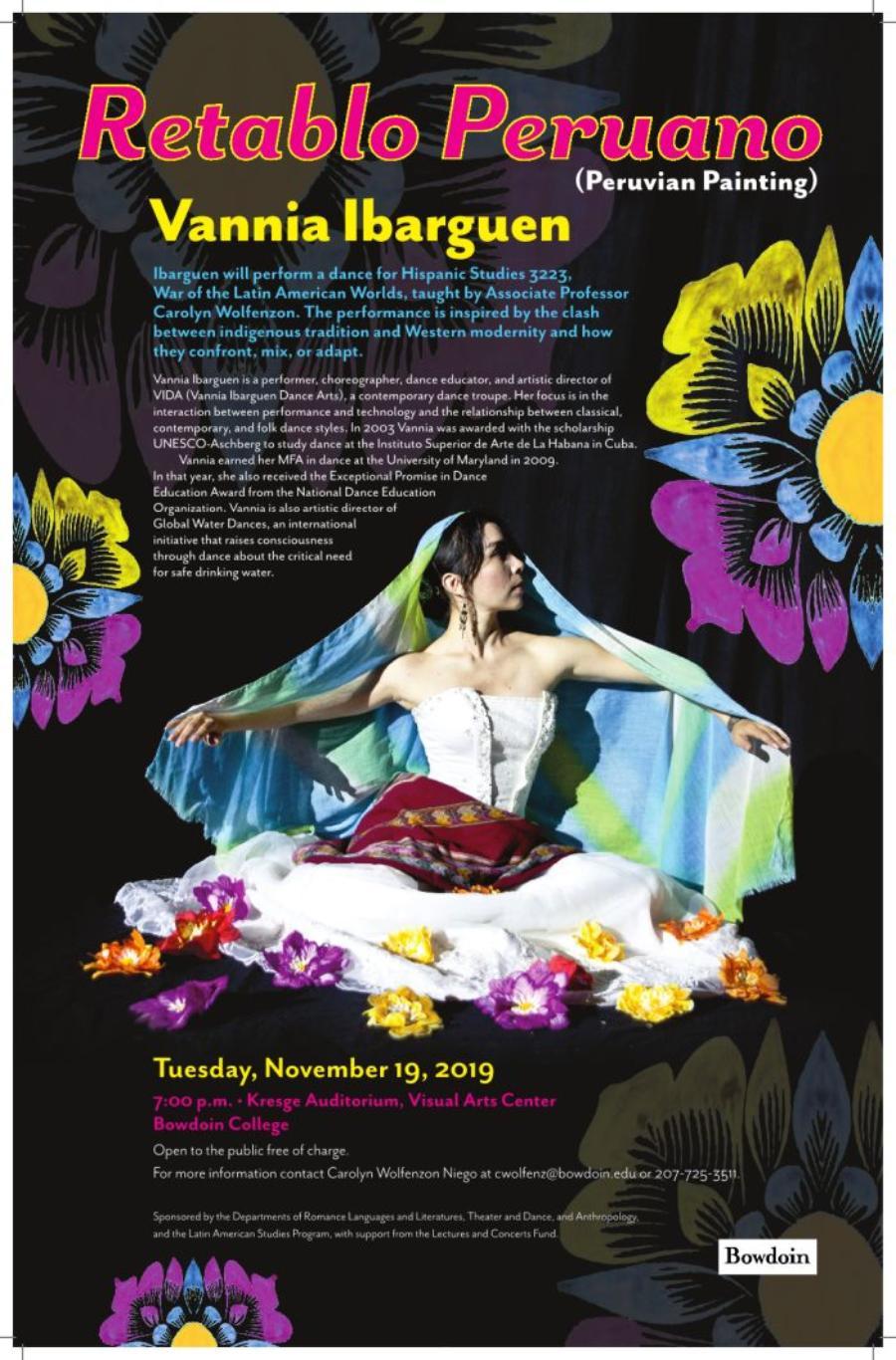 "Years later, as a scholar of Latin American literature, I have asked myself, many times, how can someone be moved by the words of literary works. Literally moved, that is. How would someone dance to the words of some of the writers Vannia and I share as our favorites, like José María Arguedas or César Vallejo?"
"These are authors," she continued, "who thought that much of the meanings they wanted to communicate were beyond the limits of their own languages. Would they also be beyond the limits of our bodies? What kind of body language would be comparable with their written language? What kind of techniques?" 
In Retablo Peruano, Ibarguen explores the meeting of old and new Peru, demonstrating how indigenous traditions clash and blend with Western modernity.
Eugen Cotei '21, a student in Wolfenzon's class who attended the dance, described Ibarguen's work as "succeeding in communicating not only the frustrations of having superimposed expectations on one's identity, but also the frustrations experienced in South America at the front of environmental degradation and collapse." Cotei is a Hispanic studies and earth and oceanographic science major.
Cotei was particularly moved by a scene in Ibarguen's dance when she becomes entangled with a mass of plastic bags. "Slowly, her movements became restricted and her voice drowned. This emotionally charged section of the performance not only connects with current acts of injustice towards indigenous communities but also brings up the question, to what extent do we hinder the economic growth of a country in order to preserve its natural environment?" Cotei wrote in an essay.
The day after the performance, Ibarguen visited Wolfenzon's class, and spoke about growing up respecting Peru's indigenous cultures and natural resources. As she got older, she asked more questions about colonial and Western influences in her country. "What is progress?" she asked. "What is more valuable: something that is new and USA-made? Or something that is older and made in Peru? Foreign materialism or local spirituality? How does my identity fit into this?"
The students in Wolfenzon's seminar have been discussing how the clash between tradition and modernity has manifested in countries like Mexico and Peru. "Western and indigenous cultures are still negotiating the terms of their relationships in a historical-cultural process we usually call transculturation,"Wolfenzon said. "People from indigenous backgrounds, when in a Western environment, modify their own identities—adapting some elements, assuming or acquiring others, leaving others behind, and inventing new ones."
This is reflected in Ibarguen's performance, which Wolfenzon described as "about hybridity, about mixing and remixing cultures." 
"Indigenous Latin American cultures are more oral than Western cultures, and have a different connection with music and myth," she explained. Meanwhile, Westernized Latin America is more associated with writing, urban environments, and industrialism.
"But most of Peru does not exist firmly in either of those worlds, but in a wide region of transit between them, coming and going to and from one another. Like dance and performance, hybridity is about movement. So, why not try to visualize this movement?" Wolfenzon asked.