Patrick "McDreamy" Dempsey H'13 and Marcus Williams '21 Discuss Disabilities and Success
By Rebecca Goldfine
Marcus Williams '21 invited Patrick Dempsey, a Mainer who gained fame on the TV show Grey's Anatomy, to Bowdoin to speak about dyslexia for No Hate November's keynote address.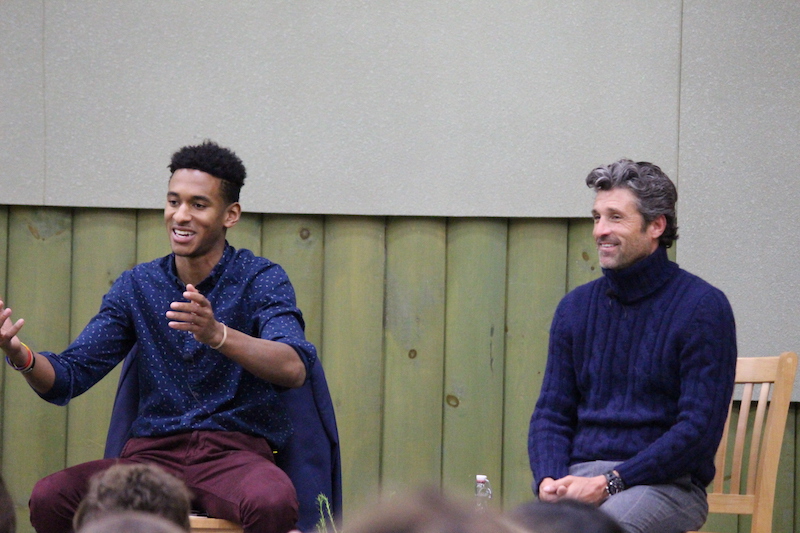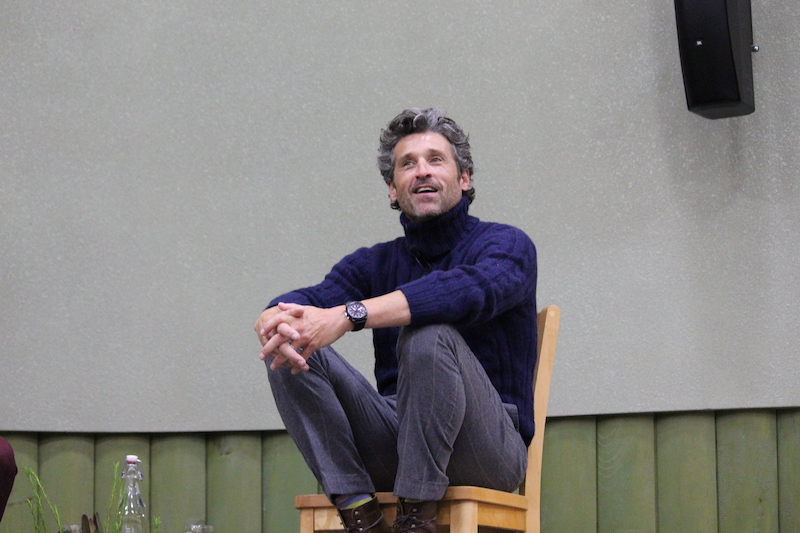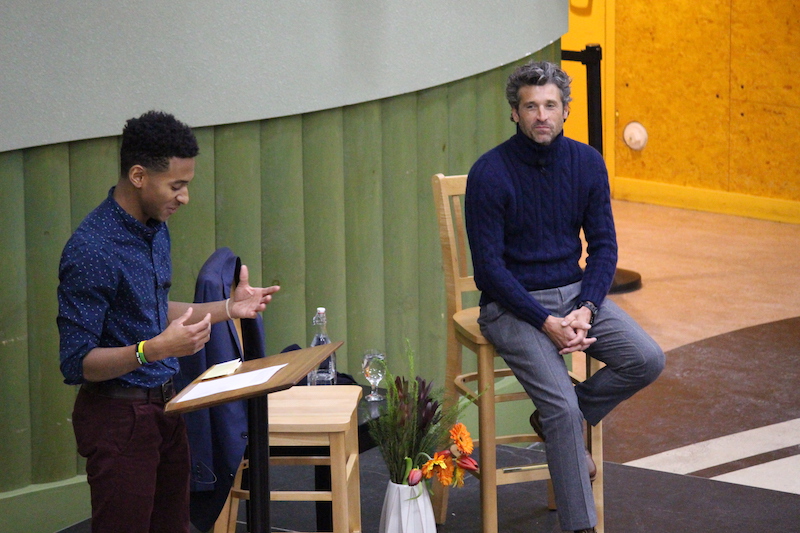 Williams met Dempsey when he was a diversity and inclusion intern last summer at WEX, a financial technology corporation in South Portland, Maine. Dempsey popped in one day to talk about partnering with WEX on a cancer fundraiser. 
When the company interns got to meet Dempsey, Williams connected with him over their similarities: both of them grew up with dyslexia, and they both appreciate colorful socks. "I had these crazy purple and green and pink triangle socks on," Wiliams recalled. "They stood out."
Williams wore the same socks during the Thursday event with Dempsey. (At the end of the evening, he gifted Dempsey with a pair of polar bear socks.) After meeting at WEX, the two stayed in touch to discuss the possibility of Dempsey coming to Bowdoin to speak about dyslexia this fall for No Hate November.  
Every fall, the Bowdoin Student Government (BSG) organizes a month of programming to work on removing bias and raising awareness on campus around issues of diversity and inclusion. This year was the first time that a No Hate November event focused on disabilities.
"One of the things we don't talk about in academia much are students with disabilities," Williams said, adding that people in higher education often make the assumption that such people couldn't have made it here. "The idea with the keynote was to bring in a star who was accomplished to show we all have differences here."
Last spring, Williams—a sociology and government major—was elected to the relatively new position of chair of diversity and inclusion for BSG. He is the second student to hold the position, after Mamadou Diaw '21. He's been working on bridging divides between student groups and connecting alumni of color with students of color via LinkedIn (for those who want to join his group, it's called Bowdoin Initiative for Network Diversity).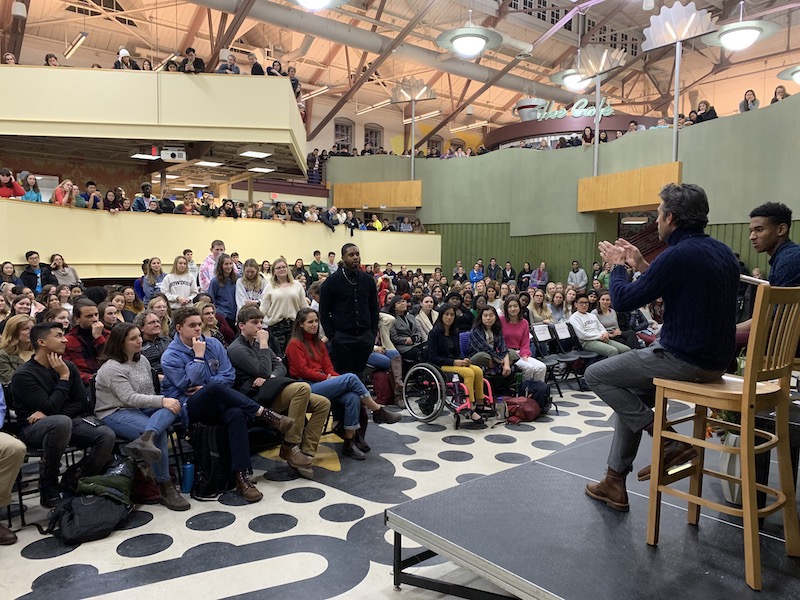 Williams's plan to call attention to learning disabilities by bringing in "McDreamy" (Dempsey's nickname on Grey's Anatomy) worked. Dempsey's character in the show, Dr. Derek Shepherd, is a Bowdoin graduate, probably Class of 1988 or 1989—one of the reasons many here adore him. About an hour before the discussion began in Smith Union, students started staking out seats, bringing their computers to work on homework or eating dinners out of take-away boxes while they waited.
By 7:20 p.m., students were thronging all three levels of the Union. When Dempsey walked in, after sharing a meal with fifteen students—including several who are part of the Disabled Students Association—the crowd erupted into a roar.
After inviting the leaders of the Native American Student Association to offer a land acknowledgement, Wiliams and Dempsey began their discussion about what it was like for both of them to navigate the school system with dyslexia, and how they overcome their disability to succeed—Dempsey as a famous actor and philanthropist (and Bowdoin honorand), Williams as a student at a top-tier college. 
They touched on how their disability, which makes it challenging to read and write, has actually served them. "It allows me to work from an emotional place as an actor and not rely on the words," Dempsey said. "The scenes that work do so not because of what is being said but because of what is being felt."
Williams said that while he might not have the tidiest grammar on his essays, he often comes up with creative arguments and unique ways to make them. "I try nuanced approaches to things," he said. "That helps me get through and helps me excel in school."
During the Q&A session that followed, Dempsey jumped up twice to give a couple of students bear hugs when he was moved by what they said. (He also jumped off his stool to give Williams's mom, who traveled up from Boston for the event, a big hug.) He reiterated his message that everyone carries vulnerabilities—whether or not they have a disability—and that you can turn your own vulnerabilities into emotional strengths, by developing compassion, resilience, or creativity. 
He also answered more lighthearted questions. He joked with one student who chided him for dying tragically on Grey's Anatomy. "How could you have done that to me?" she wailed, admitting, "I"m still recovering." Dempsey threw his head back and laughed. "So I could be here with you in the afterlife!" he rejoined. (And then he gave her a hug; she swooned.)
The morning after the event, Williams said he had received a flood of emails from students with disabilities who were grateful for the discussion. "I hope people came in for Patrick Dempsey but left with a new understanding that our school is filled with diverse people and people who have learning challenges—and to just be more aware of that," Williams said. "And that they have a new perception of intelligence, or what they think a Bowdoin scholar is."
Published November 15, 2019