Published November 25, 2019 by Julius Long '20
David Carroll '97 and the Fight to Upend Cambridge Analytica's Dark Data Quest
David Carroll '97 took Cambridge Analytica to court in the United Kingdom for violating the UK Data Protection Act, becoming entangled in an international intrigue. He visited campus on November 21 to give a talk on his David-versus-Goliath fight against the firm.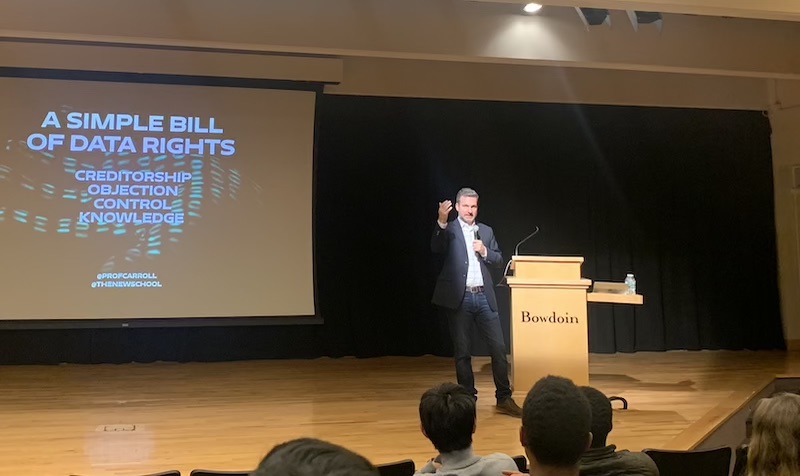 Carroll is not the kind of person you might imagine would get entangled in an international fight over data, pushing back against powerful figures in technology and politics, some with ties to US elections.
He graduated with highest honors from Bowdoin in 1997 with a degree in art history and religious studies and is now an associate professor of media design at Parsons School of Design at The New School. He specializes in interface design, mobile media, programming, social media, transdiciplinary design, and, these days, data protection rights.
On Thursday night, he returned to Bowdoin to discuss the extraordinary turn his career has taken in recent years. 
Carroll's groundbreaking work in data-rights advocacy is the subject of a new Netflix documentary, The Great Hack, a viewing of which was sponsored by Bowdoin's Digital and Computational Studies Program and screened in Kresge Auditorium on Wednesday night.
After the 2016 US presidential election, it came to light that the Bristish data analytics and consulting firm Cambridge Analytica had harvested the personal data of millions of people's Facebook profiles without their consent to create targeted political advertising. The documentary examines the scandal, in part through the lens of Carroll's lawsuit against the UK-based company for violations under the UK Data Protection Act of 1998. He accused Cambridge Analytica of unfairly processing his political views and failing to disclose his voter dossier, and his efforts resulted in the only criminal conviction of the company. 
Art history to data protection
Though imagining a path from studying art history at Bowdoin to pursuing data protection lawsuits might seem like a stretch, Carroll explained that the gap isn't as wide as it might first seem.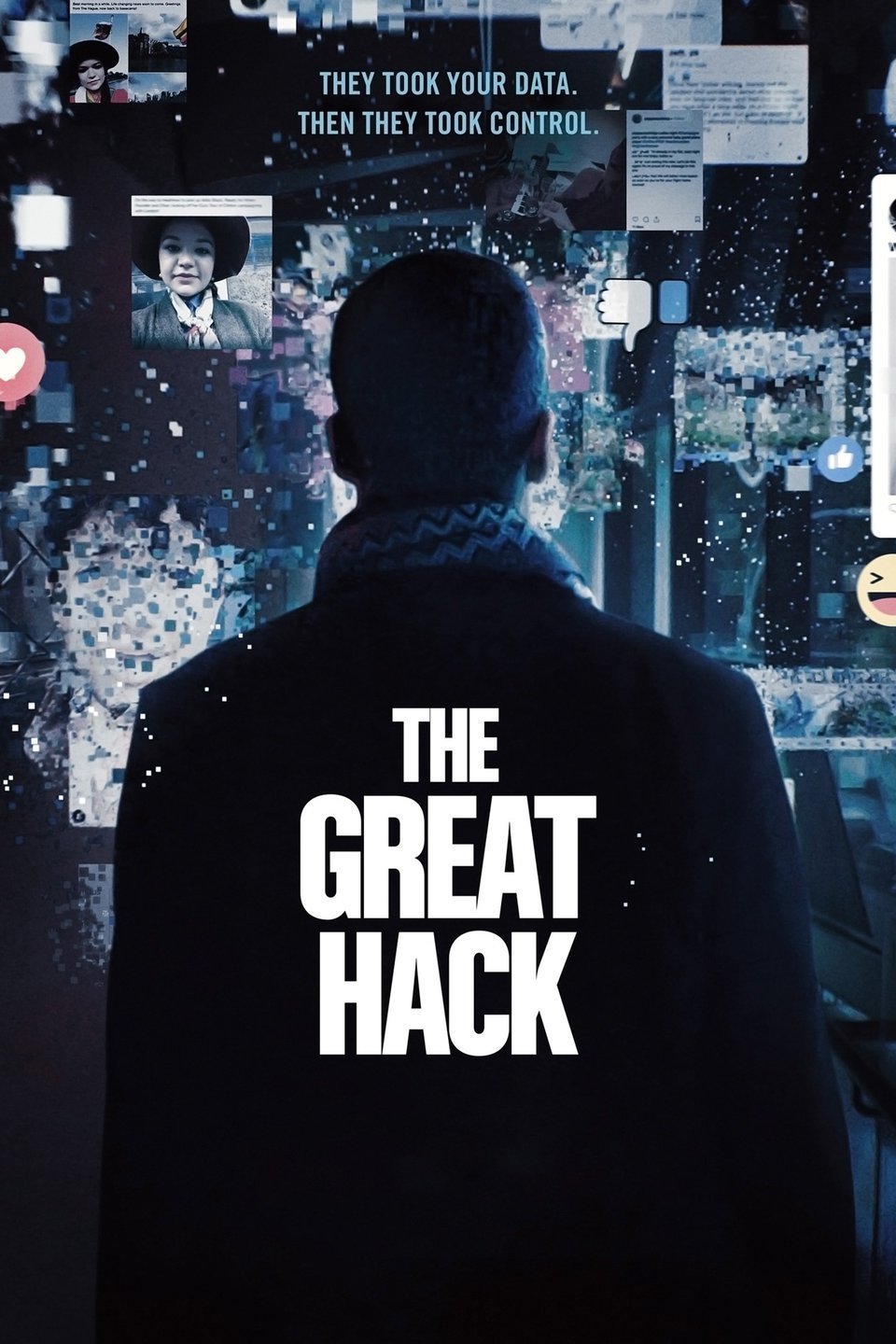 He recalled seeing his first website on a Mosaic browser in a Bowdoin computer lab in the mid 1990s. "It all started here at Bowdoin for me," he said.
In 1997, the art history department offered a course called Advertising. The class enlightened Carroll on the art of decoding advertisements and recognizing their patterns—much like he was taught to do when looking at Renaissance or Southeast Asian temples. "Once you learn how to see, it all makes sense," he said. "Learning media and data literacy is a liberal arts skill. Appreciating that necessity is an important challenge today."
After graduating from Bowdoin, Carroll earned his master's degree in fine arts from Parsons School of Design in 2000. Since then, he has had one foot in the industry and one foot in academia, publishing scholarship on mobile media and receiving research grants from Pearson Foundation, the MacArthur Foundation, National Institutes of Health, National Science Foundation, and Nokia Research Centers.
"I have been with the industry as it has gone through its growing pains," he said. "In many ways, it feels like we have experienced another tech bubble exploding, but this one happened in slow motion. This one was more the result of 2016 and a sudden shifts in attitudes about big tech, personal data, and potential harms."
When he was approached by the filmmakers of The Great Hack, Carroll was skeptical of their ability to synthesize the invisible concepts and ideas, ones he struggles to explain himself, into a digestible documentary. "Visually depicting the invisible exhaust of data that we are radiating throughout our day was a key innovation that the filmmakers created to demonstrate the process of emanating data that can be recaptured and refined into other products and services," he said. 
The Great Hack
 was released on July 24, 2019, "a pretty interesting, fateful day," Carroll described it. "The film went out into the world in the moment that the stuff we are living through right now is happening."
That day, the Federal Trade Commission levied its record $5 billion dollar fine against Facebook for its involvement in the Cambridge Analytica privacy scandal, while the SEC also issued a fine against Facebook for mislading investors by virtue of lying to members of the press. It was also the day that Cambridge Analytica CEO Alexander Nix and Cambridge University data scientist, Alexander Kogan— two characters featured in the documentary—were both sued by the FTC for deceptive practices. Additionally, it was the day that Special Councel Robert Mueller testified before Congress regarding his investigation of Russia's interference in the 2016 elections and President Trump's alleged attempt to obstruct his probe. 
The process of returning voter data stolen by Cambridge Analytica—which processed it to identify "persuadable voters" to help sway several elections—is currently impossible in the United States. The basis upon which all data rights sit is the right of access, a fundamental right under the EU Charter of Fundamental Human Rights—equivalent to the right of freedom of expression or the freedom to marry—but one that is in its infancy in American law. "In the weirdest possible way, the fact that they exported our data to a data-protecting state opened up the possibility to exercise the right," Carroll said. 
Carroll said his quest to repatriate America's voter data is far from over, and that he hopes that The Great Hack will help bring to light the inadequacies and vulnerabilities of big data.