A Weekend of Reunions, Recognitions, and Rejoicing
Published by Tom Porter, Rebecca Goldfine, and Julius Long
It was a long weekend of celebration at Bowdoin: a celebration of fifty years of multiculturalism and scholarship. Hundreds of alumni and other members of the Bowdoin community came to campus for a series of events billed as AFAM50.
The year 1969 saw the establishment of the Africana Studies program, the African American Society, and the John Brown Russwurm African American Center—named in honor of Bowdoin's first African American graduate (Class of 1826). To mark this milestone, approximately 170 alumni returned to Bowdoin for the weekend, joining another 230 or so faculty, staff, and students. There were lectures, symposia, art exhibitions, conversations, live music, and parties.
Watch AfAm50 talks on YouTube.
Here are some of the highlights:
Friday, November 8
A Seat at the Table: Technology, engineering, Wall Street, marketing, and cyber security—the five alumnae on this panel all rose to the top in industries traditionally dominated by men. 
Saddie Smith '75, who graduated with the first class of women at Bowdoin, grew up with a mom who worked two jobs. When she retired from a thirty-seven-year career at Consolidated Edison, she was vice president of facilities and field services. Tamara Nikuradse '84, P'21, left her marketing executive job to become a teacher and author. Major Marnita Thompson Eaddie '90 is a cyber security expert for the Air Force. Krystal Barker Buissereth '08 is an executive director and head of financial wellness at Morgan Stanley, and Awa Diaw '11 is Microsoft's project manager for global diversity and inclusion. The event was moderated by Staci Williams Seeley '90.
On Friday afternoon, the six women shared their wisdom and tips for success, including the importance of developing both mentors—people to seek guidance from— and sponsors, or those who will speak highly of you when you are not in the room.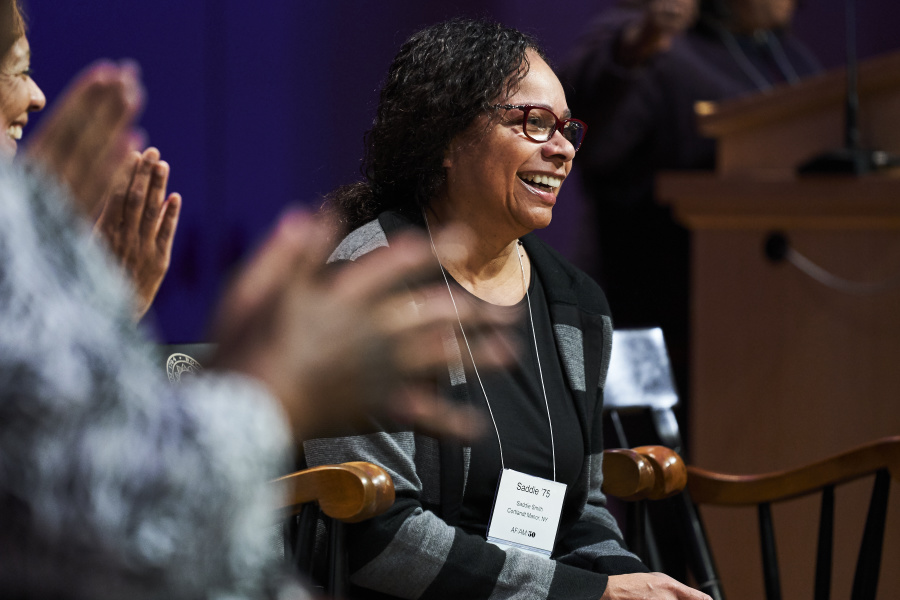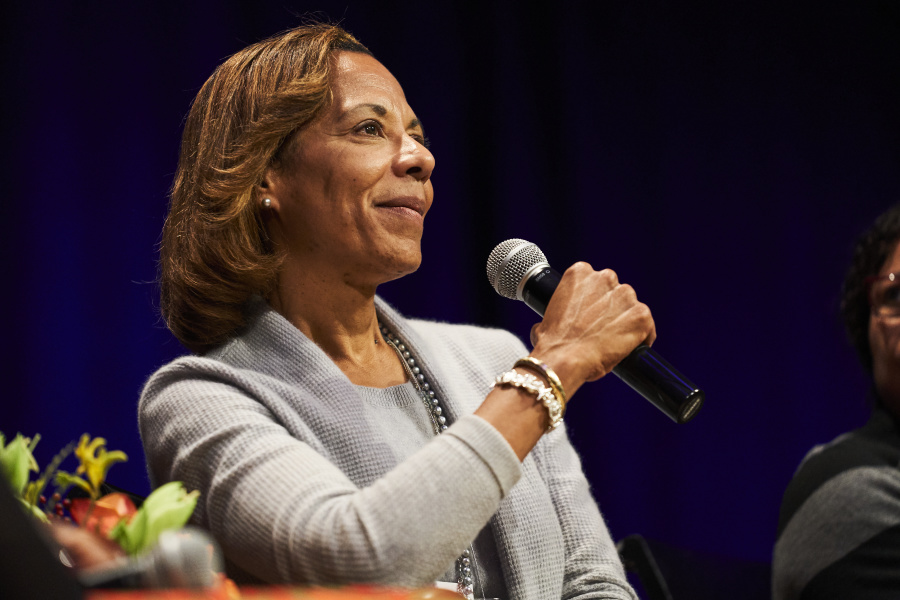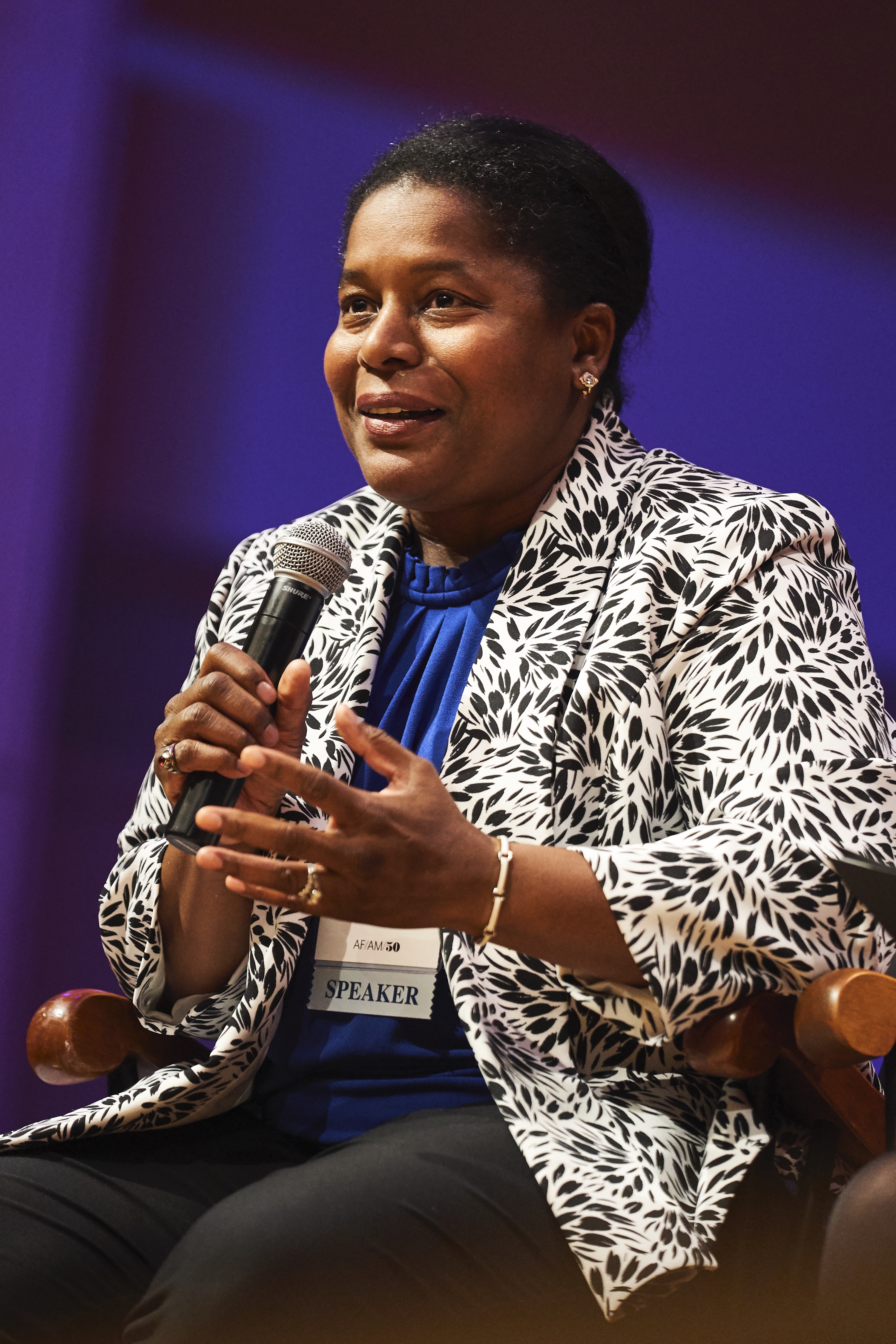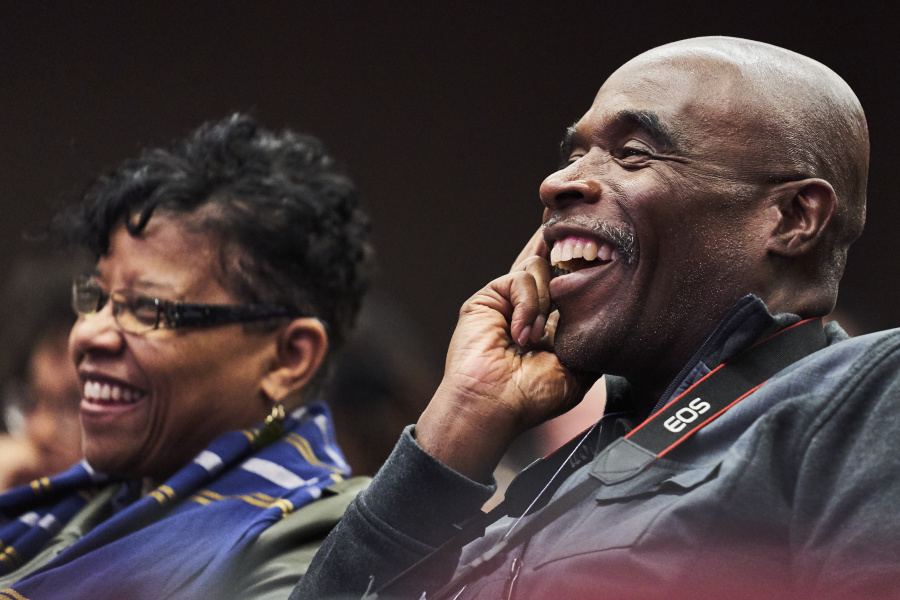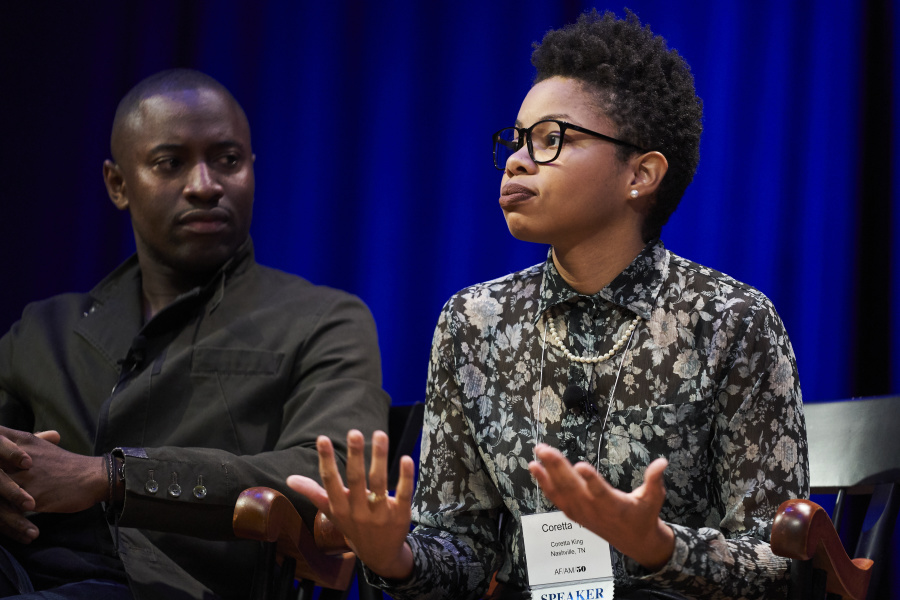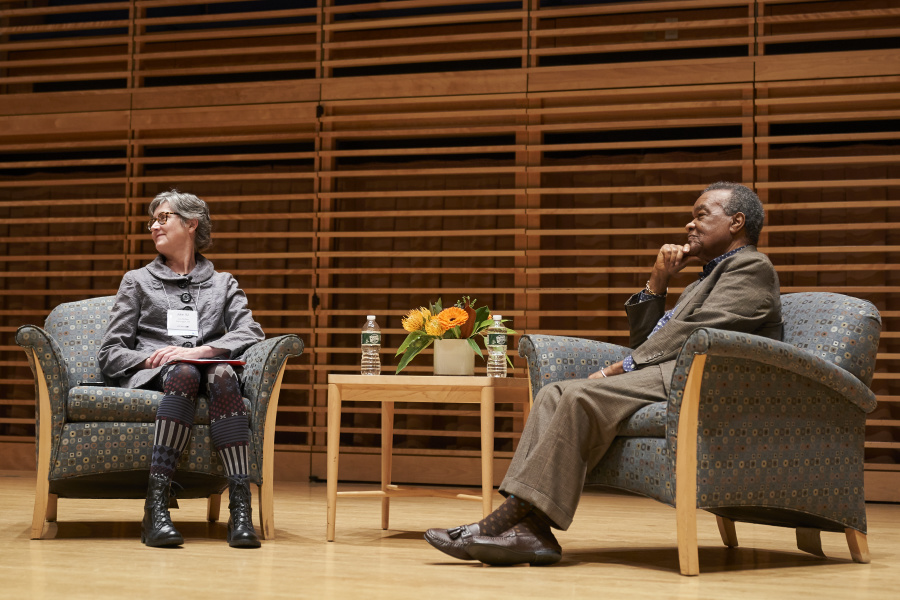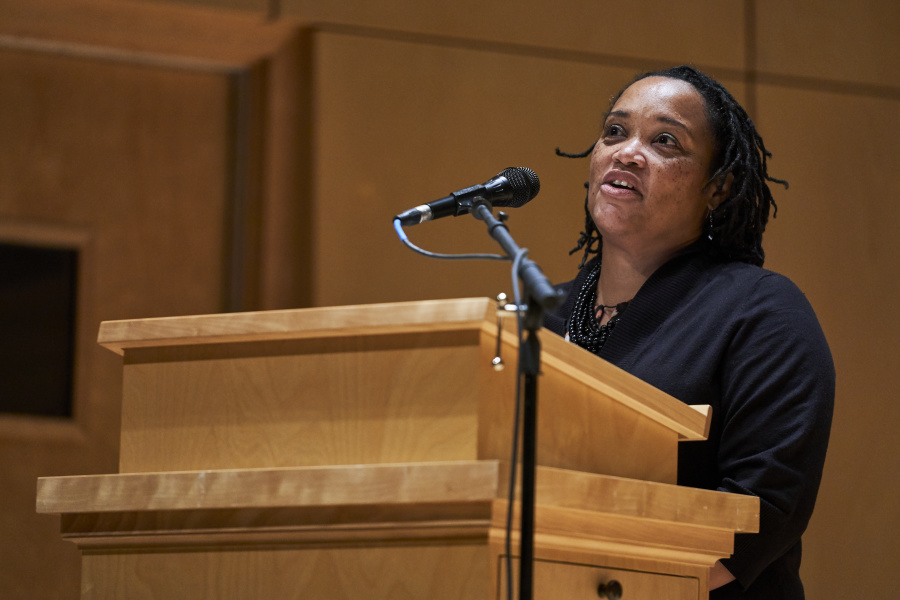 Academic Symposium with Nell Irvin Painter, historian, author, and artist: After retiring from Princeton as a professor of American history and director of the University's African American Studies program, Painter, at age sixty-four, returned to school to study art, eventually earning her BFA and MFA.
She has written about her experiences in an autobiography, Old in Art School: A Memoir of Starting Over. "I used the word old in the title, which is not done," she said. "I'm a crusader for old," she continued, pointing out the ageism rampant in the art world, particularly toward women.
When asked why she went to art school, Painter said it was because she wanted to and she could—a hard statement for women to make, she added. Later, when answering a student's question about the role of healing in art, Painter acknowledged that art can and does heal, but it does not serve that role for her. "I am not wounded," she said. The event was moderated by Bowdoin's director of Africana studies, Tess Chakkalakal, the Peter M. Small Associate Professor of Africana Studies and English.
Dinner with DeRay Mckesson '07: Mckesson is a civil rights activist, educator, community organizer, author, and host of the award-winning podcast Pod Save the People. Through his active role in protests throughout the country, Mckesson has become a leading voice in the Black Lives Matter movement. In his speech, Mckesson talked about some of the things he has learned about resistance, and he credited Bowdoin College as being the place that opened up his mind and taught him "how to dream." 
Mckesson ended his address with the rallying cry "no justice, no peace," used in many street protests. "Some people took 'no justice, no peace' to be a threat," said Mckesson, "but we understood it as a statement of fact: that any call for peace not rooted in a demand for justice was something we didn't want… We wanted a living breathing justice… a justice we can feel and touch and see and hear."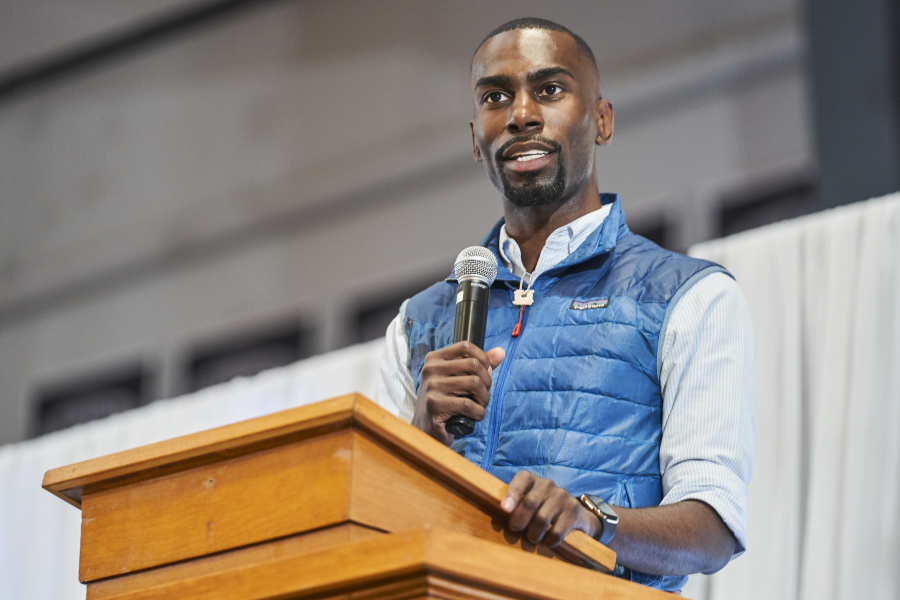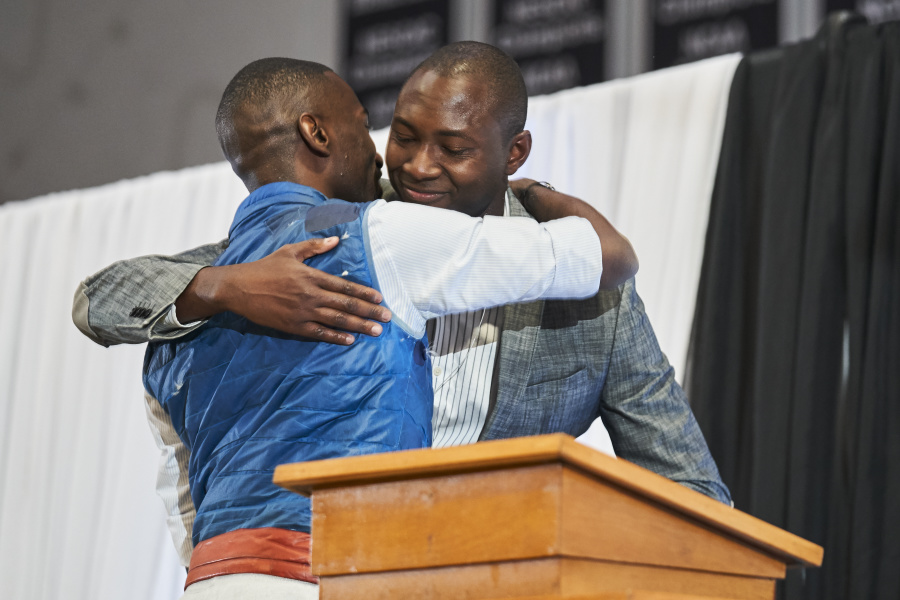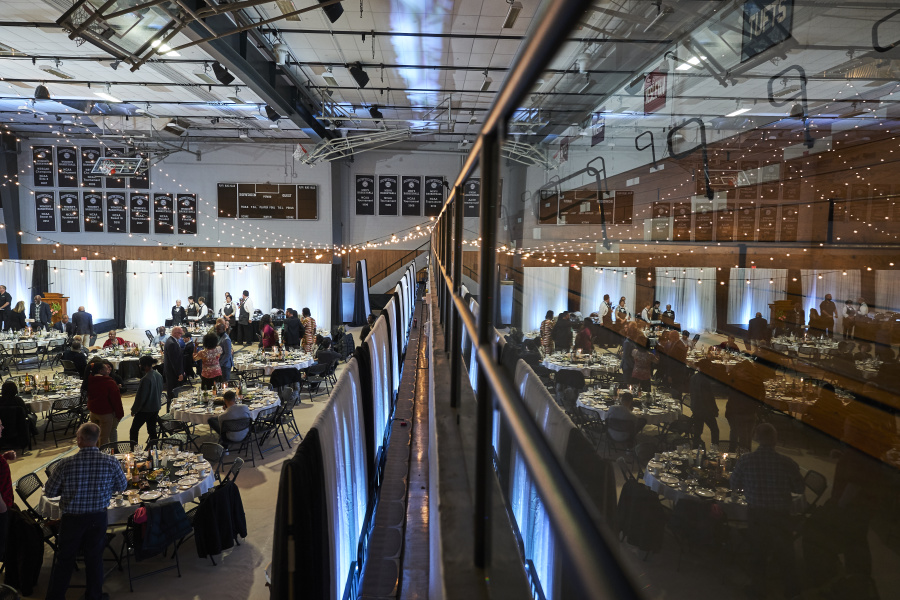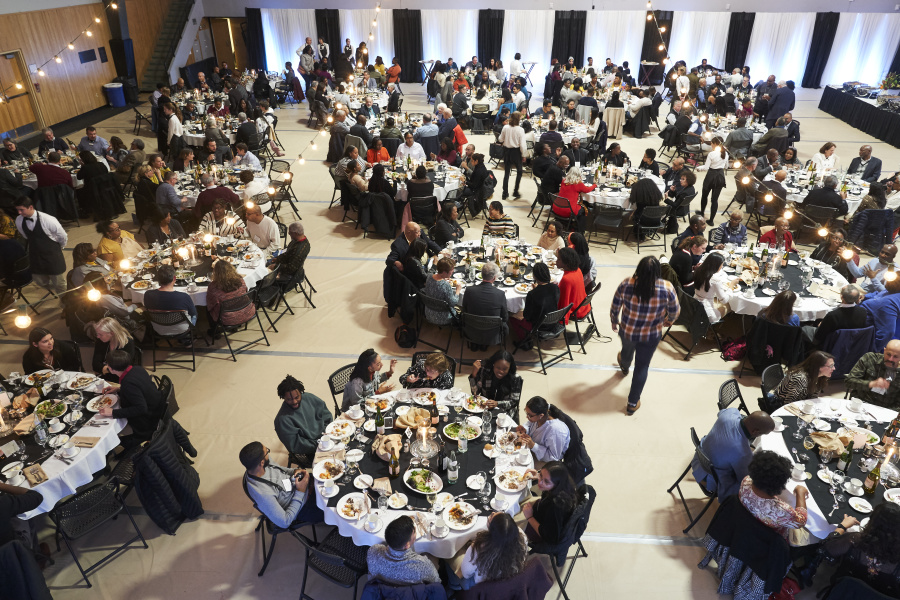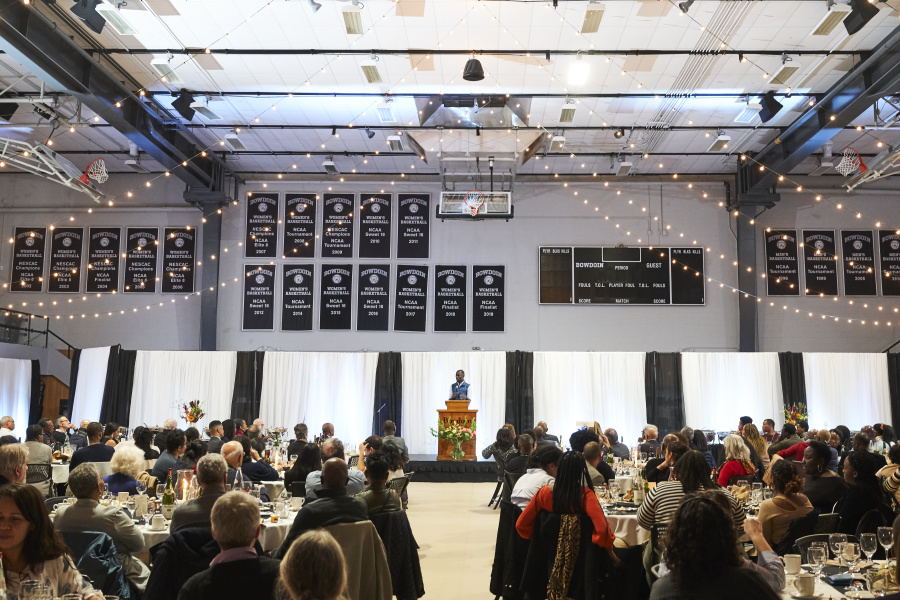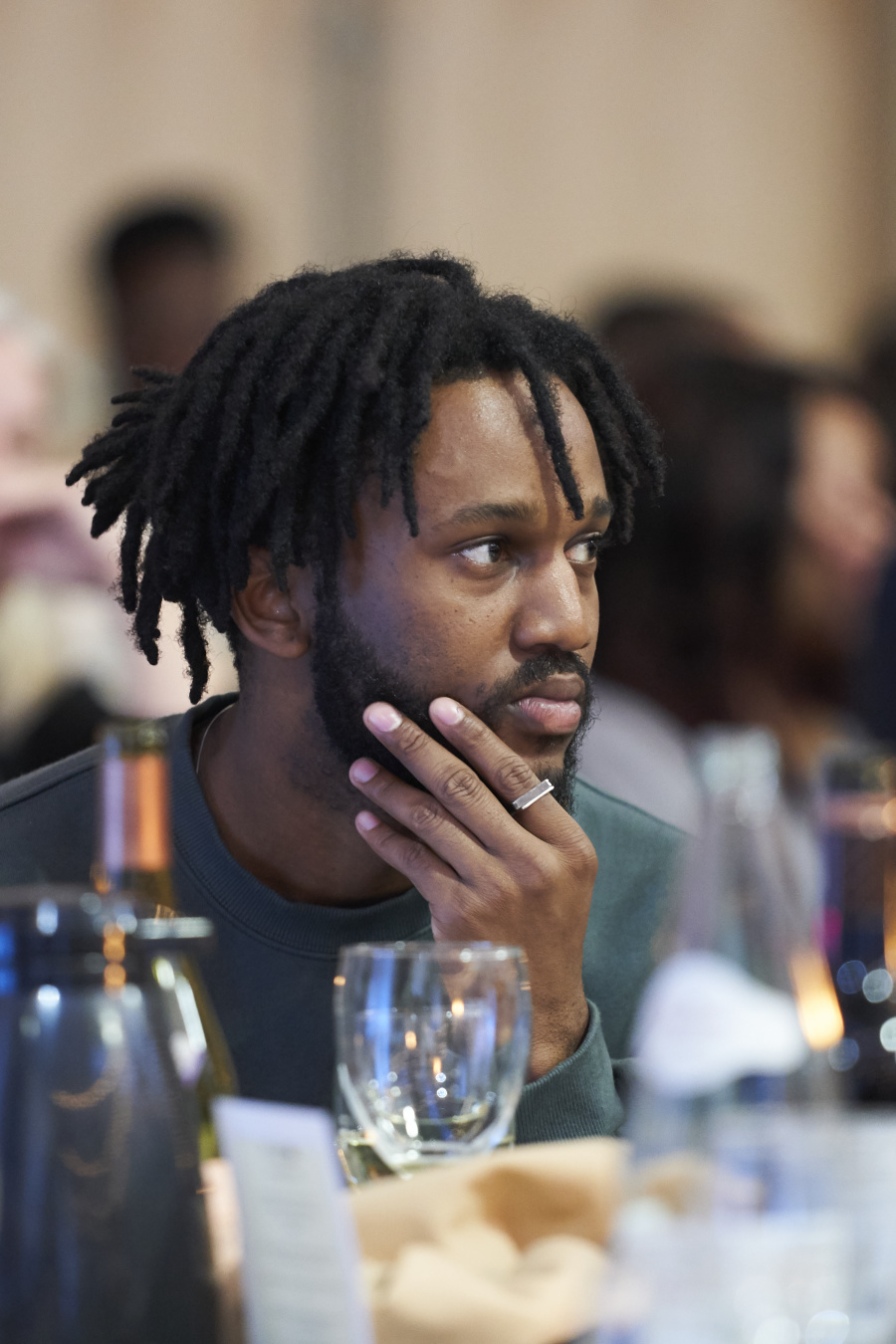 Saturday, November 9
A Fireside Chat: This event, subtitled "Africana Studies and the Visual Arts," brought together two former Bowdoin faculty: artist and scholar David C. Driskell H'89, a world authority on African American art, and art historian-curator Julie McGee '82, who specializes in African diaspora art history and contemporary South African art. She is also the lead curator for Driskell's 2021 retrospective exhibition. Driskell spoke with McGee about his experience as a professor, artist, activist, and scholar during Jim Crow and the civil rights movement.
Before arriving as a visiting professor of art at Bowdoin in 1973, Driskell worked at Fisk and Howard Universities, where he taught and mentored Kwame Ture (formerly known as Stokely Carmichael), Jessye Norman, and Mary Lovelace O'Neal.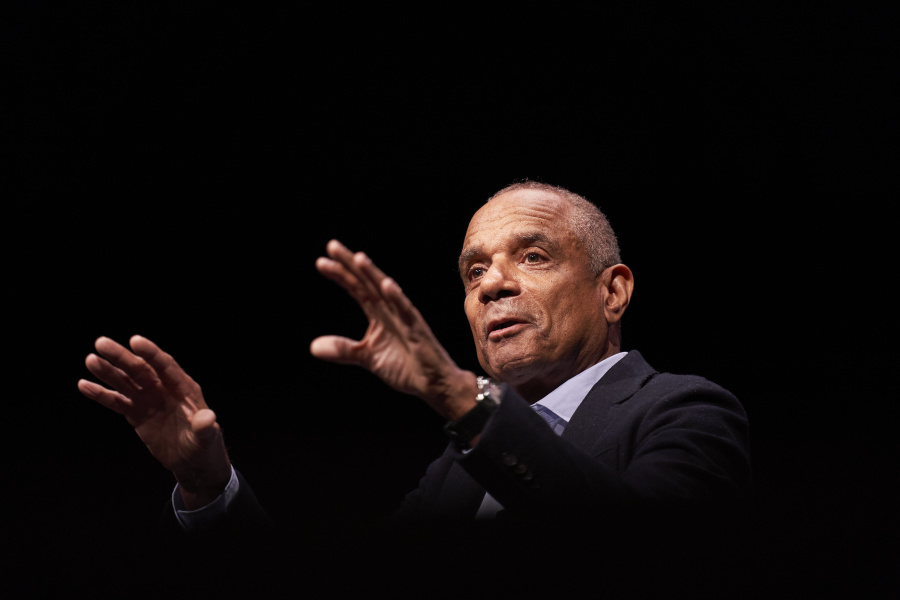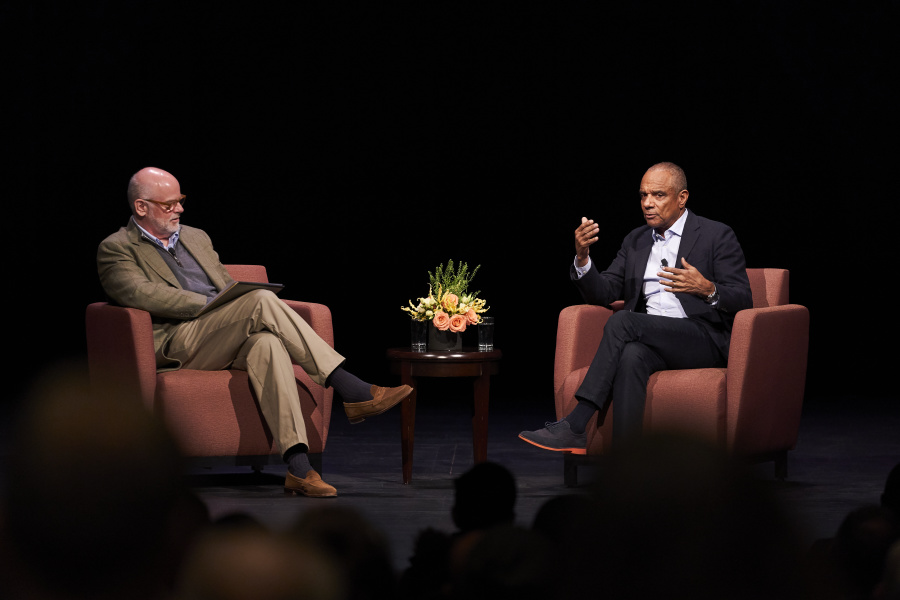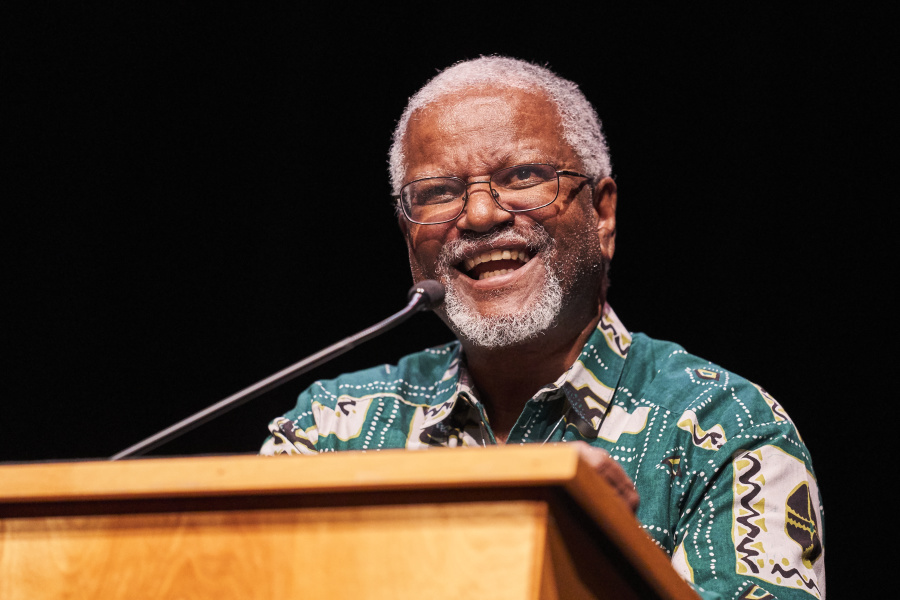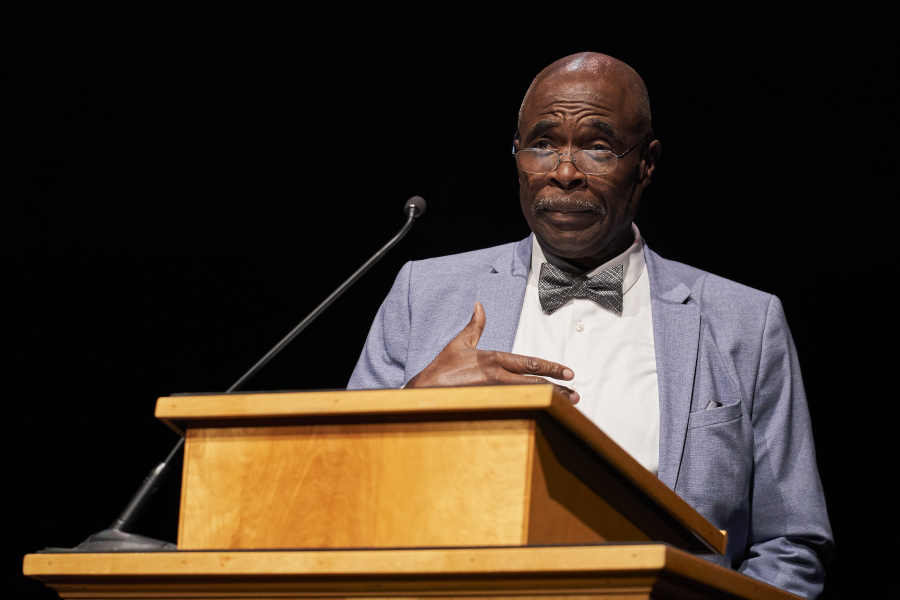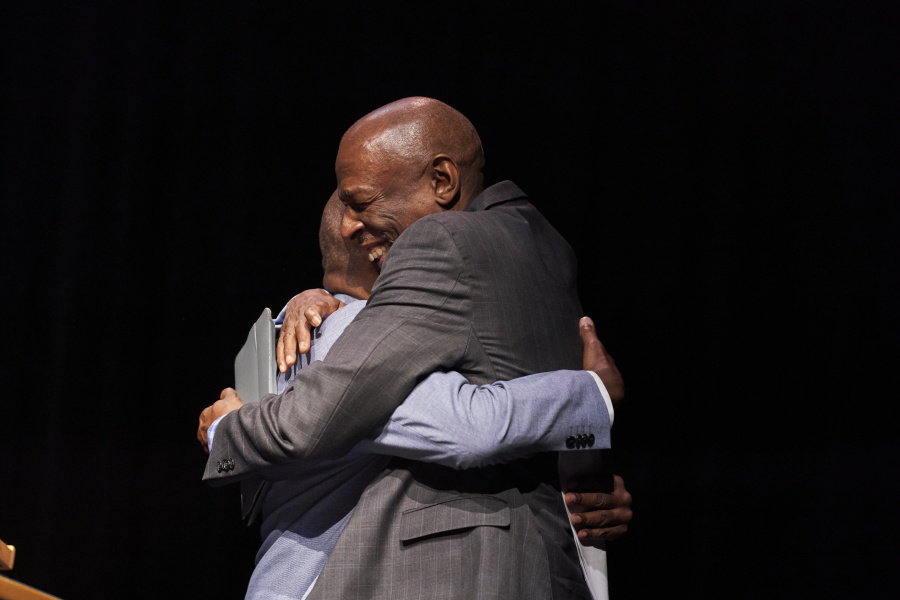 "Black Arts: A Canvas for Social Activism": This intimate conversation between Coretta King '12, singer-songwriter, and George Ellzey '13, actor, writer, and producer, sought to shed light on the goal of furthering social justice ideals in an artistic setting.
Moderator Jessica Speight '21 opened the panel discussion with a memorable quote from the African American singer and civil rights activist Nina Simone: "An artist's duty is to reflect the times." The panelists explored the pursuit of social justice ideals in artistic settings and the general underrepresentation of black artists in creative spaces.
While at Bowdoin, both King and Ellzey experienced awakenings as artists. Both came to Bowdoin with the intention of one day becoming doctors, pushed by a pressure for minority students to pursue careers of relative security and longevity. But their exposure to the arts and Africana studies, as well as support from family, friends, and faculty, encouraged them to explore a different path.
Now, as young black artists, they have a seat at the table, bringing the sum of their experiences and their knowledge of black history with them. In doing so, they reflected, they are participating in a particular form of activism.
A Conversation with Kenneth Chenault '73, H'96: President Clayton Rose sat down with the former CEO of American Express, now chairman and managing director at venture capital firm General Catalyst and board member at Airbnb, Facebook, and more. They were introduced by Randy Stakeman, associate professor of history and Africana studies emeritus.
Rose began the discussion by asking Chenault about his Bowdoin honors thesis, titled "The Black Man at Bowdoin." Chenault said he embarked on the thesis in an effort to understand the truth. He talked about the stuttering progress toward integration made at Bowdoin College. After John Brown Russwurm graduated in 1826, he pointed out the College's next black graduate wasn't until 1910. "From 1910 to 1950, they had seventeen or eighteen African American graduates," Chenault continued. "Half of them were Phi Beta Kappa, and half of them could not live on the campus." Chenault said this made him angry but also gave him tremendous motivation.
"Bowdoin was a defining experience for me, it changed my life, and I'm very grateful," he said, "but it was important for me for Bowdoin to deal with its history… The battle continues," he concluded, "and it's important that all of us to take responsibility for making a change."
Keynote Address by Geoffrey Canada '74, H '07: The visionary educator and passionate advocate for children, community redevelopment, and education reform delivered a talk titled "From the Afro Am to Russwurm: Fifty Years Later and Still as Important as Ever."
In a lively and often humorous speech, Canada talked about how he came to Bowdoin unprepared, but with the assistance of members of the African American community, he flourished. "I learned some things that last to this day," he said. He also made some very important contacts, he explained.
Canada went on to create the Harlem Children's Zone, a nonprofit that provides community support and educational assistance in a 100-block area of Central Harlem serving more than 13,000 students and their families. While developing the organization, Canada encountered a number of Bowdoin alumni who went on to be crucial partners and advocates for the project, including George Khaldun '73, Alvin Hall '74, and financier Stan Druckenmiller '75. "This Bowdoin thing is no joke," said Canada. "I thought the answer to what was happening in our communities was right here on this campus, and I had to find it, and I took every class that even had an inkling it might get me there."  
Canada received Bowdoin's first Common Good Award and in 2015 was awarded the College's highest honor—the Bowdoin Prize—which was conferred jointly to Stan Druckenmiller. He was introduced by Maurice Butler '74.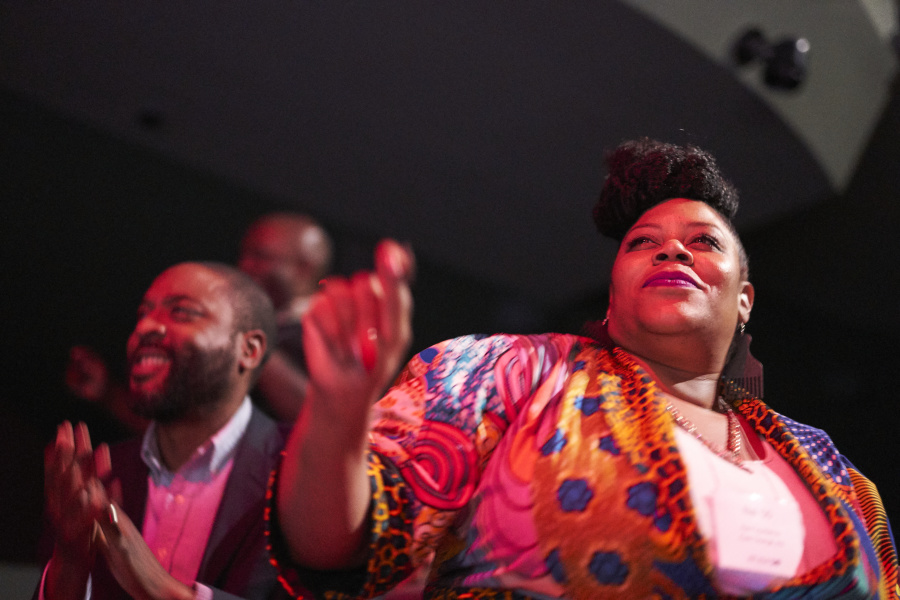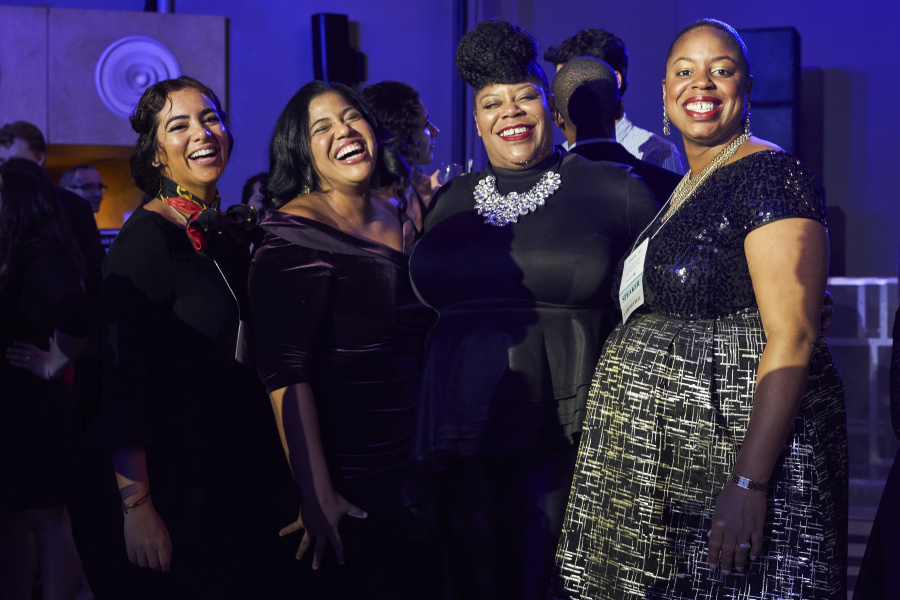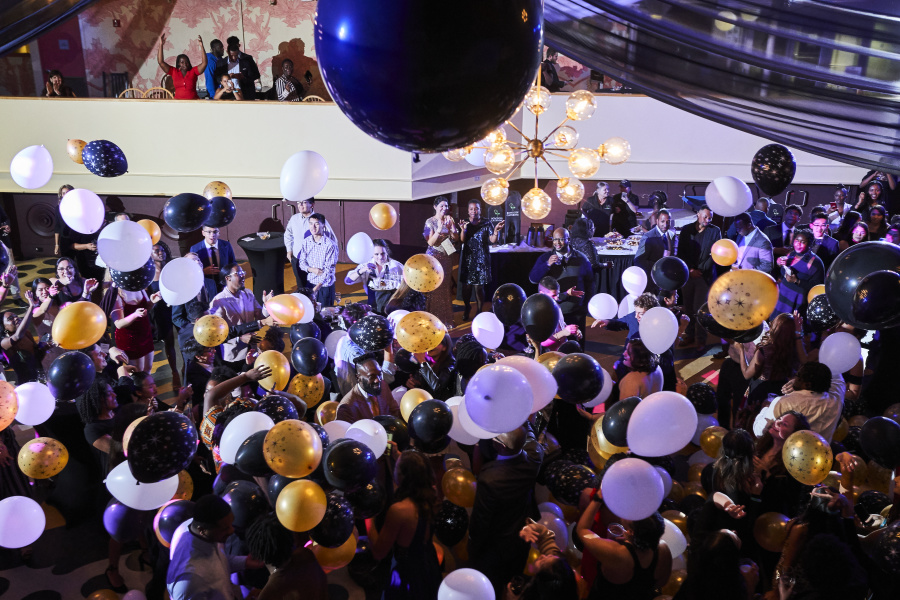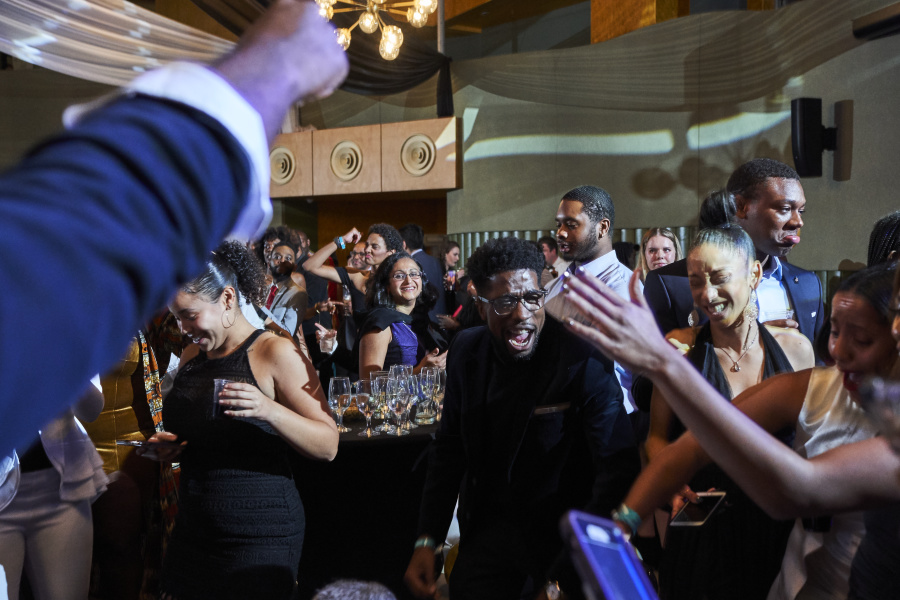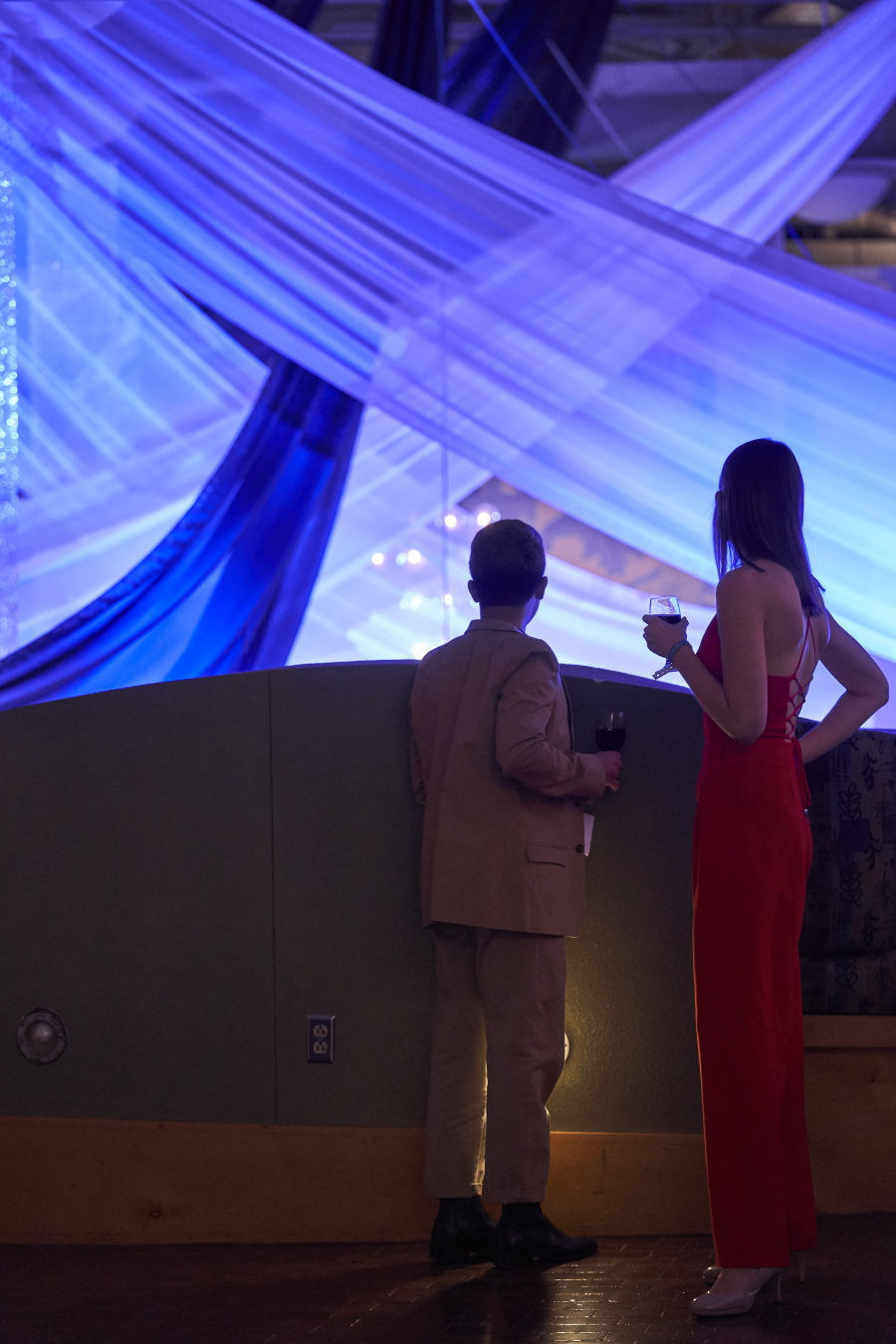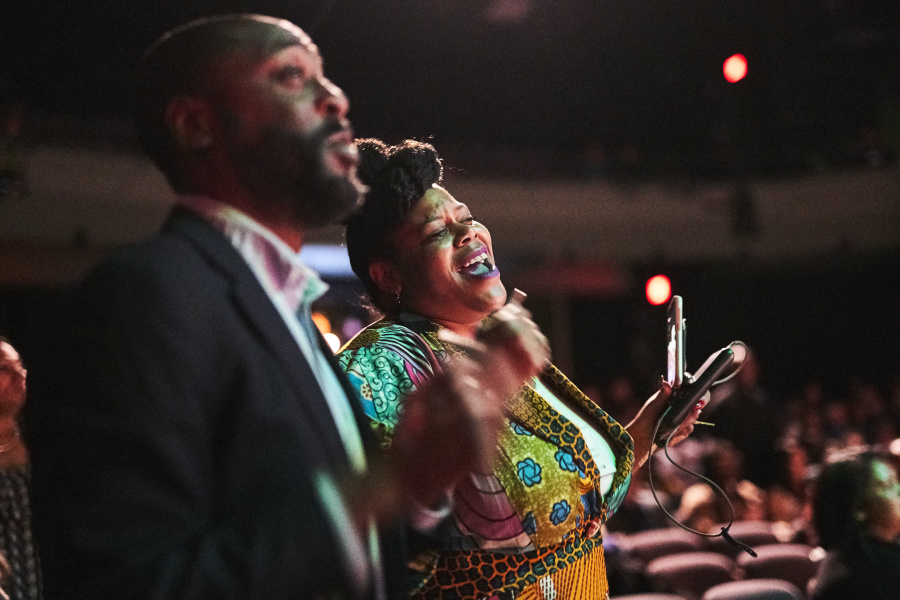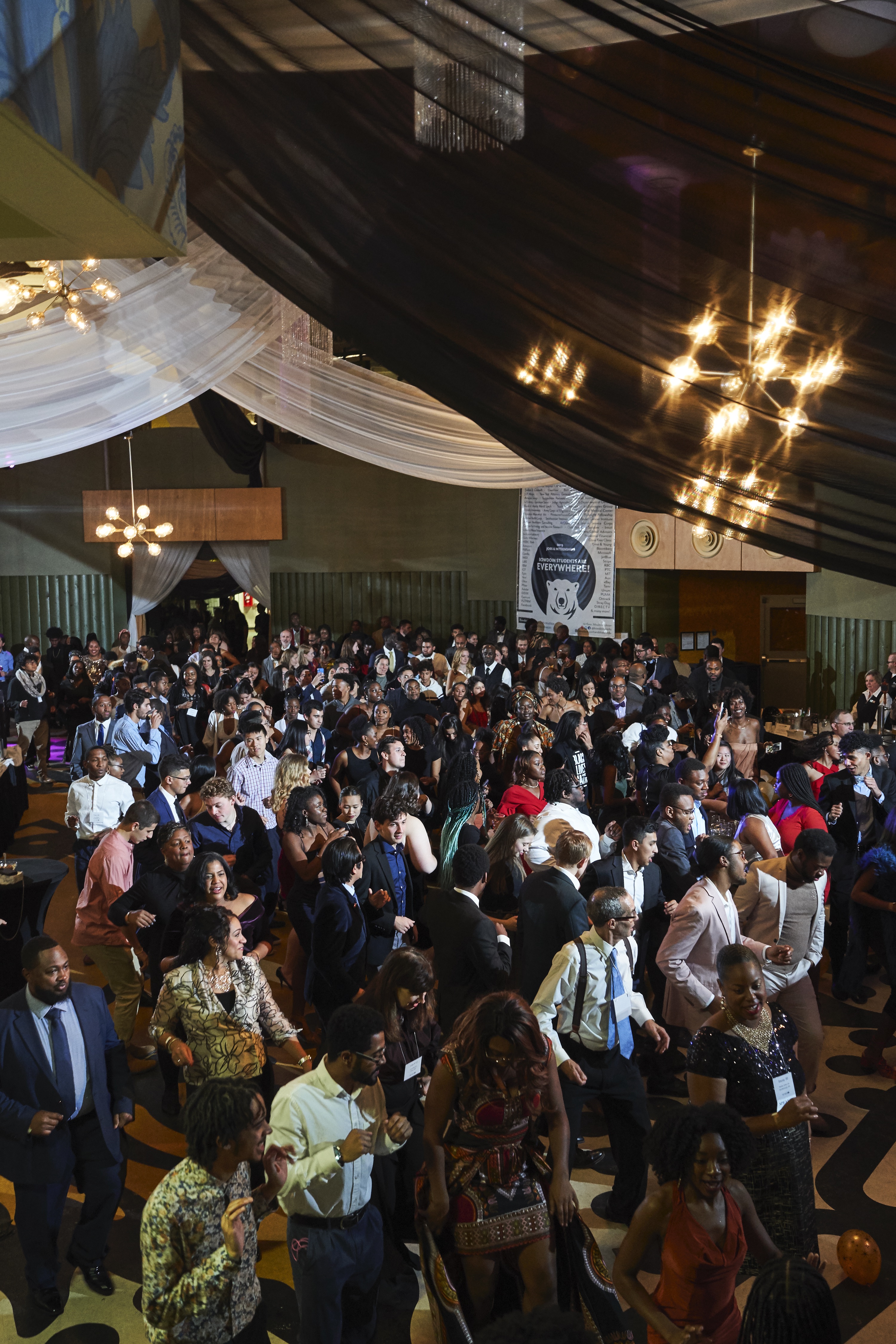 Exhibitions
Several gallery tours and talks were held over the weekend in honor of AFAM50. The Bowdoin College Museum of Art gave special exhibition tours, hosted by directors Frank and Anne Goodyear.
They talked about African/American: Two Centuries of Portraits, which features outstanding portraits of and by leading African American artists from before slavery's abolition in the United States until today. The exhibition, which opened November 7, runs until February 9 and was curated by Lauryn Dove '21.
Also opening for AFAM50 was The Art of David C. Driskell H'89 and the Art That Inspires Him. This special three-day exhibition, only on view for the duration of the weekend, featured a combination of works from Driskell's collection and a selection of works from the Museum in response. Driskell himself made a surprise appearance at the Saturday morning tour. He started collecting art, he said, when he was a student at Howard in the 1950s, "and I didn't call it collecting because I didn't have any money," he explained. His first piece, he said, was a Kandinsky print given to him as a wedding gift by a professor in 1952.
"Bowdoin has played a very special role in my own life and education in many ways," said Driskell, recalling how he organized the College's first course in African American art when he arrived on campus in the early 1970s. Among his students, he said, were such future luminaries as Geoffrey Canada, Alvin Hall, and Ken Chenault.
Special Collections Education and Outreach Librarian Marieke Van Der Steenhoven and curator Lucia Ryan '19 held a conversation about the Library's fall 2019 exhibit, Tension/Tenacity: Africana Studies at 50, which is on display at the Second Floor Gallery for the remainder of the semester. Culled from the College archives, Tension/Tenacity considers the program's strengths and struggles while highlighting the people who have championed their existence.
Curator Genny LeMoine led a tour of the Peary-MacMillan Arctic Museum exhibition Matthew Alexander Henson, First African American at the North Pole, on display in the Hubbard Hall foyer for the rest of the year. Henson spent years exploring the Arctic with Robert E. Peary, Class of 1877, and in April 1909 he was the only other American to stand with Peary at the North Pole.
On the expedition's return to the United States, explained LeMoine, Henson was excluded from the many honors showered on Peary and the other white members of the expedition. It was only near the end of his life that Henson received the recognition he was due for his remarkable career as an Arctic explorer.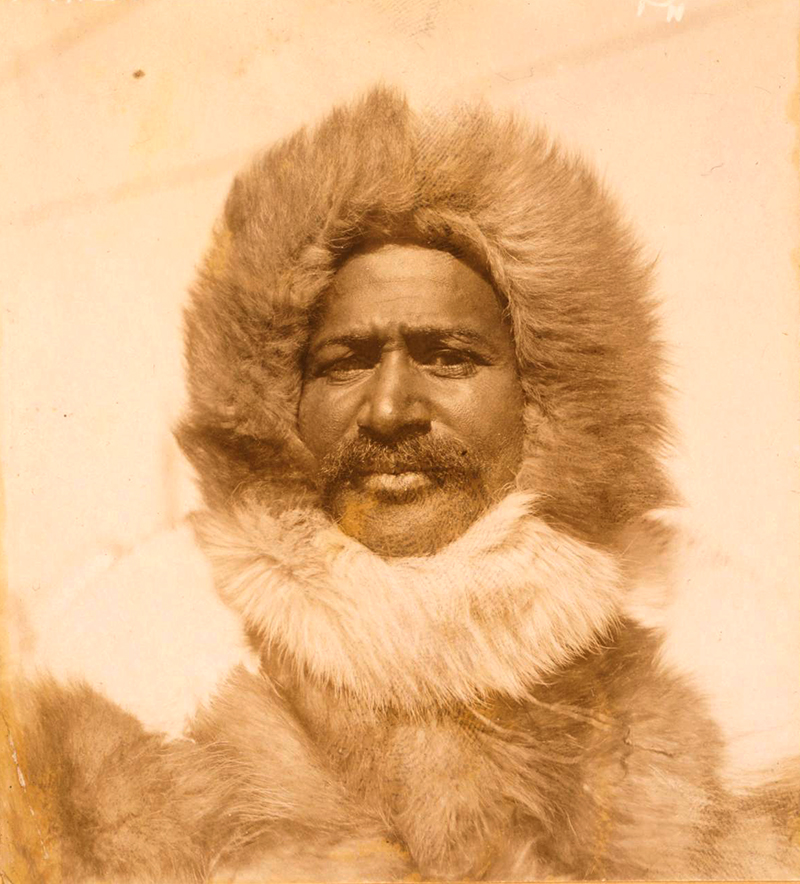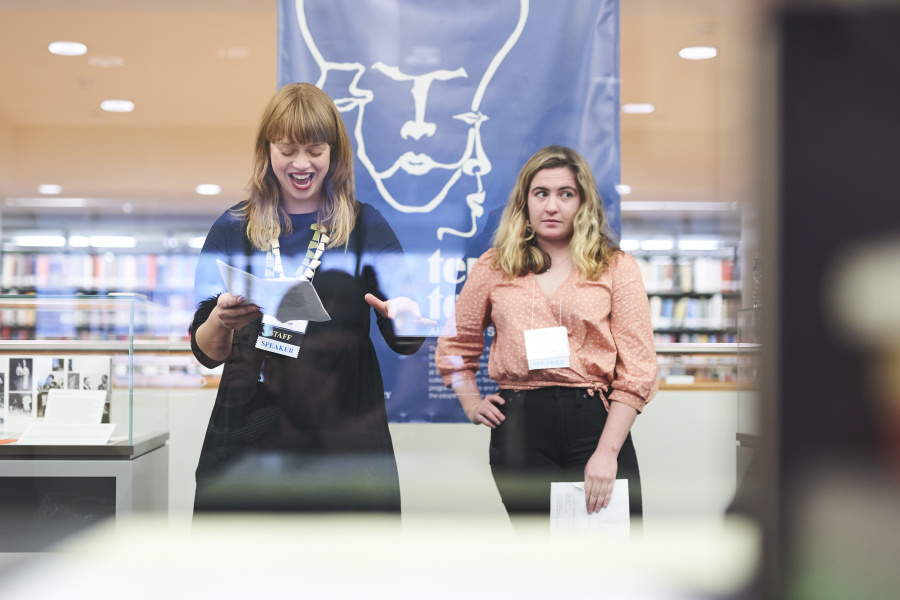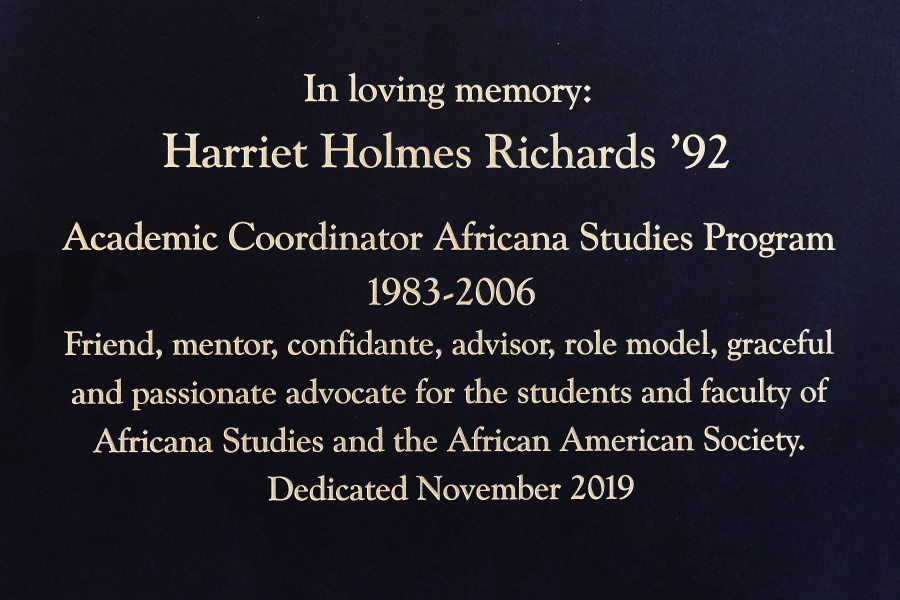 Sunday November 10
The weekend's celebrations wrapped up with a farewell breakfast at Moulton Union Dining Hall, and an ecumenical memorial service at the College Chapel, led by Eduardo Pazos Palma, director of the Rachel Lord Center for Religious and Spiritual Life.
Photography by Lone Spruce Creative (unless otherwise stated).