Published October 14, 2019 by Tom Porter
To Teach or Not to Teach? Nadia Celis on #MeToo and Junot Díaz
Nadia Celis has "still not made up her mind" about whether to assign a book to her students by Junot Díaz, the Dominican American author accused of sexual harassment last year.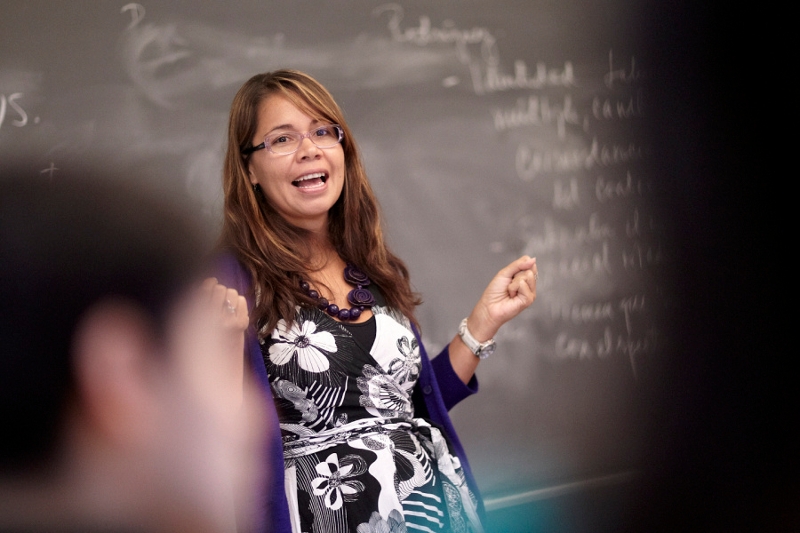 The associate professor of Romance languages and literatures was quoted by Emma Goldberg of The New York Times. The article discusses how educators, in the wake of the #MeToo movement, "continue to grapple with how to deal with writers and artists accused of abuse."
Celis, who is director of Bowdoin's Latin American Studies Program, was preparing to discuss Díaz's award-winning novel The Brief Wondrous Life of Oscar Wao with her students last year when allegations of misconduct against the author surfaced. "My compassion and pride go to the women who suffered the verbal and physical abuses of Junot Díaz and who have finally made their voices heard," wrote Celis in a Bowdoin Orient opinion piece at the time. "However, I am sorry also for the great novel that will be tainted by its author's behavior," she continued.
"Suddenly," writes Goldberg, the novel's themes of "toxic masculinity and abuse of power… had come to life." Diaz, who had previously visited Bowdoin to talk with students, did admit to some inappropriate behavior in his past but was cleared of any wrongdoing in a subsequent investigation. Nevertheless, says Goldberg, "the accusations prompted intense debate in the literary world." Celis tells the newspaper she felt "torn" about using Díaz's most famous book in the classroom and still feels that way today.