Published October 25, 2019 by Rebecca Goldfine
Swimmer Mary Laurita '21 and Teammates Bring Watery Fun to Special-Needs Kids
Almost every Friday since she first arrived at Bowdoin, junior Mary Laurita has jumped into Leroy Greason Pool to make a kid's day.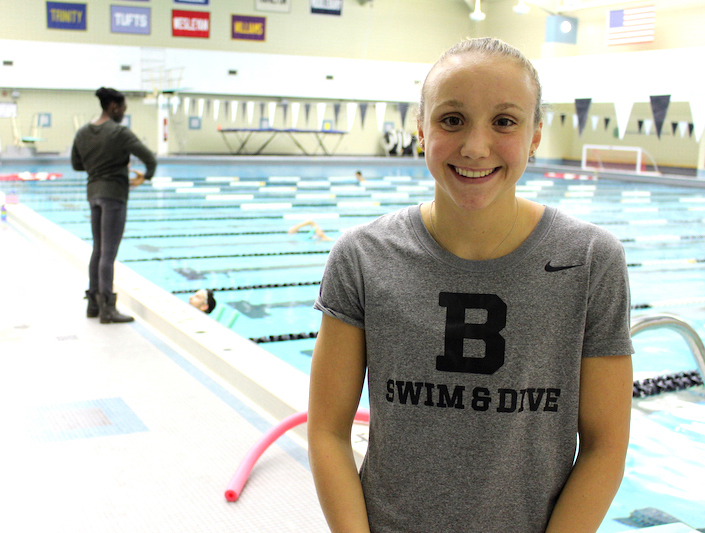 Working with special-needs kids was a factor for Laurita when she was choosing where to attend college. Through middle and high school in her hometown in New Jersey, she had volunteered with a recreational program for children with autism that offered time in both the pool and the gym.
Before starting at Bowdoin, Laurita inquired about similar opportunities here. She heard about a program called Friday Fun Swim, which "was technically in existence but not well-attended," she said. Nonetheless, she committed to it and to the single young boy who came regularly. 
Swimming and Diving Head Coach Brad Burnham is not surprised that Laurita remained so dedicated to the program. "Mary just gives and gives," he said. "She thinks of simple but great ways to make lives a little better and follows through with her attention and enthusiasm. She is amazing to be around."
And this fall, Friday Fun Swim has grown in popularity. Three children are now coming consistently, and "we've received a flurry of emails from parents," Laurita said. Many of them have children who already participate in Bowdoin's Bear Buddies program.
Every child at Friday Fun Swim is paired with a student on the men's or women's swim teams—which together have about fifty members. Laurita says most of her teammates are willing to help if called upon. She just requests that parents let her and Coach Burnham know by Friday morning whether their child will be attending.
The sessions, which are free, run from 3:45 p.m. to 4:15 p.m. every Friday when Bowdoin is in session. "We do whatever the kids want" and feel up to, she said. "Some of the kids who are higher functioning play catch with us, or they actually swim, or we put them on a noodle and take them around the pool. We splash, we kick our feet." 
While most of the participants are in elementary or middle school, Laurita said all ages are also welcome. And though the children are all very different, all of them love being in the water. They "get exercise and freedom in a context where they're going to be safe," Laurita said.
An education and neuroscience major, Laurita is interested in pursuing a career in occupational therapy and working with children. But, she adds, having fun in a pool with special-needs kids fortunately doesn't require graduate school training—"if you care about it."