Published October 28, 2019 by Rebecca Goldfine
Celebrating Academic Achievement on Sarah and James Bowdoin Day
Bowdoin celebrated the scholarly heights achieved by students during the College's annual Sarah and James Bowdoin Day Ceremony Friday, October 25, 2019. 
At the Sarah and James Bowdoin Day exercises, held each year in Memorial Hall's Pickard Theater during Family Weekend, members of the College community gather to recognize and give scholarship gifts to Bowdoin's highest-ranking students—those with grade point averages in the top 20 percent of their class as determined by the previous year's record.
Each scholar who earned a grade point average (GPA) of 4.0—the highest score awarded—also receives a Book Award, which bears a replica of the early College bookplate found on books in Hawthorne-Longfellow Library's James Bowdoin Collection. In this year's ceremony, thirty-two Sarah and James Bowdoin scholars received the award.
Additionally, this year the College honored twelve Phi Beta Kappa students from the Class of 2019 and presented four—Grace Cawdrey, Victoria Clarke, Alanna Haslam, and Pauline Unietis—with the Almon Goodwin Prize. The Goodwin prize is given to exemplary members of the academic society.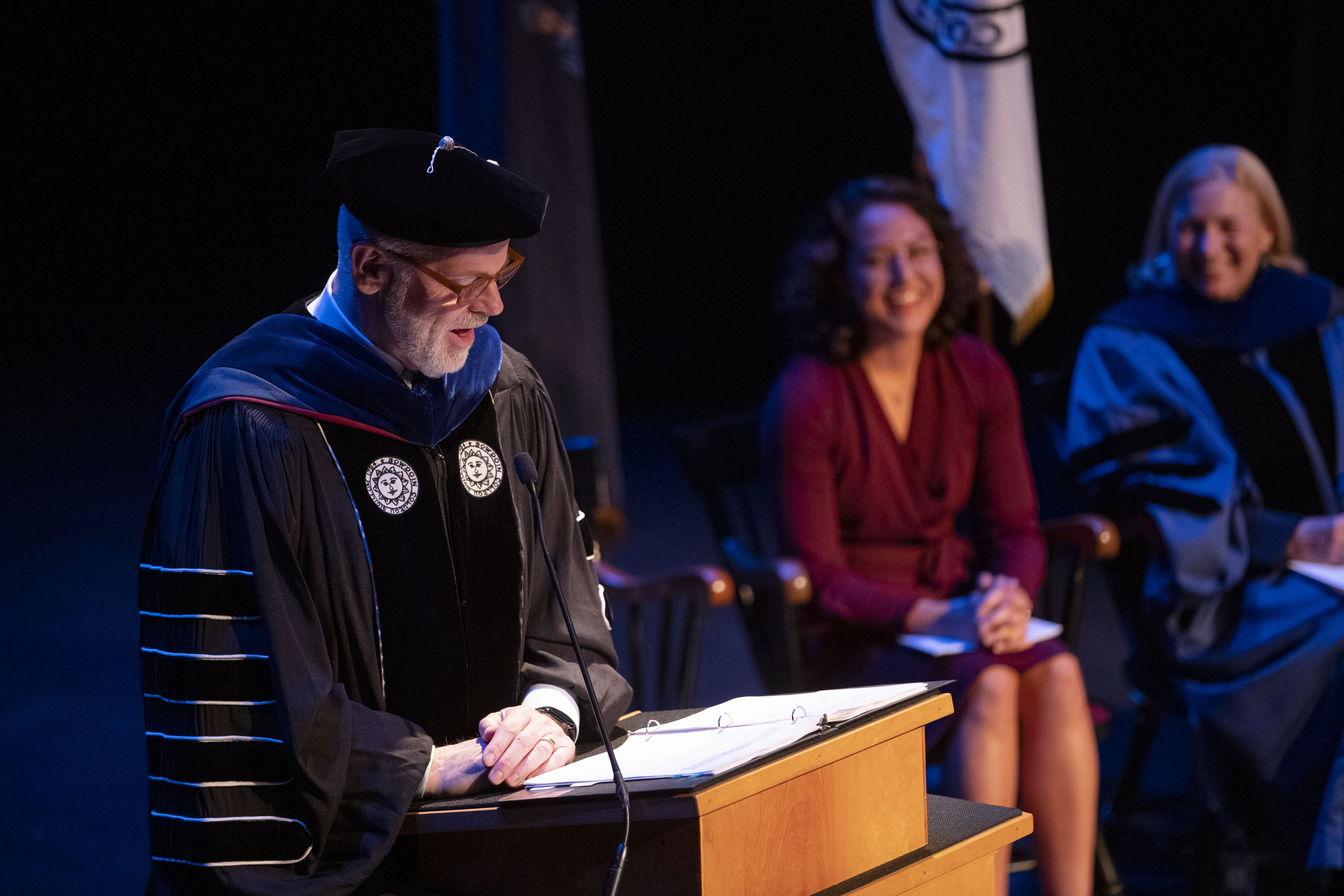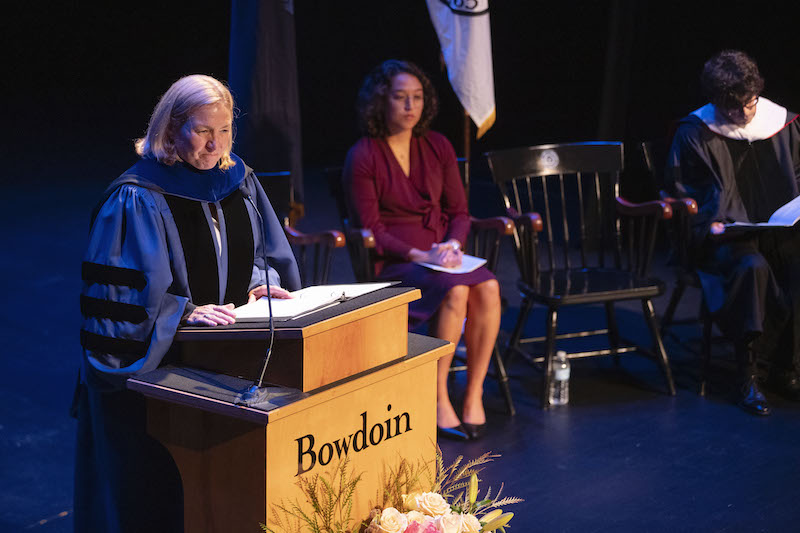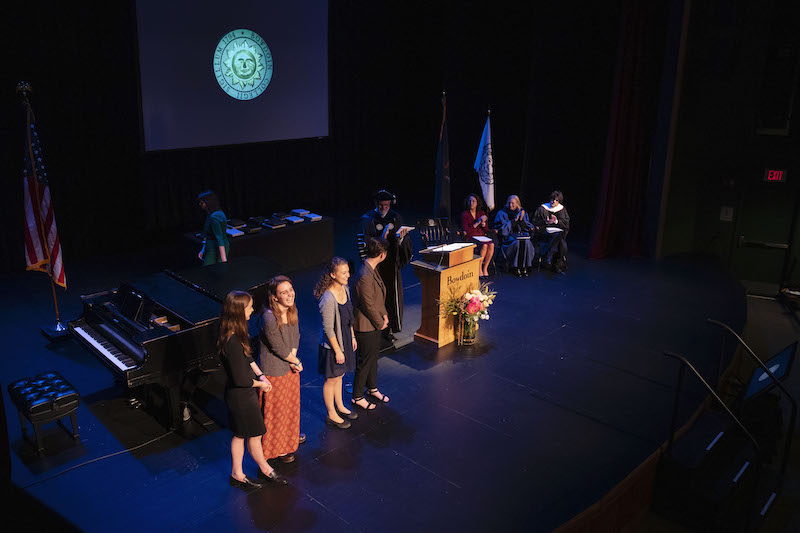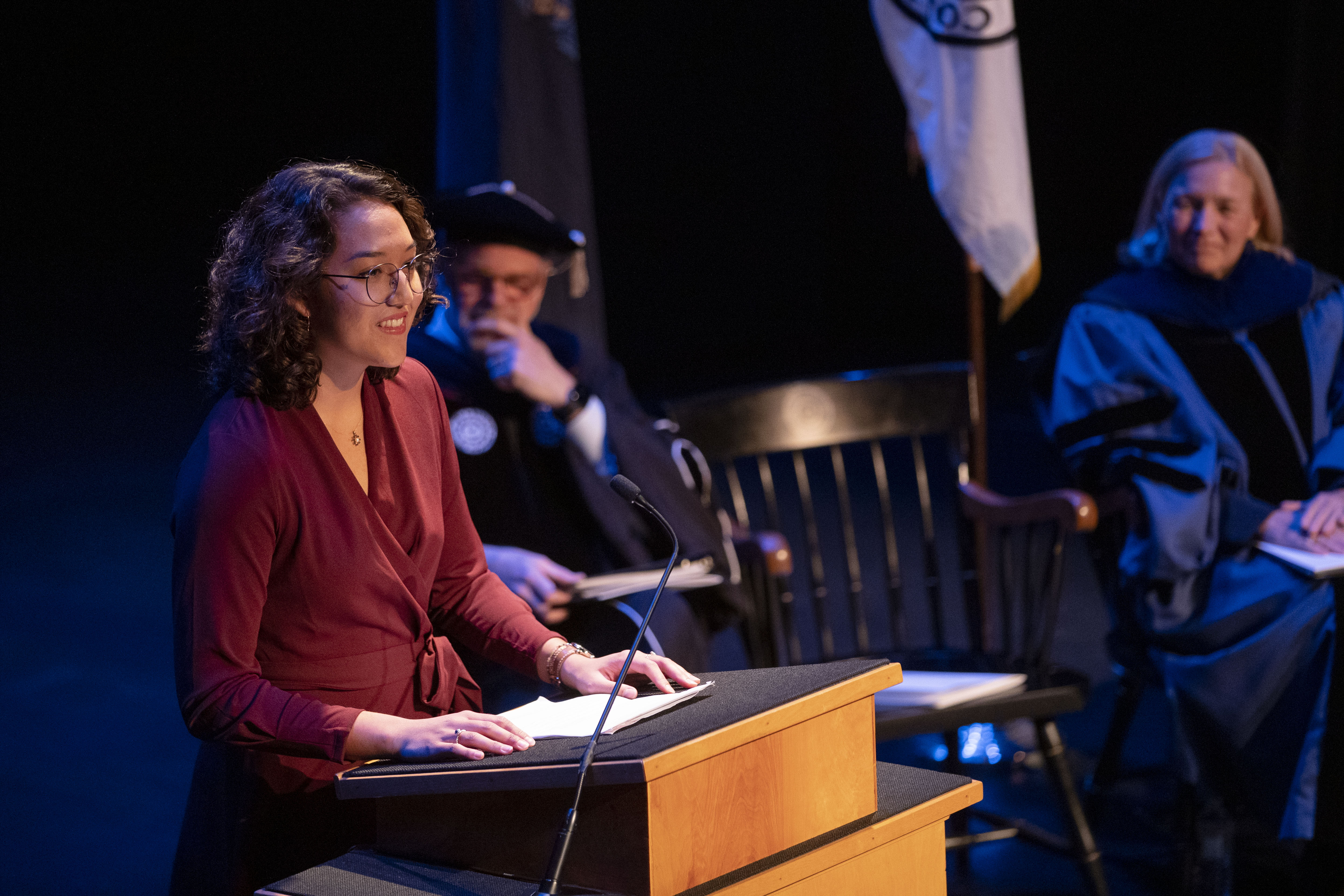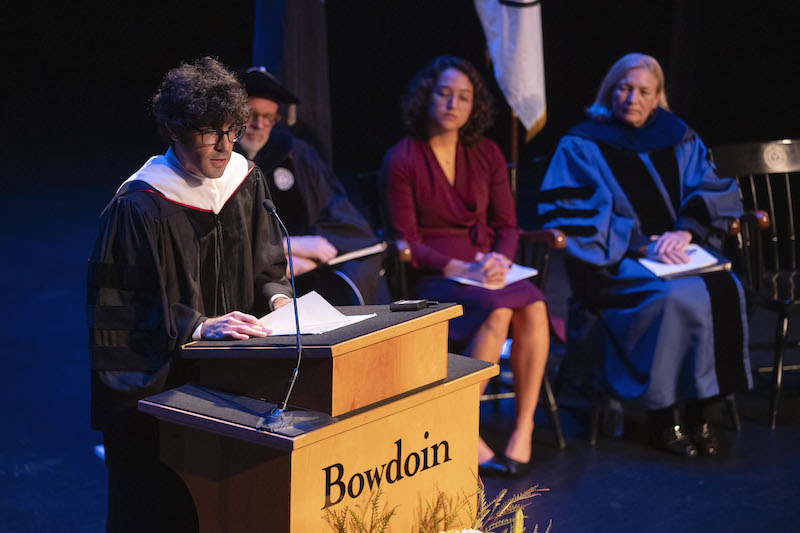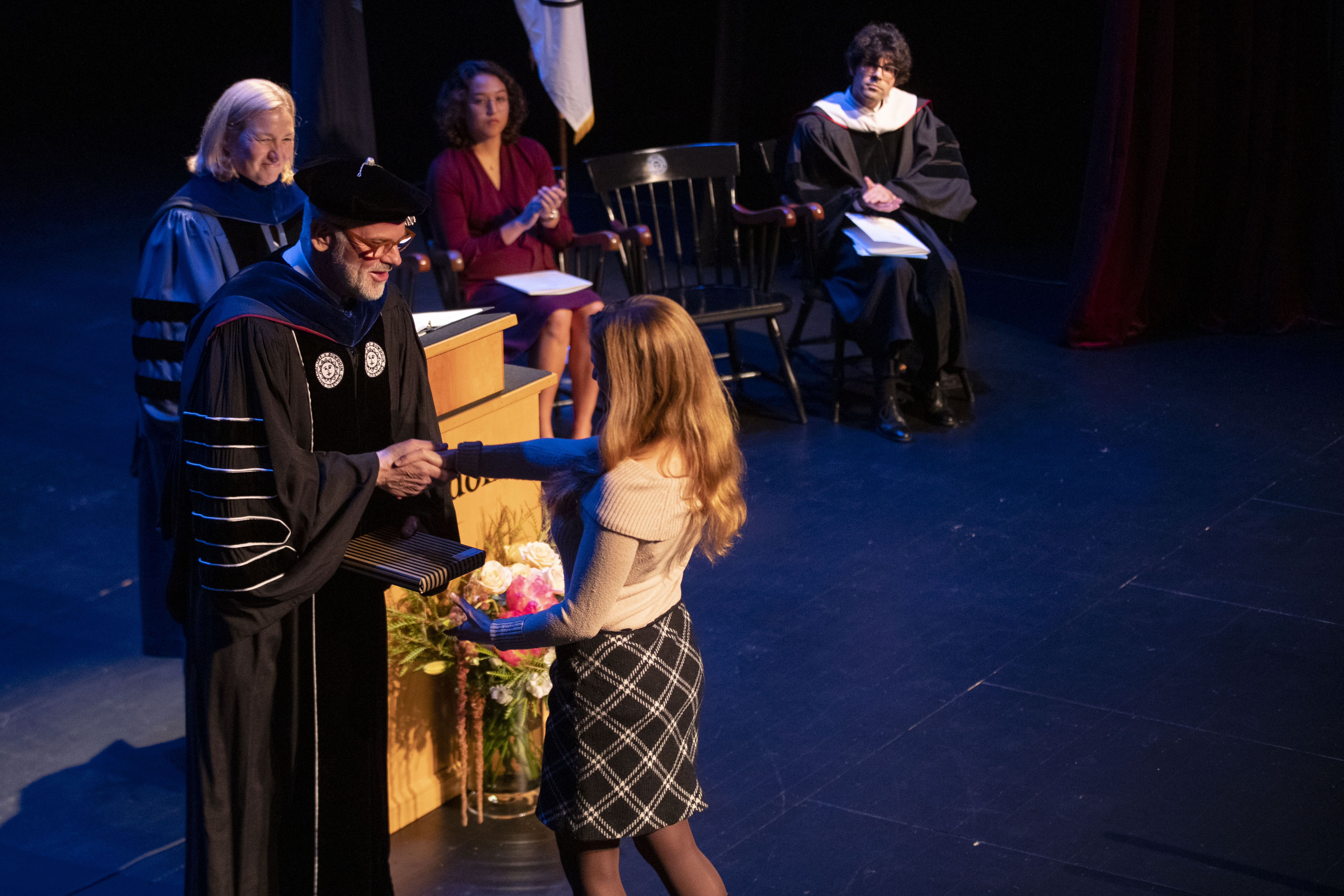 President Clayton Rose began his opening remarks by saying the ceremony ranks among the College's greatest moments.
"At Bowdoin, we place a premium on intellectual excellence, and we value hard work and achievement," he said. "The accolades we offer today are not earned easily. Ours is a rigorous academic program with standards that are challenging and with expectations set by faculty that are difficult to meet. The outstanding level of accomplishment demonstrated by these students requires intense focus, a deep pride in one's work, and a passion for learning."
The annual fall ceremony includes two addresses, one by a highly recognized practitioner in a liberal arts discipline—from Bowdoin or elsewhere—and one delivered by an outstanding Bowdoin student. This year's speaker was Assistant Professor of History Salar Mohandesi. Caitlin Loi '19 gave the student address.
Mohandesi is a historian of modern Europe. His research focuses on the transnational history of ideas, social movements, and political cultures in the wider context of war, revolution, and imperialism. 
In "History After the End of History," Mohandesi framed the challenges and opportunities facing current students by recounting events of the past. He spoke about the state of the world after the fall of the Berlin Wall thirty years ago—a watershed moment for European history and a symbolic end to the Cold War. "The collapse of [Germany's community party] was proof that the Soviets had lost, and capitalism had won," he said.
The dissolution of the USSR followed soon after the wall came down. "Gorbachev's resignation marked not just the end of the Soviet Union, but of the socialist project itself," he added. 
Indeed, the events spurred political scientist Francis Fukyakama to argue "that the incredible events of the last few years signaled not just the end of an era, but the end of history itself." Fukyakama, Mohandesi continued, "predicted that more and more countries across the world would gradually come to embrace Western-style representative democracy, civil liberties, and free market capitalism."
But things didn't quite work out that way. "The present is defined by an all-out struggle between competing visions of the future. Once again, Europe is home to a cacophony of ideologies"—nationalism, separatism, socialism, anarchism, and fascism, Mohandesi argued.
Yet, though this moment appears to be one of crisis, it is also one of possibility. "A crisis is a period of reordering, a moment when the old ways have hit their limits, and the field is blown wide open for new paths," he said.
Where we go from here is uncertain. But the historian stressed that a great deal depends on young people. "Bowdoin students...you are living through truly remarkable and unprecedented times. What you do today, and in the coming years, will have an enormous impact on what happens," he said.
When Loi began her address "Driven by Heart," she asked the students in the audience a question: what did you want to be when you were seven? She followed with: are those dreams still alive? "I hope you still indulge in those innocent curiosities," she said.
Loi is an economics and education major, and a math minor. She encouraged her peers, as they travel their chosen paths and become specialized in their professions, to continue to nurture outside interests and to push beyond their intellectual comfort zones—habits they have, hopefully, strengthened at Bowdoin.
"The gift of a liberal arts education is to serve as a launching pad to becoming a lifelong learner," Loi said. "The beauty of the world is that it is so vast we will never be able to understand all of its illustrious secrets and mysteries in a single lifetime."
For the ceremony's processional, pianist George Lopez, Bowdoin's Beckwith Artist in Residence, performed an adaptation of Johann Sebastian Bach's Overture from Partita no. 4 in D Major, and for the recessional he performed The Bogatyr Gates, by Modest Mussorgasky. Lopez also accompanied the singing of the alma mater, "Raise Songs to Bowdoin."