Published October 01, 2019 by Samara Nassor '22
From Medical Doctor to Climate Lobbyist
Danny Richter is vice president of government affairs for Citizens' Climate Lobby (CCL), an international grassroots environmental group. On September 25, 2019, he came to the Roux Center for the Environment to talk about his career trajectory in healthcare, medicine, the environment, and political lobbying.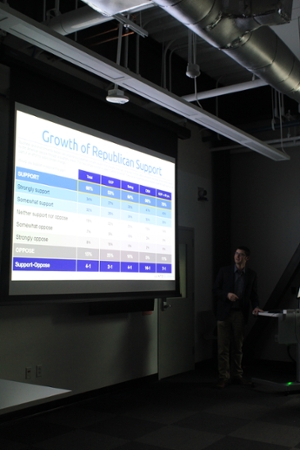 At CCL, Richter develops the organization's political strategy, writes policy defenses, builds relationships with nongovernmental organizations in Washington, DC, and provides expert advice to volunteers. He also initiated bipartisan dialogues for three bills, including the Energy Innovation and Carbon Dividend Act, which proposes a fee on carbon usage. "The climate isn't waiting for us to resolve our political differences," he explained. "We have to build those bridges."
According to Richter, a majority of economists are in favor of a carbon tax or cap-and-trade system because it's a solution that credibly cuts emissions at low cost. "Carbon taxes are sensitive of an economist's preference for efficient outcomes. Congress cares about policy combinations that are economical," he commented.
An interactive climate model called En-ROADS will soon be released by CCL to allow the public to foresee the consequences of policies on global energy production and the climate system, said Richter. "When deciding on carbon taxes, people have to make value judgments based on factors that are most important to them, whether it is GDP, equality, global participation, or a streamlined government," Richter said. 
Competitive solutions seem to be the drivers of productive discussions and desirable environmental outcomes, he added. New rules being proposed include more regulation on local air pollutants, the removal of fossil fuel subsidies, and a public infrastructure that uses carbon. "The political landscape is ever changing, but we appear to be entering a moment of opportunity," said Richter.
Richter's talk— "The Policies and Politics of Pricing Carbon in Today's Washington"—was made possible by a gift from John D. Flinn '05 and cosponsored by the Office of Sustainability, the Environmental Studies program, and Career Exploration and Development.
Some Questions Answered
After his lecture, Richter had dinner with students, who were given the opportunity to ask questions. Here's a sample:
Zachary Kaplan '21: Do you feel that you went astray in your career after studying medicine, then oceanography, but later pursuing politics and policy?
Richter: I don't regret the choices that I made. I did feel like I went astray when I left the idea of being a doctor. What happens is that you want to be someone, and it becomes part of your identity.  I had to tell myself another story in grad school.
Horace Wang '20: How do you go about framing issues when there are members of Congress who don't see climate change as a humanitarian problem?
Richter: Very few people see climate change as an issue. Our fundamental method at CCL is to get constituents to tell their personal story and ask the concerned parties for proper solutions. They say what they believe in. If you tell someone your experiences, they can't tell you that you are wrong. The more you create a picture for people, the more it sticks with them.
Lucas Johnson '22: How do you build moderation in the presence of activists?
Richter: The loudest voices aren't the majority. Statistically speaking, the largest part of the democratic party is bipartisan. We encourage all the members of our discussions to be open, respect different perspectives that arise and lower their defenses for a greater understanding. We can only increase the urgency for tackling climate change issues after we are able to successfully interact in our ecosystem.