Published October 09, 2019 by Tom Porter
Fred Hill '62 Talks Journalism and War Games
Not many people can claim to have had an illustrious twenty-year career promoting the common good on a global scale. Even fewer can say they've had two. But, Fred Hill '62 can say he's done that and then some.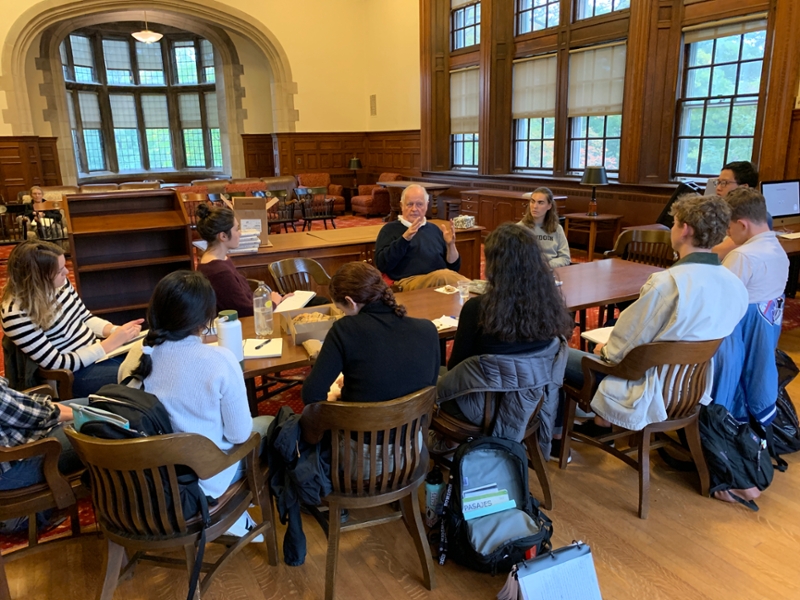 Hill spent twenty years as an investigative reporter and foreign affairs correspondent for The Baltimore Sun, covering Watergate and serving as bureau chief in London and Paris; he also spent twenty-one years serving in the US State Department, conducting policy planning exercises (war games), and roundtable discussions on political, economic, and global issues.
Hill was the latest speaker in Bowdoin's Public Service Profile Series, an initiative that brings alumni with distinguished careers in public service back to Bowdoin. The aim is to show current students examples of pathways to serving the common good. The series is one of many programs within Bowdoin's Public Service Initiative, which Hill was instrumental in founding.
During his time at the State Department, recalled Hill, he was constantly reminded by a Pentagon colleague of the great alumni of West Point who had served in the department. In response, Hill replied: "Dennis, you see that guy on TV? He's a Bowdoin graduate," referring to Senator George Mitchell '54. "You remember that ambassador you had in Bosnia, Chris Hill? He's a Bowdoin graduate. You remember the senior UN adviser Tom Pickering that held George H.W. Bush's coalition together during Desert Storm? He was a Bowdoin graduate, Class of '54… If you don't stop talking about all of these great West Point graduates, I'm going to have to call your boss and fix your next assignment," he said, holding back his laughter, to which Dennis replied, "Who? Cohen?" Hill answered, "Yeah. Bowdoin classmate, fellow basketball player and Psi U member," referring to defense secretary Bill Cohen '62.
Hill said he was determined to ensure that future generations of Bowdoin students would have the chance to join these many outstanding alumni who have worked in public service. "I thought the College didn't have enough programs in international affairs, so my proposal was to create a center for global and strategic studies." Under the leadership of President Rose and Associate Director of the McKeen Center Sarah Chingos, his idea came to fruition in 2017 in the form of the Bowdoin Public Service Initiative.
Hill was candid about the fact that his path to success, while forged by a tremendous amount of dedication and hard work, began with a bit of luck. As an elite baseball prospect in high school, he received several collegiate and professional offers. He was destined to go to Princeton until he received a letter from Danny McFadden, a well-known Major League Baseball pitcher, who played with the likes of Babe Ruth and Lou Gehrig as a Yankee. He was also the baseball coach at Hill's father's alma mater, Bowdoin College.
After graduation, he had stints in the Giants' and Phillies' minor league systems. "I didn't throw 100 miles an hour though, so that didn't work out," he said with a grin on his face. "I was very lucky, after being cocky for about a year and a half, that a friend of mine encouraged me to take a class in American political theory taught by David Walker," he said. He credited Walker and that course at Bowdoin for helping him realize his interest in government.
"It was ironic that I majored in government at Bowdoin and ended up spending twenty years covering local news, foreign news, and writing editorials for The Baltimore Sun, and two years working as the foreign affairs director for Senator Charles Mathias in '85 and '86."
A year later he even surprised himself when he took a job at the State Department, establishing its Office of Special Programs and heading its war gaming exercises. "What they wanted was somebody who could write complex scenarios about future events," he said. He recounted the ways in which the exercise scenarios often manifested themselves in real life. His first planning scenario, in which a black majority would come to power in South Africa, preceded the sanctions levied on South Africa and the Mandela Presidency. In 1990, they conducted an exercise for the potential collapse of the Soviet Union. "This was something nobody thought was likely to happen, but it actually happened a year later.
He told students he sometimes prefaced his exercises with a proverb. "There's a great Chinese expression, Wéijī," he said. "It's the word for crisis. Within it are two words. Wéi means problem and jī means opportunity."
Hill also spoke of the crisis facing newspapers throughout the country, but told students of the many ways they could combat it through programs like Report for America and by attending events like the Camden Conference on global affairs in midcoast Maine. The next one is in February 2020, he said, and the theme is the media revolution.
Since retiring, Hill has continued to write op-eds for The Dallas Morning News, The Baltimore Sun, and Bangor Daily News. He has also published two books, the latest of which is The Life of Kings: The Baltimore Sun and the Golden Age of the American Newspaper, which he coedited. It's a collection articles and essays by journalists at the Sun, including Hill himself.